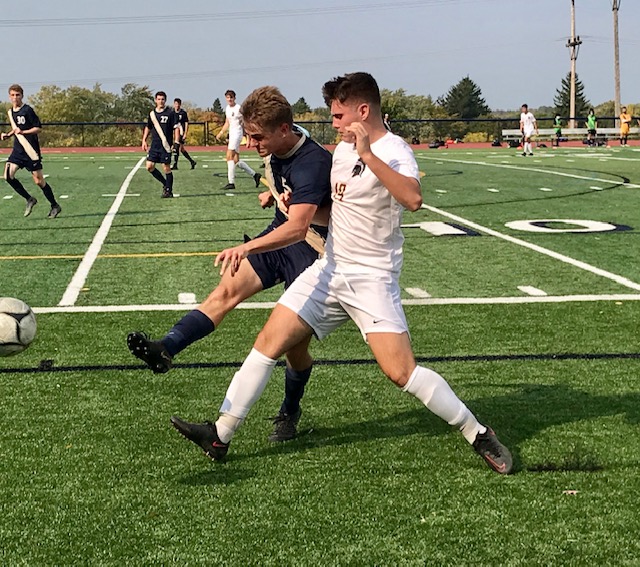 By PAUL GOTHAM
PITTSFORD, N.Y. — Shell-shocked.
Less than 12 minutes had elapsed in Saturday's Monroe County Division III opener, and the Greece Athena boys' soccer team faced a two-goal deficit.
With the wind blowing in their faces, a growing margin seemed imminent.
The Trojans eventually needed 23 minutes of game time to turn the tables.
Brothers Dylan and Gavin Rice figured in on all the offense as Athena downed rival Pittsford Sutherland, 3-2.
"First half was really scary," said Dylan Rice. "We came out too easy, expecting to win. That's not how you should play. We got a wake-up call after the first two goals."
The duo combined on the eventual game winner in the 58th minute – a spectacular execution on a set piece from 50 yards out.
"We've been practicing that a lot with the free kicks out away from the box," the older Rice, Dylan, said. "He puts a good ball in the box, put it back post on a rope, and I was there."

Gavin Rice lofted a service from the outer third along the right side, Dylan Rice caught it in stride at the left post and went opposite side netting.
"Coach was saying to put it in the box, and I saw "Dyl" raising his hand back post," Gavin Rice explained. "I was like I just got to put it in the box. "Dyl" beat his guy, got open and put it across the goal."
58' Rice to Rice! Gavin to Dylan and @athena_soccer takes a 3-2 lead. My version is not #SCTop10 worthy but I'm sure @TrabsMatt has it. pic.twitter.com/b6PJXAydMS

— Paul Gotham (@PickinSplinters) October 10, 2020
The score came less than two minutes after Athena leveled the match when Gavin Rice made a rush along the right side, pushed the ball to the end line and played a service for Victor Alongi who headed home the tying goal.
"We knew we had to fight back," Gavin Rice said. "We knew what situation we were in. We knew we had to work. That's what we did."
Last November, Athena ended Sutherland's season with a 3-0 win in the NYS Far West Regional qualifier. It was the Knights' third loss of the season. Three weeks prior to that contest, Athena downed the Knights 5-1.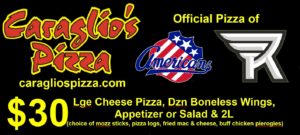 Seven starters returned from that Athena squad which advanced to the New York State Class A final. For 20 minutes on Saturday, the Trojans barely resembled themselves.
"We knew that we beat them in the regional qualifiers," Gavin Rice said. "We knew they were going to come out hard and want to beat us. They did it in the beginning. We came back and fought hard, came back with the dub."
Eight minutes into the match, Sutherland's Dylan Kladstrup played a diagonal ball that sent teammate Will Field through the Athena defense for the opening goal. Three minutes later, Kladstrup took advantage of a giveaway to make it 2-nil game.
"They got on us," seventh-year Athena head coach Mike Butler said. "Fortunately, we hung in there. I wouldn't say it was pretty."
The deficit could have been worse. A series of mistakes and miscommunications along the Athena backline gave Sutherland more chances.
"I didn't know what we were going to get," Butler said referring to the impact of the COVID-19 pandemic on high school sports. "Kids usually play about a hundred games in a summer. They played none. We haven't had any scrimmages, and I thought we were pretty good in practice. We come in to today and ohhhhh it kinda blew up on us."
The Trojans slowed Sutherland's momentum in the final 10 minutes of the first half.
Ryan Fitzgerald got Athena on the scoreboard five minutes before the break when the senior midfielder headed in a corner kick service from Dylan Rice.
35' Back-to-back-to-back corner opportunities fetch the first strike for @athena_soccer. Ryan Fitzgerald converts. @SHSsoccersquad 2-1 pic.twitter.com/Qf1iqRZAxI

— Paul Gotham (@PickinSplinters) October 10, 2020
"It was a slap in the face," Dylan Rice of the game's opening. "After the first two goals and we were down 2-0 pretty quick. We didn't know what to expect it. It was a good reaction on our part, so I'm happy."