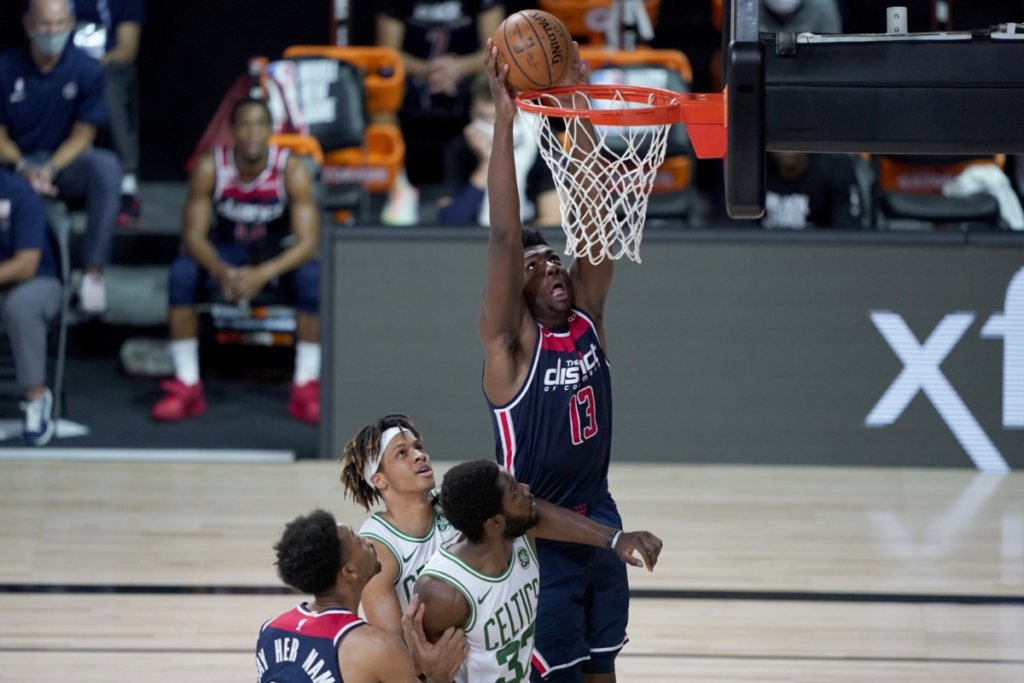 By BILLY HEYEN
The Washington Wizards had nothing to play for in the standings Thursday afternoon, but someone wouldn't have known that based on how Thomas Bryant competed.
Just as he's done since he was a Bishop Kearney teenager bursting into Rochester's consciousness, Bryant ran the floor, shot 3-pointers and finished at the basket. Bryant finished with 26 points, nine rebounds and four steals in Washington's season-concluding 96-90 win over the Boston Celtics. 
"It feels good," Bryant said postgame Thursday, per The Athletic's Fred Katz. "It's not the expectations we had or wanted, but it feels good."
Following a four-month layoff and eight games in the NBA's "bubble" in Orlando, Bryant's third professional season is complete. In the first, he had to prove himself worthy of sticking around the NBA's G League. In the second, he had to establish himself as starter-worthy after being acquired by the Wizards. In the 2019-20 season, Bryant proved he's in the league to stay.
Thomas Bryant runs the floor and uses some fancy footwork for an early slam ???? @PickinSplinters #ROC pic.twitter.com/JmvfZnnKGS

— Billy Heyen (@BillyHeyen) August 13, 2020
Bryant, Rochester's only active NBA player, finishes the 2019-20 season with career-highs nearly across the board, with only a slight decline in field goal percentage from a year ago. Otherwise, his stats mark new career bests:
13.2 points per game
7.2 rebounds per game
1.8 assists per game
1.1 blocks per game
0.8 3-pointers made per game
0.5 steals per game
40.1 percent from 3-point range
A month missed during the winter due to a foot injury didn't stop Bryant from returning, reclaiming his starting center job and continuing to put up numbers. His production only increased once he arrived in Orlando for the NBA's restart.
Bryant opened "bubble" action on his 23rd birthday with 10 points and seven rebounds on July 31. Then he took off. Bryant put up 30 points and 13 rebounds against the Nets, his second career 30-point game. He followed that with 20 points and 11 rebounds the very next day. 
ICYMI this afternoon:

Rochester's Thomas Bryant put up monster numbers for the #Wizards in the #NBA bubble ‼️

???? 30 points (12-20 FG, 4-6 3PT, 2-3 FT)
???? 13 rebounds (11 DREB, 2 OREB)
???? 3 assists
???? 2 blocks
???? 1 steal
???? 36 minutes played pic.twitter.com/8BZpsoq7mY

— Billy Heyen (@BillyHeyen) August 3, 2020
The double-doubles didn't stop there, as Bryant put up 20 points, 11 rebounds and four blocks after a day of rest. Matched up at times with Philadelphia's Joel Embiid on Aug. 5, Bryant was praised by Washington's head coach Scott Brooks after that game, with Brooks saying, "It was the best defensive game I've ever seen him play."
Bryant went on to put up 22 points and eight rebounds against the Pelicans, followed by a quieter nine points and five rebounds against the Thunder before Thursday's season finale.
Washington arrived in the bubble with a chance to reach a play-in game for the Eastern Conference's eighth and final playoff spot. But the absence of stars Bradley Beal and Davis Bertans from the restart made it tough for Washington to gain any ground before being officially eliminated.
Thomas Bryant and the #Wizards are back today. Earlier in the shutdown, I asked Jeff Van Gundy what he thinks of Bryant ???? #ROC #NBA

"… he's gotten an opportunity this year to play significant minutes, and he's produced, and that bodes well for his career going forward." pic.twitter.com/E42nsst32I

— Billy Heyen (@BillyHeyen) July 31, 2020
Bryant signed a three-year, $25M contract before the 2019-20 season, meaning he enters the offseason with two more years lined up in Washington. The Wizards should have both Beal and John Wall back healthy whenever the next season gets underway. They'll have second-year forward Rui Hachimura alongside Bryant in the frontcourt, too.
Before Thursday's game, Brooks told local reporters: "You won't see the same team next season as you will today, and that's exciting. We've got some important pieces who are out…Things can look pretty good pretty quick."
At least the Wizards already know what they have in Bryant, and when things get "pretty good pretty quick" upon Beal and Wall's return, Bryant should remain right at the center of it.