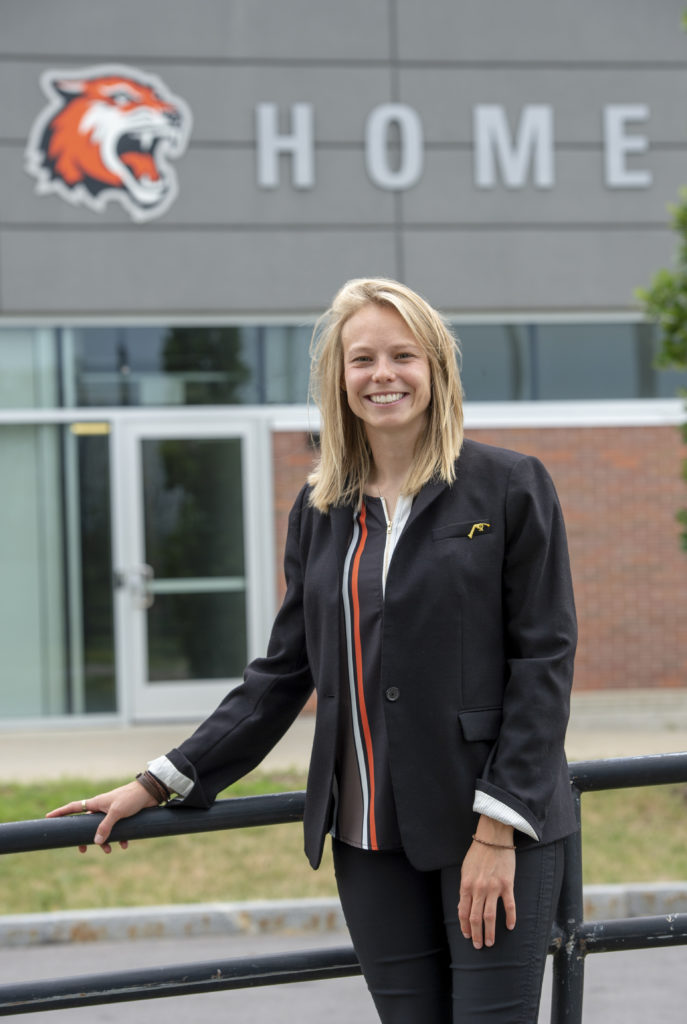 By CHUCKIE MAGGIO
When Celeste Brown was a senior, she told the Rochester Institute of Technology sports information department for a player biography entry that if she could meet one historic person, she would choose Herb Brooks.
Now that Brown will be coaching college hockey players herself, she doesn't expect to replicate any of Brooks's motivational speeches. She'll bring her own style to the Tigers women's hockey team.
"My goal is to get greatness out of all my student-athletes," Brown remarked. "I think they're already incredible and if I can help them reach the best version of themselves, that's fantastic."
Eight years after scoring the go-ahead one-timer in the 2012 Division III national championship, Brown is returning to lead her alma mater. RIT announced her hiring on July 18, concluding a national search with a familiar face.
Brown, a Great Falls, Mont. native, scored 42 goals and assisted on 28 more as a Tiger while maintaining a 4.0 GPA. She assisted on the two other goals in that title game against Norwich University, earning a ring as a rookie before the team reclassified to Division 1. She was an indispensable piece of a senior class that went 15-2 in postseason play, claiming back-to-back College Hockey America (CHA) league championships in 2014 and 2015.
The first RIT player to sign a professional contract, Brown played two years in the National Women's Hockey League (NWHL) with the New York Riveters and Connecticut Whale. In 2017 she accepted an assistant coaching position with Penn State, one of RIT's CHA opponents, where she served under Jeff Kampersal for three years and worked with the second-highest scoring offense in PSU history in 2018-19.

A coach at the National Sports Academy boarding school in Lake Placid, N.Y., where Brown played three seasons, was the first to envision Brown as a future hockey coach. Her desire to coach only grew from there, as she became RIT captain as a junior and developed her leadership skills before her playing career concluded.
"One of her strengths is her ability to connect with players, really get to know them, and how to challenge them to be better," Penn State head coach Jeff Kampersal assessed. "Her players will embrace her enthusiasm and work ethic. In addition to these great qualities she possesses, her determination and willingness to learn will make her successful. I have great faith she will meet the goals she sets for the RIT program. I have said this before, but those RIT players are lucky to have Celeste as their leader and mentor."


RIT athletic director Lou Spiotti Jr. and a search committee screened ten qualified candidates in first round interviews and later narrowed the process to three finalists.
"Celeste was just a very strong candidate, let alone being an alumnus who highly regards and appreciates RIT for what it is as a university and an athletic program. She performed very well, exceedingly well," Spiotti commented. "Very confident, loves the game of hockey, loves RIT, is a terrific communicator with passion for the game.
"And the references regarding her work, I was really proud to see them… she has done a lot of work with youth hockey and camps and clinics over her years."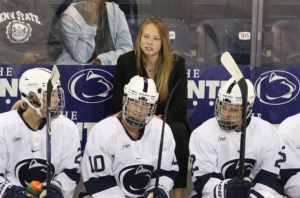 Brown was preparing for a camp on Monday morning, another opportunity to gain reps as she looks forward to her first year running the program, assuming COVID-19 doesn't postpone her debut.
RIT compiled a 12-19-4 record last year, 11-8-3 at home but just 1-11-1 away from Gene Polisseni Center. The Tiger program hasn't won much since Brown graduated, and she is cognizant of the rebuild on her hands.
Brown, of course, contributed to the "ultimate" rebuild when the Tigers jumped to D-1. It only took a year for Scott McDonald's club to produce a winning season after playing at a .500 clip with seven conference wins their first year in the CHA.
"You really had to learn and be willing to accept not only commitment and sacrifice but the want and the willingness to create priorities where if you really want to be excellent at something, you've gotta be all in," Brown commented. "That doesn't mean you can't have fun doing it, but there is a level of commitment that comes with it.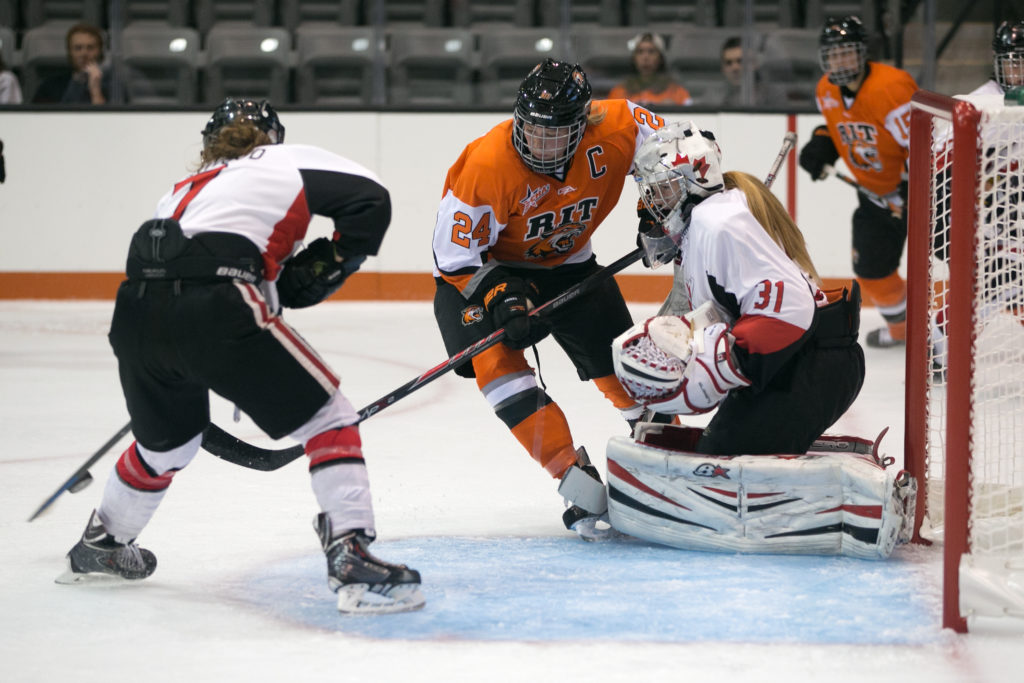 "Learning that process and feeling our way through that, and also having a great team and teammates and a good understanding that we're all in this together, you're working towards a common goal. When you have those two factors going for you, you can create a successful environment."
Brown joins Tiger baseball coach Rob Grow, men's soccer coach Bill Garno and softball coach Rebecca Stryker as RIT alumnae who returned as head coaches of the programs they used to play for.
ALSO: 50 years ago this summer, Coughlin started coaching career at RIT
Spiotti Jr., the longest tenured athletic director in Division III, has overseen the department since 1980. The Rochester native led both hockey teams during their transition to Division I and views hiring a former athlete as a point of pride.
"They bring a special passion and understanding for the fabric of RIT," he said. "And you see across the landscape of college sports, alums go back to their alma mater and their alma mater brings them back with open arms. When I made the announcement I said it's like a daughter coming home or a son coming home, coming back to the place they were born and raised and grew up. It's quite an emotional thing.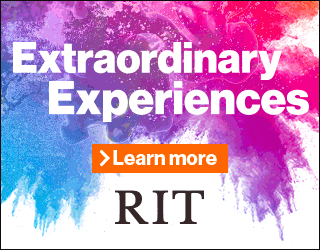 "It also feels like a daughter has come back to take over the family business. It feels like that, in a way. There's a lot of emotions that run around with that. The emotional aspect is a wonderful feeling… It all feels so good. It feels like the right fit, and I think it is, I'm confident that it is."
Brown didn't take long mulling over the decision. She had already made the difficult decision to leave home in high school to attend the National Sports Academy, over 2,100 miles from Great Falls, and to stay in New York for college.
Accepting a Division 1 head coaching job, a dream scenario, was easy in comparison.
"To come back to RIT, I am beyond grateful," Brown said. "I think to come back, the word is full-circle. You go there, you develop as a human and student, you build as a hockey player and then to come back and help provide that same experience and even a better experience for your female student-athletes is sort of unreal.
"Fortunate, super excited and I really can't wait to get back and get the girls back and start having some fun."