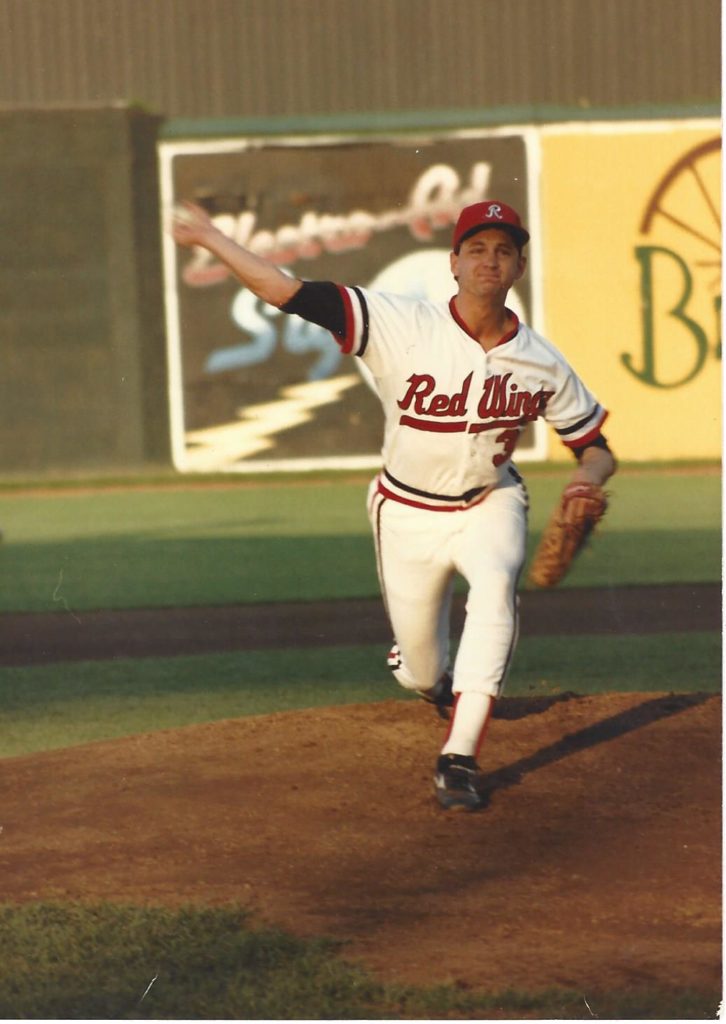 By PAUL GOTHAM
Mickey Weston moved one victory away from tying a franchise record for consecutive wins, and the Rochester Red Wings already had a magic number within their sites.
Weston improved to 10-0 on the season, as the Wings breezed to a 7-1 win over the Columbus Clippers in front of 8,224 at Silver Stadium on this date in 1990.
Weston struck out 11 without issuing a walk over seven innings of work. The right-hander allowed one run on six hits and lowered his International League-leading ERA to 1.81.
A 12th round pick in the 1982 MLB draft, the Eastern Michigan University product, Weston returned to the Wings rotation earlier in the month after being called up to Baltimore in May.
"If this doesn't open some eyes, I don't know what will," he told the Democrat and Chronicle. "I'm not worrying about those things I can't control."

Weston started the season in Triple-A and picked up three wins in the month of April before being promoted. He was credited for the win when he came out of the bullpen in Rochester's win over Syracuse on May 17 before another call up. He didn't appear again with the home nine until July 7.
William Horner (1886) and Norbert Kleinke (1937) share the Wings record with 11 straight wins. Weston finished 11-1 on the season but did not match the record. He ended the year with a 1.95 ERA, the lowest in Red Wings history.
Marty Brown finished 4-for-4 at the plate and sparked a five-run third to lead the Wings offense. David Segui went 2-for-4 with two RBI. Chris Hoiles had two hits in four at-bats and drove in a pair.
The win was the 19th in 21 games for the Wings (66-37) which increased their lead in the IL Eastern Division to 15 games over Scranton/Wilkes-Barre. The calendar hadn't yet flipped to August, but the Wings magic number for clinching stood at 28.

Weston eventually returned to the majors. He later played with Toronto, Philadelphia and the New York Mets. He retired in 1996 after having played his final two years in the IL with Toledo (1995) and Charlotte (1996).
Red Wings 7 Columbus 1
Columbus
AB
R
H
RBI
Rochester
AB
R
H
RBI
Brower cf
4
0
1
0
Nixon cf
4
0
0
0
Snider rf
4
1
2
1
Contreras rf
3
2
1
0
Blowers 3b
4
0
1
1
Segui 1b
4
1
2
2
Meulens lf
3
0
0
0
Gomez 3b
3
1
0
0
Lyden 1b
4
0
1
0
Hoiles c
4
1
2
2
Sax c
3
0
0
0
McKnight ss
4
0
2
1
Datz c
1
0
0
0
Komminsk dh
4
0
0
0
Maas dh
4
0
1
0
Chance lf
4
1
1
0
Stankwcz 2b
4
0
1
0
Brown 2b
4
1
4
1
Rodriguez ss
3
0
0
0
Turner 2b
0
0
0
0
Total
34
1
7
1
Total
34
7
12
6
Columbus
000 001 000 — 1
Rochester
105 000 01x — 7
2B — Snider, Blowers, Brown, Chance. SB — Stankiewicz, Contreras. DP — Columbus 1
E — Muelens, Brower, Hoiles. LOB — Columbus 7, Rochester 6.
Pitcher
IP
H
R
ER
BB
SO
Columbus
Clayton L, 0-1
6
9
6
5
3
7
Torres
2 1-3
3
1
1
0
4
Rochester
Weston W, 10-0
7
6
1
1
0
11
Woodward
2 1-3
1
0
0
1
3
WP — Clayton T — 3:03 Att — 8,224