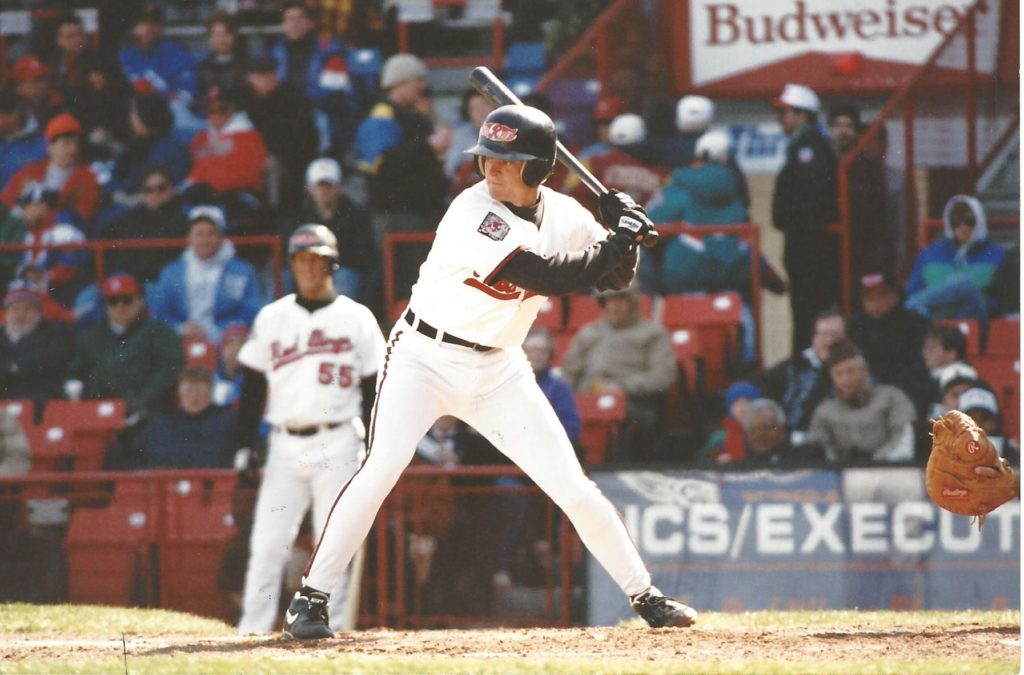 By PAUL GOTHAM
Series sweeps occurred with little frequency for the 1994 Rochester Red Wings, a squad which finished fourth in the International League East with a record of 67-74.
That didn't stop the home nine from taking three straight on the road against eventual IL West champ, Richmond.
Mark Smith and Brad Tyler combined to drive in five runs, and the Wings capped a three-game sweep with a 6-3 win.
Smith connected on a two-run shot in the third, his seventh round tripper in the previous 16 games. This coming after a 45-game stretch in which he left the yard just once.

"I finally feel good up there again," Smith told the Democrat and Chronicle. "And it's not like I'm trying to hit home runs. I'm just trying to stay on the ball and some good things are happening."
Smith's shot gave Bob Miscik's squad a 3-0 lead. That advantage shrunk to one before Tyler connected on a three-run blast in the eighth for a 6-2 margin.
Barry Manuel started and picked up the win. The right-hander, who would go on to lead the team with 11 victories for the season, allowed two runs (both earned) on seven hits over six innings of work. Steve Adkins came out of the bullpen with the bases loaded in the bottom of the ninth and fanned the only batter he faced for his seventh save of the season.
The sweep was the Wings first since taking three in row from Columbus on May 24-26.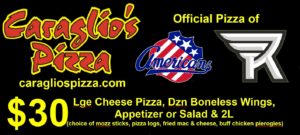 The '94 Wings featured eventual major leaguers Arthur Rhodes and Gregg Zaun. Sid Fernandez, who went 16-6 with the 1986 World Series champion New York Mets, made one appearance with the Wings that season. "El Sid" allowed two runs on three hits over four innings of work in his lone outing for the home nine.
Red Wings 6  Richmond 3
Rochester
AB
R
H
RBI
Richmond
AB
R
H
RBI
Buford cf
3
0
1
0
Brown cf
5
0
1
1
Wawruck lf
3
1
1
1
Kowitz lf
4
0
1
2
Smith rf
5
1
1
2
Mordecai ss
4
0
0
0
Carey 1b
5
1
1
0
Lopez dh
4
0
1
0
Manto dh
2
0
1
0
Gvnola 3b
2
0
1
0
Dostal dh
0
1
0
0
Olmeda 2b
0
1
0
0
Tyler 3b
5
1
2
3
Perez
4
0
2
0
Faulkner c
4
0
0
0
Houston 1b
4
0
0
0
Baez ss
2
0
0
0
Moore rf
4
1
2
0
Alexander 2b
3
1
1
0
Kelly 2b-3b
2
1
2
0
Total
34
6
8
6
Total
34
3
10
3
Rochester
003 000 030 — 6
Richmond
002 000 001 — 3
2B — Moore, Kowitz. HR — Smith (13), Tyler (2). SB — Dinkelman, Martin. CS — Roberts.
E — Alexander, Mordecai. LOB — Rochester 9, Richmond 8  SB — Alexander, Wawruck, Kowitz. CS — Dostal, Kowitz, Giovanola.
Pitcher
IP
H
R
ER
BB
SO
Rochester
Manuel W, 7-7
6
7
2
2
2
1
Dedrick
2 2-3
0
1
0
0
0
Wegmann
0
1
0
0
0
0
Adkins S,7
1-3
0
0
0
0
1
Richmond
Seelbach L, 2-2
4 2-3
4
3
3
5
3
Boroon
1-3
0
0
0
0
1
Clark
2 1-3
4
3
3
1
1
Clontz
1 2-3
3
0
0
2
3
WP — Seelbach. T — 2:56 Att — 8,492