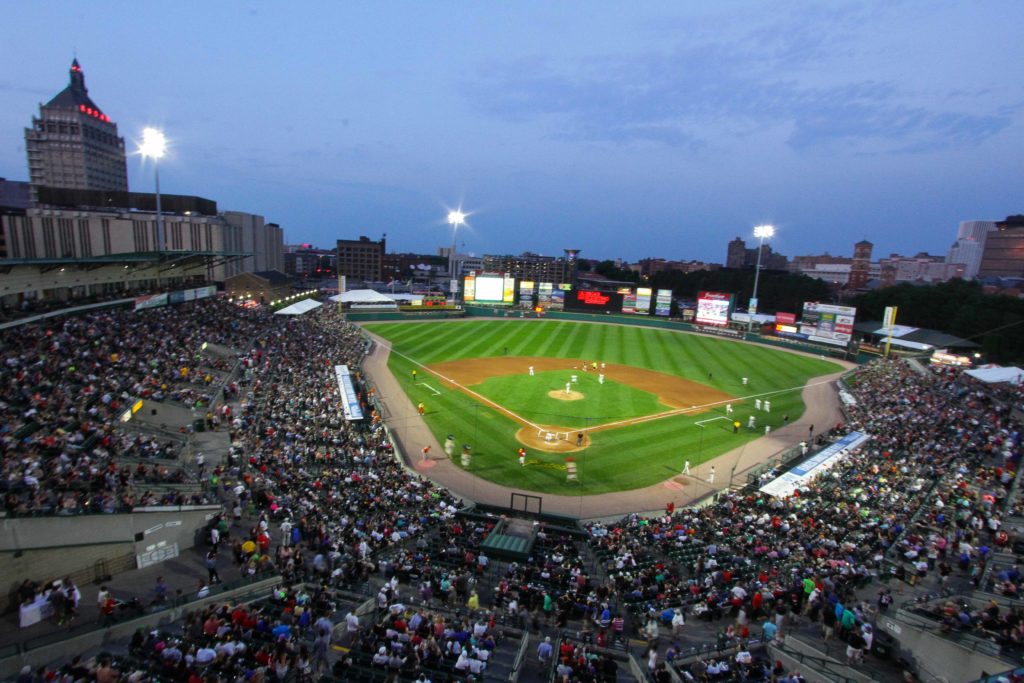 By PAUL GOTHAM
ROCHESTER, N.Y. — Dan Mason should have been preparing to greet fans as they entered Frontier Field for the Rochester Red Wings game against longtime rival Pawtucket. Sun splashed off the stadium façade. Wispy clouds hung in a blue sky and air temperatures hovered in the low 70s. Baseball weather indeed.
Instead the Wings General Manger was trying to put into words the meaning of a lost season.
"We've all been prepared for this for some time," a subdued Mason said inside an empty stadium. "Honestly, we've been prepared for about a month. We were just waiting for Major League Baseball to tell us. I think we all knew it was probably going to happen. It doesn't make it any easier."
The announcement to cancel to the Minor League Baseball came as a result of the COVID-19 pandemic and Major League Baseball's revised plan for the 2020 season. This includes MLB clubs not making players available to minor-league affiliates.
"They want their players to play," said Mason who has been in the role of GM since 1995. "Getting an additional 30 teams (at our level) to do what they're doing at the major-league level every day, it would be too much of an undertaking."
The decision means that for the first time since 1894 professional baseball will not be played in Rochester. The Wings have been a member of the International League for a record 132 years. The IL has had a season every year since 1884 including the 1917 campaign when World War I forced the stoppage of other minor leagues.

"I was really optimistic when we left here in mid-March," Mason said thinking back to when the coronavirus first started to impact daily life.  "The day before St. Patrick's Day we closed the office, and I figured we'd be home for two or three weeks. Obviously as time went on, that wasn't going to be the case, but I was still optimistic that we would be playing baseball by late May or June 1. As it got to be the beginning of June, it just seemed that it was going to be harder to play."
Mason and his staff had plans in place if a season did happen. He credited Rob Dermody, Senior Director of Ticketing, with a seating plan that would allow for 1,600 fans to attend games and remain safe.
"It's like a game of Tetris," Mason said using the video game to explain the struggle to figure out a seating arrangement that allow fans six feet of space between themselves.  "That's what it comes down to. Rob did a phenomenal job. It's a time-consuming process. Just when you think you've got it figured out, then you're like 'No, we can't do that because then you're too close to this seat in the other section.'
"We're hopeful that later on we can do some events here. We do think we can socially distance people, have people wear their masks and be safe."
Mason could not ignore the financial impact a lost season will have. Comparing the organization to a bear that stores up its food in preparation for winter, the Wings now face the prospect of "a season without a season."
Yes, they have served Diamond Dinners on weekends and now host drive-in movies. Those events, though, can't replace the revenue gained from a game.
Last June 30, the Wings hosted their first ever Pride Night. That game alone drew 9,744 fans. Weekends in June, July and August commonly see 30,000 fans walk through the turnstiles. Those same turnstiles are now tucked away in storage for the summer.
The organization used the revenue from the summer months to get through the off-season.
"It kinda hit around June 1," Mason admitted. "I don't want to say I gave up, but I kinda realized that we weren't going to play this year. Even though it was almost a month ago that I came to that realization, I'm not really prepared for today. The finality of it is a gut punch. It's really hard. Tough, tough day."
The Wings announced that fans who purchased tickets may exchange those for any game in 2021. Ticket exchange information can be found at RedWingsBaseball.com. Season seat holders, ticket pack customers along with group and catered events will be contacted directly.