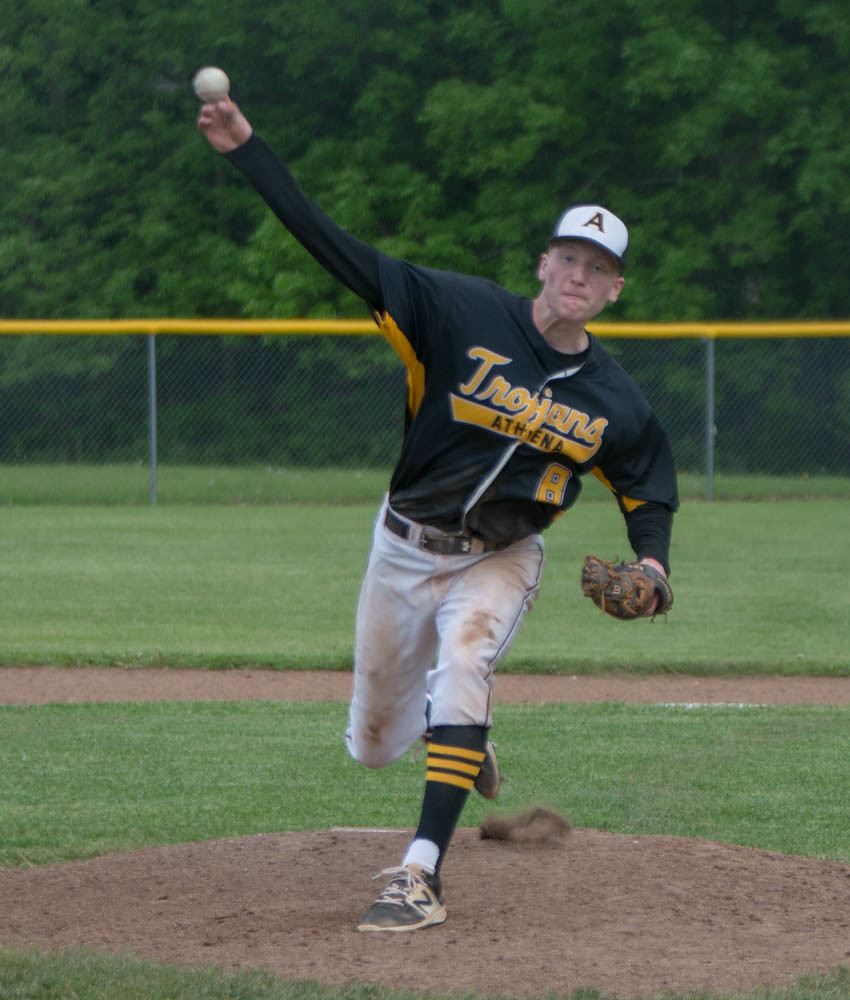 By PAUL GOTHAM
COVID-19 put the brakes on a promising Greece Athena baseball season (as well as the rest of the world), but it hasn't slowed the career of Casey Saucke II.
The University of Virginia commit learned Wednesday that he has been selected to play in the Area Code Games (AC Games) later this summer.
"It feels amazing," he said by phone Wednesday afternoon from his home in Greece. "Being a part of that team is something special because it's such a prestigious event. I can't wait to go."
Eight teams from regions across the country will meet in early August at Blair Field in Long Beach, California.
Kris Bryant, Bryce Harper, Clayton Kershaw and Giancarlo Stanton are just some of the current MLB stars who have played in past AC Games.
"Those are some pretty big names," Saucke said. "Hearing that definitely gives you some encouragement to follow in their footsteps one day. It's pretty amazing."
Last weekend, Saucke was in Alabama playing in a tournament. On Tuesday, he was one of 200 players on hand in Connecticut for the invite-only tryout.  New York Yankees scout and Northeast Team General Manager, Matt Hyde called Saucke with the news less than 24 hours later.

Saucke was part of a 2019 Athena squad which finished with a 20-3 mark and advanced to the sectional finals before falling to four-time champion, Canandaigua.
With 14 extra-base hits on the season including 10 doubles and three home runs, the then-sophomore finished with team-highs for slugging (.828) and OPS (1.425) as well as team-high on-base percentage of .596.
"I can boil it down to two things: one is he is extremely talented, and two he outworks everybody," Athena head coach Jason Bunting said. "When you're as talented as he is and you outwork everybody, it's not a surprise that he is where he is."
Two of Saucke's home runs came against division rival Pittsford Mendon. Both of those were walk-offs.
"We've had some kids that have been really hard to get out," Mendon head coach Jeff Amoroso said mentioning HF-L's Andrew Bailey and current Cleveland Indian farmhand Ernie Clement. "Those guys were really tough to get out for us, but this guy. My goodness is he talented. He's just different than other baseball players in this area."
Saucke's leadoff round tripper in the 10th inning ended Mendon's season in the Class A1 semifinals.
"My guts are still on the floor at Athena's dugout," Amoroso joked. "That was a change-up, away (to the right-handed batter). That ball was in the left-handed batter's box. He may have just guessed it because he got out in front of it. You think if he's going to power that out of the park, it's going to go out to right center or right field. He flipped it over the left field wall, and it was a no doubter. Most kids will roll that over. We got what we wanted from the pitch, but Casey put it out of the yard and ended our season."
On the mound, the right-hander struck out 18 and walked just three batters in 17.2 innings of work. He logged an ERA 2.38 and held opposing hitters to a .275 batting average. At a recent Perfect Game Baseball showcase, Saucke touched 94 MPH on the radar gun and sat (term referring to the ability to throw consistently) at 91-92 MPH.

"I don't know that I've known anybody that works harder than him at his craft especially for a kid that's as young as he is," Bunting stated. "He's very driven. He outworks everybody. He refuses to be average."
Along with Saucke, Athena was to return its ace Ryan Dineen as well as St. Bonaventure commit Jagger Nucci and Zach Geist for the 2020 season. The Trojans looked ready to improve on their finish last season and challenge for the program's first sectional title in more than a year. That is until the impact of COVID-19 canceled the season.
"It's hard to make up for a school season," Saucke said of the lost opportunity caused by the pandemic. "A school season, you're with those guys all the time. You see them in school every day. You develop a close relationship with them. Some of these guys I've played with four or five years.
"We were supposed to be pretty good this year. It's fun getting hyped up in the dugout with all of them. Unfortunately, that didn't happen this year. I thought we had a great chance at a state title and definitely a sectional title. This doesn't make up for it, but it is still some encouragement to keep working and to keep playing the game I love."
Saucke will be the first Section V performer since Conner Simonetti (Fairport) to play in the AC Games. The Cincinnati Reds selected Simonetti out of high school in the 35th round of the 2013 MLB Draft. Simonetti played at Kent State before the Washington Nationals chose the first baseman in the 13th round of the 2016 draft.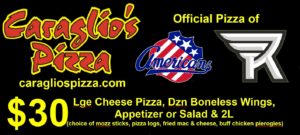 MLB scouts decide which players will receive invitations to try out for the AC Games.
Saucke played in the 2019 AC Underclass Games.
The New York Yankees represent the Northeast squad on which Saucke will play. They will compete against squads from Northern California (Oakland Athletics), Southwest California and Hawaii (Milwaukee Brewers), Texas and Louisiana (Texas Rangers), Pacific Northwest (Kansas City Royals), Midwest (Chicago White Sox), Southeast (Nationals) and Four Corners – Nevada & El Paso (Reds).