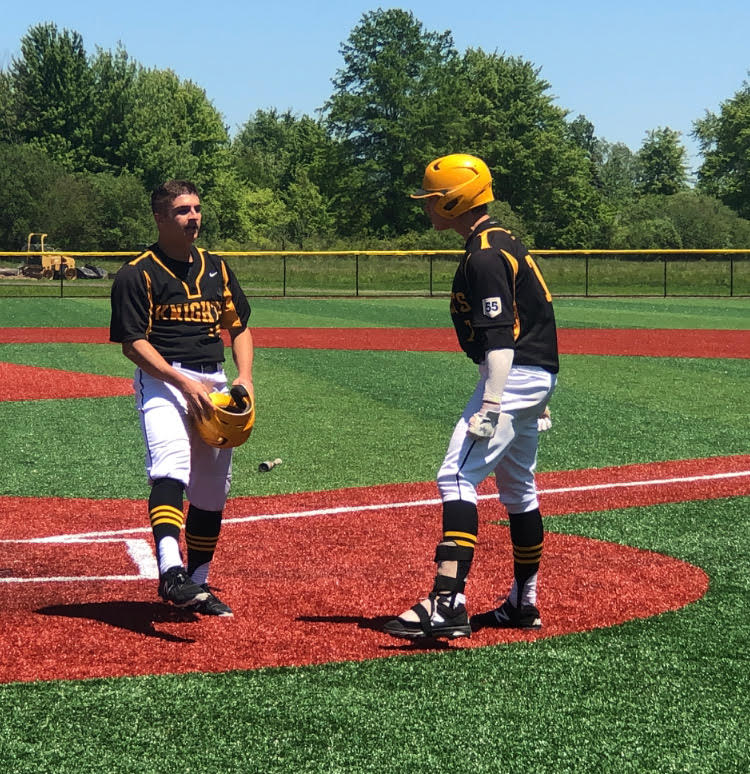 By Billy Heyen
Noah Campanelli can't help but think about the timing of it all. A year ago, his McQuaid baseball team won the Class AA state title. If things had been shifted just one year, Campanelli and his teammates might not have played a single game.
"I just can't help to think what a shame it would've been if our season got canceled last year," Campanelli said. "I sit here and I'm just grateful we got to play last year, and it happened as we envisioned it."
The COVID-19 pandemic, which canceled all spring sports in New York and around much of the country, leaves McQuaid's state baseball title as the final Section V spring sport action until 2021. The Knights will still be defending champions next year, albeit without the players who would've received more playing time as seniors in 2020. Nothing is normal about this spring, but if nothing else, it's an unexpected postscript to McQuaid's historic 2019 season.

"I'm sure everybody outside of the McQuaid bubble have heard enough about it and want to get back on the field and take their shot," Knights head coach Tony Fuller said.
None of McQuaid's players could see into the future. The Knights featured a bevy of senior starters last season: Campanelli, Hunter Walsh, Ben Beauchamp, Tyler Griggs, Zach Lee, Patrick Xander, Charlie Merkley, Ryan O'Mara and Drew Bailey. All they knew was that it was their last season of high school baseball, and after a 2017 sectional title and 2018 sectional final loss, they wanted to aim higher for their final campaign.
Fuller made a decision at the start of the 2019 season that would've had huge implications on the 2020 year: He kept a ton of upperclassmen on the varsity roster, including four freshmen. Because of the number of seniors, the youngsters didn't play a ton, besides then-sophomore Keeler Thomas, the regular starter in right field. But they went along for the ride to a state title with some key moments along the way.
Christian Blatter is one of the seniors who misses out on his final season of high school baseball. A year ago, he only received seven postseason at bats, but he used them to great effect, tallying four hits including a sectional final RBI double and a state semifinal RBI single.
Sean Richards also misses out on a senior year that Fuller figured would place him as the opening day starter in left field and near the top of the order. They would've been joined as seniors on the 2020 roster by manager Brennan Kammholz.
"Blatter was a huge addition off the bench and Richards had a tremendous summer, developed a lot and would've been starting in left field day one and hitting in the top of the order," Fuller said. "Expectations were high."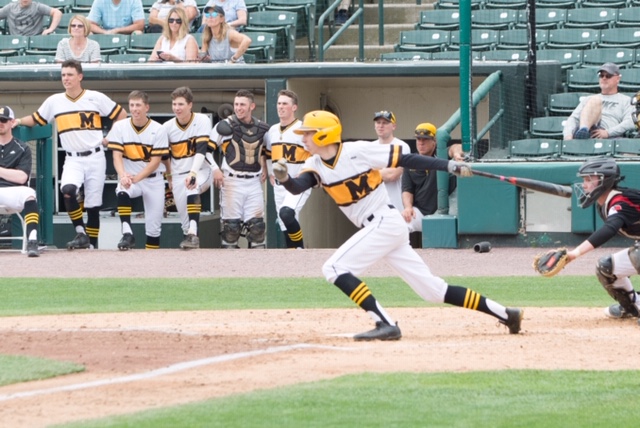 Beauchamp had begun to tell his younger brother Jack during the offseason that it was his turn now. Jack was an occasional pinch-runner and defensive substitute on last year's team, but he likely would've joined Richards and Thomas in this season's outfield.
Jack watched his older brother lead the Knights to last year's title mostly from the bench, side-by-side with players like Aiden Stewart, Tanner Degrazia, Wilson Brauer, Will Taylor, CJ Phelps and Maxwell Stuver. That group, along with the Knights' new seniors, would've been defending the state championship that they were kept on varsity to mostly watch and learn from.
"I've been telling (Jack)," Ben Beauchamp said, "'You've been through it and got your state championship, but now you gotta go do it for yourself. You gotta go get your ring. You got your ring, and you contributed and all, but you weren't out there every time, not taking anything away from you, but when you go out there and you play and you win that for yourself, it feels so much better.'"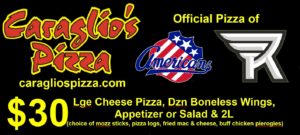 For the players that'll return again and make up the 2021 edition of the Knights, still in one sense defending state champions with no baseball in 2020, there'll be question marks about development. Everyone's in the same boat as far as not getting game experience, but for a group that promised to be especially young and raw at the varsity level, McQuaid had great strides to be gained from stepping between the white lines.
Fuller pointed out that in 2017, four sophomores played key roles on a sectional title team: Campanelli, Beauchamp, Griggs and Walsh. The state title didn't happen overnight, Fuller said.
"They went through failure," Fuller said of that quartet. "They obviously had some shining moments in those failures but they were young and they were raw and they learned on the job and they worked their butt off year in, year out, because it meant a lot to them."
For many of the young Knights, there should be a chance to get on the field next season and create their own legacies. No matter what happens, they'll already have been a part of something that it's likely none of them will forget.
And for the McQuaid 2019 graduates that played a role in the state title, a canceled spring of college baseball for many (and junior hockey for Merkley) means another chance to reflect on what they accomplished. After the state championship game, Campanelli remarked that it wouldn't be balls and proms he'd remember — it'd be his final high school baseball season, his final game.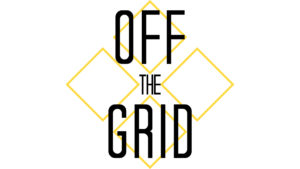 Asked recently about that quote, Campanelli knew he had it right.
"Someone posted a picture about a year ago today was one of the proms," Campanelli said, "and I remember asking my mom, like, 'Mom do you have any pictures from this day? I do not remember this.' It was just so insignificant.
"That whole spring other than baseball might as well not have happened. I don't really care. I don't remember that prom. I'm just glad I remember every detail from our run."