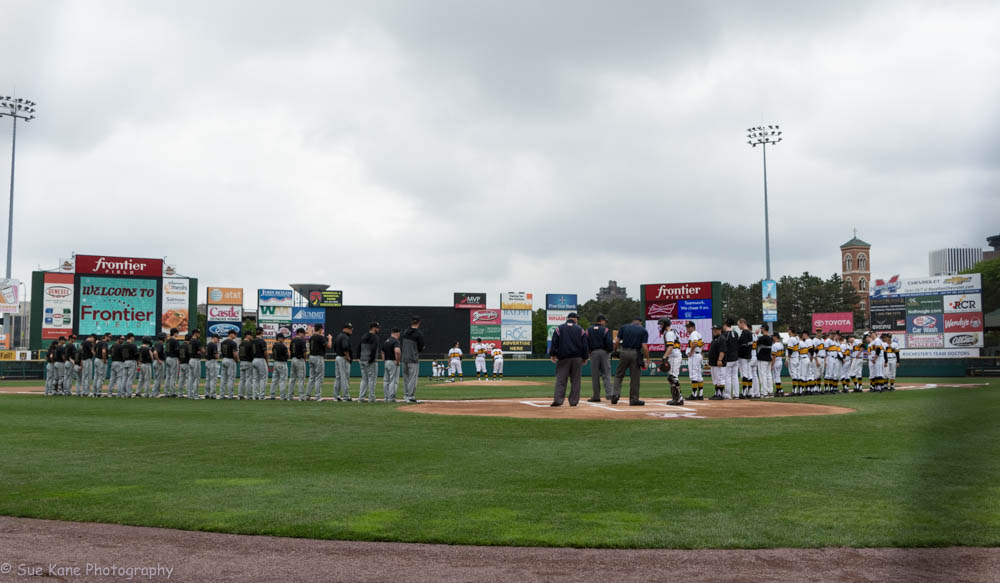 By BILLY HEYEN
ROCHESTER, N.Y. — When May 27, 2017 was brought up to several McQuaid Knights recently, they spouted off one-word synonyms of each other.
"Craziness."
"Chaotic."
"Pandemonium."
That's the day Frontier Field played host to the Class AA Section V final between McQuaid and Rush-Henrietta. That's the day that a sophomore homered to half a deficit, then a steal of home caused a catcher's interference to tie it. And that's the day another steal led to the walk-off win for McQuaid, a 3-2 victory that featured four then-sophomores and the coaching staff of this 2019 iteration of the Knights.
With those sophomores now seniors and members of the No. 1 seed in the AA bracket, beginning a hunt for a second sectional title in their tenures with a quarterfinal game Tuesday, this is a look two years back. The home plate umpire that day, Tommy Fornarola, called that game "the epitome of sports." Here's why.
'That was, I thought, the dramatic comeback'
The path to McQuaid's place in the sectional final that fateful Saturday was improbable in and of its own right. The Knights had to come-from-behind to beat Webster Thomas, at their place, in the quarterfinals, 3-2.
Then, it got really crazy. Facing Victor in the sectional semifinals, Knights sophomore starter Hunter Walsh allowed six first-inning runs. McQuaid head coach Tony Fuller pulled him, putting in Richie Gleason for an inning. McQuaid trailed 8-2 after two innings. Fuller sent Walsh back to the mound.
It wasn't the first time Fuller had done the unusual that year. He'd used five infielders to escape an extra innings jam at Corning earlier in the season.
"We're like how does he come up with this?" McQuaid now-senior catcher Ben Beauchamp said. "How does he just think of this stuff? That's when I really started to gain respect for him, too."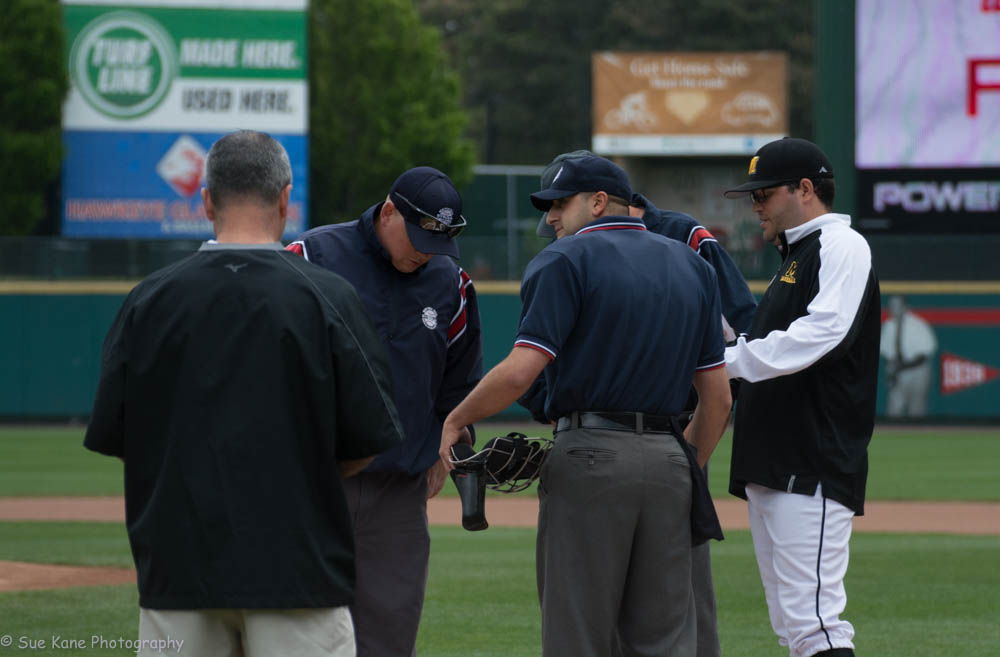 Walsh didn't allow another run, and McQuaid came back to beat the Blue Devils, 12-8, to advance to the sectional final. After two postseason comebacks, the Knights had sparked a belief in themselves.
But it really couldn't get that much weirder, could it? Beauchamp and his teammates were surprised when Fuller took the step to re-enter his starting pitcher, but that's not unheard of. If it hadn't worked, the story that came next wouldn't exist. McQuaid's bats, along with a revitalized Walsh the rest of that day, made sure they'd have a shot in the final.

It was a nondescript, overcast Saturday morning. Because of how sectional games get lined up, first pitch between the Knights and Royal Comets was at 10 a.m. That didn't stop the atmosphere from being great that day, multiple people said. But there was no way McQuaid could top its own effort from the semis, in terms of drama, at least it seemed.
"That was, I thought, the dramatic comeback," Fuller said. "Only to top the dramatics in the next game."
'I was never really that nervous'
The final pitted two big lefthanders on the mound: McQuaid's Erik Johnson started against R-H's Mitchell Hoffower.
The Knights felt like they had an edge coming in. After all, they'd beaten the Royal Comets twice that season already. But an old baseball adage crept into their minds.
"It's always in the back of your head, hard to beat a team three times," Fuller recalled.
Early on, nobody could take control except the two southpaws. The 10 a.m. start might've contributed to the slow beginning, Fuller figured, because that's not a time teams play at all year. Fuller remembered the first five innings only taking 40 minutes to complete.
The home plate ump, Tommy Fornarola, recalled both pitchers being very good, and Johnson especially commanding the strike zone well. It was the best Fuller had ever seen Hoffower throw. Behind their lefty, R-H struck first.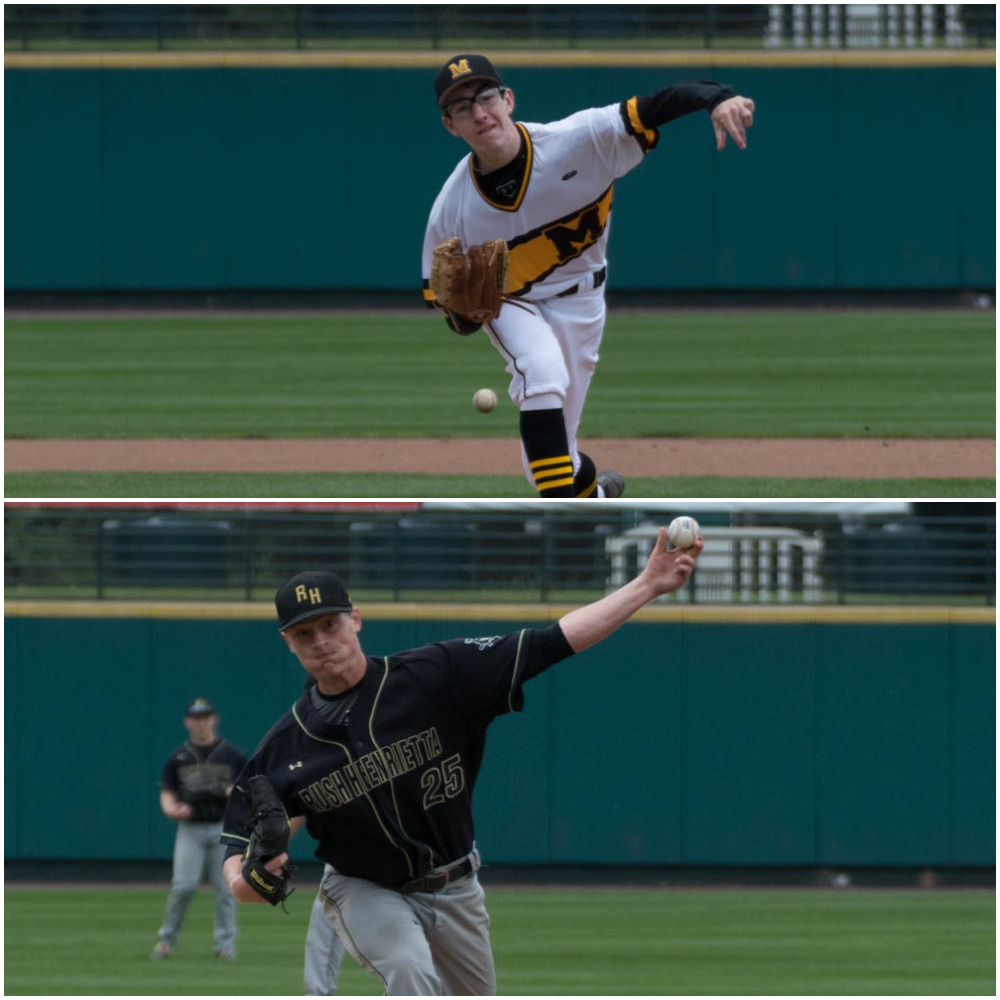 The opening run came in the top of the sixth, on a tough ball for Beauchamp to play down the line in left field. The next came unearned in the seventh, off an error by at third base by Tyler Griggs, another one of that season's McQuaid sophomores.
"I was never really that nervous," Noah Campanelli, the fourth sophomore that season, said. "Looking back on it, I think we should've been a little nervous the way their pitcher's going, the way the game had gone. Just our team that year, I wasn't really that nervous."
Campanelli's classmates mostly echoed that sentiment. Beauchamp said he remembers thinking that when the second run scored, even though in reality it lowered McQuaid's chances, he felt somehow that made it more likely they'd win. That's what a huge rally in the semifinal will do for a team.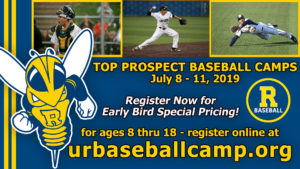 It could've been even worse, though. Fuller took a mound visit with two R-H runners on and one out. But a strikeout and popout escaped the inning, keeping the deficit at just two. As the Knights huddled around Fuller after coming off the field, he had two voices: The one inside his head and the one that spoke to his players.
"Whether I really felt it or not, I said 'Hey, we're gonna walk off here,'" Fuller recalled. "'We're gonna do something special, we've done it all year, let's go.' Deep down I'm thinking in my head, 'Can't believe it's 2-0 right now. How are we gonna do this?' That was my message, whether I actually truly felt it or not."
'That just lit a spark in our dugout'
Beauchamp led off the bottom of the seventh for McQuaid. These days, you can't miss the Knights' senior. He made All-Greater Rochester as a junior and is headed to Albany to play baseball. He's the leader on the field as McQuaid's star catcher and leadoff hitter. Two years ago, though, he was a lesser known sophomore who was playing the outfield. He had no homers as a varsity baseball player, and Hoffower had allowed a lone hit through six frames.
Specifically, Beauchamp had one thing on his mind: "I wasn't gonna win the game with one swing of the bat on my own."
Beauchamp's fast. He succeeded on all 33 of his attempted steals as a junior. He's exactly the kind of guy that could start a rally by getting on base and creating havoc. But then, leading off the bottom of the seventh, down two runs, he fell behind in the count 0-2. Beauchamp got back in it. 1-2. 2-2. The next pitch, a ball at the knees, could've gone either way, Fuller recalled. Beauchamp fouled the next couple pitches off to remain alive in the at bat.
The next offering from Hoffower was in Beauchamp's zone, the senior said recently. He jumped all over it, hitting what Walsh called "a bomb" to left field. It was Beauchamp's only home run that season.
"The whole game was just a roller coaster of emotion," Beauchamp said. "It was just nuts."
All the Knights burst out of their dugout in celebration, having lost their minds, McQuaid then-senior Billy Kehrig said, waiting to greet Beauchamp at home plate. His run around the bases was a blur. Recently, he watched a video of the home run and said he didn't remember half the things that happened as he made those three left turns. The home run had Griggs, Beauchamp, Campanelli, Kehrig and Walsh all believing the Knights could do it. They felt the game had been flipped on its head.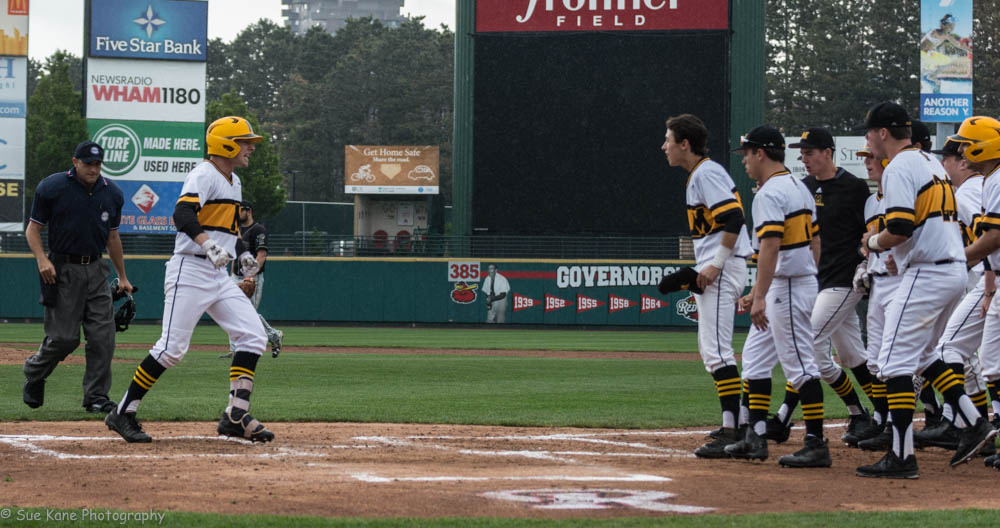 Fuller, though, was kicking himself in the third base coach's box. R-H had tacked on an insurance run in the top half, an unearned run at that.
"Man, I hope that doesn't come back to bite us," Fuller remembered thinking.
The next hitter, Griggs, had tried to compose himself as the celebration occurred around Beauchamp. It had been Griggs' error that allowed for that extra Royal Comets' run. He wanted to atone for his mistake, and a scorcher down the first-base line had a chance. But a diving stop and flip got Hoffower an out, and just two outs remained for the Knights to rally.
Griggs retreated to the first-base dugout, where he walked over to the steps, took a knee, and prayed.
"It sounds weird, but just praying on the stairs," Griggs said. "Just like somehow, let us, after this hard fought season, just somehow, let us win. Literally just the last way possible that I thought we could've won is that way that happened."
'A last-minute, Hail-Mary'
In stepped Kehrig, a right-handed hitter, hoping to work his way on base any way possible. Late in the at bat, Hoffower left a curveball over the plate enough for Kehrig to barrel it up and sneak it through the hole on the left side. Fuller knew he had to get Kehrig to second.
Kehrig's a self-described "average" runner. With a lefty on the mound, stealing from first base is conceptually more difficult. Fuller sent Kehrig, though, who went on first move and slid in safely at second. Then Tyler Cyrus mis-hit the ball, a squibber back to the pitcher, which moved Kehrig up to third base.
Two outs, man on third, McQuaid down a run, and up comes Thomas Manno, a lefthanded hitter who'd had trouble with the same-sided Hoffower that Saturday. The first pitch jammed Manno, and he fouled it off weakly toward the third-base dugout. Fuller's mind started to spin. Maybe bunt for a hit with the third baseman back and already getting ready to celebrate. The second pitch, a curveball, dropped right in to put Manno behind in the count, 0-2.
"I remember looking in R-H's dugout and all the kids had open water bottles, like ready to run out there," Griggs, still saying his prayers, recalled.
Hoffower was pitching out of the full windup, was slow to home plate, and being a lefty disadvantaged him to seeing what would happen from the third-base runner.
"It was low percentage either way, but I thought we had a nick higher on the percentages trying to take it," Fuller said.
A brief conversation near third base followed the second strike, when only Fuller and Kehrig knew what was about to happen.
"Hey, we're gonna go," Fuller whispered to Kehrig.
"Are you serious?" Kehrig replied.
"Yeah, gotta do it. Can't be timid. Do it."
So as Hoffower prepared to wind, Kerhig crept almost halfway down the line, he recalled. As the windup began, Kehrig broke to steal home for the first time in his life, and the crowd noise rose. R-H's catcher saw what was happening and lept out in front of the plate, ready to make a tag. Fornarola saw Kehrig break because his view was unhindered with a lefty at the plate.
Manno swung, nicked the catcher's glove, and fouled the ball off. Kehrig figured it was just a foul ball and he'd go back to third. For a moment, no one was sure what was happening, except for Fornarola. He'd worked on plays just like that in umpire school five months prior. He knew the call.
Trailing 2-1 & DOWN TO THEIR LAST STRIKE @billykehrig11 STEALS HOME (catcher inter. called) as @McQuaidBaseball pulls of a WILD COMEBACK WIN pic.twitter.com/QxfiIGzgJK

— Dan Fetes (@danfetes) May 27, 2017
Fornarola pointed that the catcher's glove had been hit by the swing. Then he pointed to award Manno first base. Finally, he pointed at home plate, awarding Kehrig the run. A runner stealing when catcher's interference occurs is granted the base he's heading toward.
"You are always 100 percent backed by the rules, the rules are black and white," Fornarola said. "When you turn into that rulebook, whatever page number that it is to look up catcher's interference, it's black and white."


Kehrig thought for a split second he'd been called out by Fornarola's gesture, but when everyone celebrated, he "assumed" his run had counted. Griggs and Beauchamp, both in the dugout with Kehrig streaking toward them, wondered what had just happened. Campanelli, on deck at the time, had his head down and looked up to see the pointing near home plate.
"I've never seen anything like that in my career of playing baseball," Walsh said, "and it was one of the ballsiest calls I've honestly ever seen."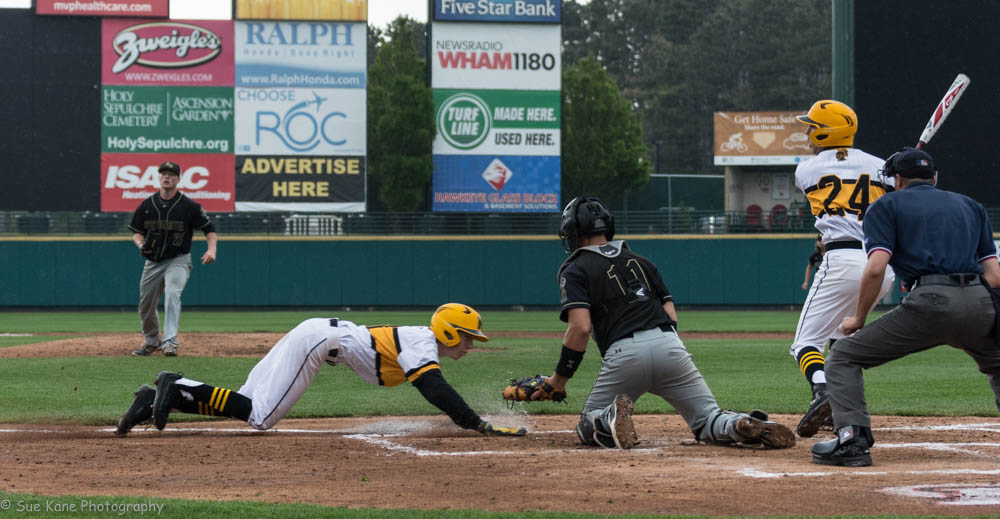 'We can't lose this'
McQuaid's players felt like they couldn't possibly lose the final after Kehrig's steal of home, after another comeback. But the game was just tied at that point, 2-2. Somebody would still have to find the final breakthrough.
As the game headed to extra innings, one of Fuller's assistants approached him. He wanted to tell the head coach how awesome that half inning had been. But Fuller recognized there was still one more run to be scored.
"It felt that man, this could be one of the coolest and biggest comebacks in the history of Section V," Fuller said. "But we're only gonna talk about it if we finish the job."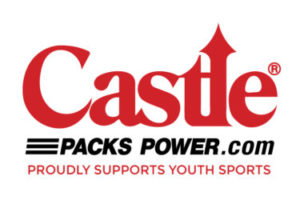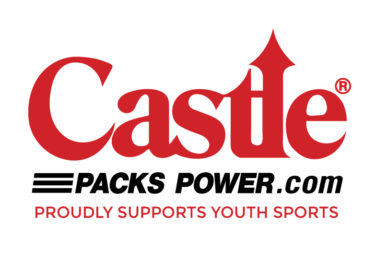 Johnson remained in the game for the eighth, and the lanky lefty worked a 1-2-3 top of the inning. In the bottom half, the Knights eventually put Nick Tomei on second base following consecutive fielder's choices. He stole second, and Beauchamp would hit again.
Fuller gave Tomei the green light, but for the majority of Beauchamp's at bat, Tomei didn't take it. Fuller tried to take it off when the count reached three balls, but Tomei had seen something.
"He was pissed that I turned it off," Fuller said. "I said, no, I don't want you to run anymore. He kind of gave me a look saying, no, I wanna run. So I said OK and turned it back on."
As Tomei broke for third, Beauchamp took ball four. The throw bounced short and trickled into left field. Tomei sprinted home, where the Knights awaited him to celebrate.
Nick Tomei and @McQuaidBaseball walk off with the Class AA title. pic.twitter.com/uk6Mrff34s

— Paul Gotham (@PickinSplinters) May 27, 2017
In the madness, Campanelli remembered he wasn't sure whether to run toward first or home to celebrate. And Beauchamp wasn't sure whether he had to touch first base for the run to count.
"I'm standing there for a second," Beauchamp said, "and I'm like, 'Oh I gotta go touch first.' I sprint down to first, touch it just in case, and then I came back and partied."
None of the McQuaid players interviewed remember many specifics about the celebration. But it was a first for everyone involved. None of them had a sectional title for the Knights. Fuller hadn't won sectionals as a player at Penfield, and that was his breakthrough as a high school coach.
"It was obviously a great moment and something me and the guys and everybody on the team will cherish forever," Fuller said. "Something you'll always think about."
'It'll be a crazy story forever'
When the current Knights' seniors were interviewed for this story, they couldn't help but tie that title into this season. They were the five-seed in 2017, not the favorites as they are this year. The win put a target on their backs, Campanelli said.
And those that experienced the ecstasy of a walk-off final win felt the agony of a walk-off loss in the 2018 final against Victor.
"It's kind of a crazy thing to think about that they've experienced both the high and the low," Fuller said. "They've been there, done that."
There'll get their shot at a second championship in the coming week, with three wins needed to raise the "brick" again. But regardless of the outcome this week, they'll have always pulled off that remarkable 2017 win.
"I think it'll be a crazy story forever," Campanelli said.
Kehrig's home from Xavier University for the summer, back in town for high school baseball players' favorite time of the year. His mother still brings up his heroics occasionally, although Kehrig said he doesn't hear about it much anymore.
"She's always like, 'Yeah, that's Billy Kehrig, he stole home,'" Kehrig said his mom says.
Fornarola's in his third season umpiring minor league baseball after his initial foray to umpire school in 2017. Looking back, Fuller summed up Fornarola as "the one umpire who knew that rule," the rule that helped win McQuaid the 2017 sectional crown.
The ump was surprised at how the play blew up, rationalizing that "in essence, it's really just a high school baseball game in Rochester, New York." But to those there that day, it was more than just a baseball game. It created a memory, one that might not even sound real as time passes. But it all happened. The clutch, improbable home run. The steal of home. The walk-off. The "epitome of sports."
"Even two years later we're talking about it," Fornarola said. "I'm sure five years later they're gonna be talking about it. So you're involved with something that is kind of becoming permanent. Any time that happens, it's pretty cool."