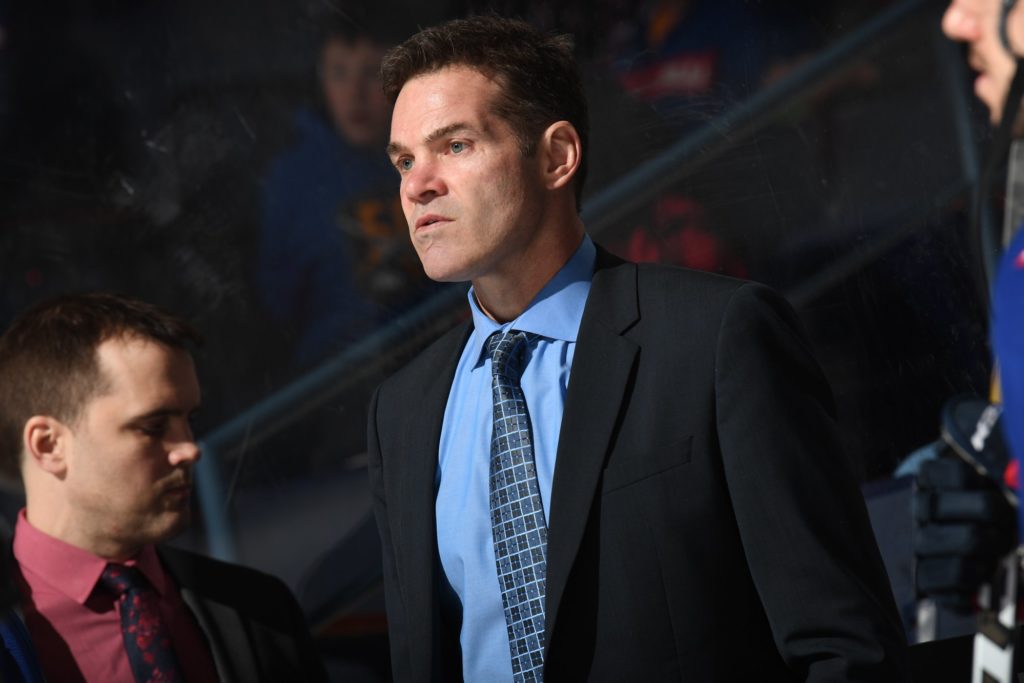 By KEVIN OKLOBZIJA
Their hockey team may not win, ever, but give Buffalo Sabres owners Kim and Terry Pegula credit for one thing:
They can terminate employees — some whose time had come, others who held the key to success — like no other management duo in the NHL.
Unfortunately for hockey fans in Western New York, when all you do is fire C-Suite personnel, you end up with nothing more than a perpetual dumpster fire.
On Tuesday morning, the Pegulas fired general manager Jason Botterill and his two assistants, Randy Sexton (who also served as GM of the Rochester Americans) and Steve Greeley.
Then late in the afternoon, the Sabres organization announced the firing of the Amerks coaching staff: head coach Chris Taylor along with assistants Gord Dineen and Toby Petersen.
All Taylor and crew did was win and ensure prospect development (think Victor Olofsson, Lawrence Pilut, Brendan Guhle, Jacob Bryson, Tage Thompson). The Amerks won 46 games a year ago. They were on their way to another 40-win season when COVID-19 put a kibosh on the 2019-20 season.
Not since 1999-2000 and 2000-01 has the franchise enjoyed back-to-back 40-win seasons. Taylor did fail to lead the Amerks to a playoff win, and that could be viewed as a demerit, but AHL coaches aren't fired because they didn't win in the postseason.
That's actually an idea that might resonate with Amerks fans, but playoff losses weren't why this coaching staff was ushered to the curb.
No, Taylor and Co. were hired by Botterill so they had to be fired right along with him, even if they provided draft picks whatever they needed to reach their potential and amassed a points-earned percentage of .619 over three seasons.
Then again, they were hired. Under this ownership duo, that means they also would need to be fired, and usually sooner than later.
Between February of 2013 and today, the Pegulas have ash-canned three Sabres general managers, five Sabres head coaches, four Amerks head coaches, one Amerks general manager, two NHL team presidents, one AHL director of operations (Rob Kopacz), one highly respected director of ticket sales and services (John Sinclair) and one revered-by-all vice president of media relations (Chris Bandura).
Toss in the March 2014 "resignation" of Pat LaFontaine as president of hockey operations and that's 19 top executives shown the door in just seven years.
George Steinbrenner fired his top baseball personnel all the time when he owned the New York Yankees. But his Yankees won. All the time.
And the Sabres under the Pegulas? They just lose. And lose. And lose. The franchise has gone nine straight seasons without a playoff appearance. The Pegulas have had start-to-finish ownership control of the team for — you guessed it — just those nine seasons.
In firing Botterill on Tuesday morning, they cited "philosophical differences regarding how best we put ourselves in a position to compete for a Stanley Cup."
It's impossible to decipher just what that philosophy may be, however. Every three years someone else is drafting players. Every other year, a different coach is implementing his systems.
And the firing of the Amerks coaching is a colossal blunder, proof that the organization has no direction, no real leadership and no clue.
When former general manager Darcy Regier — the development cupboard barren — declared at his April 2013 season wrap-up news conference that there would be suffering, he failed to define suffering.
Neither Merriam-Webster nor New Oxford define it as nine years of torment and pain for hockey fans.
But maybe there's hint the madness will finally end. Kevyn Adams, a Buffalo native, was hired as the Sabres new general manager.
He has been employed by the Sabres or Pegula Sports and Entertainment in a variety of roles since 2009 — from development coach to assistant coach to general manager of the HarborCenter to senior VP of business administration.
That's not why this may work, however. Adams has something going for him that none of the others had: he's already been fired once during the Pegulas' ownership tenure (as Rolston's assistant coach following the 2012-13 season).
For an organization that has made firing high-level employees its trademark, maybe that's now the prerequisite for hiring, because it's clear nothing else has worked.