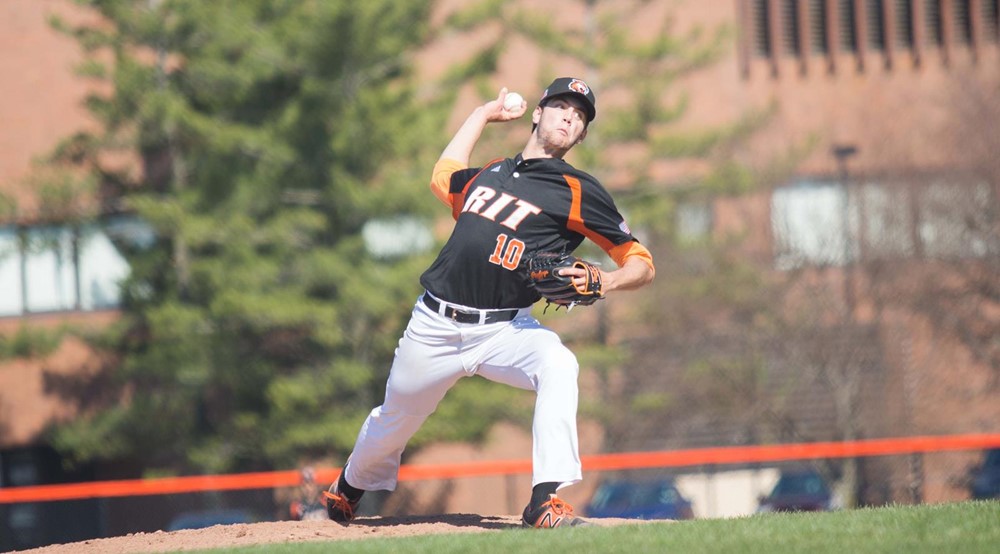 By BILLY HEYEN
Rochester Institute of Technology pitcher Stevie Branche signed an undrafted free agent contact with the Cincinnati Reds on Monday morning, according to the RIT baseball Twitter account. The right-handed pitcher from New Paltz, N.Y. becomes the first Rochester-area player acquired by an MLB team during 2020's altered draft cycle. 
Due to the COVID-19 pandemic, the 2020 First-Year Player Draft was only five rounds. Teams were then limited on offering a maximum $20,000 signing bonus to undrafted free agents, like Branche, who is one of six undrafted free agents signed by the Reds, according to Baseball America.
Branche earned Liberty League Pitcher of the Year honors for his 2019 season with the Tigers. He led the conference with 66 strikeouts and a .198 batting average against. He also put up an RIT-best 2.03 ERA. 
Across an RIT career spanning 31 games, Branche started in every one of his appearances. Opponents hit .204 off him in his freshman campaign when he went 4-1 with a 3.80 ERA. His sophomore season was a step back, with his ERA ballooning to 5.27, before he put together his stellar junior year.
Branche, listed at 6-foot-4 and 210 pounds, made two starts as a senior before the season was shutdown, allowing one earned run in each and striking out 17 batters in 12 innings.
Prior to attending RIT, Branche was an All-Section IX selection for New Paltz High School, where he also played basketball and football.
The Reds have been one of the more active teams drafting in upstate New York in recent years. They selected Tanner Cooper (Canandaigua | FLCC) in 2019, John Ghyzel (University of Rochester) in 2017 and Conner Simonetti (Fairport) out of high school in 2013.
Branche is at least the sixth recorded RIT player to sign with a major league club. The most recent was Will Gorman in 2017, when he was drafted in the 32nd round by the Arizona Diamondbacks.