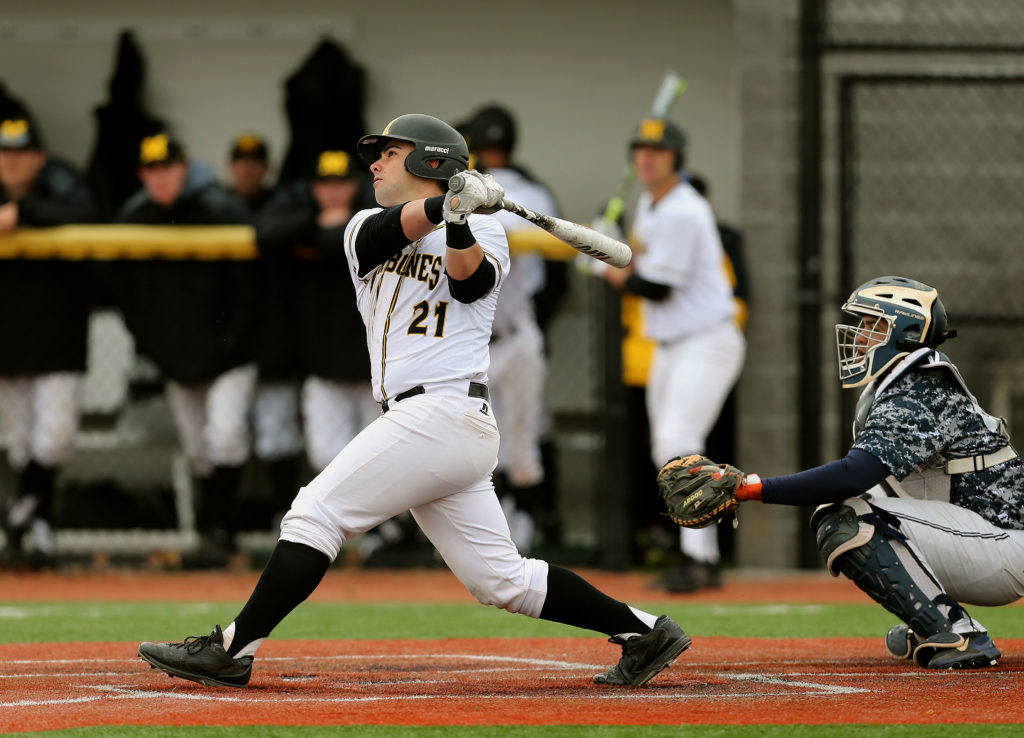 By TOM GARIGEN and PAUL GOTHAM
Monroe Community College baseball played more than 450 games from 2010 to 2019. The Tribune program won eight NJCAA Region III Division II titles during those years and advanced to five East District Championship games. MCC's nine parlayed those appearances into three NJCAA World Series trips.
Along the way, there have been All-America honors, Gold Glove awards, graduation to four-year schools and professional contracts signed. An abundance of talent has played on the diamond at East Henrietta Road. Using the model established by The Athletic, former MCC Sports Information Director, Tom Garigen joined Paul Gotham to pick squads from the past 10 years for a fictitious (unless the Black and Gold want to make this a reality) doubleheader. Here are the teams. Tom gets first pick:
John Ricotta (Garigen 1B; 2016-2017)
With a bunch of regional championships as well as a handful of World Series appearances in the last decade, there is no shortage of quality players to take with the No. 1 slot. But I'm going with the guy who rewrote the Tribune record books in the power department. John Ricotta was an absolute force at the plate, setting new program marks for home runs in a game (3-tied), season (15), and career (20), total bases in a season (141) and career (237), and tying the all-time RBI record (126). The first team NJCAA All-American was also the rare slugger who made consistent contact, striking out just 26 times in 391 plate appearances over two seasons. The result was 134 hits and a .406 batting average during his distinguished career with the Black and Gold. And oh by the way … he was no slouch with the glove either. He wielded a slick mitt and posted a fielding percentage just below .990. I'm feeling pretty good trotting this guy out to first base and penciling him into the third or fourth slot in my batting order.
Gotham: Johnny's shot off the batter's eye at David Allen Memorial Ball Park in the 2016 NJCAA World Series is a lasting image. He hit round trippers in quantities and in big situations. Hitting in the middle of the 2016 lineup, Johnny was part of arguably the most prolific offense in program history.
Cas Sobaszek (Gotham SS; 2018-2019)
It's a short list of players who can say they were the starting shortstop on two Monroe teams to reach the World Series (only Kaleb Cunningham 2007-2008 can also make the claim). Cas holds the program record for stolen bases (63) and runs scored (121) while driving in another 57 runs. He collected 130 hits during his two seasons and produced from the top of the order as well as the three-hole. He was caught stealing on just seven occasions. What doesn't show up in the stat column was his ability to wear out pitchers who were forced to pick over trying to hold him in check. In more than a couple of cases, Sobaszek went first to third on errant pickoff attempts. Compiled a fielding percentage better than 91 percent during his time in Black and Gold. I like my offense's chances with Cas at or near the top of the order.
Garigen: Great pick. On top of the obvious abilities on the field, Cas also was an intangibles guy who could lead through his voice or his actions.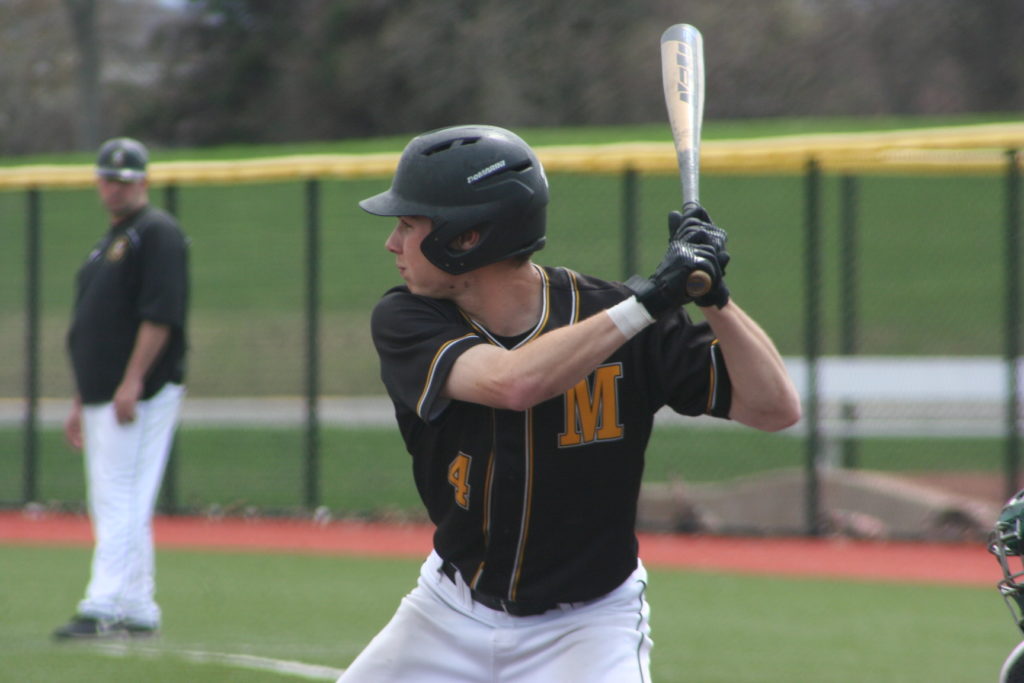 Zach Vennaro (Gotham RHP; 2015-2016)
Game 1 starter of the 2016 World Series, Vennaro won 12 games over two seasons on East Henrietta Road including nine starts during his sophomore year. As a freshman he nearly carried the Tribunes to an East District title. Pressed into service, the right-hander hurled two and a third out of the bullpen in an 11-10 win over UConn-Avery Point (UCAP) to force a deciding game. Vennaro got the start later in the day and pitched into the eighth in a game Monroe lost 7-6. Vennaro averaged better than eight strikeouts per nine innings and allowed just three home runs in more than 130 innings worth of work. Now a Milwaukee Brewer farmhand, Zach gets the ball in the opener for us.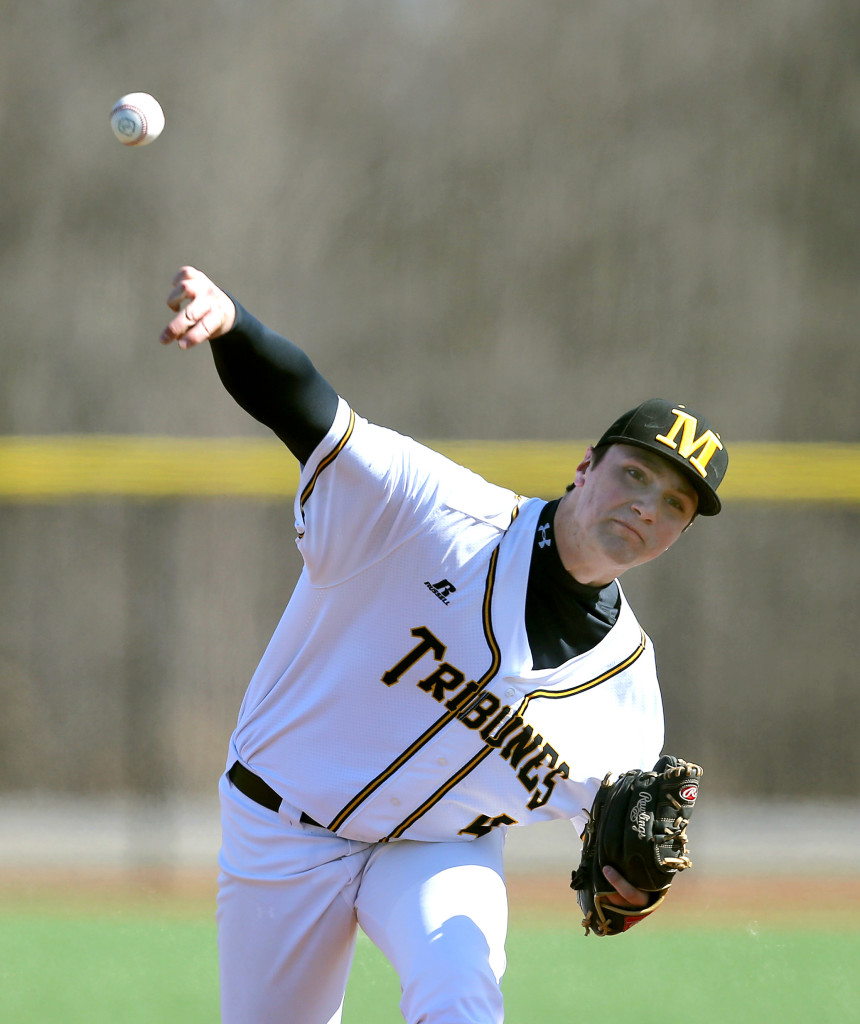 Garigen: Talk about mound presence. When Vennaro was standing up on the rubber, you couldn't help but take notice.
ROCHESTER RED WINGS DRAFT: BUILDING THREE TEAMS WITH TWINS-ERA PLAYERS
AJ Kehlenbeck (Garigen C; 2011, 2013)
Kehlenbeck was among the best in a long line of outstanding Monroe backstops that continues to this day. He had an absolute cannon for an arm and he threw out an incredible 53 percent of would-be base stealers (17-of-32) his sophomore year. He was an NJCAA Gold Glove Award winner and first team All-American that season. He was so good defensively that anything he contributed with the bat could be considered a bonus. He not only contributed, but excelled, hitting .329 as a freshman and .374 as a sophomore. We will be daring Paul's squad to try and swipe a bag!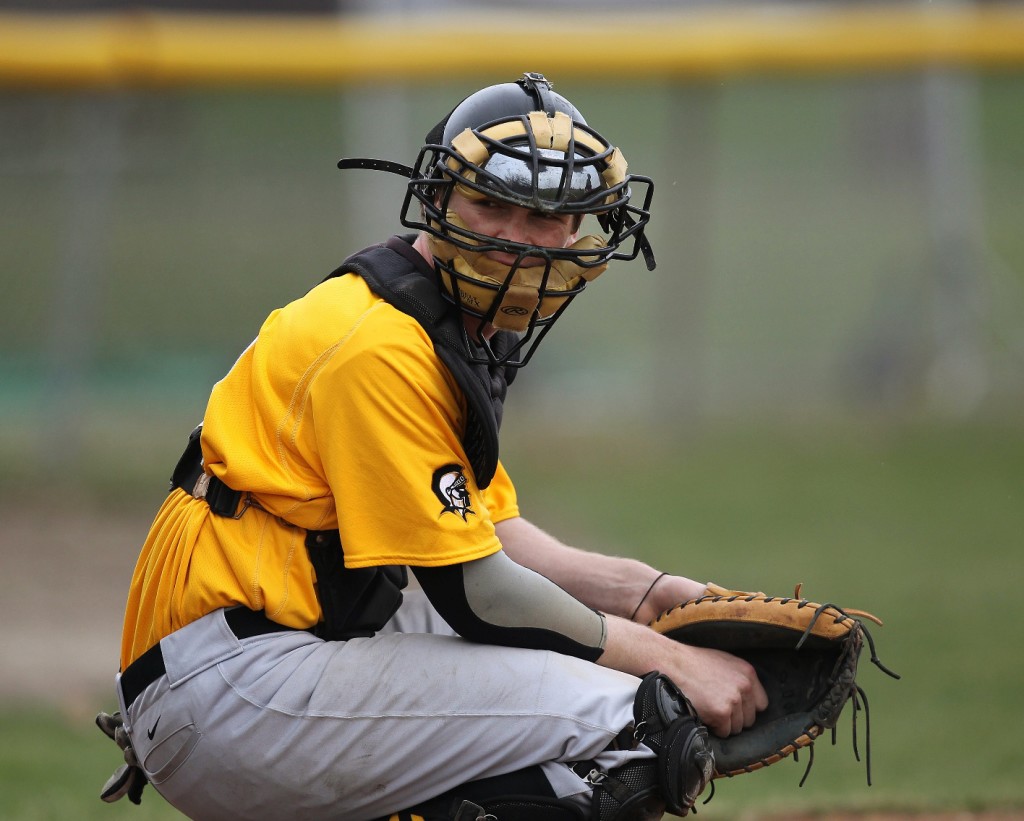 Gotham: AJ threw out more than 50 percent of would-be stealers. More impressive? Only 32 attempts against him all season. Guys who would run at every chance (I'm thinking of Shakeel Newton/Genesee CC) didn't wander too far from the bag at first. Okay. You got us there. When the ball's in play, though, we'll get our extra bases. Cas will force a few pick overs. One or two are bound to end up in foul territory. It will be "Coach Chris" rules from there: get your extra 90.

Ronnie Stout (Garigen RHP; 2010)
Stout's career spanned two different decades (2009-2010), so I'm just considering his 2010 sophomore season for the purpose of this draft. But that season cemented his legacy as one of the premier right handers in recent program history. His easy grin and down-to-earth personality belied his tenacity on the hill, where he was always unflappable and often unhittable. He won 8 games with an ERA just under 1.50. And while he wasn't too overpowering – he struck out six batters per 9 innings – he used his impressive arsenal to keep offenses off balance. Batters rarely squared him up, as he allowed 37 hits in 55.2 innings and had a WHIP of just over 1.0. He also hit .410 with five homers, so if I have to pull some type of double switch, I'd certainly feel fine with him swinging the bat!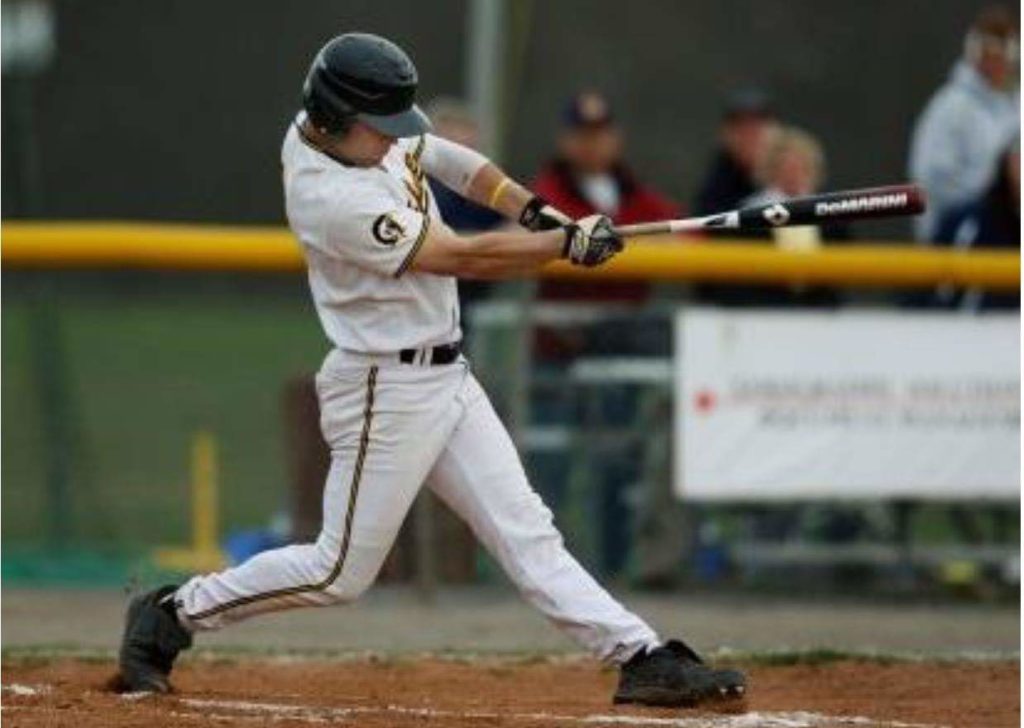 Gotham: Think about this – he posted those numbers against BESR bats. Yikes!
Tommy LaCongo (Gotham C; 2014-2015)
If we can't have AJ, Tommy is more than capable behind the dish (threw out 37 percent – 24 of 65 his sophomore year). I'll take his bat in the lineup any day – hitting .327 with 20 extra-base hits and an on-base percentage of .409 for the '15 team that advanced to the district title game. Not that you don't get this from AJ, but Tommy's competitive nature was unmatched.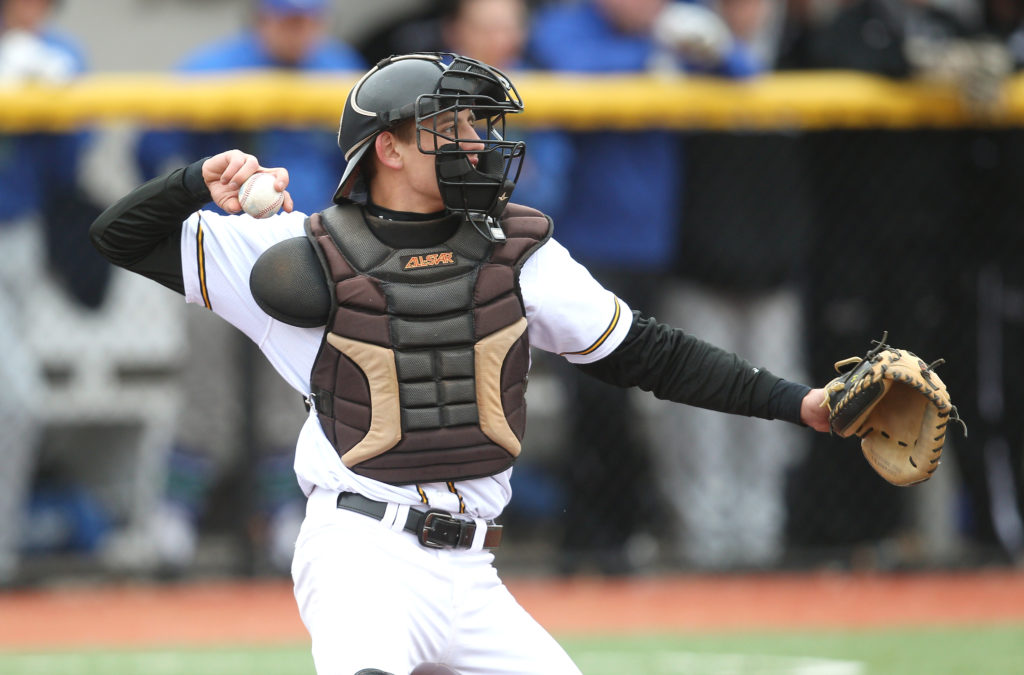 Garigen: A great selection, and as old school as it gets! Tommy's a throwback type of player. I can picture him staring down a pitcher with a wood bat and no batting gloves. Tough as nails.
Gotham: And smiling the whole time. Don't forget the smile. As if to say you're gonna take what's coming to ya. And you're going to like it.

Danny Mendick (Gotham 2B; 2012-2013)
Splitting time between second and short, Danny had 216 total chances his sophomore season and finished with a fielding percentage of .981. That doesn't take into account the number of heady plays he made. We won't have to worry about any miscommunication or missed assignments with Danny in the field. He also hit .364 in '13 with 15 extra-base hits and stole seven bases without getting caught. Hmmm…maybe someone will get the green light against Kehlenbeck.
Garigen: With uncertainty swirling around the Major League Baseball season, one of my biggest disappointments is not being able to watch Danny continue to improve for the Chicago White Sox!
BENCHMARKS: ROCHESTER-AREA BASEBALL ALL-DECADE TEAM
Vinny Bomasuto (Garigen OF; 2012-2013)
Grabbing one of my corner outfield spots is Bomasuto, whose ridiculous sophomore season culminated in a spot on the NJCAA All-American second team. Perhaps no player took better advantage of Monroe's new turf field than the speedy Bomasuto. His ability to drive the ball into the gaps was a perfect fit for the field's expansive power alleys. He was an extra base hit machine, and that was on full display when he knocked 18 triples in 2013. That is not a misprint! He led the way with a .422 batting average while also pacing Monroe in on base and slugging percentages. His OPS was a Bondsian 1.245, he stole 15 bases, and was also occasionally called upon to close out ballgames on the hill, which he did in the regional championship and district opener. He finished his career as the only Monroe player to accumulate 20 doubles and 20 triples, and I'd be thrilled to watch him fly around the field as a member of my squad.
Gotham: Vinny didn't need any encouraging to stay middle-third of the field. Consider this — in 197 plate appearances during the 2013 season, he hit a triple on average every 10.9 times he walked from the on-deck circle.
Brad Kaczka (Garigen SS; 2012-2013)
Kaczka will settle nicely into the shortstop position in my lineup. And I'll take a shortstop with an OPS north of 1.000 and a fielding percentage over .950 any day of the week! Those were the numbers he put up in his sophomore season, as he hit .376 with 13 doubles, four triples, and four homers to go along with 40 RBI and 48 runs scored. Throw in 31 walks and seven hit by pitches, and Brad was on base pretty much non stop. He also stole 11 bases in 12 tries (22-for-26 in his career). He showed a penchant for getting on base as a freshman as well, with 40 hits, 16 walks, and eight hit by pitches. I can see him scoring ahead of many a Bomasuto or Ricotta base hit.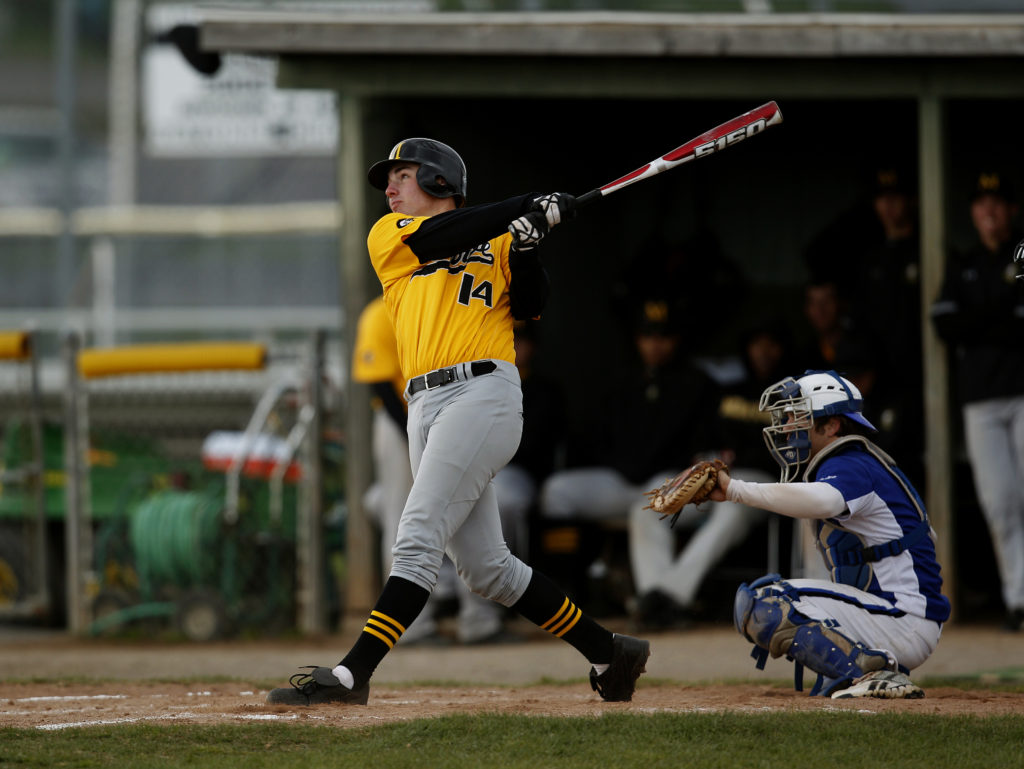 Gotham: There's a reason why Brad finished his college career at Winthrop. The guy can play!
Ellington Hopkins (Gotham OF; 2014-2015)
Had 85 chances in the field during his sophomore season (vast majority in center) and converted on 84 of those. That doesn't take into consideration the number of balls he tracked down that most don't. There were more than a handful of situations where he ran down a single in a gap and kept the runner from advancing. Hit better than .340 and converted on 48 of 55 stolen base attempts. AJ will keep "Hop" in check at first. After that, he will see a windmill from the third-base coach's box.
Garigen: Hoppy was one of those terrific all-around, super utility players we've become accustomed to watching in the Black and Gold. A great athlete who could've played anywhere on the field.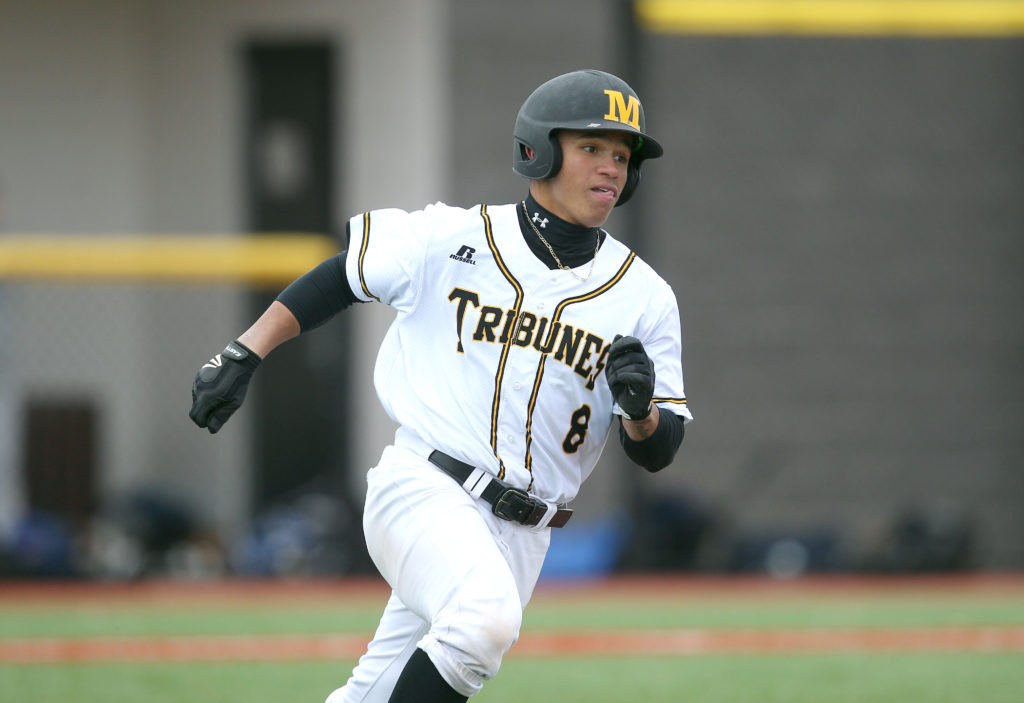 Phil Ferranti (Gotham DH; 2018-2019)
Significant contributor on a pair of World Series teams, Phil earned All-American honors his freshman year when he led the Tribs with 63 RBI. He finished that season with an OPS of 1.028. The Webster Schroeder alum is program-leader with 41 doubles. We will have plenty of guys getting on base, and Phil will get runs to the plate. He also gives us defensive flexibility having logged time at first and catcher during his time in Black and Gold.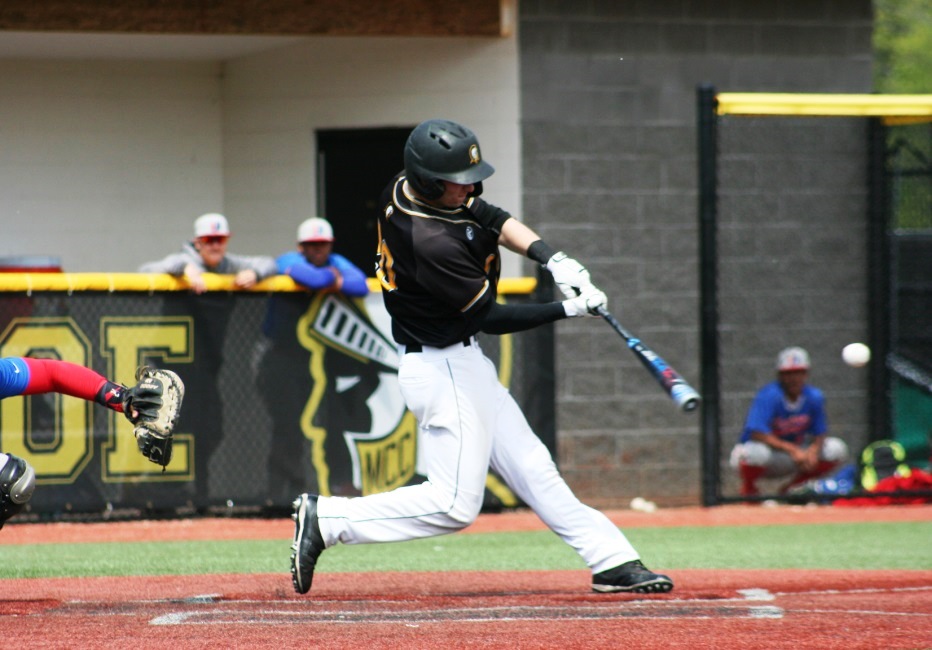 Garigen: This is the type of gap hitter I'm hoping my speedy outfielders can neutralize, although it often seemed that Phil could hit the ball where he wanted to. Opposing pitchers could have saved their pitch counts and just put him on second base!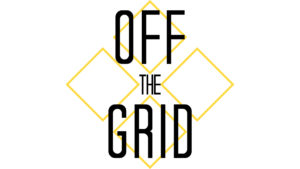 Jon Klein (Garigen RHP; 2011-2012)
An imposing righty with a devastating change-up and impeccable control, Klein excelled for the Tribunes for a pair of seasons. He went 2-0 with a 2.34 ERA as a freshman, and followed that with a 6-2 mark and a 1.42 earned run average as a sophomore. His command was downright filthy as he walked just nine batters in 72.1 innings over his two seasons. He had a 6-to-1 strikeout to walk ratio. Suffice to say, he did not pitch out of the stretch too often. He parlayed his success at Monroe into an incredible career at Mercyhurst University, where he was among the best pitchers in the nation as a senior. He was quiet and unassuming, and thus I think a tad bit underrated. But he's a No. 1 or 1A starter on my all-decade squad.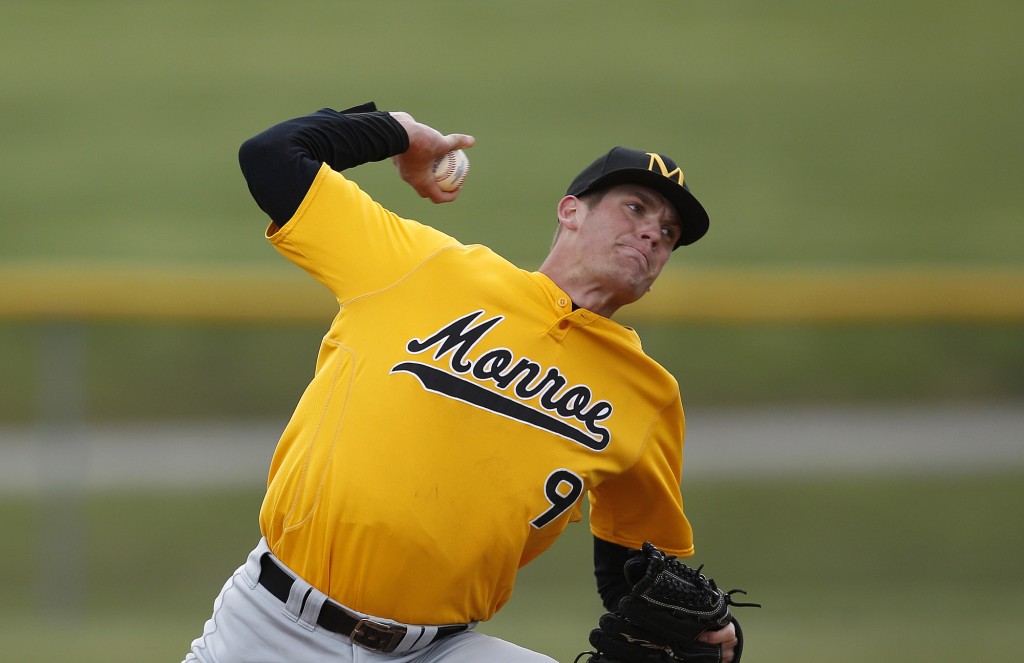 Gotham: Every time he took the mound, Jon gave the Tribs a chance to win.
Matt Brooks (Garigen OF; 2015-2016)
Brooks was a model of consistency who really found his power stroke in his second season with the Tribunes. He was a solid contributor as a freshman, hitting .355 with eight doubles, 14 stolen bases, and a .500 on base percentage. The power then arrived as a sophomore, as he bashed 12 doubles, eight triples, and three homers, and his RBI output went from 14 to 43. He walked 33 times and stole 15 more bags, finishing his career with an OPS over 1.000. I also had the pleasure of being on hand when he knocked in the winning run for the Batavia Muckdogs in a NY-Penn League game two summers ago!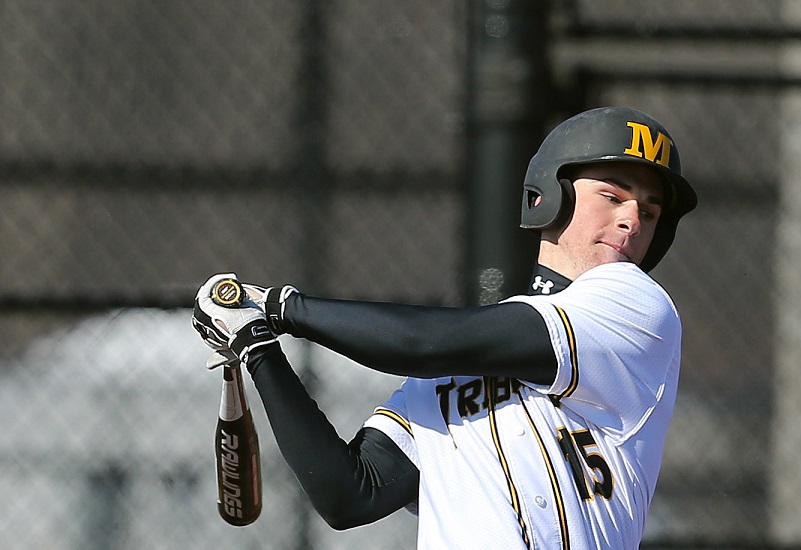 Gotham: You have robbed everyone of the opportunity to witness Brooksie and AJ do battle. I wanted to see Matt taunt AJ with his secondary lead.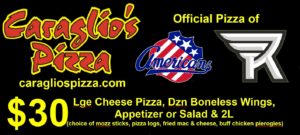 Brennen Smith (Gotham LHP; 2018-2019)
Big-game performer. His effort in the opener of the 2019 districts was vintage Brennen. Coming out of the bullpen with runners on second and third, one out and Monroe trailing 4-1 in the third, he fanned the first two he faced. BSmith would go on to strike out 10 in five innings of what became a slugfest. A week earlier, he started and hurled six solid innings in a win over UConn-Avery Point to open 2019 regionals. One week later, he came out of the bullpen and hurled three shutout innings in game one of the World Series before running into trouble. Fanned 65 in 46.1 innings of work while walking 20. This being his first full season of work after elbow surgery. He nearly threw an Immaculate Inning. In a pinch, we could send Brennen to the plate. He's the only Trib in the decade to hit for the cycle.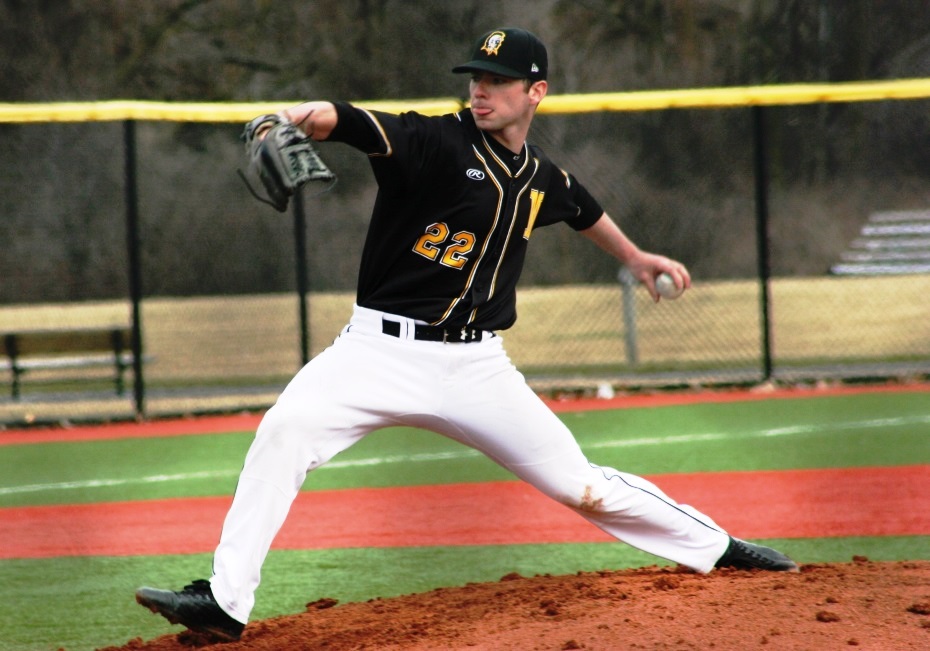 Garigen: When Brennen walked onto the field, you got the feeling just looking at him that he was a guy who had been in some high-leverage situations. He carried an air of confidence, especially to the hill.
Spencer Scorza (Gotham 1B; 2012-2013)
NEVER underestimate a big target with a sure glove at first. Hitting .353 on the season, Spencer led the 2013 district finalists with five home runs and 48 RBI. Finished his collegiate career at Cornell. Started in all 40 games as a senior leading the Big Red with 12 doubles and 56 total bases. All this while striking out just 15 times in 40 games. Ivy League influence in the dugout is a nice luxury.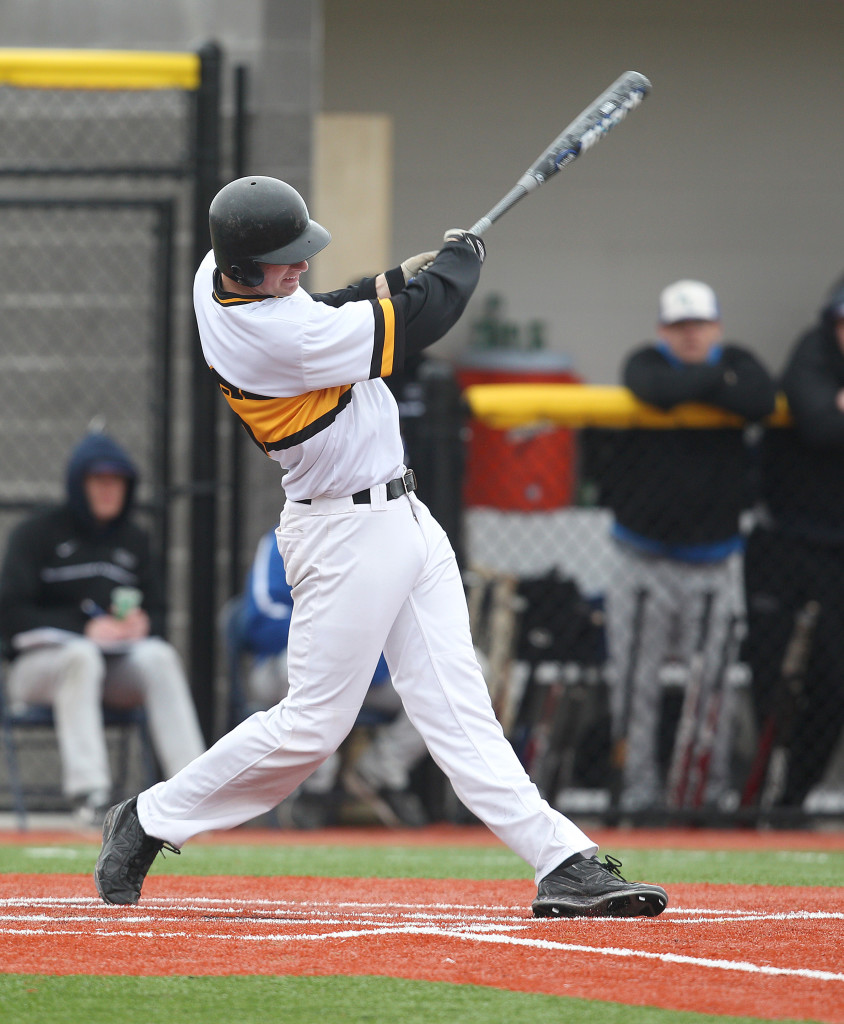 Garigen: Big, strong, power with the bat, good glove, intelligence. Spencer was really the prototypical first baseman.
Jimmy Latona (Garigen 3B; 2014-2015)
I will happily pencil Jimmy Latona near the top of my lineup, and if his MCC career was any indication, he will be crossing the plate. Jimmy was a terrific hitter, a versatile defender who could catch and play infield (he'll man the hot corner for me), and he was always on base. I mean … his CAREER on base percentage was .533. He had 82 hits, 55 walks and 42 hit by pitches over his two seasons. He even had a walk-off, bases-loaded HBP to win a game against Tompkins Cortland. Jimmy had an outrageous sophomore season, with a slash line of .411/.567/.658 that was driven by 13 doubles, seven triples, and three home runs. He was one of only two players in the decade with at least 60 hits and 60 runs in a single season (Sobaszek the other in 2018).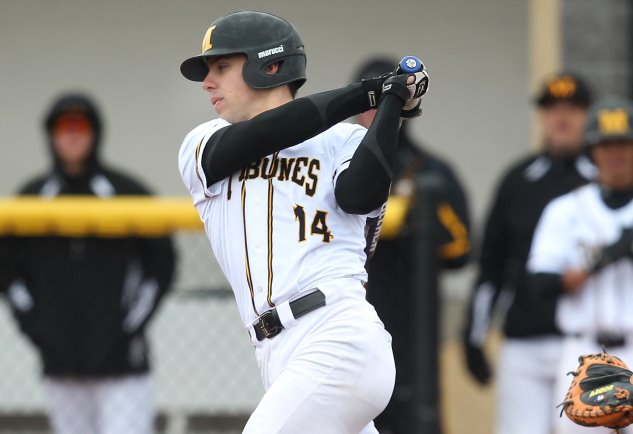 Angel Rosario (Garigen OF; 2013-2014)
I'm going with another speedy corner outfielder in my attempt to close off the gaps to Paul's hitters. Though he may shift over to center on my roster. In Rosario, I'm taking a guy who can cover huge amounts of ground in pursuit of outs. He was adept at reading fly balls off the bat, which gave him that necessary quick first step. His speed, along with the ability to take correct angles, were also crucial for cutting off balls in the gap to keep runners from taking an extra base. At the dish, Rosario excelled during his freshman season. He hit .406 with 11 doubles, four triples, and 29 RBI while getting on base at a .472 clip.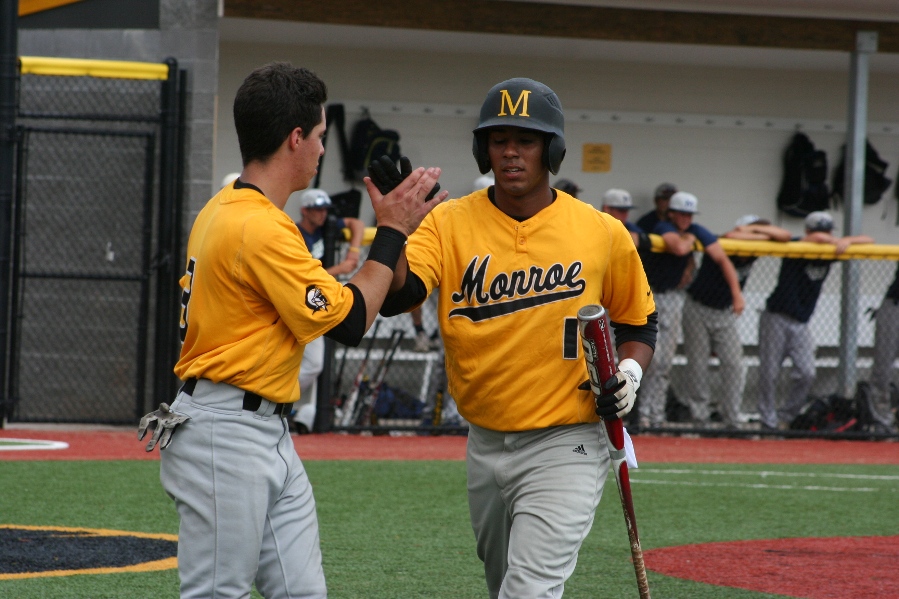 Something interesting happened during his second season. His batting average took a precipitous drop in what one could assume was a bit of a sophomore slump. But a closer, and more Sabermetric, look at the numbers helps to reveal something a bit different. Rosario's strikeout rate increased only slightly (from 7 to 9 percent), meaning he was still making consistent contact. However, a look at his Batting Average on Balls In Play (BABIP) shows a decrease of 186 points from .438 to .252. BABIP measures how often a ball in play goes for a hit, and does not account for home runs and strikeouts. There are a couple things that can cause a dramatic change in BABIP. One is defense. Playing against elite defenses can turn would-be hits into outs and cause a decrease in BABIP as well as batting average. But the defensive numbers of Monroe's opponents from Rosario's freshman to sophomore years show remarkable similarities. As a freshman, defenses committed 1.8 errors per game and had a .937 fielding percentage. And as a sophomore, those numbers were 1.8 errors per game and a .936 fielding percentage. So it's fair to say opposing teams weren't suddenly filled with Brooks Robinsons and Ken Griffey Jrs. Talent level is another factor, and Rosario proved as a freshman that he obviously has what it takes. You know what the third factor is? LUCK! Batters don't have complete control of where a ball lands. Sometimes bloops fall in for a hit. Other times, a line drive will be hit right at a fielder. Taking into account the similar defensive metrics, it's reasonable to deduce that Rosario ran into some terrible luck in 2014. It's possible that his freshman and sophomore seasons were the extreme ends of his hitting spectrum, and the true hitter actually lies somewhere in the middle. Had he played a third year, it wouldn't be surprising if he hit .340-.350, stole double digit bases, scored a bunch of runs, and played his usual stellar defense. And that's a player I will go to battle with!
Gotham: AJ nicknamed Angel EBay because of all the flares that came off his bat and fell for singles (cheap hits). Then there was the play in right on a sinking line drive where Angel decoyed like he was settling under the ball, froze the runner just enough to take it off the hop and get a force out at second. Who was that against?
Garigen: My memory is good, but not that good, Paul!
Luis Diaz (Gotham 3B; 2010-2011)
Fleet afoot and strong-armed, Luis rounds out our infield. He hit .374 for the 2011 team which had the misfortune of facing UCAP's Sean Donatello in consecutive outings. When rains postponed the district tournament after the first day of play, organizers pushed the tournament to the following weekend. The Florida Marlins draft pick hurled his second shutout in as many games. Different weather might have favored the Tribunes that year. Playing in 34 games, Diaz collected 13 extra-base hits including a team-high three round trippers. He went on to play at North Carolina Central where he earned first team All-MEAC honors his senior year.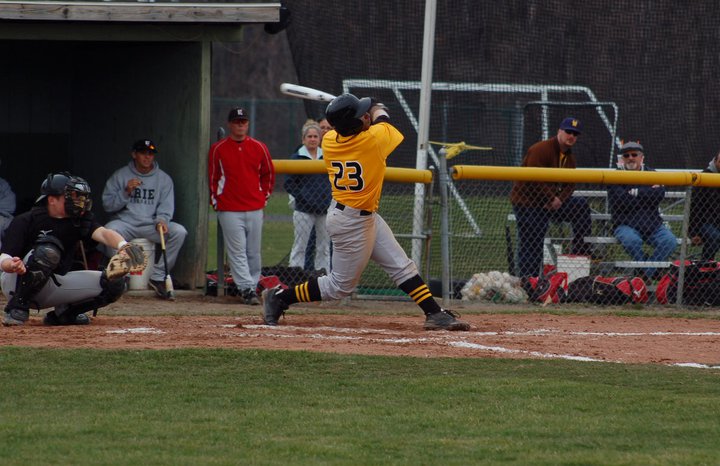 Garigen: Luis was the collegiate version of a "professional hitter."
Kevin Johnson (Gotham RHP; 2010-2011)
Saves leader for that 2011 team with 11 he also won one game. Johnson struck out 20 and walked five in 20.1 innings of work that season. He finished with an ERA of 0.98. He walked five for a WHIP of 0.94. Johnson gives us options. He hit .344 in 131 at bats while leading the Tribs with 23 stolen bases in 25 attempts. AJ, are you up to it?
Garigen: This was the guy I wanted to draft to lock down my last few innings. Alas …
Collin Stack (Garigen DH; 2015-2016)
Like many programs that have histories steeped in success – Syracuse Basketball comes to mind – players often have to "wait their turn" before they are given a full opportunity as an everyday player. Sometimes it's because further development needs to take place. Other times it's simply due to the lineup or rotation already being full of studs. It's never easy, especially because these kids typically excel in high school and are used to being the star. Biding their time while they await that opportunity can be a tall order. It takes someone with a good head, a good heart, and plenty of commitment.
Collin Stack played sparingly as a freshman. He received 32 at bats over the course of 19 appearances. It's hard to find a rhythm when you're not at the plate day in and day out. But Stack continued to work hard and remained focused on becoming a better player. That determination paid off in a big way in his sophomore year as he developed into a complete hitter. He led the Tribunes in batting average (.438; highest in the decade), on base percentage (.513) and slugging percentage (.648) and had an other-worldly 1.161 OPS. He rapped 17 extra base hits while swiping 10 bags in 11 tries. He was a catalyst on a team that won districts – he went 4-for-5 with a homer and three RBI in the clincher – and advanced to the World Series. He then enjoyed two productive seasons at NCAA Division I University of Maryland, Baltimore County. Collin Stack is a case study for future Tribunes. Success is out there if you're willing to work for it.
Gotham: As a freshman, Collin was pressed into service to play shortstop during the East District Championship. He showed then the poise that he kept throughout his time with Monroe.
Hunter Merrill (Garigen 2B; 2014-2015)
Merrill is the perfect guy to lock down second base for my club. A plus defender with a strong arm, no one was better at turning the double play. He was a part of 41 twin killings, including 26 as a sophomore, and helped many a pitcher escape a jam. He had good range in either direction, and was adept at going back to track down those difficult, in-between pop-ups. He also hit at a .362 clip to go along with 15 stolen bases as a sophomore, and was dependable in clutch situations.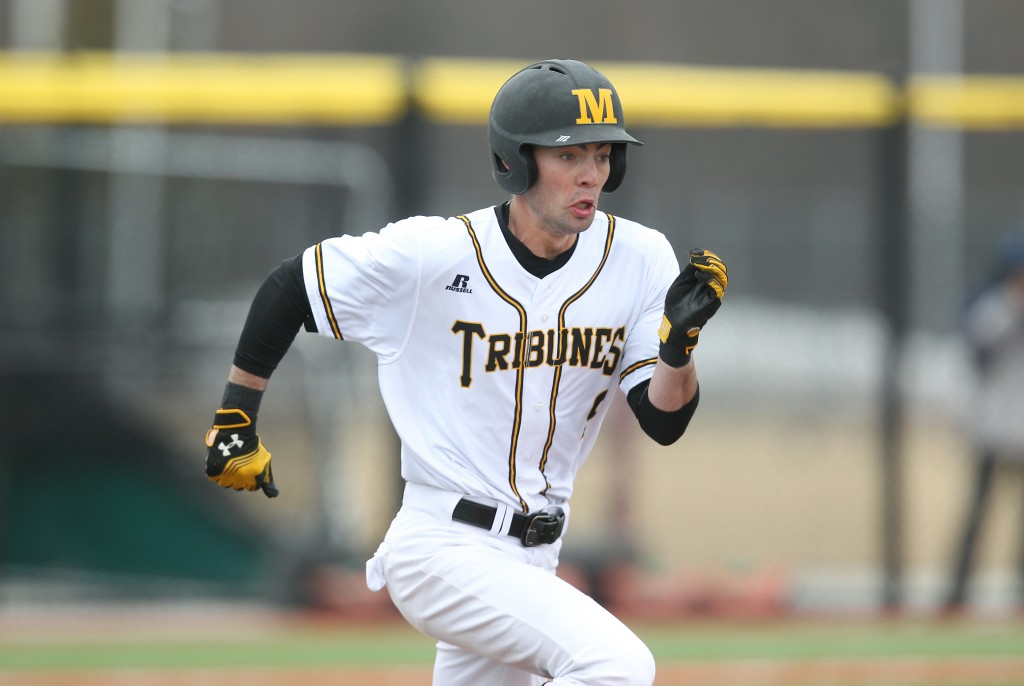 Gotham: Our infield will take a step or two toward the plate. Hunter changed the district game in his first at-bat when he dropped a bunt. He put one between pitcher's mound and third and cued the merry go round. Monroe went on to bounce a top ten team from the post-season. Of course, that Westchester team didn't have Luis Diaz at third and Danny Mendick at second. Go ahead, Hunter. Try and drop one. Dare ya.
Gavin Guarrera (Gotham LHP; 2010-2011)
Innings-eater for the 2011 team. Gavin is comfortable taking the ball to start and stepping in for long relief when needed. Made nine appearances for the Tribs that year finishing with a record of 5-3. He allowed 16 runs (13 earned) in nearly 53 innings of work. Along with Diaz, continued his career at North Carolina Central where he settled into the closer's role. As a senior, he allowed six runs (four earned) over 29 innings of work.
Garigen: Not surprising that his stuff translated to the next level. He and teammate Ben Gielow (coming later) excelled at keeping hitters off balance.
Luke Brust (Gotham OF; 2014-2016)
Connected on 21 extra-base hits and drove in 40 runs for the 2016 World Series team, but Luke's real contributions came with the glove. He made it look natural in centerfield despite not playing the position until he arrived at Monroe. It was easy to take for granted Luke's ability to run down hits in the alleys. He routinely tracked balls over his head while being able to play a shallow center field. Worth noting (and this could be said for all the '16 guys), he was part of a team that played 10 teams from Arizona during their spring trip. Among their opponents were national finalist Gateway, district finalist Pima and a Cochise team that won 36 games with five players that went on to play at the Division I level.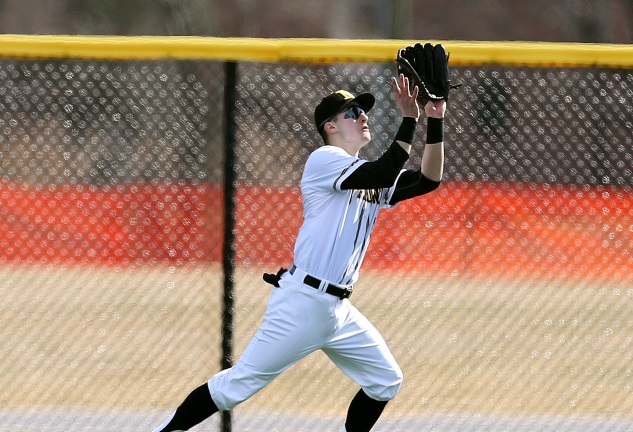 Garigen: Not many guys joined the 20 Extra-Base Hit Club during a single season this decade, and Luke is one of them. His athleticism was apparent whenever he stepped on the field.
Blaine Farrell (Garigen LHP; 2014-2015)
A textbook example of a "crafty lefty," Farrell was a stalwart for two seasons. He went 11-4 with a 3.40 ERA in his MCC career while tossing over 100 innings. Farrell was a student of the finer arts of pitching, and his adjustments from batter to batter, inning to inning, and game to game allowed him to control the tempo and were a big reason for his success. He was a strike thrower who also understood the value of throwing pitches off the plate. Coach Brust would compare him to Hall of Famer Tom Glavine for his ability to get batters to swing at pitches they didn't want to swing at.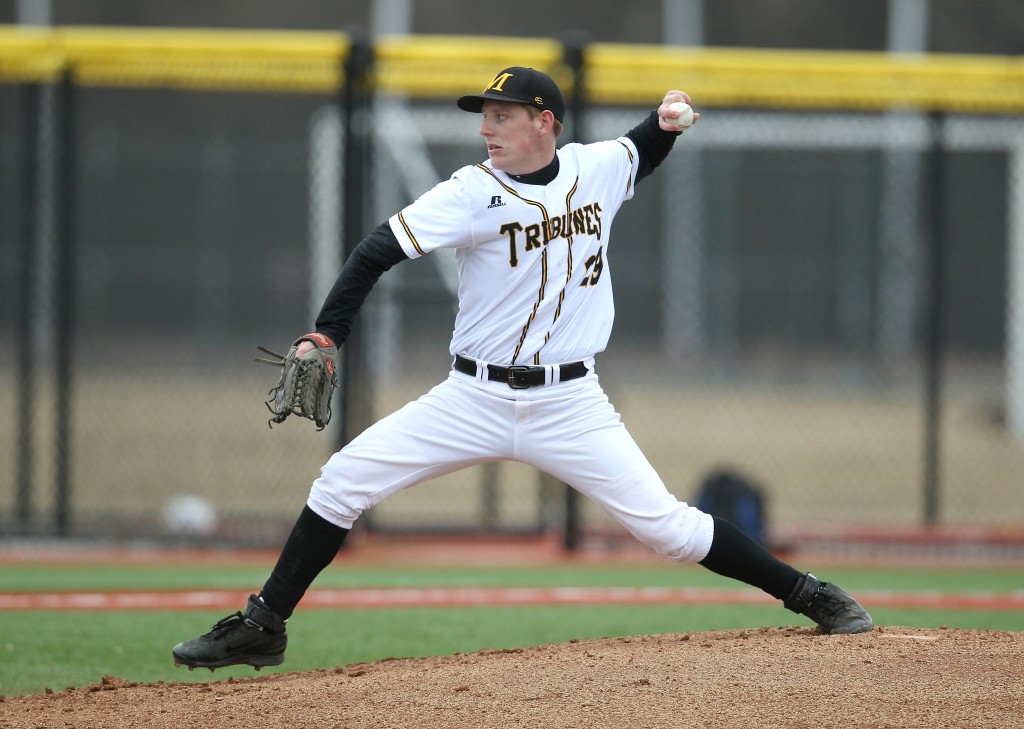 Gotham: Blaine had the "smoke and mirrors" approach down pretty well.
Trey Brown (Garigen Utility; 2019)
I could plug Trey in the infield or outfield. Top of the order or toward the bottom. In the starting lineup, or pinch hit or run. Whatever the situation, he's going to make something happen. That's what you get from Trey; the ability to impact a game in any number of different ways. He had a monster freshman year, batting .374 with 55 hits, 43 runs scored, and 43 RBI. He also stole 24 bases while only getting caught one time. When there's a turning point, Trey is the guy you want in the middle of things.
Gotham: Looking forward to writing more articles about Trey.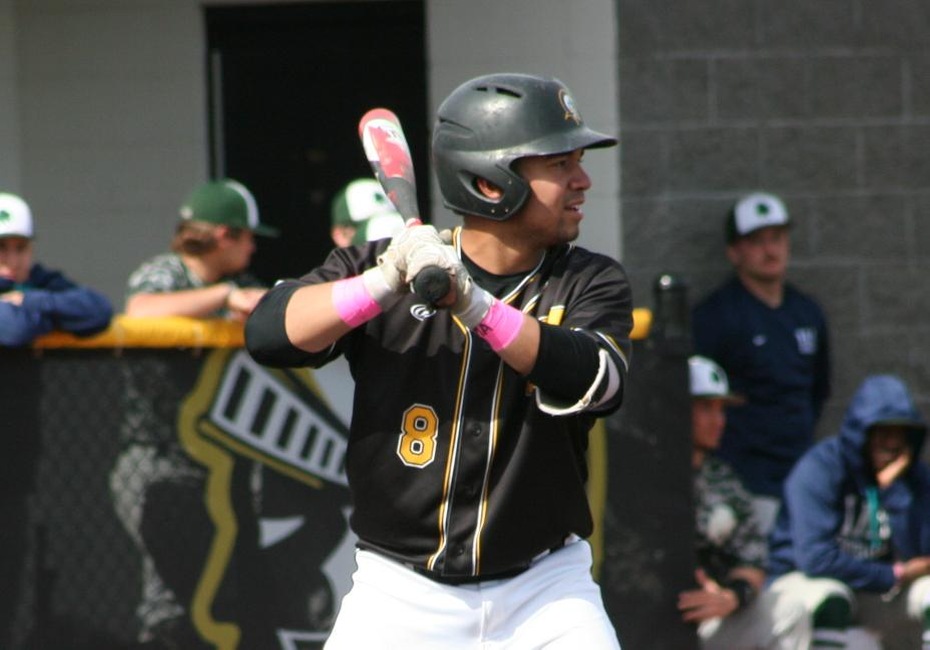 26. TJ Lucey (Gotham Utility; 2017-2019)
TJ logged time at the corner outfield positions, second base and first base during his time at Monroe. And he didn't skip a beat at any of those spots. Anybody who knows the diamond on East Henrietta Rd. (the one in the shadow of Dave Chamberlain's monument) understands that the wind is always a factor. TJ made difficult plays look routine in left field. His ability to track balls in the spacious foul territory took away at-bats. He made a name for himself in Oklahoma. Heavy rains preceded the 2019 World Series and created swamp-like conditions in the outfield. Loose-footing didn't stop TJ from making several great grabs. At the plate,the right-hander is a guy who we will use to hit-and-run. His ability to make contact and hit to the right side will keep the offense moving.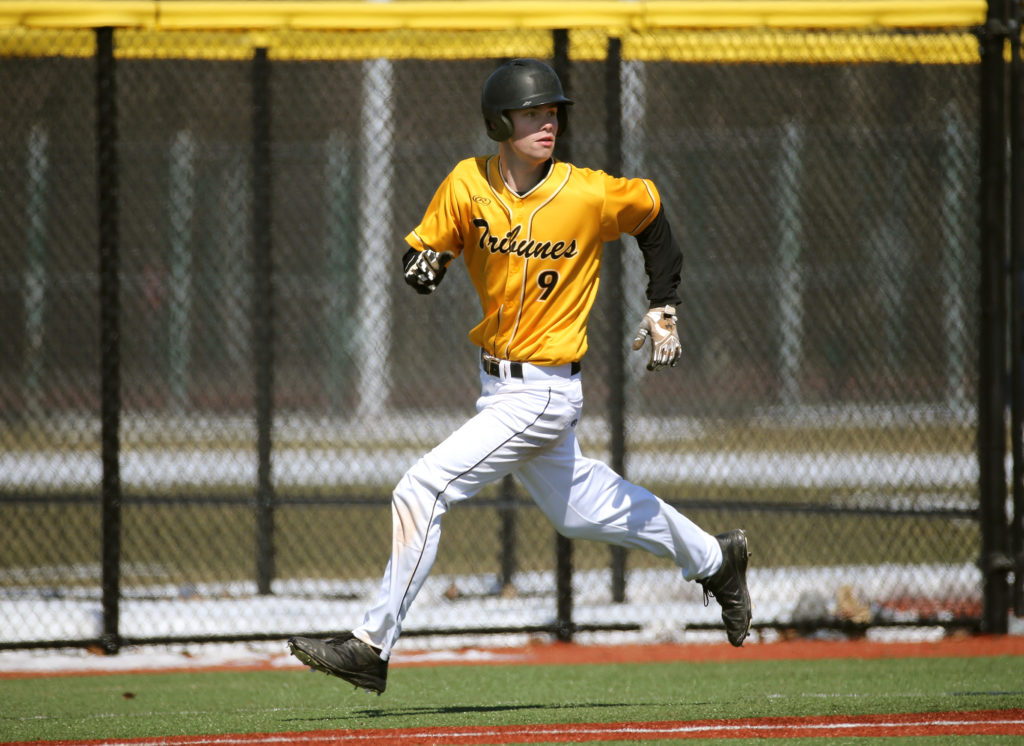 Garigen: TJ was one of the finer defensive outfielders to come through the program, and that's saying something. Plus, he's a great clubhouse/dugout guy.
27. Mike Pringle (Gotham OF; 2015-2016)
Part of the charm of David Allen Memorial Ballpark is a low wall (2'-3') in front of the right field fence. That platform, if you will, helped Mike make the front page of the Enid newspaper. Mike tracked a home run off the bat of a Western Oklahoma State batter and hopped on to the low wall just in case a gust of wind off the plains blew it back onto the field. There he was in the newspaper standing on top of the wall the watching the towering drive leave the field. We want that make-the-play-at-all-costs attitude on the field. Pringle hit .284 for the '16 and drew 27 walks for a .430 on-base percentage. His play in the outfield is what we need. Comfortable tracking balls into the gap and making heady plays from there.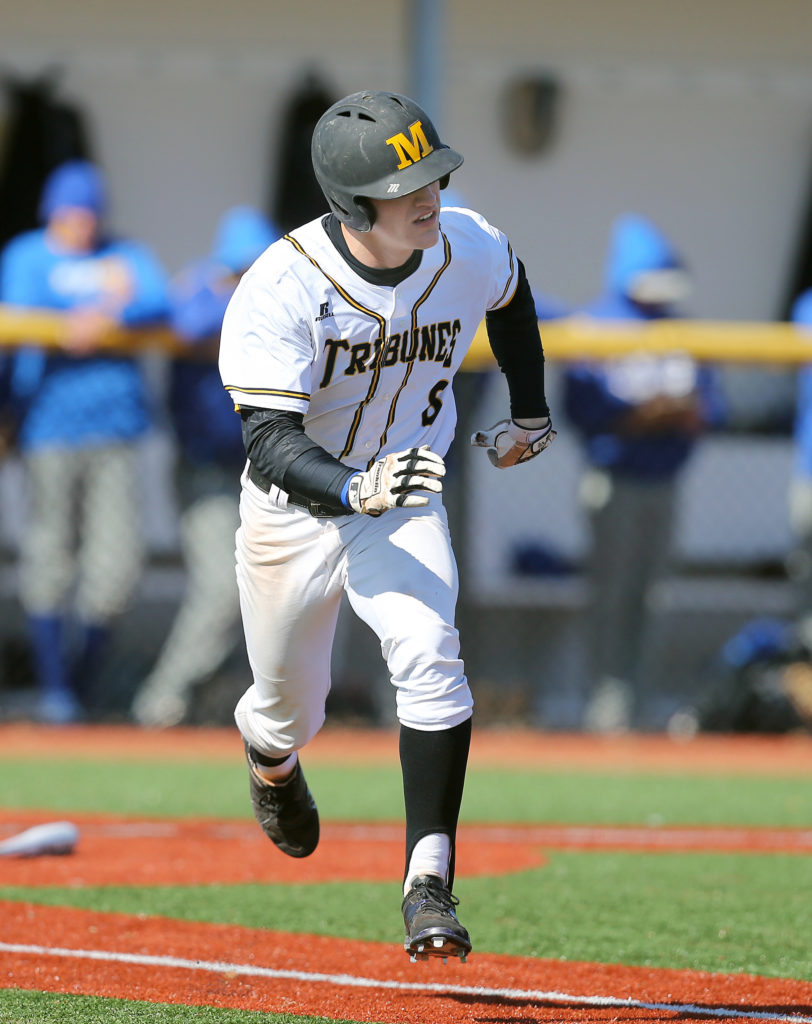 Garigen: Pringle climbing a fence to track a ball is not surprising at all. In fact, if that fence were taller and a bit less brick-y, I would expect Mike to Rodney McCray his way right through it in pursuit of an out (you young kids should YouTube "Rodney McCray Fence"). Actually, the bricks may not stop him.
Gotham: Who knew a Rodney McCray reference was coming.
Garigen: I know … I was going to make a Bump Bailey/The Natural reference, but that didn't end so well for Bump.
28. Ben Gielow (Garigen LHP; 2010-2011)
In Ben Gielow, I'm getting another hurler who limits base runners and stays away from the big inning. The southpaw tossed 30 frames as a freshman, going 5-0 with four saves and a 3.30 ERA. More impressively, he struck out 18 while only walking one (yes, that's an 18-to-1 K to BB ratio). His success continued in year two, as Gielow went 6-1 with a 3.40 ERA. In his career, he threw 77.2 innings and walked just 12. He wasn't an overpowering strikeout guy, but his lanky lefty delivery confounded opposing hitters. He was also a productive hitter and had an above-average glove at first.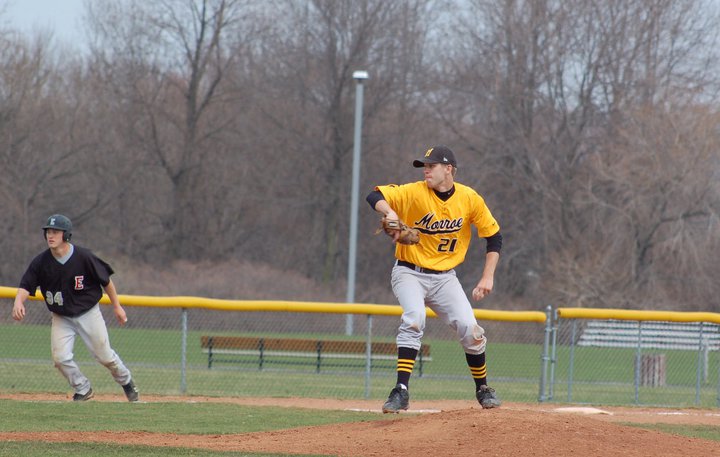 29. Matt Petrossi (Garigen RHP; 2018-2019)
I'm wrapping up my picks with my final pitcher. For those keeping track at home, here are my pitchers' W-L records this decade:
Stout: 8-0
Klein: 8-2
Farrell: 11-4
Gielow: 11-1
Matt Petrossi: 11-4
So we're looking at a total of 49 wins against 11 losses. And I totally get it – in terms of being a viable statistic, the pitching win has gone the way of the Spitball. But there's something to be said for developing a winning attitude and understanding what it takes to come out on top on the scoreboard. Does a 49-11 record mean I have the best pitchers? Not necessarily. I didn't extend my research to include run support, performance by relief pitchers, etc. And sometimes, the pitching win depends more on offensive performance than how the pitcher actually pitches. But what I've tried to do is draft a rotation of guys who have what it takes to put their teams in position to win a ballgame.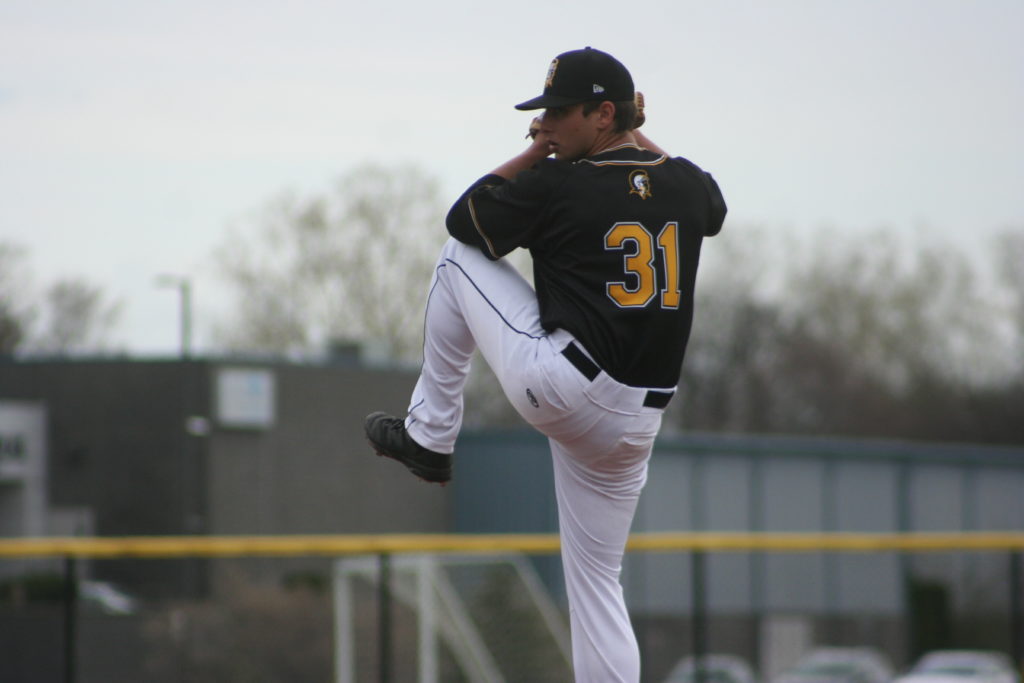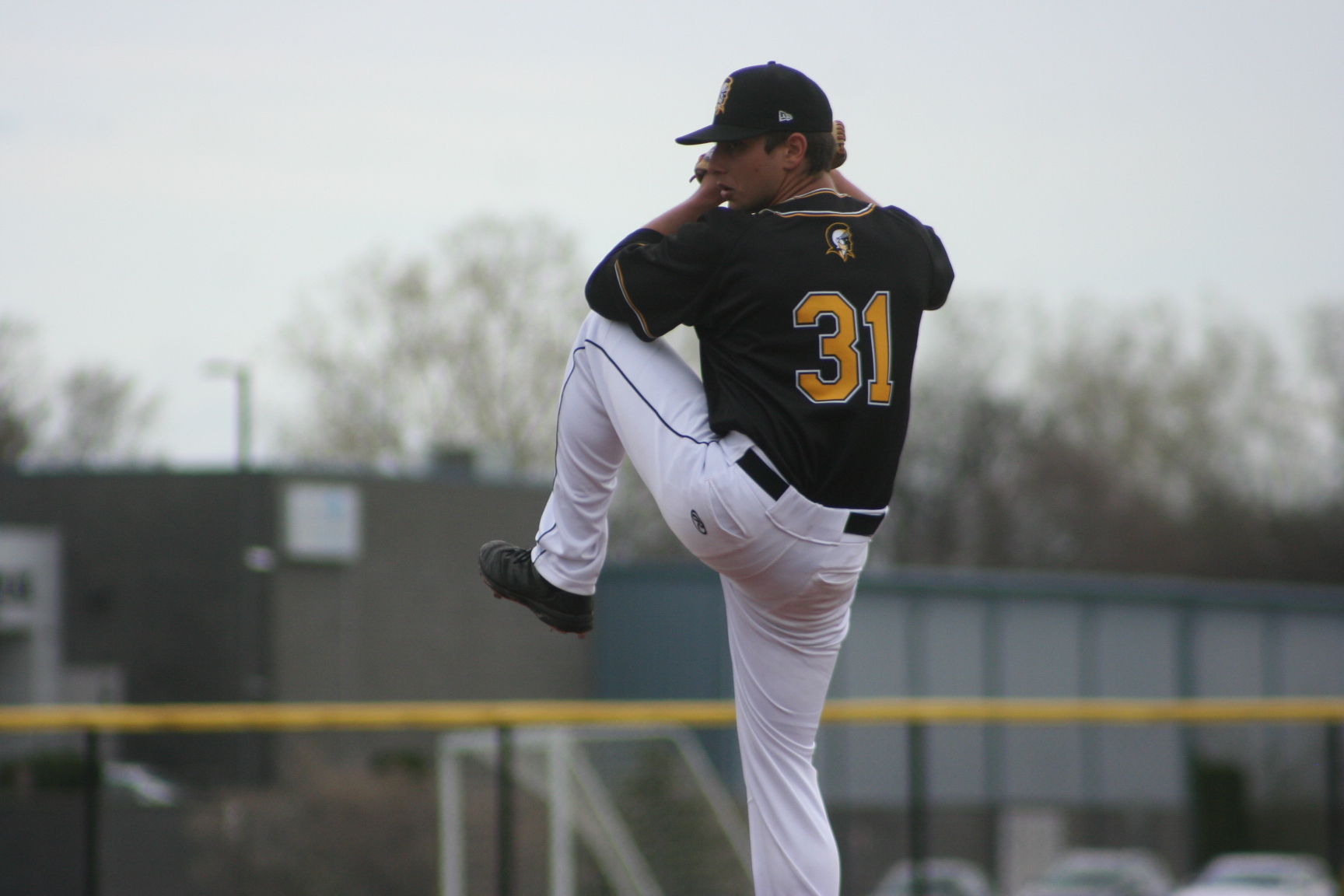 Petrossi is another one of those types of performers. He has the right makeup and stuff to pitch in the biggest of games and tightest of spots. He was the guy you were giving the ball to in the postseason. He gave everything he had, every pitch of every game. A true Tribune if there ever was one.
Gotham: Petro has seen his share of big games over the past two seasons. Getting starts (and wins) in regionals and districts as well as the Series. He's a grinder, and he makes it difficult for runners to get in a rhythm at first.
30. Dylan Sheffer (Gotham RHP; 2013-2014)
A pitch-to-contact specialist, Sheffer led the Tribunes his freshman season throwing 51 innings and sharing the lead with Jimmy Gutowski and Nick DiBenedetto winning five games. Sheffer got the ball to open the regionals that year and hurled a complete-game shutout against Genesee CC. He followed that one week later, tossing eight innings in a 4-2 win over Rockland as the Tribs eventually advanced to the district finals. His 1.94 ERA that year led all arms with 27 or more innings of work. He did that while issuing 17 walks without giving up a home run.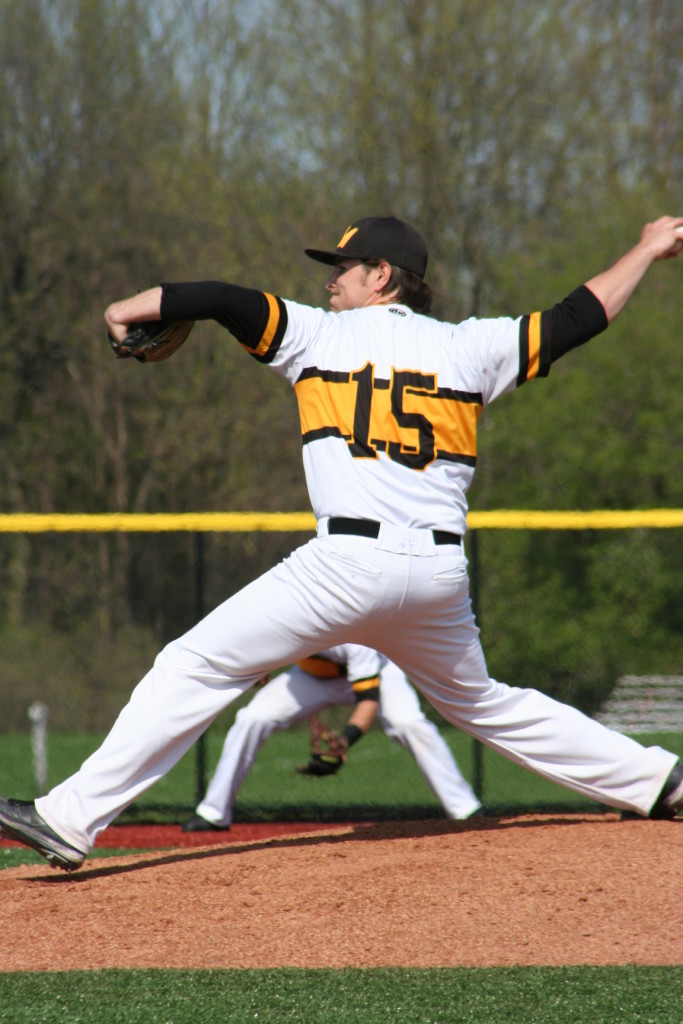 Garigen: Also a gold glove winner as a pitcher, proving all those PFP's pay off. A pitcher effectively fielding his position is underrated at this level.
Tip of the cap to guys who were considered: Dave Vaccaro (2015 – went on to play three years at St. Bonaventure), Alex Saville (2014-2016 – overcame a thumb injury in 2015 to start at second on the 2016 squad), Jimmy Gutowski (2012-2013 – continued his career at Eckerd College), Evan Magill (2019-current), Stu Martin (2017-2018), Chase Grissom and Joe Polichetti (2010), Nick DiBenedetto (2013-2014), Connor Lewis (2014, 2016), Colin Johnston (2016-2017), Buh-buh-Bubba Boutelle (Regionals MVP in 2016), Justin Bunting (2017-2018 Had not played first base in his career until middle of the 2018 season. Once there, he did not leave), Alex Canty (2017) and Sam Loew (2018-2019 hard to leave the starting third baseman from a part of World Series teams off the squad).
| | |
| --- | --- |
| Team Garigen | Team Gotham |
| Matt Brooks, RF | Cas Sobaszek, SS |
| Jimmy Latona, 3B | Danny Mendick, 2B |
| Vinny Bomasuto, LF | Phil Ferranti, DH |
| Johnny Ricotta, 1B | Luis Diaz, 3B |
| Collin Stack, DH | Tommy LaCongo, C |
| AJ Kehlenbeck, C | Spencer Scorza, 1B |
| Brad Kaczka, SS | Luke Brust, LF |
| Hunter Merrill, 2B | Ellington Hopkins, CF |
| Angel Rosario, CF | Mike Pringle, RF |
| Utility: Trey Brown | Utility: TJ Lucey |
| Game 1 starter | Game 1 starter |
| Ronnie Stout, RHP | Zach Vennaro, RHP |
| Game 2 starter | Game 2 starter |
| Jon Klein, RHP | Brennen Smith, LHP |
| Bullpen | Bullpen |
| Blaine Farrell, LHP | Kevin Johnson, RHP |
| Ben Gielow, LHP | Gavin Guarrera, LHP |
| Matt Petrossi, RHP | Dylan Sheffer, RHP |