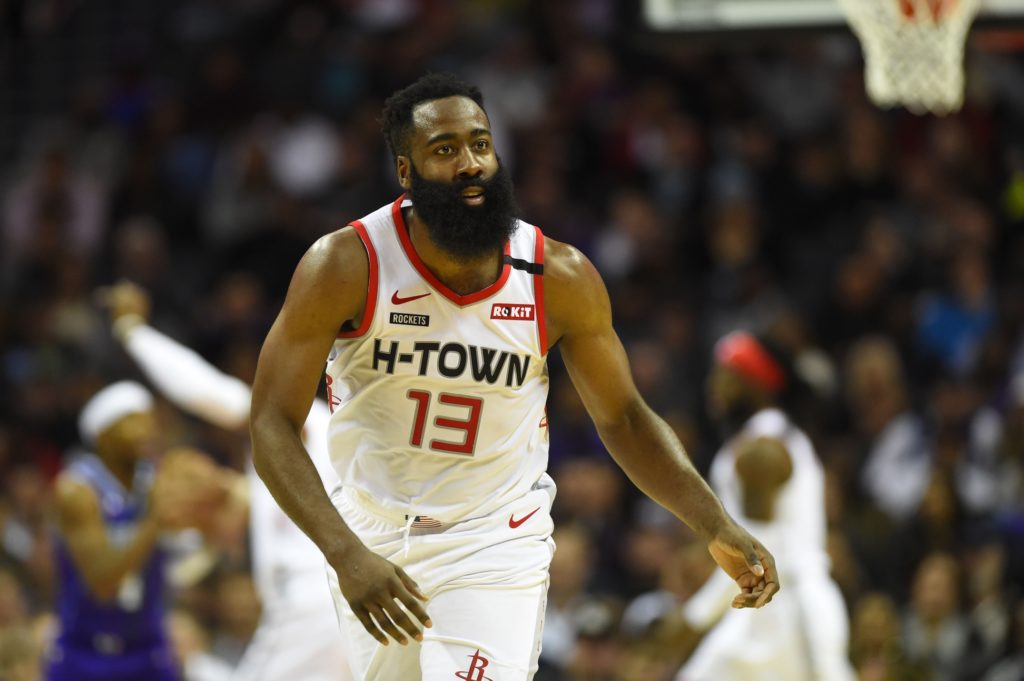 By JOHN LIKANJE
On October 27, 2012, the Oklahoma City Thunder traded reigning Sixth Man of the Year James Harden to the Houston Rockets as part of a nine-player trade. In eight seasons with the Rockets, Harden has led the National Basketball Association (NBA) in assists once (2016-17), field goals made once (2018-19), three-pointers made twice (2017-2019), points scored three times (2014-2016, 2018-19) and free throws made five times (2014-2019). Harden was named the 2018 MVP as well.
Before this season went on hiatus on March 11, the eight-time All-Star was leading the league in free throws (619), points scored (2,096) and three-pointers (271). He accrued these accolades and statistics while maintaining durability as well. Harden has played in 606 of the Rockets' 638 regular season games and all 73 playoff contests. He has averaged 37.1 minutes in the regular season and 38.2 in the playoffs.
Despite Harden posting these numbers and remaining relatively healthy, a major criticism and cause for concern has been him being unable to sustain them through the postseason. He has led the Rockets to the playoffs in each of his seven seasons, Harden's scoring average finished below his regular season average five times. His largest decline occurred last season when he poured in 36.1 points in 78 regular season games and netted 31.6 in 11 postseason appearances.
Harden still averages 22.9 points per game in his playoff career, which ranks ninth among active players behind Kevin Durant (29.1 PPG), LeBron James (28.9 PPG), Stephen Curry (26.5 PPG), Russell Westbrook (25.4 PPG), Damian Lillard (24.8 PPG), Carmelo Anthony (24.5 PPG), Kyrie Irving (23.5 PPG) and Giannis Antetokounmpo (23.0 PPG).
This leads to my question: Is Harden's postseason decline due to fatigue or the competition he encountered? By his statistics alone, he has proven that he can still perform at a high level while logging heavy minutes in the playoffs. But let's delve into the teams Harden has faced and how he performed against them.
In the past seven postseasons, the Rockets matched up with the Dallas Mavericks, Los Angeles Clippers, Minnesota Timberwolves, Portland Trail Blazers, San Antonio Spurs, Thunder twice, Utah Jazz twice and Golden State Warriors four times. In these playoff runs, the Rockets faced a top-10 defense four times: the 2013 Thunder (ninth at 96.5 PPG), the 2017 Spurs (second at 98.1 PPG) and the 2018 (tied for first at 99.8 PPG) and 2019 (fourth at 106.5 PPG) Jazz.
Harden combined to score 584 points (26.6 PPG), connect on 40 percent (178-of-450) of his field goals, 32 percent of his long-range shots (69-of-213) and 85 percent (159-of-188) of his free throws in 808 minutes (36.7 MPG). His best series was the 2018 Western Conference Semifinals when he netted 28.0 points on 40 percent (44-of-109) shooting and 91 percent (39-of-43) from the charity stripe in 34.4 minutes. In Game 1, the 6-foot-5 guard exploded for 41 points, connected on 12-of-26 field goals, 7-of-12 from long range and 10-of-11 free throws to lead the Rockets to a 110-96 victory.
Harden averaged 26.3 points against the Thunder, 24.5 against the Spurs and 27.8 against the 2019 Jazz as well. In the Rockets' other playoff series against teams who didn't rank in the top 10 in defense, Harden scored 1,477 points (29.0 PPG), shot 42 percent (444-of-1,059) from the field, 32 percent (148-of-459) from long range and 89 percent (441-of-497) from the foul line in 1,950 minutes (38.2 MPG).
His best series was last season's Western Conference Semifinals against the Warriors when he averaged 34.8 points, shot 44 percent (66-of-149) from the field, 35 percent (27-of-77) from distance and 82 percent (50-of-61) from the charity stripe in 39.7 minutes. In Game 3, the 6-foot-5 guard poured in 41 points on 14-of-32 shooting, 5-of-13 from long range and 8-of-8 free throws to lead the Rockets to a 126-121 win.
Although Harden's playoff statistics are lower than his regular season numbers, they're still high and expected for a player of his stature. He performs well against any team, whether they're defensive-oriented or not. The 6-foot-5 guard has always been prominently featured on offense as well despite playing with Dwight Howard, Chris Paul and Westbrook. But the heavy workload he carries on offense, his style of play and the massive amount of minutes takes a toll on him. Therefore, Harden's postseason decline is due to fatigue.