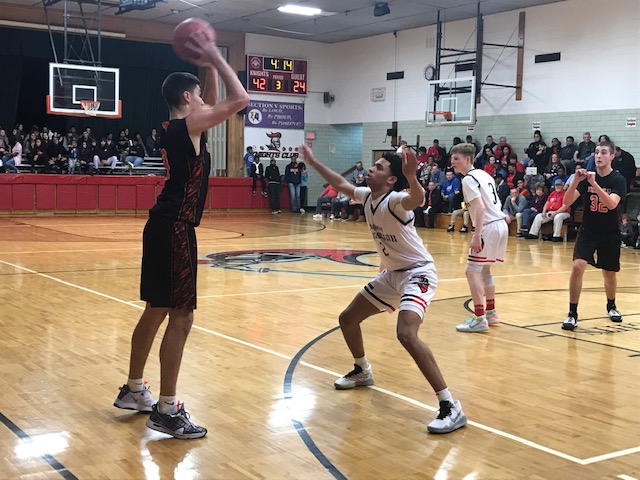 By JOHN LIKANJE
The worldwide COVID-19 pandemic resulted in the cancellation of most sporting events, including the 35th annual Ronald McDonald House All-Star Basketball Games. The event was originally scheduled for March 28 at Rush-Henrietta High School with the girls tipping off at 1 p.m. and the boys at 3 p.m.
Despite the unexpected circumstances, Section V was determined to assist others in need and be involved in the Rochester community. Players and cheerleaders slated to participate in the games continued to sell advertisements and tickets as donations to Rochester Ronald McDonald House Charities.
The fundraiser resulted in donations totaling $11,000. 15 players and cheerleaders sold all of their advertisements and game tickets as well.
"That's pretty amazing effort by the All-Stars, helping others in need during this crazy time," event organizer Rich Dibble said. "Shows some real leadership and community involvement by these high school seniors!"
Wellsville senior Maxwell Jusianiec and his family raised $909. The 6-foot-6 forward credited his mother for assisting with donations
"My family was able to raise a good amount of money by starting a GoFundMe and posting it online once we realized the game was getting cancelled and there would be a significantly lower amount of money raised this year," Jusianiec said.
"All credit to my mom though. She's a very kind and generous person that always goes out of her way to do the most that she can for anything. She knew that the RM House was a great place for the community of Rochester and she wanted to help out any way that she could, and I think she deserves more recognition in this case than I do."
Jusianiec, who averaged 25.7 points per game this season and led the Lions to the B2 sectional semifinals as the No. 3 seed, plans to complete a post-graduate year at Cheshire Academy in Connecticut.
"Throughout my high school career I believe that I've been under the radar a little bit and was looking forward to having an opportunity to show why I've gotten a few Division II offers and interest from a handful of Division I schools throughout the last few years," The senior forward commented.
The seniors invited to participate in the games were:
GIRLS RED TEAM
Players: Kyaira Woody (Romulus), Jenna LaMere (Wheatland-Chili), Leah Harkenrider (Hornell), Grace Rittenhouse (Dansville), Jazmine Darling (Greece Arcadia), Chloe Whittier (Victor), Isabella DeRubeis (Greece Athena), Alahna Paige (Irondequoit), Emily Tabone (Our Lady of Mercy), Aaliyah Pennie (Northstar Christian), Victoria McDaniel (Arkport-Canaseraga), Elizabeth Roach (Canisteo-Greenwood), Caiden Crego (Lyons)
Coaches: Gary Ward (Wheatland-Chili), Charlie Luffman (Romulus)
GIRLS GOLD TEAM
Players: Hannah Roeske (Fillmore), Kate Howe (Cuba-Rushford), Sydney Close (Red Jacket), Andra Savage (Palmyra Macedon), Katie Smyth (Palmyra Macedon), Brianna Smith (Oakfield-Alabama), Makenna Read (Avon), Nyara Simmons (Penfield), Bayle Teal (Penfield), Katie Bischoping (Pittsford Mendon), India Jordan (School of the Arts), Eysha Clarke-DeSouza (School of the Arts), Lindsey Wunder (Gananda)
Coaches: Mark Vogt (Penfield), Tom Parks (Fillmore)
BOYS RED TEAM
Players: Luke Cole (Fillmore), Dominick Trippi (Honeoye), Mike Hubbard (Waterloo), Gabe Macdonald (Notre Dame-Batavia), Vincent Molisani (Caledonia-Mumford), Riley Stella (York), Tony Arnold (Eastridge), Ben DiGiovanni (Pittsford Sutherland), Dyllon Scott (Penfield), Michael Gentile (Bishop Kearney), Zechariah Harris-Scott (East), Jermaine Taggart (McQuaid), Kobe Long (McQuaid), Benji Kemp (Lyons)
Coaches: Ed Orman (York), Tim Darnell (Waterloo)
BOYS GOLD TEAM
Players: Evan Windus (Genesee Valley), Chase Rizzo (Red Jacket), Josh Green (Newark), Colton Dillon (Elba), Chase Freeland (Hornell), TahJae Hill (Hilton), Andrew Mason (Webster Thomas), Matt Caggiano (Victor), Jaden Hartsfield (Greece Odyssey), Melvin Council Jr. (UPrep), Kennyh Hardeman (Leadership), Mason Putnam (Prattsburgh), Tristian Stark (Avoca), Liam Prendergast (Marcus Whitman), Maxwell Jusianiec (Wellsville)
Coaches: Troy Prince (Hilton), Lintz Bliven (Genesee Valley)
CHEERLEADERS
Averi Saulter (Cuba Rushford), Brianne Cavanaugh (Whitesville), Mariah Russ (Geneva), Margan Kesecker (Newark), Trinity Ellersick (Palmyra Macedon), Autumn Wildey (Attica), Madison Phillips (Alexander), Grace Ann Clements (Avon), Rachel Hinz (Perry), Taryn True (Perry), Maria Sansone (Eastridge), Morgan Wells (Fairport), Regan Karr (Arkport-Canaseraga), Elizabeth Jones (Campbell-Savona), Alexis O'Neil (Lyons), Jeannalise Gomez (East Rochester)
Coaches: Ashely Wood (Honeoye Falls-Lima), Shaun Loomis (Avon)
* The title of the article was updated to reflect that Section V did not directly donate to the Ronald McDonald House. The money was raised by the Section V athletes named above and their families.