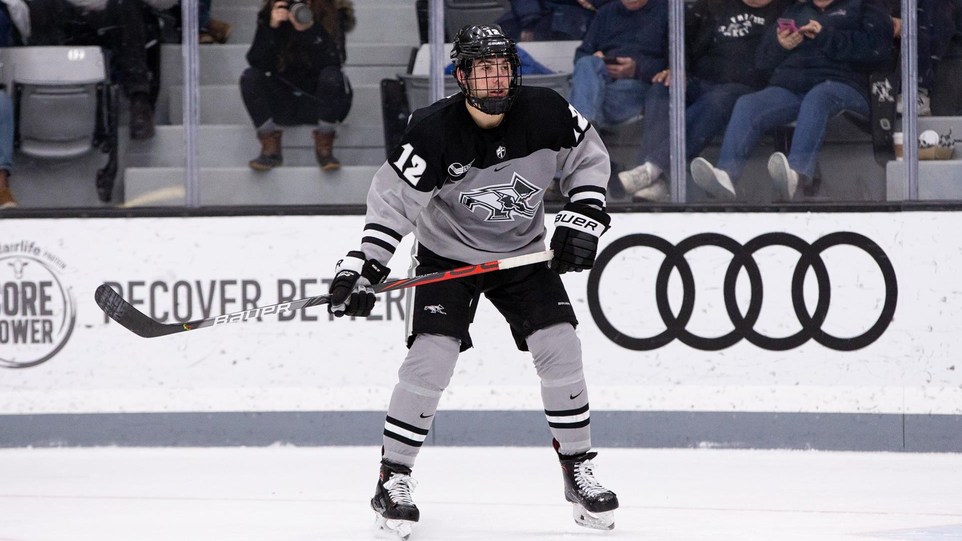 By KEVIN OKLOBZIJA
As Jack Dugan prepares to play on the ultimate hockey stage, this much is clear:
When he tells you what he intends to accomplish, don't doubt him.
The proof is on his resume, a career-accomplishments list that now includes an NHL contract.
Dugan, 22 of Pittsford, on Monday agreed to terms on an NHL deal — well, three actually, but more on that in a bit — with the Vegas Golden Knights. He opted to bypass his final two seasons at Providence College to play the pro game.
Which is something he has been driven to do for a long, long time.
» As a child, he told himself "and anyone who wanted to listen" that he was going to play in the NHL someday.
» Rather than jump to prep school after his sophomore season of high school — when most players leave — he stayed at McQuaid Jesuit for his junior year "because I wanted to win a state championship before I left." Dugan and McQuaid won the title in 2015.
» When Vegas asked him to sign before he even put on a Providence College sweater, he said he wanted to compete for an NCAA title. The Friars reached the Frozen Four in 2018-19.
» When the Knights wanted him to sign again last summer, he told them he still had more to accomplish in college. Like leading the nation in scoring. Once again, it was mission accomplished after piling up 10 goals, 42 assists and 52 points in 34 games.
"That's exactly what I wanted to do," Dugan said, "but I think it means a lot more to the people around me like my family. To me, it was just one of my goals."
Some people set goals and push to achieve them. Dugan, a fifth-round pick (142nd overall) by the Knights in 2017, uses them as benchmarks, as necessary accomplishments in order to ready himself for the next challenge.
"I had a coach tell me when I was pretty young that there's no sense in moving up a level until you've dominated the level you're at," he said.
Actually there were five coaches that told him that. Mark Hogan and Jim Hofford were the first, during his Rochester youth hockey days, then Jody Gage and Ryan Gage further up the youth hockey ladder, and finally former Rochester Americans coach Chadd Cassidy, his coach for two years at Northwood School in Lake Placid.
"Those five guys were critical in my development as a young player," Dugan said.
The most recent who enabled him to continue his skill development was Ron Rolston, the former Amerks and Buffalo Sabres head coach who is the associate head coach at Providence.
So this time when Vegas came calling, Dugan agreed it was time. He'd dominated at his current level.
"He had an opportunity to sign the last two summers but he wanted to be at Providence," said his agent, Brian Bartlett of Rochester-based Bartlett Hockey (former Sports Consulting Group). "It takes a tremendous amount of confidence to turn down an NHL contract."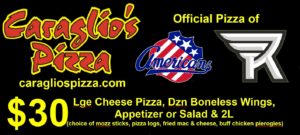 Dugan officially hasn't signed yet. That's because the NHL is in limbo due to the coronavirus pandemic. The league is on pause, holding out hope of somehow being able to restart with the Stanley Cup playoffs.
The uncertainty led to the writing of three contracts, of which one eventually will be signed.
The first (and most likely scenario) is if there is no more NHL this season. He'll have the maximum two-year deal (based on his age) that would cover the 2020-21 and '21-22 seasons.
The second is if the NHL resumes this year and there is still part of the regular season to complete. Then he would be paid once he plays and the 2019-20 season would count as the first year of his contract.
The third is if the season resumes with the playoffs and he plays. Because the actual pay portion of player contracts only involves the regular season, Dugan could achieve games-played bonuses and this would still count as the first year of his contract.
"That's why it took this long to get where we are," Bartlett said. "If the season had been going, I think he would have stepped right onto the NHL roster and had a chance to see what he can do."
Dugan admits it's a little strange with the NHL in limbo.
"But I'm looking at the bright side," he said. "I'm able to be home and get some home-cooked meals and hang out with my family."
He knows that in due time he'll have a chance to achieve his next goal.