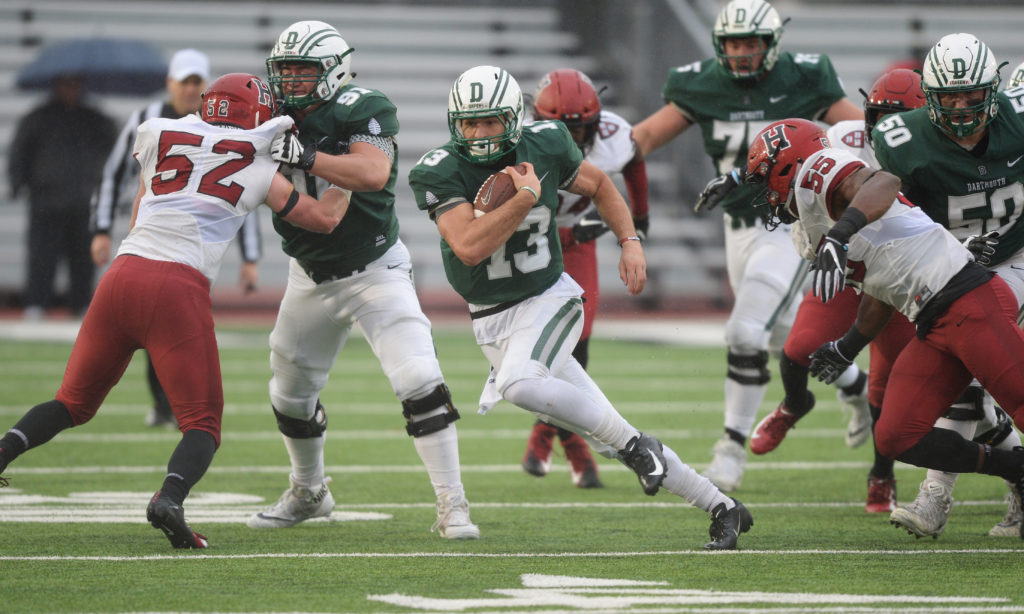 By PAUL GOTHAM
ROCHESTER, N.Y. – In the fall of 2015, Jared Gerbino (Rush-Henrietta) and Jake Zembiec (Aquinas) lined up on opposites side of the ball with a Section V Class AA title there for the taking. It was the second time in three years the two schools had met in the postseason.
Four-plus years later, the former opponents have combined efforts. If all goes as planned, Gerbino, will land a spot in the NFL. And Zembiec is happy to be along for the ride.
With the coronavirus forcing college students as well as everyone to shelter at home, Gerbino and other NFL hopefuls had to make alternative plans for pre-draft work.
Having Zembiec available has been a blessing.
"It's good to have someone of his caliber throwing to me," Gerbino said by phone "It simulates the next level."
A three-year starter at quarterback for Dartmouth College, the 6-foot-4, 244-pound Gerbino decided his best chance at a professional career meant a move from under center.
"After the season, I was like all right. I think I need to make some changes and maybe portray myself as a versatile athlete where I can do a bunch of things," Gerbino said. "As a quarterback, you're supposed to facilitate and get the ball in the playmakers' hands. Now I can be the guy that they're giving the ball to. I can also be the guy that's giving the ball out. I kinda like that perspective."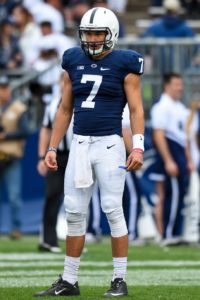 Zembiec, who set Section V records for single-season passing yards (3,030) and passing touchdowns (37) along with career passing yards (6,375) and passing touchdowns (76), didn't need any coercing. The former highly-rated prospect whose career at the Big Ten school was derailed by injuries, reached out when the idea of a pro day taking place in Rochester became a reality.
"Whenever we played Rush-Henrietta back at Aquinas, I always loved the way he carried himself and the way that he played. When I knew that he had his mind set on making it to the NFL, I was like what better way to help him out then to be the one throwing to him."
Not your prototypical pocket passer
Don't mistake Gerbino for a drop-back quarterback.
Of his 178 in-game touches from scrimmage this past season, Gerbino rushed the ball 76 times while making 102 pass attempts, not exactly Tom Brady (613 pass attempts with 26 rushes) nor Aaron Rodgers (569 passes/46 rushes) numbers. Even Lamar Jackson, who broke the NFL single-season quarterback rushing record, threw the ball twice as many times (401) as he carried it (176).
That's why Dartmouth offensive coordinator and quarterbacks' coach Kevin Daft feels Gerbino's switch to tight end will go smoother than many expect.
"He has a ton of snaps with the ball in his hands," said the former All-American out of UC Davis who was a fifth round pick of the Tennessee Titans in 1999 draft. "People got to understand a guy coming out of college with a certain amount of catches, Jared is going to have way more, maybe 10 times as many touches with the ball. That's something that can't go unnoticed."
Still, it's hard to ignore this disparity — in 27 college games, Gerbino had 277 rush attempts, 127 pass attempts and just three receptions. He hasn't caught a ball during a game since 2017.
"He doesn't necessarily have a ton of stats playing at other positions, but we had him playing receiver type roles and things like that a good amount in practice," Daft added. "It just never came to complete fruition in the actual games, but it's something we did a lot with him."
Gerbino did get action at tight end during his freshman season on the JV squad, but the Big Green needed him to be more of a focal point in the offense and that meant putting the ball in his hands.
"He's a very talented guy. I think he'll transition a lot easier than most people think. He does not look like a fish out of water or anything like that. He has natural instincts, a super-competitive guy. He's going to make a pretty easy transition."
Zembiec understands both the drawbacks Gerbino will face and the advantages he will have.
"There are two parts to it," said Zembiec who has worked with future and current NFL players during his time with the Nittany Lions. "Him physically running a route has nothing to do with him playing quarterback because to be able to run and make a break at the top of a route it takes years of experience to perfect. The reason why NFL guys go out and run the same route a hundred times a day is because it can only become a habit if you do it so many times.
"It's still kinda new to him, but the thing that quarterback is going to help him do is when he's running a route, he can read the defense pre-snap as he would do at quarterback. Then as you're running the route as a receiver, you got to know when do I have to sit in this window when it's zone, when do I keep running if it's a man coverage. That's the part where he's really going to excel."
Climbing the charts
Three former college quarterbacks have made the move to other positions and currently have roster spots in the NFL: Trey Burton (Florida) played with Chicago last season. Former Buffalo Bill Logan Thomas (Virginia Tech) saw time with Detroit, and Taysom Hill (BYU) was with New Orleans.
Gerbino measures up with each of them. At 6-foot-4 he is taller than Burton and Hill as well as heavier than all three. Despite playing in at least 10 fewer games during his college career, Gerbino's 21 touchdowns compare favorably to Thomas (25 touchdowns in 47 games) and Burton (20 in 50 games. His 55.4 all-purpose yards per game are second only to Hill (76.1).
"Yes, he can bench press 225 for 18 reps," Zembiec said. "He can run a pretty good 40 and do the shuttle drill. But when he gets on a field, how's he going to react? How's he going to read a defense? How's he going to run through contact? He's been able to prove that for a couple years that he was the star at Dartmouth. That's his biggest positive going into this whole process. He's proven himself."
Add to that runs of 10 yards or more in seven of eight games this past year. This includes a season-high 24-yard run against Princeton, a game in which Gerbino scored twice as Dartmouth snapped the Tigers' 17-game winning streak with a 27-10 victory.
"This past year, he evolved as a passer and their offense became even more challenging," Princeton head coach Bob Surace said. "A really good offense became even more challenging to defend because the weapons they had at receiver with him throwing it and running it was really hard to stop."
The formula seems simple for Gerbino making the transition in the NFL. Instead of getting the ball with 11 defenders between him and the end zone, he could receive it behind the defensive line. Now a 6-foot-4 guy with a 4.67/40 is looking at fewer obstacles between him and paydirt.
"He's so used to having the ball in his hands, making guys miss and getting yards after that catch," Daft stated. "That's where he's going to be way ahead of average tight ends, just the amount of touches he gets. That will be a big difference."
"It's you one on one with a safety in the open field," Gerbino said. "Trust me, I've thought about that all the time. I would be in the trenches and we would have four tight ends in and everyone would just be stacked in the box. I would just be hitting contact, contact, contact. Obviously, there's going to be a lot of contact at the next level, but it's just a matter of being able to work in more open space. It intrigues me. I have a play-making ability. With that space, it's just going to be that much better. "
Finding a model
Gerbino compares himself to John Lovett, the former Princeton Tiger who was part of the Super Bowl champion Kansas City Chiefs this past season.
"He kinda forged a path from me out of the Ivy League and doing the same thing that I want to do."
Lovett rushed the ball 141 times his senior season of 2018 while completing 146 of 221 passes with the Tigers. He did not, though, catch a pass – this after making 26 receptions his junior year.
He signed a free agent deal with the Chiefs prior to the 2019 season and is listed as a fullback/tight end on Kansas City's roster.
"As football has changed over the years, we're seeing a lot of these highly athletic quarterbacks," Surace noted. "Guys that can make things happen, not only throwing the ball."
Lovett led Princeton to Ivy League titles in 2016 and 2018 with an injury sidelining him for the 2017 campaign.
"After seeing him get a spot with Kansas City, I realized that we're such similar players that I should probably try to pursue the same role that he has," Gerbino said. "I've been in contact the last few weeks. He's been very helpful through the whole process."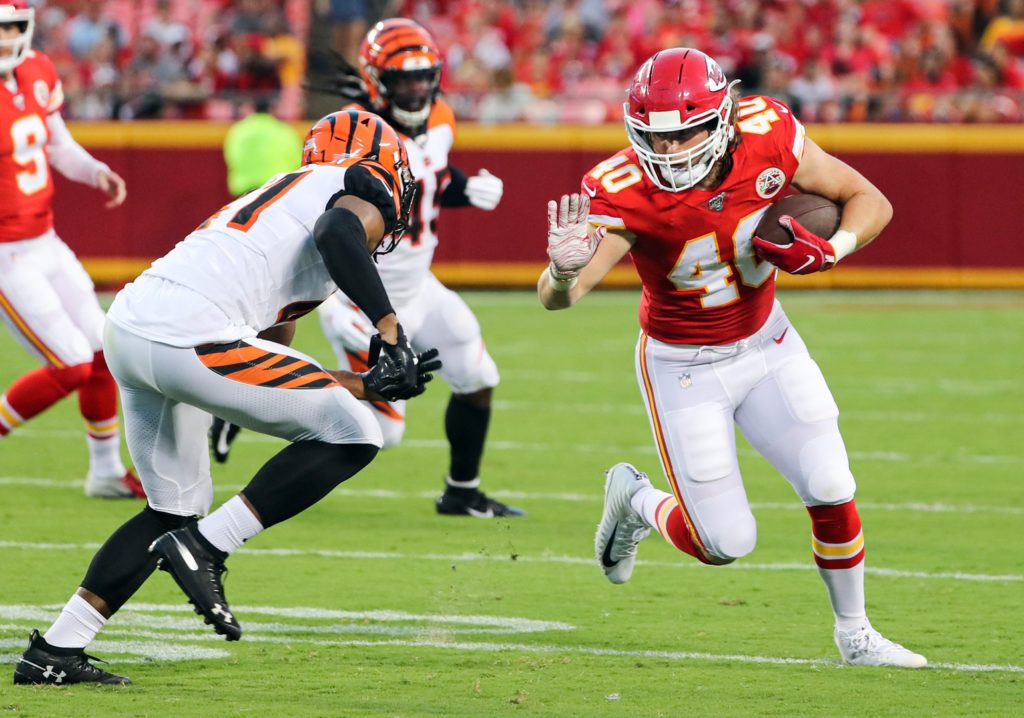 Gerbino's path to the NFL could also be likened to the Carolina Panthers' Chris Manhertz. A 6-foot-6, 255-pound tight end, Manhertz earned all-conference honors in college on the hardwood as a forward for the Canisius College men's basketball team.
Nicknamed "True Grit" for his rugged style of play, Manhertz led the Golden Griffins in rebounding each of his last three seasons with the Metro Atlantic Athletic Conference school. But he traded corralling caroms for catching passes when then head coach Jim Baron reached out to the Buffalo Bills to get the Bronx, N.Y. native a tryout. Manhertz didn't make the final cut. He eventually earned a spot on the practice squad of New Orleans before rostering with the Saints in 2015. He saw his first NFL action in 2016.
"That light-bulb moment, believe it or not, probably happened my second training camp," Manhertz said of his adjustment to playing in the NFL. "Getting games under my belt. It was still kind of a whirlwind for me, mentally. I don't even know how to explain it. It was one of those moments where you're lining up and everything starts to slow down. It was one of those things."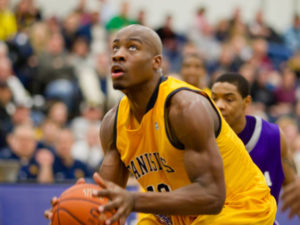 Carolina picked up Manhertz off waivers during the 2017 season. He appeared in 16 games during 2018 and 15 this past year. He made six starts this past season.
"A lot of it has to do with having confidence in yourself and confidence in your ability. Inevitably there's going to come a time when you start to doubt yourself because we're human. Often times when we're faced with adversity, we start to question. Is this for me? Did I make the right transition? Can I do this? I experienced that early on, but the one thing that allowed me to keep going was having a confidence in my abilities and my work ethic and how I approach things. That helped me out a lot."
Understanding the intangibles
Having worked with Gerbino for three years, Daft sees beyond the statistics and the obvious.
"As odd as it is, there are guys in the NFL that you don't really know if they're training and getting their body ready," said Daft who also suited up with San Diego, Atlanta and San Francisco over four years in the NFL. "He's not one of those guys. You know he's doing his stuff. That was never a question with him.
"He's a super-competitive guy. He just loves football. Sometimes in recruiting and in the NFL that is not brought up as much."
Gerbino's work off the field is obvious to Zembiec.
"He's one of those modern-day body types that you look for in football where you can almost stick him at any position and expect him to do at least decent. Even if it's a position he's not comfortable with or never has played before. He's big. He's jacked out of his mind, more than I remember in high school.
"He plays faster than his 40-yard dash would show. Nobody really knows what he can do when he gets the ball in the open field. He was sitting there behind the line (at Dartmouth) and having to find a hole. When he gets a little speed ahead of him, it's exciting to think about – whether he runs somebody over or jumps over somebody. I'm guessing I probably wouldn't want to be stiff-armed by him."
About that rivalry
Aquinas knocked off Rush-Henrietta twice during their postseason meetings with Gerbino and Zembiec both in the lineups. The Li'l Irish went on to win the state title both years.
"We all accepted the rivalry," said Gerbino who worked out with Zembiec's AQ teammate Earnest Edwards in December. Edwards also took part in the area pro day. "With the years passing by, you kinda realize that you start to worry about your own team in college," Gerbino said. "Football becomes more serious in your college years. Honestly, it kinda goes away. We don't really talk about it. If you do, it's more reminiscing. It's not really anything negative. It's really all positive stuff."
The first round of the NFL draft takes place on Thursday with rounds two and three to follow Friday. Rounds four through seven are scheduled for Saturday.