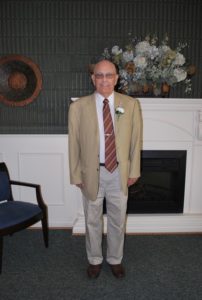 By PAUL GOTHAM
Ted Woods, Section V's original Executive Director and lifelong champion of local high school athletics, passed away earlier this week.
He was 88 years old.
North Rose-Wolcott's first Athletic Director, Woods started his teaching career in 1956 at North Rose. He later served as a key cog to help the merger of the two districts. His work still carries a far-reaching impact on local high school athletics.
"I look at him as one of the founding fathers," current Section V Executive Director Kathy Hoyt said by phone. "He was involved with Section V athletics I can't say from the very beginning, but shortly thereafter. Being one of the leaders early on, he paved the way for future leaders to develop and grow Section V into what it is today."
Woods fulfilled countless roles during his time serving Section V. He was a teacher, coach (baseball, basketball and soccer as well as track) and administrator serving in a variety of capacities.
"I guarantee 99.9 percent of the people if you called and asked them one question about Ted Woods, resoundingly the answer is going to be he was one of the most respected individuals within the local community, the Section V community and the state organization," Hoyt added.
A member of the Section V Boys' Soccer Hall of Fame, Woods served on the boys' soccer committee and eventually as chairman. He was also part of the New York State Public High School Athletic Association (NYSPHSAA) soccer committee and inducted to the NYSPHSAA Hall of Fame.
"He was a person that you had an immediate respect that you need to display to him," current Section V Boys' Soccer Chairman Gary Pollock said. "It's not like he intentionally brought that on. It was through his actions."
Woods coached varsity soccer at North Rose and NR-W for a combined 18 years.  He hired Scotty Martin out of college and eventually appointed Martin as the NR-W head coach, a role in which Martin served for 44 years.
"It's a sad day for Wayne County, North Rose-Wolcott and indeed for the state of New York and all of the student-athletes involved," Martin said Woods's passing. "He was an icon in the fields of coaching. He was the guy people turned to when they needed a bit of wisdom. He was certainly a voice of reason, a man of wisdom when it came to the inner workings of scholastic athletic programs in the state."
Advisor to future leaders
Hoyt first met Woods in 2000 when she took over as the NR-W Athletic Director. Woods was serving as interim AD at that point.
"I'm following in his footsteps and for me, I couldn't chart a better path," Hoyt said. "He was a mentor, a positive role model and most of all a true friend."
Woods served as Section V Soccer's Chairman in 1975. He was also the Wayne County Boys' Soccer Coordinator as well as former president of both the New York State Soccer Officials and New York State Intercollegiate Soccer Officials.
"There were so many times as a coordinator before making decisions I would give him a ring and ask 'Ted, what do you think? Am I making the right move here?' Just hearing him say 'Oh yeah, you're right' made that decision so much easier," Pollock stated. "As soon as I got his okay, I knew everything was going to be all right.
"He was one of those people that immediately took you under his wing. In his own way, he made you aware that anything you needed he would do. I mean anything."
Martin, a native of Glasgow, Scotland, played four years of varsity soccer at West High (currently Wilson Magnet) in the late 1950s before attending Cortland State. With Woods as athletic director, Martin's NR-W teams won eight Section V championships, nine Wayne County titles and twice advanced to the NYS finals. He retired after the 2015 season. Martin still serves on the Section V Boys' Soccer committee.
"He was a tremendous mentor to me," Martin acknowledged. "Bringing me onboard, a new guy on the block getting me involved. We became very close.
"He was an administrator who recognized that students needed to be advocated for. He was the advocate; I'll tell you that. Nobody did it better than him. He cared. He cared about athletics and North Rose-Wolcott. He cared about athletics and Section V and he cared about things being done right. That's the man he was."
Lasting Legacy
Section V Boys' Soccer annually awards a scholarship in the name of Ted Woods.
"We will continue to give his scholarship every year, and it will be a sad one," Pollock said reflecting upon the passing of Woods. "It's always been nice to give it with him knowing who's getting it. The fact that two of our scholarships (Gary Schenk) are now for guys that are no longer with us make its very sad."
With Woods serving as a guide, Section V started Operation Offense in the late 1980s.
"Ted was able to get the funds for hundreds of workshops that impacted thousands of kids/student-athletes, coaches and their thinking about drugs, alcohol and tobacco products," longtime Irondequoit Central School District Athletic Director Denny Fries explained. "Ted's direction helped us to define the kinds of goals we needed. He was instrumental in getting us into schools. Principals or superintendents identified issues that they had in their schools with drugs, alcohol and trying to get smoking out of their school. We'd come in and do workshops. Workshops with student leaders, many of which were captain on their teams."
That program eventually evolved into its current form — Student-Athlete Leadership Training (SALT).
"That's an outgrowth of what Ted started 35 years ago," Fries continued. "His legacy will live on through the lives of thousands of kids and adults that through this program he has affected in a very positive way around those chemicals.
"He deserves to be in a hall of fame in support of chemical use and good decision-making by young adults and coaches."
Along with the previously mentioned accolades, Woods was also inducted to National High School Athletic Coaches Association Hall of Fame (2010), the Cortland State 'C Club' Athletic Hall of Fame and the North Rose-Wolcott Athletic Hall of Fame. He was also the New York State Soccer Officials' 1994 Official of the Year.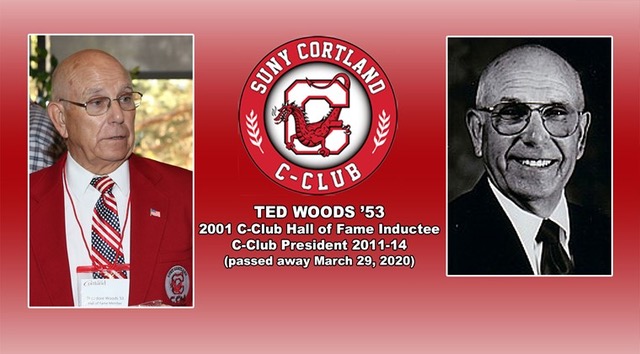 "I'm going to miss Mr. Woods, miss him immensely," Martin said. "The world of athletics, New York State and particularly Section V is going to miss him. He was so dedicated to high school sports."
"He was a huge supporter of me and my role at North Rose-Wolcott for the 17 years I was there and then since I've been in my role here," Hoyt stated. "He's been number one supporter. He was one of a kind, a true legend just 100 percent class."
Ted is survived by his wife of 66 years, Norma along with their daughter, Ann, and son, Matthew.
Due to the Covid-19 epidemic, A Celebration of his Life will be held at a later date. Arrangements are in care of the Farnsworth-Keysor Funeral Home, North Rose.