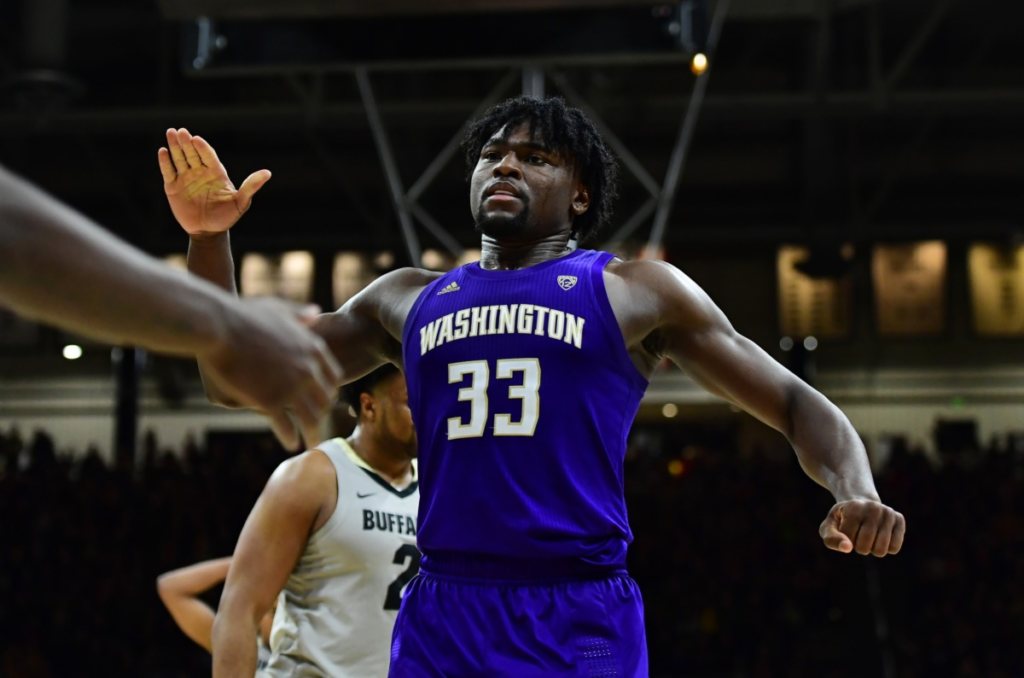 By BILLY HEYEN
University of Washington freshman Isaiah Stewart has entered his name into the 2020 NBA Draft, he announced via Instagram on Wednesday. The former McQuaid star's announcement comes after he was named to the All-Pac 12 First Team and All-Pac 12 Freshman Team for his play in the 2019-20 season.
Stewart led Washington in scoring (17.0 points per game), rebounding (8.8) and blocked shots (2.1) this season while shooting 57 percent from the field. He spent the year patrolling the middle of Mike Hopkins' 2-3 zone for the Huskies. 
Depending on how the NBA Draft process is altered due to the coronavirus, Stewart could have limited chances to work out for teams before the draft. As a player who defended in a zone and operated offensively on the block for most of the season, workouts would be a key opportunity for Stewart to show his man-to-man capabilities as well as his outside shooting stroke.
"I feel like I am someone who can play in an NBA game tomorrow physically," Stewart told ESPN. "With all the uncertainty about whether there will be a summer league or what type of offseason the NBA might have, it's more important than ever to have a long body of work teams can look at. People already know my reputation and what my character is as a person. I'll continue to show NBA teams that over video conferences, Skype, FaceTime or whatever it might be."
Stewart has maintained a steady position in most mock drafts throughout the season, with the major publications consistently listing the 6-foot-9 big man as a first-round pick. He's usually been ranked between picks 10 and 20 as the season has gone on. The highest-drafted player from Rochester, according to Basketball Reference, is former Greece Athena and Syracuse star John Wallace, who was selected 18th overall in 1996. 
According to ESPN, Stewart plans on signing with the sports agency Roc Nation, which means he'll officially forfeit the remainder of his collegiate eligibility.
"He's a special kid and I was honored to coach him," UW head coach Mike Hopkins said, according to Washington basketball's Twitter.
1️⃣ Isaiah Stewart dunk
2️⃣ Isaiah Stewart dunks
3️⃣ Isaiah Stewart dunks@PickinSplinters #ROC pic.twitter.com/ENa85zoOhv

— Billy Heyen (@BillyHeyen) March 6, 2020
Before starring at Washington, Stewart spent two years at national high school powerhouse La Lumiere (Indiana). That followed two All-Greater Rochester seasons for McQuaid.
Along with Stewart, Temple senior Quinton Rose and Vermont senior Anthony Lamb will be considered as possible NBA Draft selections. Washington's Nahziah Carter and Siena's Jalen Pickett could also put their names into the process, but they still have collegiate eligibility remaining.
Rochester is already represented at the NBA level by former Bishop Kearney and Indiana center Thomas Bryant, who's in his third year in the NBA and a member of the Washington Wizards.
The NBA Draft is currently scheduled to take place on June 25 in Brooklyn at the Barclays Center. If the NBA intends to finish its season upon resumption following its COVID-19 suspension, the draft would likely be pushed back to later in the summer.