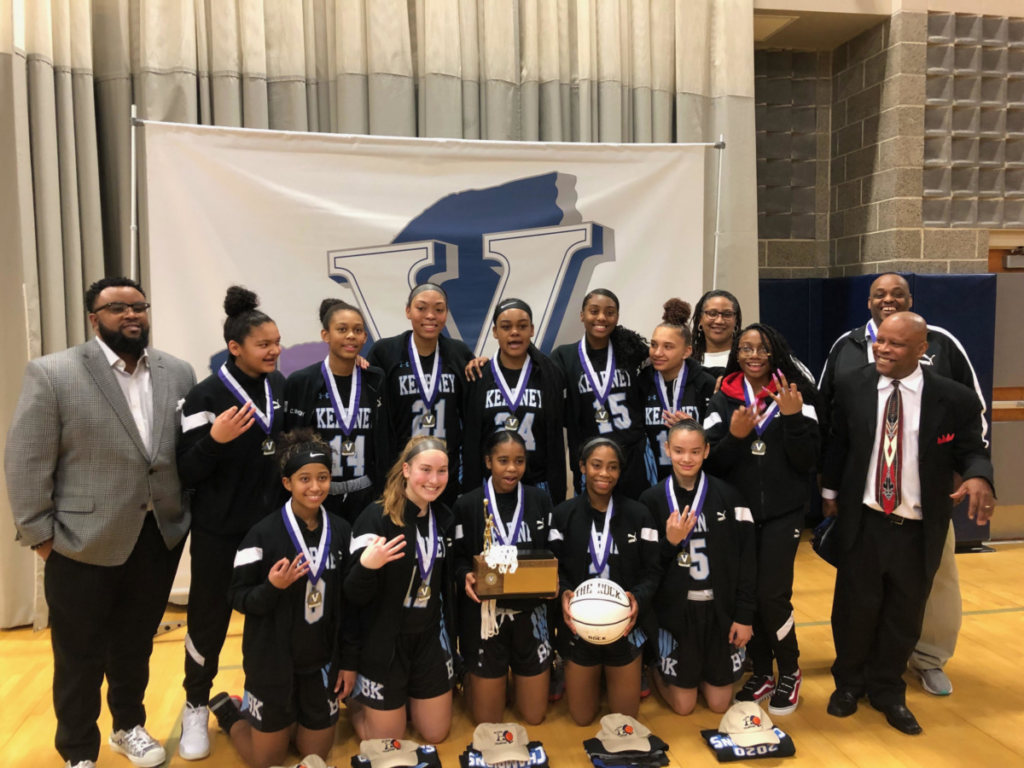 By BILLY HEYEN
GATES, N.Y. — Bishop Kearney's Saniaa Wilson was first to grab the sectional trophy Friday night. The 6-foot tall center extended the block toward the ceiling in her right hand. Next to her, her classmate and point guard Marianna Freeman gestured and asked Wilson to lower it. Freeman wanted to hold it, too.
Considering that Freeman had just been named MVP after leading the Kings to another sectional title, Wilson was quick to comply.
"She's getting back to being Marianna," Kearney head coach Kevan Sheppard said. "This is what we've come to expect since seventh grade."
Sectional trophy to @BKHS_Sports . @PickinSplinters pic.twitter.com/LiFPl8xrGv

— Billy Heyen (@BillyHeyen) March 7, 2020
Freeman scored a game-high 19 points Friday night as Bishop Kearney beat Penfield, 54-44, to claim a third-straight Section V Class AA crown. The Kings trailed by nine points at halftime, brought their usual third-quarter energy to knot the game up and pulled away in the fourth. The win secures an undefeated record for Kearney against Section V opposition this season and sends the Kings to a Far West Regional matchup with Section VI's champion next Saturday.
"Makes us feel like all our hard work, that we put in day in, day out at practice and stuff, finally worth something," Freeman said.
Kearney returned four of its five starters from a year ago, only losing Lytoya Baker to graduation. The Kings could add back to the fold Camille Wright after she dealt with injuries the past two seasons. There was nothing to suggest that the two-time defending champs weren't the favorites again. 
A regular season with no losses to Section V opponents, including a double-digit win over Penfield in February, cemented that idea. BK didn't enter sectionals as the top seed due to out-of-section losses, but it made sense that Class AA would go through the Kings. 
"If we lose, everybody's gonna be like, 'Oh, Kearney lost,'" Freeman said. "So we had to make sure we secured the bag."
Tough for @MariannaFreem12 , 4-0 @BKHS_Sports . @PickinSplinters pic.twitter.com/poEDgBj62Y

— Billy Heyen (@BillyHeyen) March 7, 2020
After Kearney scored the game's first four points, Penfield started to fire back, much like the Patriots had during the first half of these teams' regular season meeting. It was senior Baylee Teal doing much of the scoring and creating for Penfield.
Teal scored twice on drives down the right side of the lane before knocking down a 3 for seven quick points. Then in the second quarter, she jumped a pass to the right wing and dribbled the length of the floor before executing a give-and-go with Jessica Rinere. 
"(Teal) came out being much more aggressive this game, like she should have," Sheppard said.
What a play by @2020Baylee , to Rinere and back again. 15-6 @mvogtpenfield . @PickinSplinters pic.twitter.com/pm4xXHixp9

— Billy Heyen (@BillyHeyen) March 7, 2020
Kearney remained in the game during the first 16 minutes thanks to Freeman, who scored twice with her off-hand on tough lefty floaters before nailing a couple of triples. But as the Kings ate into the deficit, Teal drove for a floater then finished again with her right hand inside before the halftime buzzer. It sent the Patriots to the half up nine points. 
Baylee Teal @2020Baylee beats the halftime buzzer. She's got 13. @mvogtpenfield takes a 26-17 lead to the half.

Can @BKHS_Sports find its third quarter magic once more this season? @PickinSplinters #ROC pic.twitter.com/55s3WQLXcY

— Billy Heyen (@BillyHeyen) March 7, 2020
The narrative of BK's season has centered around third-quarter outbursts. That's what pushed the Kings past Penfield in the regular season. Kearney had 35 points in the third quarter of its sectional quarterfinal win, and it was a huge third quarter that led to a BK home win against Mercy in the regular season, too. 
The post-halftime surges by Kearney haven't been the result of any legendary Sheppard speeches. The Kings simply adjust their game plan to what the other team is doing, refocus, and come out firing.
"Really, it's about trying to keep it as close as you can in the first half, making adjustments at halftime, and we know exactly where we need to be defensively to change things," Sheppard said. "That's really what the story of the game was. (We) turned it up defensively, settled down and just played."
Kearney immediately fed Wilson inside for a bucket, then Freeman hit another 3, this time a deep one from the left wing.
Wilson scores inside, then @MariannaFreem12 hits a deep 3 and forces a Penfield timeout. @BKHS_Sports within 26-22 of Penfield with 6:48 left in the third. @PickinSplinters #ROC pic.twitter.com/fPMfOdwmvG

— Billy Heyen (@BillyHeyen) March 7, 2020
By the time Taylor Norris made her first field goal a few minutes later, BK had gone on an 11-2 run to tie the game at 28. Freeman hit a corner 3 shortly after, and by the end of the third, what was a nine-point BK deficit was now a tie game.
"I just realized that we had to play our game, and if our bigs aren't making their shots, I would have to step up and will us to victory," Freeman said.
The Kings took a 39-38 lead in the fourth, and they wouldn't trail again. After allowing Teal 13 first-half points, Kearney tightened up its defense to limit the Fordham commit's offensive impact and hold her scoreless in the second half.
Inside, it was Wilson contesting with length at the rim again and again en route to five blocks. The Kings had worked on defensive rotations all week in practice, she said, and that preparation paid off. 
"Me trying to predict where they're gonna be at this time set me up for success," Wilson said.
Camille Wright scored six of her 13 in the fourth quarter after missing last year's final recovering from a torn labrum, and Wilson scored her final bucket of the contest with 57 seconds left on a righty hook to put the Kings up seven. From there, BK hit enough free throws and got a few more stops. Then the celebrations that they've grown so used to were again in order.
There was a small huddle of hugs at the final buzzer. Then, Wilson grabbed the trophy and lowered it for Freeman as Kearney mobbed together once more.
The Kings eventually posed for pictures, asking each other whether they should hold up three fingers for the three-peat. They did, smiles on their faces, a familiar setting yet a new experience all the same.
"Every (win) feels different," Norris said. "It's a feeling I can't really explain. Winning is amazing, and being known is amazing, and we just want to keep going."
Scoring totals
Bishop Kearney: Marianna Freeman 19, Camille Wright 13, Taylor Norris 9, Saniaa Wilson 8, Kaia Goode 5
Penfield: Baylee Teal 13, Jessica Rinere 9, Nyara Simmons 6, Emma Blumenstock 5, Haley Emmick 4, Elisa Faklaris 4, Kennedy Cone 2, Jasmine Cohoon 1
Class AA All-Tournament Team
MVP: Marianna Freeman, Bishop Kearney
Saniaa Wilson, Bishop Kearney
Taylor Norris, Bishop Kearney
Baylee Teal, Penfield
Nyara Simmons, Penfield
Chloe Whittier, Victor
Emily Tabone, Mercy