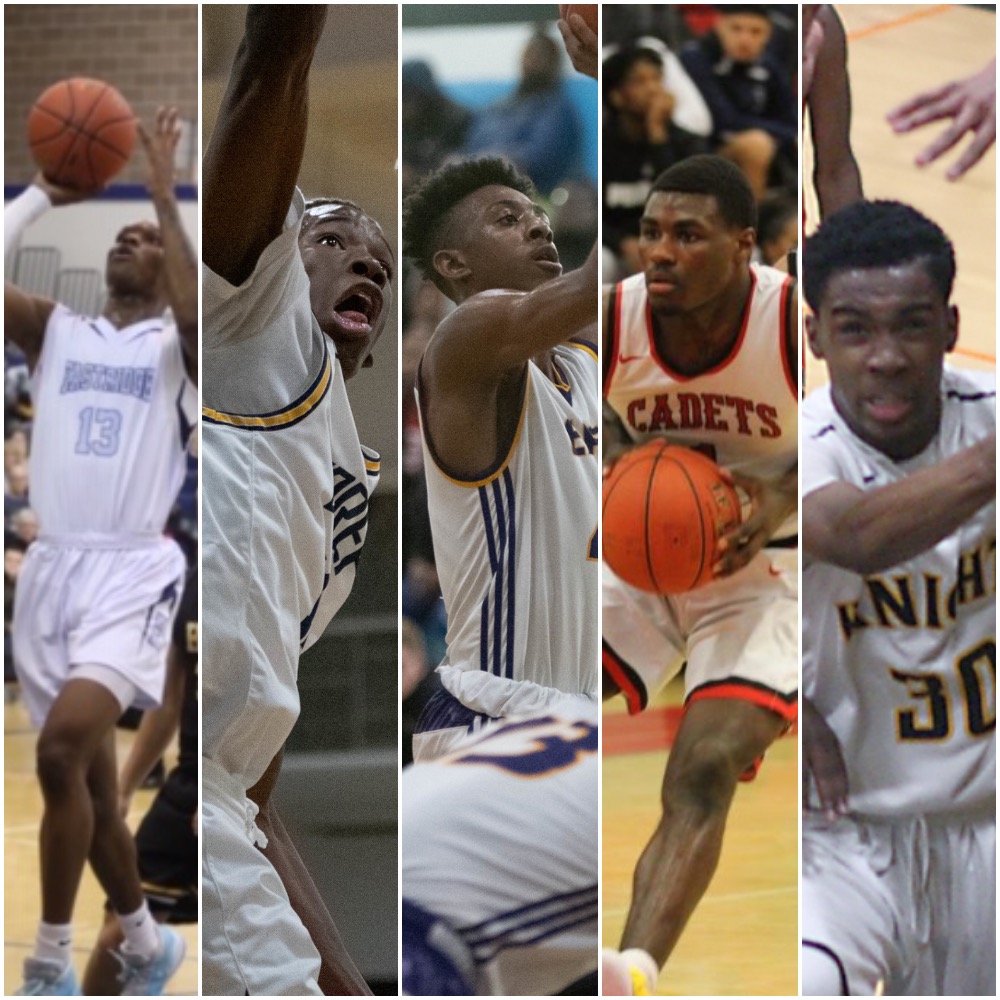 By PAUL GOTHAM
With the Section V boys' basketball playoffs set to tip off, a survey of the 2020 class.
TONY ARNOLD 6-foot-1-inch Sr. G Eastridge Lancers (Monroe County Division IV) – Dynamic playmaker with an impressive scoring touch; Arnold fearlessly attacks the rim from any where on the floor; at his best pushing the offense in transition, makes sound decisions at a pace that forces opponents to retreat, is willing to be patient in the half court set and allow the ball to move from side to side before going to the basket, sees the floor well and is able to get the ball to teammates in spots where they can score, finishes well in traffic with either hand, added range out beyond the 3-point arc during his senior season; he makes aggressive decisions on defenses, sees one pass ahead and is equipped with a quick first step to help him jump passing lanes, possesses the ability to easily convert defense into offensive production at the other end of the floor; an active rebounder, uses his athleticism at the rim where he can out-leap opponents, at the same time he can run down longer caroms; averages 26.6 points per game and has scored 1,498 career points. Eastridge will host the Greece Arcadia/Greece Athena winner in the Class A1 quarter-finals. A 5 p.m. tip off is scheduled Saturday, February 29.
MELVIN COUNCIL, JR. 6-foot, Sr. G University Preparatory Charter School for Young Men/UPrep (Private/Independent) – Instincts, speed and handle rolled into one package, Council has added perimeter scoring to his repertoire to make him one of the most dynamic performers in Section V; size and length make him a difficult matchup, he can easily see over smaller guards to create for teammates, at the same time bigger players have little to no chance stopping him off the dribble, has to be defended beyond the arc, he connected five times from long range against a Fairport squad traditionally known for limiting opposing shooters, adding this dimension as reliable shooter will create more space for him to create; at his best on defense where he anticipates the next play well, once a turnover is created he uses his explosiveness to get to full speed within two strides; underrated rebounder with impressive leaping ability to gather caroms around the rim but quickness to run down longer boards; averages 25.7 points per gamed has scored 1,010 career points. UPrep will host the Gates-Chili/Penfield winner in the Class AA quarter-finals. A 7 p.m. tip off is scheduled at Roberts Wesleyan College on Friday, February 28.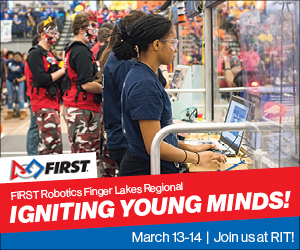 ZECHARIAH HARRIS-SCOTT 6-foot-5-inch Sr. F East High Eagles (Rochester City Athletic Conference) – Long inside presence who plays like he's on a trampoline, possesses an uncanny nose for the ball and is fearless attacking the basket, runs the floor well and finishes in transition, can also play with his back to the basket, high accuracy level from 10 feet, impressive motor, high basketball IQ; daring defender who anticipates well, moves his feet to get in passing lanes with active hands, high-level shot-blocking ability; tireless on the boards, strong hands to go with the ability to read angles on balls coming off the rim, elite level rebound-and-outlet man; averaging 22.8 points per game and has scored 1,062 career points with 18 double-doubles (points and rebounds) this season while handing out four assists per contest. East will host the Vertus/Wilson Magnet winner in the Class A2 quarter-finals. A 7 p.m. tip off is scheduled Saturday, February 29.
TAH-JAE HILL 6-foot-2-inch, Sr. G Hilton Cadets (Monroe County Division I) – Puts pressure on opposing defenses through a variety of means, foot speed and quickness set up his pull-up jumper that consistently keeps defenders on their heels, but his ability to blow by perplexes defenses which look to double team Hill, the Niagara University commit has seamlessly infused a back-to-the-basket game, a deft passer who reads well in pick-and-roll situations, maintains a repetitive motion with his shot, has to be defended beyond the 3-point arc; defends in the post and on the perimeter, can contain opposing ball handler and mark opponent's best perimeter scorer, at the same time he uses his athleticism to guard taller players in the post; tireless rebounder who resists first contact made in box-out situations; averaging 27.2 points and has scored 1,932 career points. Hilton will host Edison Tech in the Class AA opening round. A 7 p.m. tip off is slated Tuesday, February 25.
KOBE LONG 6-foot-1 Sr. G McQuaid Jesuit (Rochester City Athletic Conference) – During his junior season, Long made a relatively seamless transition from off guard to primary ball handler without any apparent drop off in scoring, this year he has shown that he can carry the scoring burden when needed; smooth and agile he plays the game at his speed with an impressive level of calmness, adept passer who understands how to use pace to give the ball to teammates where they can score, he has to be defended beyond the 3-point arc and off the dribble, effective in transition where he makes keen decisions, finishes in traffic at the rim with either hand; active rebounder who runs down long caroms; plays defense with sound instincts, shoots passing lanes well and sees one play ahead; averaging 24 points per game, he has scored 1,593 career points. McQuaid hosts Webster Schroeder in the Class AA opening round. A 7 p.m. tip off is scheduled Tuesday, February 25.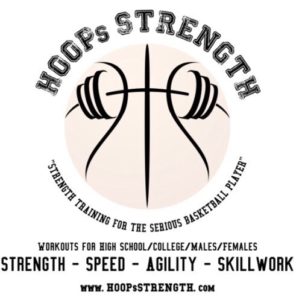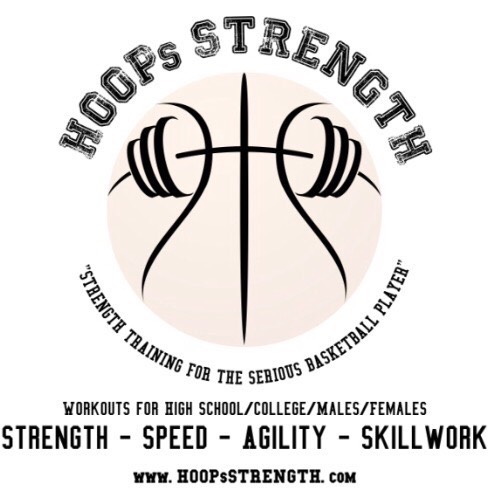 Names to know of other student-athletes from the 2020 class: Devin Agosto/Newark, Ja'mez Aiken/Leadership Academy, Caleb Arena/Pittsford Mendon, Nick Askin/Geneva, John Bagley/Churchville-Chili, Kaori Barley/East High, Edgar Bass IV/Edison Tech, Jahlil Bell/WOI, Seth Benedict/Marcus Whitman, Eddie Beverly/Rush-Henrietta, Jahmir Bloom/Monroe, Parker Bossard/Geneva, Charles Bowden III/Rush-Henrietta, Freddie Brock/East High, Jaden Brown/Avon, Colin Burkis/Hilton, Matt Caggiano/Victor, Korey Canton/Greece Odyssey, Jake Cerone/Greece Athena, Cameren Chestnut/Keshequa, Andrew Clement/Cuba-Rushford, Luke Cole/Fillmore, Tyler Curtis/Greece Athena, Tyler Dailey/Avon, Riley Danaher/Bolivar-Richburg, Reuben Daniel/McQuaid, Najier Daniels/Hilton, Josh Davis/York, SherRon Davis/Eastridge, Carson DeVinney/Perry, Ben DiGiovanni/Pittsford Sutherland, Colton Dillon/Elba, Deiontray Dixon/Bishop Kearney, Jarel Dixon/Vertus, Christian Edwards/UPrep, Matt Falter/Brighton, Ethan Fame/Webster Schroeder, Noah Fasso/Livonia, Adonis Flagler/NE Douglass, Na'Zea Fowlks/UPrep, Chase Freeland/Hornell, Gerald Gaitan/Greece Odyssey, Michael Gentile/Bishop Kearney, Nyles Goodwin/Rush-Henrietta, Brendan Graves/Scio, RJ Green/Penfield, Tremell Hale/C.G. Finney, Mitchell Harris/Gates-Chili, Logan Hayes/SOTA, Jalen Rose-Hannah/Eastridge, Kennyh Hardeman/Leadership Academy, Jaden Hartsfield/Greece Odyssey, Casey Herod/Canandaigua, Travis Hill/Red Jacket, Michael Hockey/Perry, Greyson Huntington/Elba, Khalil Iverson/Northstar Christian, Sam Jackson/Early College, Nicolas Jeanty/NE Douglass, Jonathan Jensen/Avoca, Jarell Johnson/Edison Tech, Zachary Johnson/Lyndonville, Max Jusianiec/Wellsville, John Keele/Churchville-Chili, Daniel Kelly/Geneseo, Kentonio Kelly/Franklin, Benji Kemp/Lyons, Tahjir King/Franklin, Nahjhime Kirton/Edison Tech, Dylan Kolmetz/Greece Odyssey, Mason Kuhn/Kendall, Joe Laursen/Caledonia-Mumford, Shamar Lee/Brockport, Troy Leibert/Brockport, Nick Leonardo/Irondequoit, Torrean Lewis/Edison Tech, Jack Lindstrom/Fairport, Lamar Lovelace/NE Douglass, Ryan Lucey/Fairport, Owen Lyons/Geneseo, Gabe Macdonald/Batavia-Notre Dame, Jansel Martinez/Mount Morris, Andrew Mason/Webster Thomas, Presten Mathis/Greece Odyssey, Garrett McClurg/Perry, Shamir McCullough/Leadership Academy, Derek McCumiskey/Hornell, Axel Mejias/Monroe, Luke Melidona/Irondequoit, Stefan Milinkovic/Fairport, Gabe Miller/Aquinas, Max Molisani/Fairport, Vin Molisani/Cal-Mum, Miles Monchecourt/Bishop Kearney, Austin Musselwhite/Friendship, DeAndre Newsome/Greece Athena, Collin O'Halloran/Elba, Dannie Palmer/Webster Thomas, Gino Pellett (*injured)/Spencerport, JoJo Plummer/Webster Schroeder, Kamerin Poromon/Churchville-Chili, Marcus Postell/Churchville-Chili, Liam Prendergast/Marcus Whitman, Mason Putnam/Prattsburgh, Noah Rattray/Clyde-Savannah, Matt Record/Red Jacket, Ben Reding/Spencerport, Noah Reilly/Geneseo, Manny Rivera/NE Douglass, Chase Rizzo/Red Jacket, Percy Robinson/Eastridge, Aaron Romero Gabriel Rosado/Wheatland-Chili, Kayshawn Ross/UPrep, Nick Rowland/Avon, Julian Ruiz/Waterloo, Liam Ryan/Geneva, Jack Scanlon/Aquinas, Esten Schalge/Brockport, Cody Schneider/Genesee Valley, Dyllon Scott/Penfield, Connor Shafer/Irondequoit, Amauri Smith/Irondequoit, Hayden Smith/HF-L, Dale Steffen/Kendall, Griffin Stella/Churchville-Chili, Riley Stella/York, John Stierly/Addison, Jason Story/Hilton, Devin Stowe/Avoca, Nate Strauf/Pittsford-Mendon, Jermaine Taggart/McQuaid, Jabez Thompson/Monroe, Oscar Vandetta/Brockport, Trevor VanNostrand/Midlakes, Joseph Vazquez/Rochester Academy, Sam Velletri/Brockport, Devin Walton/Gates-Chili, Calvin Washington/Leadership Academy, Caeden White/Batavia, Camden White/Batavia, Antwan Williams/Bishop Kearney, Jamar Williams/Monroe, Jevonte Williams/Rush-Henrietta, RJ Williams/Rush-Henrietta, Turner Wilson/HF-L and Evan Windus/Genesee Valley.