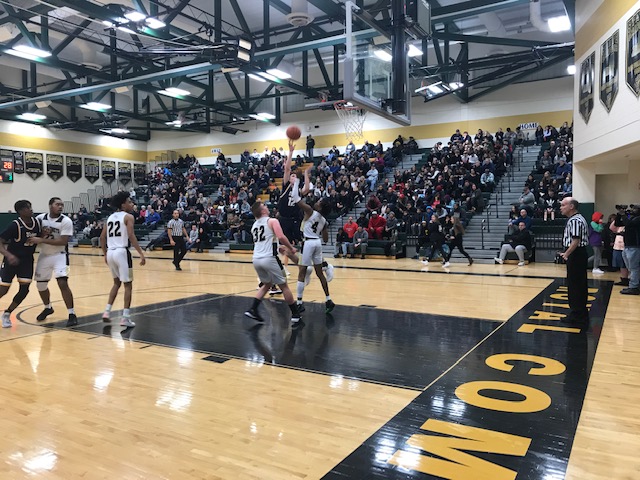 By PAUL GOTHAM
ROCHESTER, N.Y. — With 26.5 seconds remaining in Saturday's Monroe County Division I matchup, the Victor boys' basketball team broke the huddle. Their 16-point lead had been whittled to seven by a relentless Rush-Henrietta defense.
Matt Caggiano smirked as the Blue Devils prepared to inbound the ball. The senior wanted to make note of the impending play as all five Victor players lined up out-of-bounds along the baseline.
Game official, Sean Potter served as de facto center, initiating motion with his hand off. It wasn't exactly "trips," but it had the same effect as four players broke off the line at once.
Caggiano caught the inbound pass and was immediately fouled. He did miss the front end of the one-and-one, but the inbound play sent a message to the rest of Section V's Class AA: expect the unexpected when playing Victor.
"Victor's pretty good at football," head coach Tyler Roberts said with a smile. "We incorporated a little football into what we're doing."
That may be just one of the reasons why the Blue Devils are among the six remaining undefeated teams in New York State per NewYorkStatehighschoolbasketball.com.
When an opponent tries to take away the inside, Victor exploits the perimeter. Put pressure on their guards, and the Blue Devils look to go backdoor. They can hit threes, They can score in the score transition. They convert turnovers into buckets. They execute inbound plays.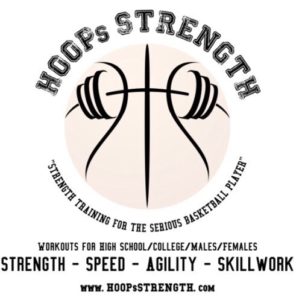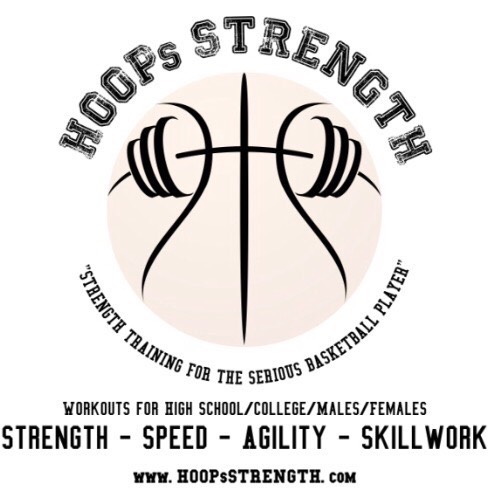 And they will line up five players out of bounds to get the ball in against pressure.
"It was tough to get it in against them because they are physical," Caggiano explained after the 61-58 win. "We've been really working on end-of-game situations. Coach Roberts put that in two days ago. We figured it was a nice way to get the ball in."
Caggiano led three in double figures with 17 points The left-hander connected five times behind the the arc for the game including four triples in the third quarter when he combined with teammate Chase Dickens to scored 18 points from long range in the stanza.
"We need to shoot more threes as a team to loosen it up inside," Roberts explained. "We have a lot of capable shooters."
Victor's perimeter game started, though, with Connor Williams in the post. The Blue Devils used the 6-foot-11 big man as their axis on which all motion takes place. With Rush-Henrietta having to compensate for Williams inside, Caggiano and Dickens took advantage of open spaces beyond the arc.
"We stress paint touches on offense," Caggiano noted. "An easy way to get a paint touch is to throw it to the inside. If you're going to guard him (Connor Williams) one-on-one, we like that matchup. If you're going to double, we're going to find our shooters on the perimeter.
"The first two I hit were off post touches to Connor and then he kicked it out. They were doubling and tripling on him all game. He had some nice kickouts, and we were able to knock them down."
After R-H's Jevonte Williams made it a 38-31 game with a trey of his own, Victor responded with triples on each of its next three possessions. First came Dickens. Caggiano hit next. And for kicks, Connor Williams stepped out and drilled a 3-ball of his own.
"He sees the floor like a guard," Roberts said of his junior center who netted 15 points. "He's one of our smartest players."
With the win Victor (No. 16 NYSSWA Class AA) improved to 15-0 on the season. They clinched the program's fifth league title and first since 2004.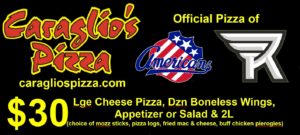 "Our kids are just selfless," Roberts stated. "They care about winning. Whoever's night it is, they step up. Having that balance on offense has been key for us."
The loss snapped a six-game winning streak for Rush-Henrietta (11-5).
"At times, I thought we played very well, but we dug ourselves a hole with either poor shots or turnovers," R-H coach Chris Reed stated. "I was proud of the way we kept fighting and made them had to close the game. We did that. Just not as sharp as we needed to be to win this game."
In finishing with 58 points, the Royal Comets scored more than 12 points over Victor's season average of holding opponents to 45.1 points per game.
"In the first half we turned it over too much and really what Victor does is they run the ball down at you," Reed said. "We had 11 turnovers in the first half. That led to a lot of their baskets."
There is also the presence of Williams around the basket.
"He changes the way you normally play," Reed said of the opposing player. "Normally guys aren't going to be that open but when the ball gets thrown in there, you have to dig down so hard. He's a good passer, and he has excellent touch. It does take a little getting used to.
"To their credit, they hit a lot of shots. In the third quarter  when we got down 16, I was telling our guys we're really not playing that bad. They're just making everything they shoot right now. We have to withstand this, and we did. We did fight back. It was just too little, too late."
Jevonte Williams paced R-H with 17 points. RJ Williams had 10. Charles Bowden III scored seven points. Eddie Beverly had six. Jalen House (5), Nyles Goodwin (4), Chris Sleeper (4), Mason Giorgione (3) and Gabe Wright (2) rounded out the scoring for the Royal Comets. R-H plays at Webster Thomas on Tuesday.
Dickens scored 16 for Victor. Phil Nwugwo and Will Tehan added four apiece. Will Stone had three, and CJ James two points. Victor hosts Pittsford Mendon on Tuesday.