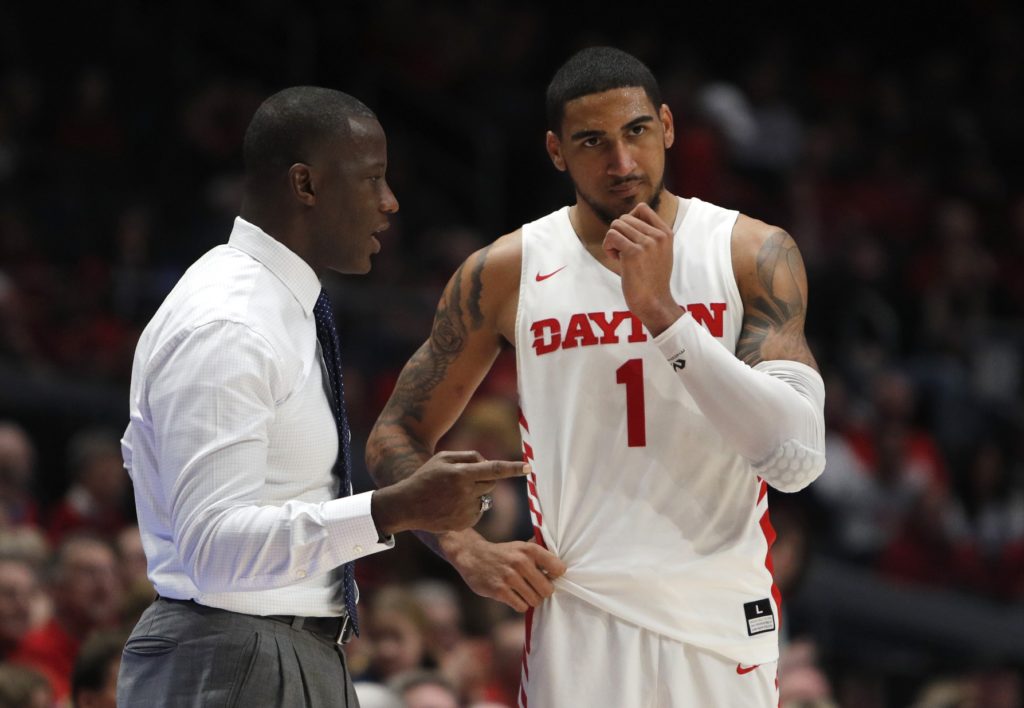 "Let your plans be dark and impenetrable as night, and when you move, fall like a thunderbolt." Sun Tzu from The Art of War
By PAUL GOTHAM
DAYTON, OH — Anthony Grant's University of Dayton Flyers entered play Saturday with the nation's top-ranked offense. UD leads Division I men's basketball in Adjusted Offensive Efficiency (120 points per 100 possessions), Effective Field Goal Percentage, (60.1) and 2-Point Percentage (62.7).
Redshirt sophomore forward Obi Toppin has grabbed the attention, rightly so, of national media and opposing defenses, but the means by which Dayton's offense arrives at its desired outcome(s) is not always so obvious.
Dayton downed Fordham 70-56 on Saturday. Of the Flyers 70 points, 27 came from behind the 3-point arc, 28 in the paint and the 15 others from the free throw line.
Hard to find a better example of scoring balance especially when adding to that equation the Flyers converted 10 Fordham turnovers into 12 points while also getting eight second-chance points on the day.
The artifice comes when noting that eight different players contributed to 21 assists on 23 made field goals.
Usually when coaches dangle the "pick your poison" cliché, they are referring to scorers. With Dayton, it's a matter of trying to figure out the playmaker on any given sequence.
"We've been a team all year that these guys really enjoy playing with each other," Grant said after No. 7 Dayton improved to 20-2 on the season with its 11th straight win. "I say it a lot. It's contagious.
"As a basketball player, when you're out there with guys that play the game the right way and they're unselfish and they're willing to make the extra pass and take joy when a teammate makes a play, that's contagious. I don't know any other way to say it, but every team that I've been around, when they have that, it's fun. It becomes your identity. I think for our guys they really enjoy that."
Toppin ranks top 20 in the nation for individual Effective Field Goal Percentage and True Shooting Percentage. Dayton uses the 6-foot-9 forward on 24-28 percent of possessions, but no single Flyer ranks within the top 150 for Assist Rate, this despite the Flyers ranking 13thfor Assists per Field Goals Made (62 percent).
Good ball movement leads to 3-point play by Obi Toppin. Dayton leads 34-15 at 210. UD has a 22-10 rebounding edge. pic.twitter.com/itD9Nsprft

— David Jablonski (@DavidPJablonski) February 1, 2020
"People don't see in practice when we get excited off five passes, six passes – ball movement," said Rodney Chatman who finished with four assists in Saturday's win – one of six players to dish two or more dimes. "The basketball gods always reward you for moving the ball, so that's what we're going to keep doing."
Fordham came into the game with a record of 7 wins and 13 losses included in those was just one victory in eight Atlantic 10 outings. But Fordham's defense ranks tops in the A10 and 13thin country holding opponents to 60.7 points per game while limiting opposing shooters to 40.7 percent from the floor.
Instead of Dayton overlooking the Rams, they shot 44.8 percent in the first half when they accounted for 36 of their points. Late in the stanza, the Flyers converted on 8 of 12 possessions to take a commanding 29-13 advantage.
"I thought our guys did a good job on the offensive end tonight," Grant stated "The ball movement I thought was exceptional. On a night where we didn't particularly shoot the ball great, when you look at the numbers, I thought the way the ball moved, our guys' willingness to share it we did a really good job there."
Along with Chatman, Jalen Crutcher had six assists. Ryan Mikesell collected three helpers. Trey Landers, Ibi Watson and Jhery Matos had two assists apiece.
And the Flyers turned the ball over just eight times.
"It's fun having the other team chase," Chatman noted. "When you move the ball like that, it's hard (for the opposition) to keep up on a consistent basis. We have so many winners on our team, you can only take so much away. Moving the ball helps us get high-quality shots and our field goal percentage."
Landers and Toppin scored 18 points apiece. Chatman added 10. Watson had eight points and Jhordy Tshimanga six.