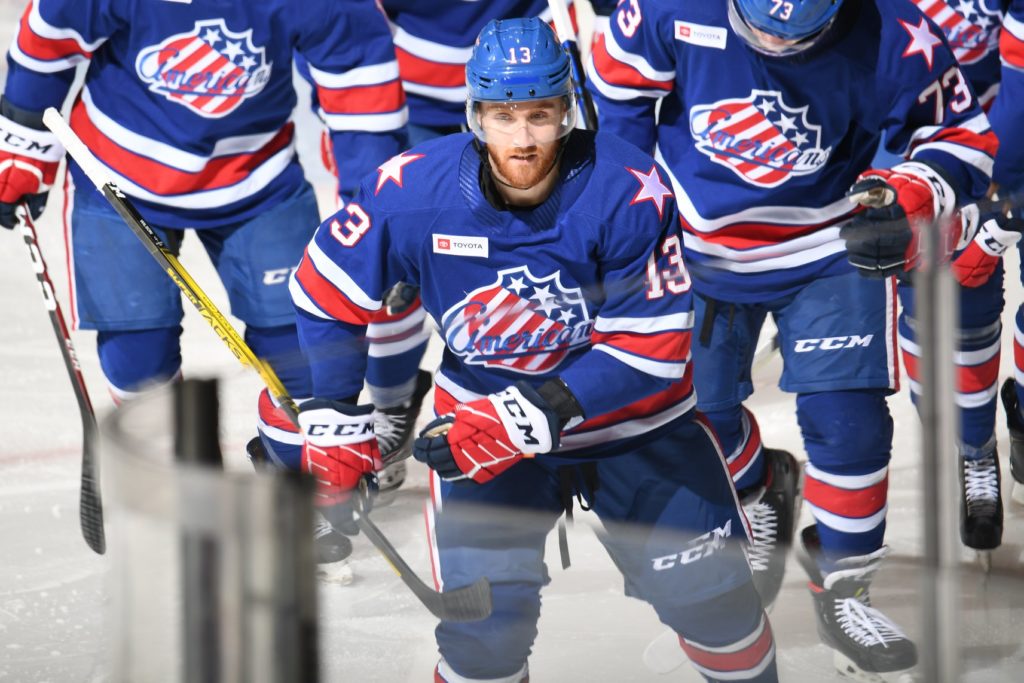 By KEVIN OKLOBZIJA
Scott Wilson knows he can score goals, and his resume confirms that belief.
In his first two pro seasons with the AHL's Wilkes-Barre/Scranton Penguins, he scored 19 and then 22, and did so in a total of just 89 games.
People who saw that production first-hand, such as Rochester Americans coach Chris Taylor, willing attest to Wilson's talent.
But since returning to the AHL after two-plus NHL seasons, pucks shot by Wilson were no longer finding the net. The harder he tried, the more difficult the task became.
He's hoping Friday night is a sign that the good old days have returned.
The sixth-year veteran scored a pair of goals, both off passes from rookie defenseman Jacob Bryson, and set up a breakaway goal by Casey Mittelstadt as the Amerks defeated the Syracuse Crunch 4-2 at Blue Cross Arena at the War Memorial.
C.J. Smith also scored while goalie Ukko-Pekka Luukkonen made 31 saves for his first AHL victory in helping the Amerks (25-13-2-4) win their fourth in a row.
The game against the rival Crunch had a bit of an old-time hockey feel, appropriate since it was Hall of Fame night and the newest inductee, Domenic Pittis, played in his share of intense, physical battles against Syracuse.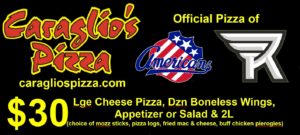 There was just one fight, but plenty of unpenalized punches and slashes as well as clean (and not-so-clean) checks.
"I just think it was Syracuse versus Rochester," said defenseman Andrew MacWilliam, who always seems to elevate his play when physicality is a prevailing trait of the game. "It's no secret they don't like us and we don't like them."
It's the type of game he thrives on.
"Who doesn't?" MacWilliam said with a smile.
For Wilson, the two-goal game was his second of the season, and first since Nov. 22. In 26 games with the Amerks, the 27-year-old winger has 9 goals, 8 assists and 17 points.
After going without a goal in 15 games in Buffalo last season and scoring just three in 17 with the Amerks, his belief in his hands has been restored.
"When I first came down here, I was trying to do too much, last year and this year," he said. "I slowly learned that's going to backfire on you."
That is, however, simply human nature.
"You feel like you need to score every night just to regain your confidence," Wilson said.
He realized simply playing the right way and doing the little things would lead to success. Hard work helped, too.
"He's been working really hard at his game," Taylor said. "He was one of the guys skating here on our days off (during this week's All-Star break) so that shows he wanted to be ready."
Wilson opened the scoring just 4:01 into the game, taking Bryson's home-run pass up the middle and racing into fire a shot past goalie Scott Wedgewood.
His second goal gave the Amerks a 3-1 lead 48 seconds into the second period. Bryson again set him up, only this time it was more luck than a tape-to-tape pass.
"I'll admit, I was thinking shot, the lane was open, but it hit a stick and went right to him," Bryson said after his first two-point game.
The Amerks had lost eight of nine between Jan. 4 and Jan. 19, but have rattled off four wins in a row and given up just two goals in each game.
"It's nice to get back on that winning train after what we went through," Bryson said.
Taylor like a lot about the way the Amerks played, especially when challenged by the Crunch to ramp up the physicality.
"A couple times they went into our goalie and we stuck together," Taylor said. "There were some no-so-clean hits and we stuck together. That makes us a really good team right now, that's why we've won four in a row."