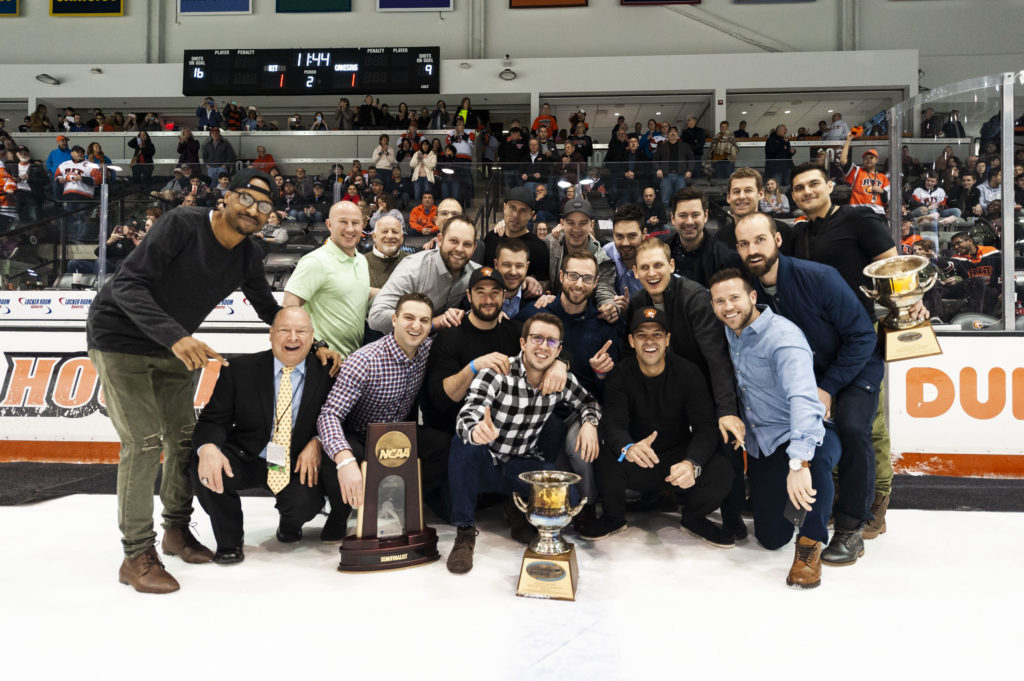 By KEVIN OKLOBZIJA
It has been nine years and 10 months since an unheralded, never-regarded group of hockey players put Rochester Institute of Technology on the national map.
Nine years and 10 months since a tight-knit group of ever-determined players sent shock waves through collegiate hockey and ignited a never-before-seen sense of school pride on the RIT campus.
Nine years and 10 months since those 25 players laid the foundation for a sparkling new hockey rink. Officially it's the Gene Polisseni Center. In reality, it's the House that 2010 Built.
"We weren't supposed to win, we weren't supposed to be there," said Andrew Favot, the team's second-leading scorer.
To those players, however, it still seems like just yesterday they were riding a wave of euphoria and confidence from Henrietta to Albany to Detroit.
Like just yesterday that the Tigers stunned top-seeded Denver 2-1 in the NCAA East Regional semifinals in downtown Albany.
Like just yesterday that they came back the next night and blitzed New Hampshire 6-2 in the regional final.

And like just yesterday they roared into Detroit for the Frozen Four, this little-known, still-in-its-infancy Division I hockey program, ready to continue their magical ride.
"We didn't know what to think," Scott Knowles, a forward on that team, said on Saturday night during the team's 10th anniversary celebration at the Gene. "Ignorance is bliss."
Those Tigers rekindled memories during the reunion. They talk all the time, and over the past decade have reunited sporadically for weddings and bachelor parties and the like.
But rarely are there 20 of the 25 together at once. Those who couldn't make it back this weekend: Chris Tanev has practice on Sunday with the NHL's Vancouver Canucks, his team for the past 10 years. Jeff Smith is still playing in Europe. "We've been texting them," Knowles said. Tyler Mazzei couldn't make the trip from British Columbia and the team's third goalie, Jan Ropponen, is in Finland. The other goalie, Shane Madolora, also missed the party.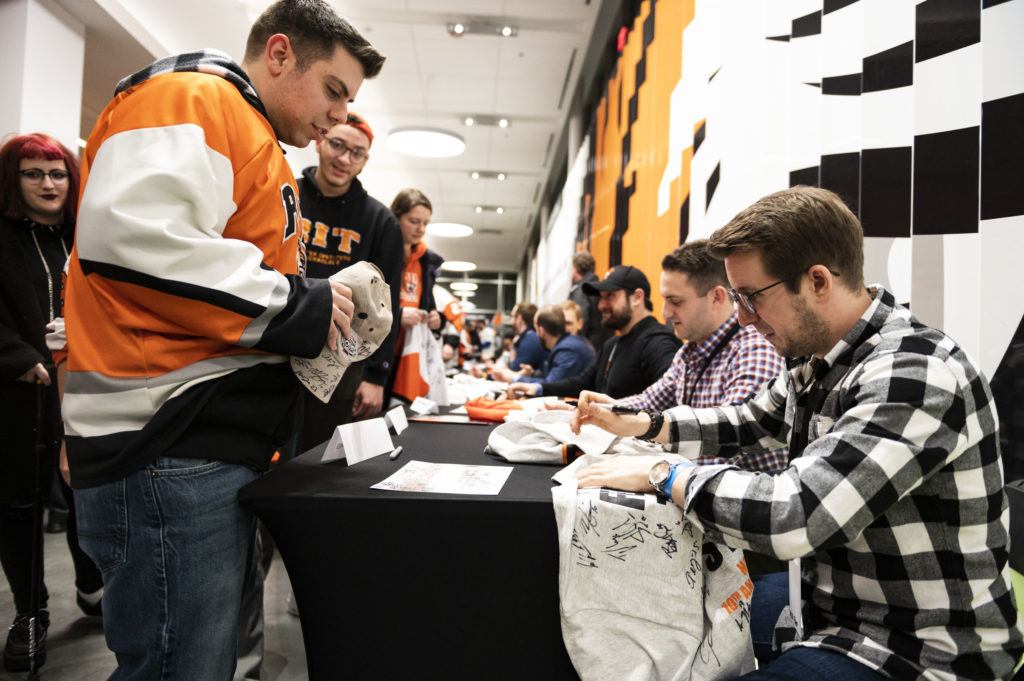 "The biggest thing still to me is how it brought everyone together; friends, families, the community of RIT," said Favot, who works in the NHL's hockey department.
"And it really wasn't about us, it was about RIT. It was bigger than us."
When they upset Denver, the hockey world considered it a fluke. A hot goalie for one team, an off night by the other.
The Tigers preferred to believe they were the better team that night.
"And after the game every one of us said, 'Lets shock the world twice," said Mark Cornacchia, a forward on the team.
So they did, steamrolling New Hampshire with a three-goal second period. When their bus arrived back on campus, at 2:30 in the morning, thousands of fans greeted them. Knowles turned 23 that night and went body-surfing through the crowd.
"That's a one-and-done thing," he said with a smile.
But it's also one of the many memories that will never fade away. So, too, are goalie Jared DeMichiel's words at the Frozen Four news conference the day before the semifinal.
The Tigers were obviously enjoying their unexpected run, but DeMichiel had heard enough of the endless little-engine-that-could talk.
"Underdog, overdog, you can call us Snoop Dogg, we don't care," he said from the podium in Detroit.
On Saturday evening, reminded of that moment, DeMichiel said, "I just felt we were getting disrespected. We beat two good teams, we had a good regular season.
"We hated when people told us we couldn't do something."
Their coach, Wayne Wilson, had actually told them something very similar on Jan. 2 of that season. They had just lost back-to-back games at Minnesota State-Mankato, 6-1 and 3-0.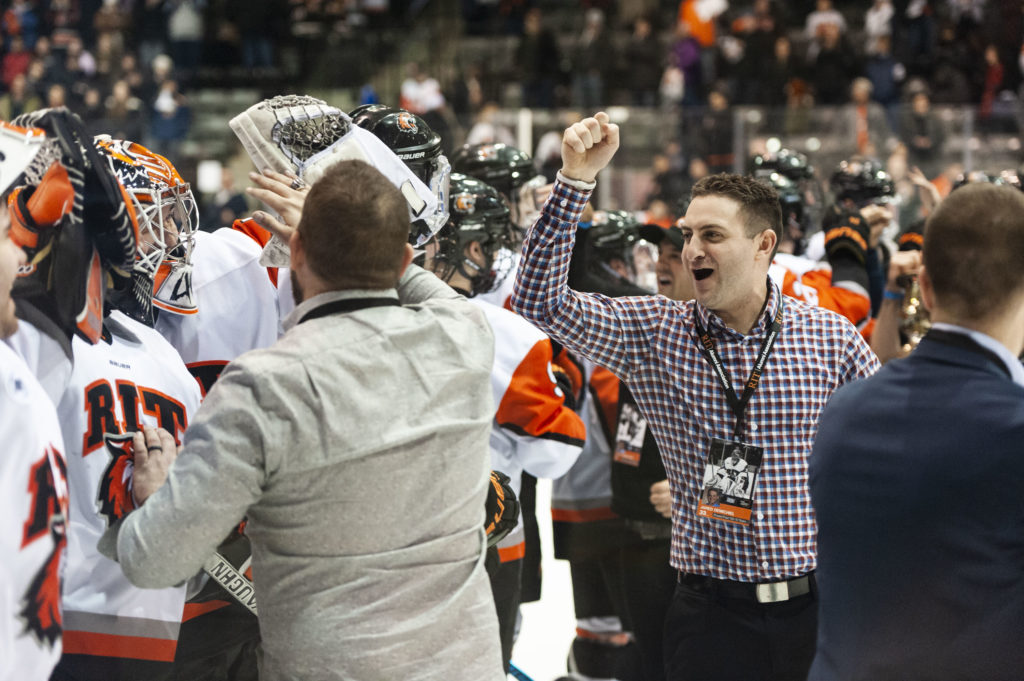 "We got absolutely destroyed and 'Wils' called us out," Knowles recalled. "He told us, 'The way you guys are playing right now, you don't stand a chance of dong anything in the playoffs.' "
The players were reflective the next morning on the flight back to Rochester.
"We were so close as a team," Knowles said. "We knew we had a lot of talent."
The cohesiveness of that group was a big part of why they were so good on the ice.
"Every Monday night we went out, 25 of us," Knowles said. "We played pool, darts, went to a movie. We spent so much time together.
"Even today, we have a group chat with 25 people."
They took Wilson's words to heart and went 13-3 down the stretch, then blitzed UConn, Canisius and Sacred Heart to win the Atlantic Hockey championship and the program's first berth in the NCAA tournament.
The party finally ended at Ford Field, when a Wisconsin Badgers team fortified by eight future NHLers overwhelmed the Tigers 8-1.
"It pains me to say it but the right team probably won that night," DeMichiel said on Saturday.
The loss didn't tarnish the accomplishments. They're still the only team from Atlantic Hockey to reach the Frozen Four.
But perhaps just as rewarding to RIT and the players themselves is what this group has become. Yes, they'll be known forever as the team that vaulted a hockey program from the D-I shadows to the spotlight.
But they've also made a mark in the world. Chris Haltigin and Trevor Eckenswiller are doctors. Mark Cornacchia is doing big things in the world of private equity in Toronto. Knowles teaches doctors how to use the latest in orthopedic equipment.
"We've become good fathers, good husbands, just a group of good guys," Knowles said. "That's what I'm most proud of. The coaches gave us the foundation to be good men outside the sport. That's a testament to their coaching philosophy."
Their reunion this weekend allowed them to relive the memories.
"This has been a great reminder," Cornacchia said, "that what we had was special."