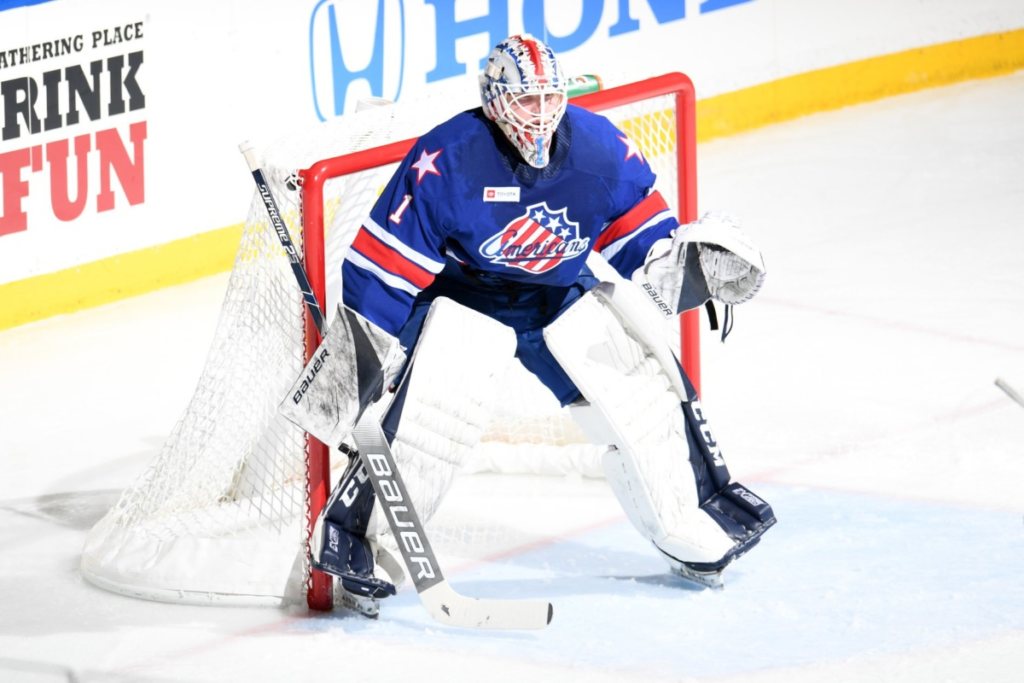 By KEVIN OKLOBZIJA
The long-awaited next step in Ukko-Pekka Luukkonen's journey to Goalie of the Future for the Buffalo Sabres finally took place on Friday.
The much-awaited end to the Rochester Americans slump did not.
C.J. Smith's power play goal with 4:28 remaining in regulation sent the game to overtime, and it didn't end until Cleveland's Markus Hannikainen scored the only goal in the shootout as the Monsters posted a 4-3 win on Pride Night at Blue Cross Arena at the War Memorial.
And so, that's seven losses in the past eight games, though the Amerks did get points in two of the losses (1-5-0-2). They've won just three of the past 12 (3-7-0-2).
"I think we can go to bed knowing we played a solid game," said defenseman John Gilmour, who scored a sensational goal with an end-to-end rush and then bar-down finish in the first period.
Luukkonen played a solid game, and made a fair share of top-notch saves, especially late, but was burned in the shootout on a dynamic move by Hannikainen, a fellow Finn.
"Of course it sucks to lose," said Luukkonen, who stopped 24 of 27 shots. "There are some things I have to sharpen up and some things I'm happy about."

Luukkonen was chosen in the second round (54th overall) by the Sabres and turned pro this season after winning the Ontario Hockey League's Most Outstanding Player award a year ago.
Off-season surgery on both hips delayed the start of his first pro season until November but he is right on schedule, according to Sabres assistant general manager Randy Sexton.
In 20 games with the ECHL's Cincinnati Cyclones, Luukkonen was 12-5-3 with a 2.12 goals-against average (third-best in the league) and .912 save percentage. His play earned him a spot in the Jan. 22 ECHL All-Star Game.
He joined the the Amerks this week for a mid-season AHL test drive to gauge his progress, apparently all part of the Sabres blueprint.
"We planned to have him here a couple times this year," Sexton said. "Whether JJ (Jonas Johansson) and Andrew (Hammond) had been lights out or OK or playing poorly, he was coming here this week.
"We did the same thing with Jonas last year. It's all part of the overall development process."
The three goals in regulation allowed by Luukkonen all came in the second period, as 1-0 and 2-1 Amerk leads provided on goals by John Gilmour and Casey Mittelstadt turned into a 3-2 deficit.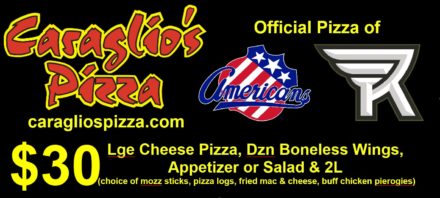 The go-ahead goal by Kole Sherwood at 15:11 was very much a fluke. Defenseman Doyle Somerby wristed a shot from above the right circle that missed the net on the short side.
Luukkonen logically thought the carom would come back out to his right, so he began to shift across the crease. The puck, however, somehow bounced back on the same side it was shot from and Sherwood had an empty net.
"It's a crazy bounce behind the net; I probably should have read it a little better," Luukkonen said.
Said Taylor: "There's nothing worse than a bad bounce like that. It was going nowhere. But you make your won breaks and I talked to the team about that."
The Amerks haven't done nearly enough of that during their slide.
Even Taylor ended up taking a penalty for unsportsmanlike conduct, putting the Amerks two men down for more than a minute. He was angry that Derek Barach wasn't penalized for hitting Zach Redmond into the boards from behind, and even more upset that Amerks forward Jean-Sebastien Dea ended up with the only penalty from the ensuing scrum.
"I thought his (Redmond's) head hit off the glass, I thought it was kind of a high hit," Taylor said. "Casey got called for that same play when the guy (Trey Fix-Wolansky) turned a little and he didn't even hit the boards.
"But we'll get those calls when we start to play the right way."