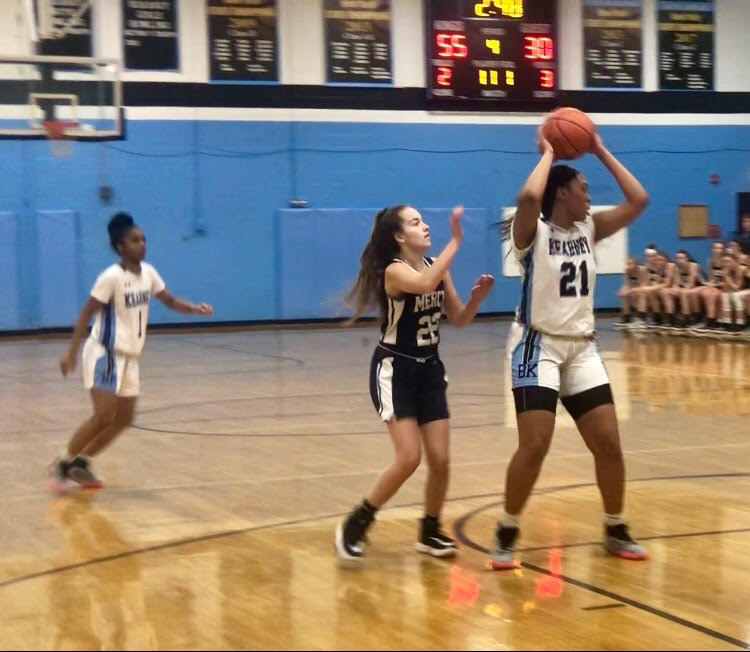 By BILLY HEYEN
ROCHESTER, N.Y. — When Camille Wright found Kaia Goode for a 3-pointer to open the second half, it seemed like just another basketball play for Bishop Kearney. But for the past few weeks, BK has dominated third quarters. After a low-scoring, even first half, Goode's 3 was the start of a second-half onslaught.
"Third quarter's our quarter," BK's Saniaa Wilson said.
Dime from @camille_wright4 to Kaia Goode and @BKHS_Sports scored first in the second half. 22-19 BK. @PickinSplinters pic.twitter.com/wib4SMuQw9

— Billy Heyen (@BillyHeyen) January 14, 2020
Bishop Kearney beat Mercy on Tuesday in Ed Nietopski Gymnasium, 59-32, behind a 25-point third quarter. The game was tied at 19-apiece at the half, but increased guard pressure and success for Wilson (11 points) and Taylor Norris (12 points) inside allowed BK to outscore the Monarchs 25-7 in the third, more than enough of a gap to run away with the victory. Bishop Kearney was led by a game-high 13 points from Wright.
"For some reason, they need to take the first punch before they start fighting," BK coach Kevan Sheppard said. "They're still getting used to playing with a target on their back. You're gonna get everybody's best game."
The first half was what you'd expect from a private-parochial rivalry game, at least from an intensity level. There was hard contact inside and scrambles for rebounds. There just weren't a lot of made baskets as layups rimmed out and perimeter shots clanged off the rim.
Mercy used a zone defense that swarmed around Wilson in the high post to limit Bishop Kearney's first-half offense. BK's full-court pressure caused the Monarchs some trouble initiating sets. A few multi-possession leads for Bishop Kearney were answered by Mercy to go into the half at 19-all.
"Sometimes we've just gotta kinda catch our own rhythm at the beginning of the game," Wilson said, "and I think we were kind of shaky in the beginning."
In the locker room at halftime, Sheppard emphasized to his players that they can't keep starting out games slow. He knows their reliance on third-quarter dominance could come back to haunt them. He'll work to find ways to increase first-half output. But Tuesday, all he could do was hope that the usual third-quarter mojo was there again for Bishop Kearney.
So when Goode hit that 3 to open second-half scoring, that was a positive sign for BK. Goode, Emily Tytler and Wright picked up the ball pressure and started forcing steals, along with one bad Mercy throwaway that led to a Monarchs timeout. Norris, who hadn't scored in the first 16 minutes, knocked in a foul-line jumper to get on the board, too.
"The key was our guards defended hard up top on the press," Sheppard said.
It wasn't one play the keyed BK's run, which at its peak was 21-1 in favor of Bishop Kearney across the third and fourth quarters. It was the overall flow of the game. Wilson found open shooters more readily from the high post, including Tytler, who nailed three triples Tuesday. Wright worked her way into the passing lanes to rack up four steals after the break. Wilson blocked multiple shots, too, starting transition offense from defense.
There was a late third-quarter stop for BK which led to a run-out and Wright 3 at the buzzer. Then to start the fourth, there was Goode grabbing a loose ball and flipping it over the top to Wright on the right wing, who drove and finished a layup. And there was Tytler getting a back-tip steal, leading a break and finding Goode for another layup. 
"We've gotta lock in defensively," Sheppard said he told BK at halftime. "Once we lock in defensively, we'll be alright on the offensive end."
Here's a dime from Emily Tytler to Kaia Goode pic.twitter.com/o2fIr4WfdX

— Billy Heyen (@BillyHeyen) January 15, 2020
Sheppard was right. Defense led to offense, and a contest that was tied at halftime featured a 40-13 advantage for BK in the second half.
After the game, Sheppard laughed as he said that "maybe (he) starts games off a little too relaxed." The intensity in his voice moments earlier, though, showed he knows that Bishop Kearney can't live off third-quarter magic forever. But at least Tuesday night, when BK needed it, the usual post-halftime response was there.