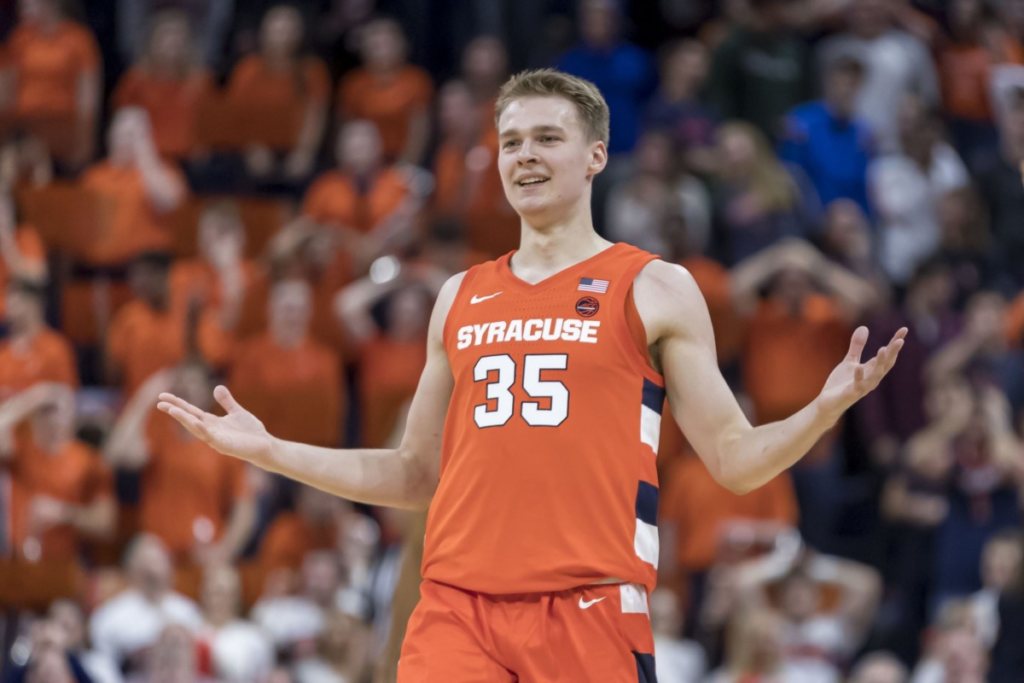 By BILLY HEYEN
Buddy Boeheim's shrug could sum up Saturday's game as well as any one action. Sure, he'd just banked in a desperation heave in overtime, but it was the shrug that matched up with ESPN's commentary.
"Where did this come from?" color commentator Dan Dakich said. "Guys are making shots!"
Buddy Boeheim's reaction here: Priceless.pic.twitter.com/X0EUEskcqS

— Billy Heyen (@BillyHeyen) January 11, 2020
A barrage of overtime 3-pointers, including Buddy's shot, meant Syracuse (9-7, 2-3 Atlantic Coast) pulled off a 63-55 upset at No. 18 Virginia (11-4, 3-2) on Saturday at John Paul Jones Arena. After scoring 43 points and making 7-of-24 3-pointers in regulation, the Orange scored 20 points in five overtime minutes while knocking down 5-of-6 3-pointers to cap an unexpected finish to the win.
These teams had already met this season, back on Nov. 6 to open the campaign. An inexperienced SU team starting off against the defending national champions was not a recipe for success, and the Orange managed 34 points, the lowest output of the Jim Boeheim-era.
It wasn't shocking, then, when Syracuse was on a point-per-minute pace in the early going Saturday. The key during much of regulation, as SU struggled to score and battled foul trouble to Marek Dolezaj, Bourama Sidibe and Quincy Guerrier, was that Virginia wasn't doing any better.
SU's zone offered perimeter shots to UVA's Kihei Clark and Kody Stattmann all game, and the pair combined to go 3-for-13 from long distance. That meant the Cavaliers' best approach would be 7-foot-1 Jay Huff and 6-foot-9 Mamadi Diakite inside, but both battled foul trouble, and Huff couldn't hit his foul shots.
So despite scoring being limited, the Orange had an upset chance within their grasp. Buddy was 0-of-6 from 3-point range in the game's first 36 minutes, and SU was still within one.
SU head coach Jim Boeheim's message for Buddy up to that point: "Keep shooting."
Boeheim's son did, and he cashed a right-wing 3 off a dish from Elijah Hughes to take a 43-41 lead with about three minutes to play. Syracuse wouldn't score again in regulation, while Clark hit two foul shots to send the game to overtime.
That's when the game truly flipped on its head. First Hughes hit a 3-pointer from the left wing. Then Joe Girard III nailed another, this from the right wing. Buddy followed with a 3 of his own of the normal variety before banking home his prayer soon after.
"We got one lucky one but that's okay," Boeheim told reporters postgame. "Sometimes you need to be a little bit lucky."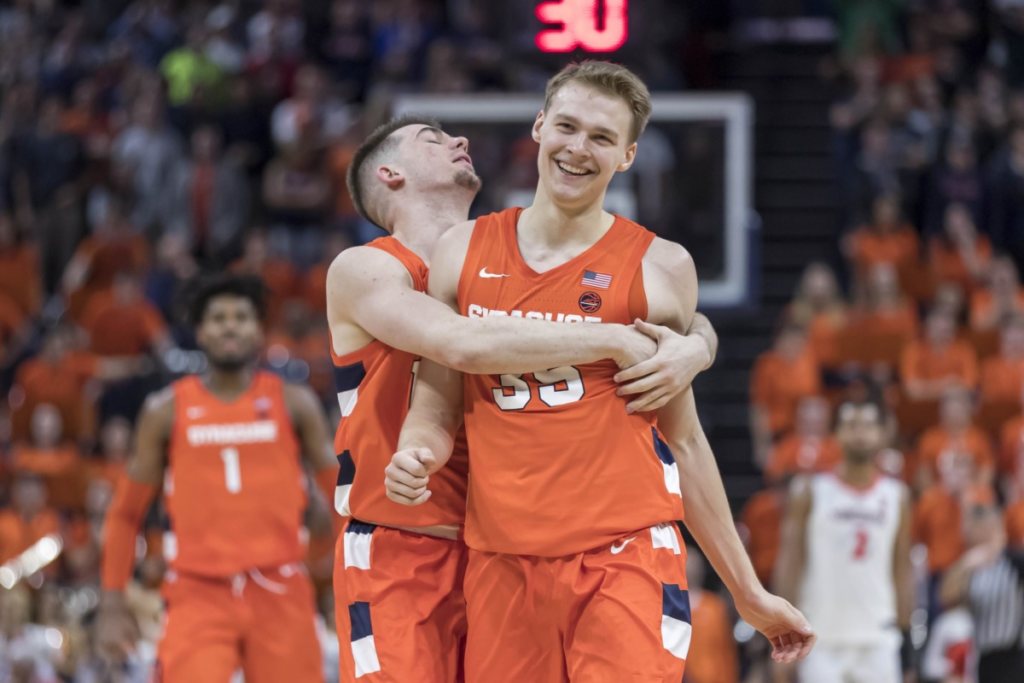 Syracuse had gone from a team without an answer against Virginia's packline defense to a team that couldn't miss. The Cavaliers picked up their scoring pace a bit in overtime, as well, but not enough to keep up with SU.
Saturday's win could represent one of two things for Syracuse. If the Orange turn it on in the season's second half and make a run at at NCAA Tournament bubble spot, it'll be looked back upon as a season-changing victory. If SU fails to carry momentum forward and struggles in the rest of conference play, it'll be no more than the lone bright spot in a down year.
But for one five-minute stretch of basketball Saturday afternoon in Charlottesville, it didn't matter what this win would mean for the bigger picture of the Syracuse program. All that mattered was that a team built around shooting, after an afternoon of clanging the ball off the rim, finally made shots.