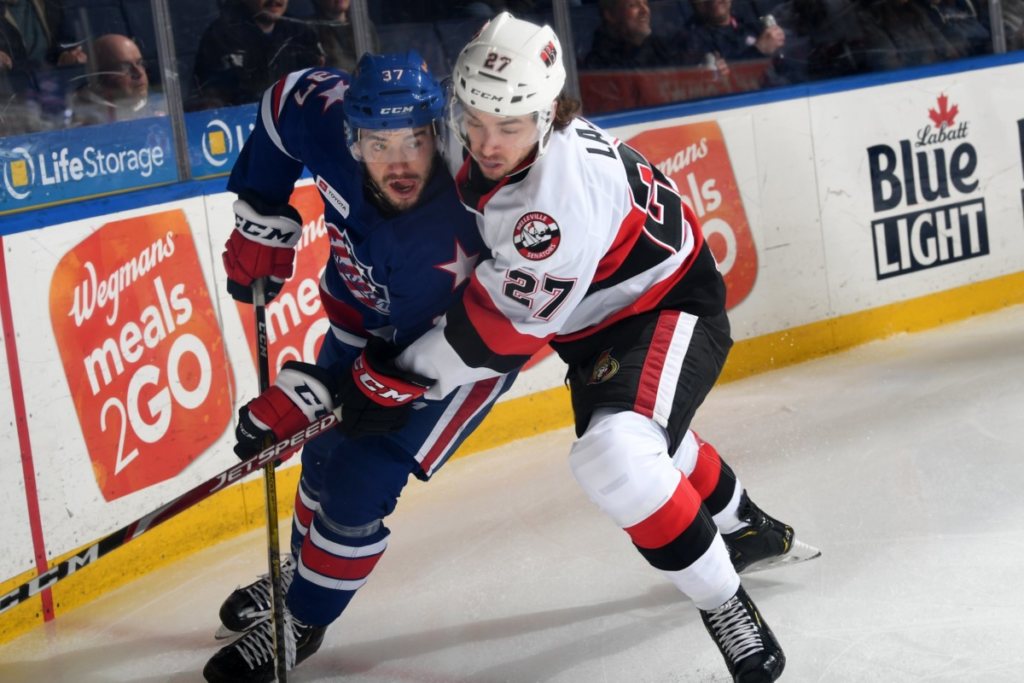 By KEVIN OKLOBZIJA
Ar first, the Rochester Americans preferred to look at their recent struggles as merely a bit of a funk, the kind of not-good/not-horrible stretch that many teams go through over the course of a 76-game season.
Friday's 5-1 loss on home ice to the Belleville Senators, however, confirmed this is no mid-season blip. This is a bonafide slump.
A misplay by goalie Jonas Johansson on the first shot he faced — a fairly harmless wrister from the left circle by winger Alex Formeton at 4:55 — created a quick early hole.
Then defenseman John Gilmour gave the puck away at the Senators blue line during an Amerks power play and it turned into Formeton's second of three goals in the game. With 4:57 remaining in the first period the deficit was 2-0.
You'd have thought it was 4-0.
"I was disappointed how we reacted after giving up two goals," said Amerks coach Chris Taylor, whose club has lost five of its past six and seven of the past 10. "Even if they scored on or two goals, so what? We're a good team."
They're just not playing like one at the moment.
C.J. Smith's power -play goal 9:05 into the second period revived the Amerks, but two dreadful turnovers late in the period gave Belleville two more goals.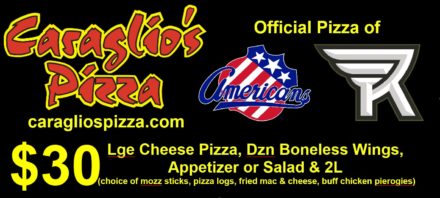 Casey Mittelstadt reversed the puck to no one from behind the Amerks net and it went directly to Senators winger Vitaly Abramov in the right wing corner. While still below the end line, Abramov flung the puck at the net and Johansson misplayed into a goal.
Andrew Hammond replaced Johansson (13 saves on 16 shots) and surrendered the second short-handed goal of the night, this one by Jean-Christophe Beaudin — and again after a Gilmour giveaway.
This time the veteran defenseman was in full control of the puck to the right of Hammond when Morgan Klimchuk sped around from behind the net, took the puck away and set up Beaudin the high slot.
"Obviously hindsight is 20/20 if I have a chance to go back, but it happens," Gilmour said.
Taylor isn't sure how it could happen, at least not a second time.
"That's the disappointing part," Taylor said. "We've been doing it now for a while. Those are the mistakes we're making.
"They're a young team, we have an experienced team and they looked like the experienced team."
The short-handed goals were back-breakers.
"Our power play's definitely got to be better, we can't give up two shorthanded goals, that just kills your momentum," captain Kevin Porter said. "In the second period I thought we were playing well and getting some opportunities and again, that just kills it."
In Wednesday's 4-3 shootout loss to Binghamton, the Amerks didn't handle the Devils' hard-charging style well. On Friday, in front of 8,422 fans, they didn't handle the Belleville's speed or pressure.
"They play an aggressive style and sometimes it gets turned over in your face," Smith said.
Smith's goal was just his sixth in 24 games and ended an eight-game drought.
"Obviously it's been a tough stretch personally," Smith said, "but I would like to get some team results, too."
Notes: Winger Taylor Leier, who suffered an upper body injury in the Jan. 3 game at Belleville, very likely will be kept out of the lineup until after the Jan. 26-27 All-Star break. That means his next game probably won't be until at least Jan. 31. … Defenseman Casey Nelson missed Friday's game with an upper body injury. He was hurt in the second period of Wednesday's game against Binghamton but finished the game. Taylor said he gave it a test drive at Friday's morning skate and didn't feel right.
—