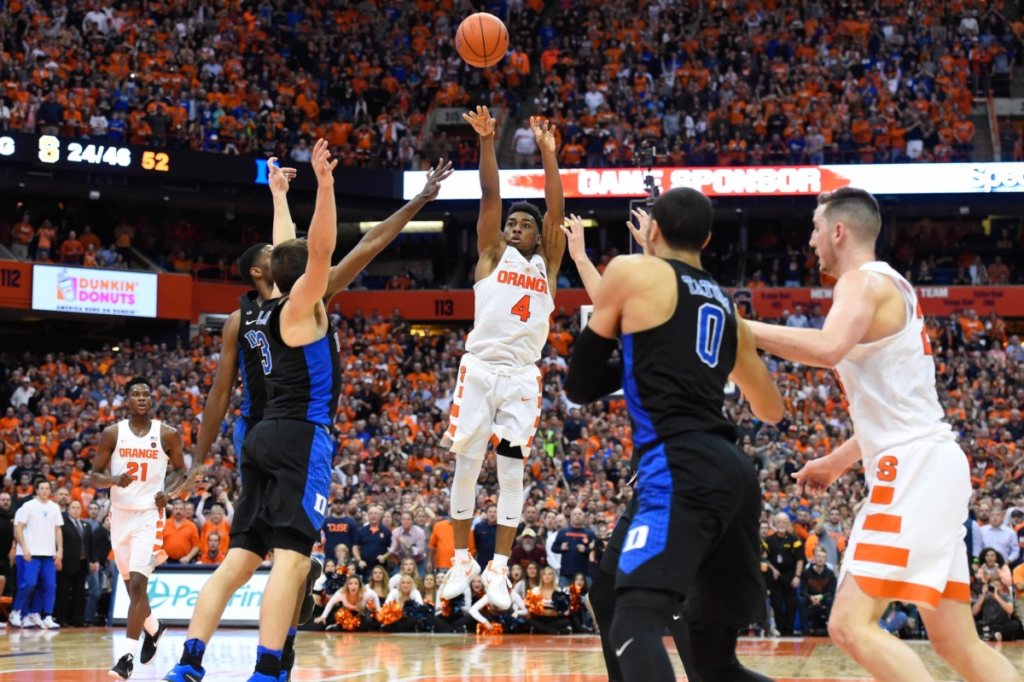 By BILLY HEYEN
Syracuse basketball's last decade will be remembered for Final Fours and a conference switch and much more. But maybe most memorable will be some of the individual moments of ecstasy that the Orange brought to their fans. There's nothing quite like a late-game or buzzer-beating shot.
The final installment of 'Syracuse Basketball Decade In Review' attempts to rank the best of the bunch. In a sign of an exciting decade, there were multiple tough cuts, along with a very tight call for No. 1. As the decade counts down, enjoy this countdown from No. 10 to No. 1 of the SU shots of the decade.
MORE: Read the rest of Syracuse Basketball Decade In Review
10. Tyus Battle vs. Maryland
Battle was in contention for No. 10 on this list with either his shot against Maryland or his late-game shot against Michigan State in the NCAA Tournament. The Maryland shot got the edge due to it happening with the Orange trailing.
Health was a concern for Battle heading into this game, but with the Orange 5-0 and Kevin Huerter's Maryland coming to the Dome for the ACC/Big Ten Challenge, a sophomore Battle suited up. Battle finished the game with an SU-high 18 points, including the go-ahead triple from the left corner with about a minute to play.
9. Elijah Hughes at Duke
How do you rank a halftime buzzer-beater with the rest of this list? No. 9 made sense for a couple of reasons. First, this shot from Hughes is absurd, and in a half the Orange trailed 14-2 at the No. 1 team in the country, it sent SU to the break down a single point.
More importantly, though, in a game that went to overtime, these were three points that in retrospect Syracuse needed every bit of. Sure, the game could've played out differently if SU needed to make up an extra bucket, but the Orange may very well have come up short. Instead, Syracuse pulled off its season-defining win thanks in large part to this shot.
8. John Gillon at NC State
Gillon was on absolute fire in this game. You could tell on his second half 3-pointers as he started to backpedal down the court before the ball had even gone in. The end of regulation featured what would've been an impressive enough game-winner from NC State's Maverick Rowan, but Gillon made sure it wouldn't be enough.
With a hand in his face on the left wing, Gillon hung in the air and arced the ball over the defender and in for three points. Andrew White III would take over overtime and send SU to a key road win. Gillon finished with a career-high 43 points.
7. Michael Gbinije vs. Gonzaga
Degree of difficulty on this Gbinije shot turned out not to be overly high after he hustled to grab his own miss and put it back in. But the stage was a big one as 10-seed Syracuse tried to continue its run through March Madness.
Gbinije's shot set up a game-saving block from Tyler Lydon on the other end, and more importantly for this list, it set up the next shot.
6. Malachi Richardson vs. Virginia
This isn't higher because there really wasn't just one Richardson shot in his torrid stretch during the second half, during which he dropped 19 points in 12 minutes. One of the most memorable came at the 1:46 mark of the video above. With less than five minutes to play, Syracuse up one and the Orange on a 20-4 run, Richardson pulled up on the right wing and drained a triple.
The broadcast cuts first to Jim Boeheim's daughter, Jamie, screaming "Let's go." It then goes to Richardson holding the 3-pointer sign over both of his eyes, an image that later made it into CBS' "One Shining Moment" video for that year's tournament. This shot was a huge part of 10-seed Syracuse heading to the Final Four.
5. Tyus Battle at Clemson
Battle was no stranger to clutch shots, but this was the first time his clutch gene showed at Syracuse. Just a freshman who often deferred to Tyler Lydon, Andrew White III and John Gillon, Battle saved Syracuse from a road loss to Clemson with this make.
The play was initially set up for Gillon to dump it off to Lydon for a shot or a drive, but as Lydon drove, Battle slid down to the right corner, right in front of the SU bench. The kickout to Battle with the Orange down two led to a buzzer-beating 3-pointer and an immediate mobbing for the freshman by his teammates.
4. Michael Carter-Williams at Louisville
Syracuse trailed by a point with less than 30 seconds remaining when Carter-Williams jumped the passing lane and went the other way on the road. He finished the steal off with a right-handed slam to put SU up one.
On the ensuing possession, Jerami Grant blocked a Louisville shot, Carter-Williams was fouled and he made one of his two foul shots. Carter-Williams finished the win off with a final steal of a Cardinals pass to complete the upset.
3. Tyus Battle vs. Georgetown
Before Syracuse's final possession against Georgetown in the 2018-19 season, Battle had already played hero. He'd scored 19 points in the second half up to that point to carry SU back from a 13-point halftime deficit. But as time wound down, it looked like it still might not be enough.
Off a miss, Battle weaved his way up the floor and eventually pulled up from beyond the right elbow. Cash. It cemented Battle's place as one of the greatest clutch-shot makers in Syracuse history.
2. John Gillon vs. Duke
In a season that the Orange eventually went to the NIT, Gillon's shot against Duke felt like the piece that might send Syracuse dancing. Off a Luke Kennard miss in a tie game, Gillon pushed up the floor and pulled up in a swarm of three Duke defenders.
The shot banked in and fans in the Carrier Dome rushed the court for the third time that season. "It is lock city, baby," Dick Vitale shouted on the broadcast, "They are dancing." Of course, the Orange ended up missing the NCAA Tournament.
Gillon's shot finishes at No. 2 on the list because it came while the game was tied and wasn't to preserve an undefeated season like the top shot on the list.
1. Tyler Ennis at Pittsburgh
If Syracuse had gone on to achieve major things in the 2013-14 season, Ennis' shot at Pittsburgh would be remembered even more fondly. As is, it was a 35-foot buzzer-beater to send the Orange to 24-0 on the season after SU trailed by a point and had to go the length of the court with 4.4 seconds remaining.
The shot kept the Orange at No. 1 for the time being and allowed them to reach 25-0 before finishing the season 3-6 and washing away a bit of its luster. Still, because a miss here would've sent Syracuse falling from No. 1 and been its first loss, Ennis earned the top spot on this list of greatest SU shots of the decade.