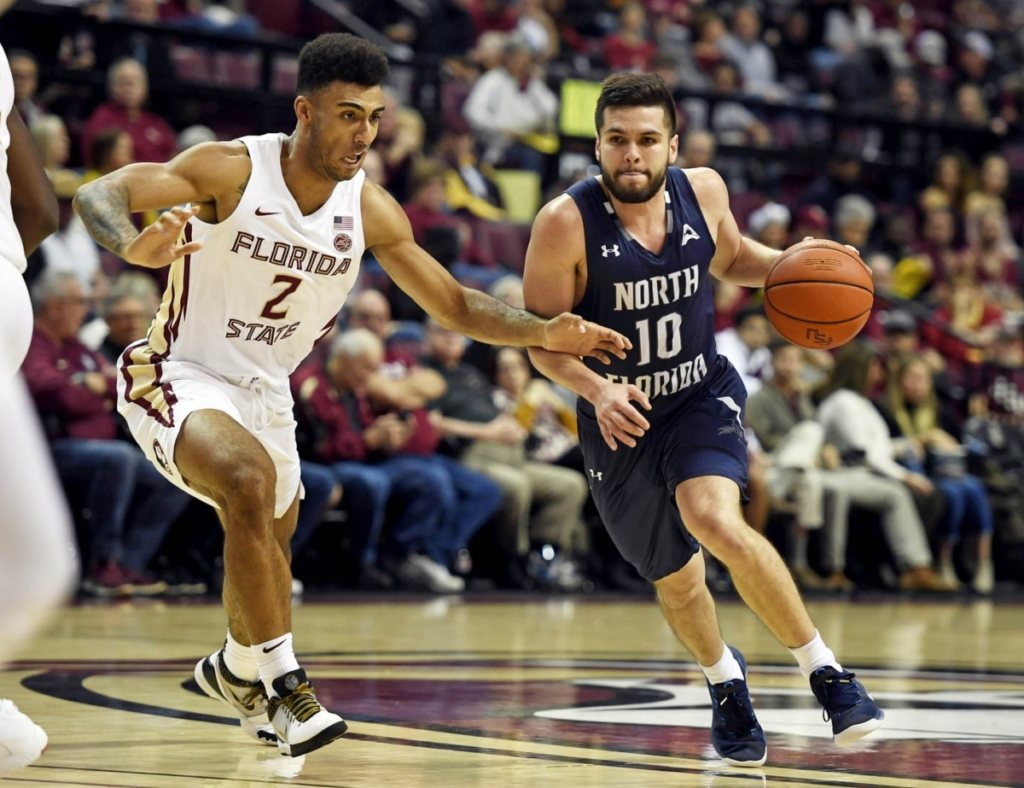 By BILLY HEYEN
Syracuse (6-5, 1-1 Atlantic Coast) faces off with North Florida (7-6) on Saturday evening in the Carrier Dome. The Orange are coming off a 12-point win over Oakland, while UNF just put up 81 points in a loss to No. 19 Florida State. Saturday's game promises to be a 3-point bonanza.
Here's a preview of the Ospreys before Saturday night's contest.
How to watch Syracuse vs. North Florida
Syracuse and North Florida tip off at 6 p.m. in the Carrier Dome on Saturday, Dec. 21. The game can be viewed on ACC Network.
All-time record
Syracuse won its only meeting with the Ospreys back in 2016, 77-71.
Last time they played
On Dec. 3, 2016, the Orange held off a strong-shooting UNF team to win, 77-71. Syracuse was led by 26 points from Andrew White III and 13 assists from Frank Howard. Tyus Battle chipped in 19 points, while DaJuan Coleman added 15.
Wajid Aminu, who was a freshman for North Florida that year and a senior now, double-doubled with 10 points and 10 rebounds.
How Syracuse beats North Florida
UNF isn't that different from the team that hung around with Syracuse three years ago. The Ospreys still bring a ton of shooting to the Carrier Dome, ranking 38th nationally at 37.5 percent from 3-point range, per KenPom. North Florida has gotten a higher percentage of its points (46.2 percent of total scoring) from beyond the arc this season than any other team in the country, per KenPom, so the Orange will need to close out hard everywhere.
MORE: Syracuse Basketball Decade In Review
Four North Florida players average in double-digit scoring, and all four make at least 35 percent from deep (with three at 40 percent or better). That quartet is 6-foot-1 Ivan Gandia-Rosa, 6-foot-7 Garrett Sams, 6-foot-7 Carter Hendrickson and 6-foot-1 J.T. Escobar (although Escobar didn't play in UNF's most recent game). 
If you like long-range shooting fests, Saturday should be one. Most likely, the team with the better 3-point percentage at the end of the day will come out on top, unless SU decides to assert dominance inside against a team that rolls out three 6-foot-7 players most frequently at the three frontcourt spots.
Syracuse X-Factor
Buddy Boeheim: Jim Boeheim's son is important for two reasons in this contest. The first is from an offensive shooting standpoint, as Buddy has gotten off to cold starts in each of SU's last two games, and the Orange will need him to hit early in a game so dependent on 3-pointers. Probably even more important is Buddy's defense at the top of the Orange's 2-3 zone, which will be extra scrutinized as UNF looks to gun from anywhere and everywhere.
North Florida X-factor
Wajid Aminu: The younger brother of the Orlando Magic's Al-Farouq Aminu, the 6-foot-7 senior is the only one of UNF's most frequent lineup not to shoot often from distance. His role is to crash the boards and anticipate the long rebounds. Rebounds off 3-pointers have led to trouble for Syracuse in the past, so Aminu and his 147th national rank in offensive rebound percentage will be crucial. Second-chance points sting even more if they're 3-pointers off Aminu offensive rebound kickouts.
Prediction: Syracuse vs. North Florida
Syracuse 79, North Florida 70
The Ospreys put up 81 points against Florida State in a game that probably was a little faster paced than Saturday will be. But UNF features too many good shooters for them to all go cold at once, which means there should be long-distance answers to SU's 2-3 zone. In the end, the Orange's height should couple with Elijah Hughes' best-on-the-floor talent to provide the difference.