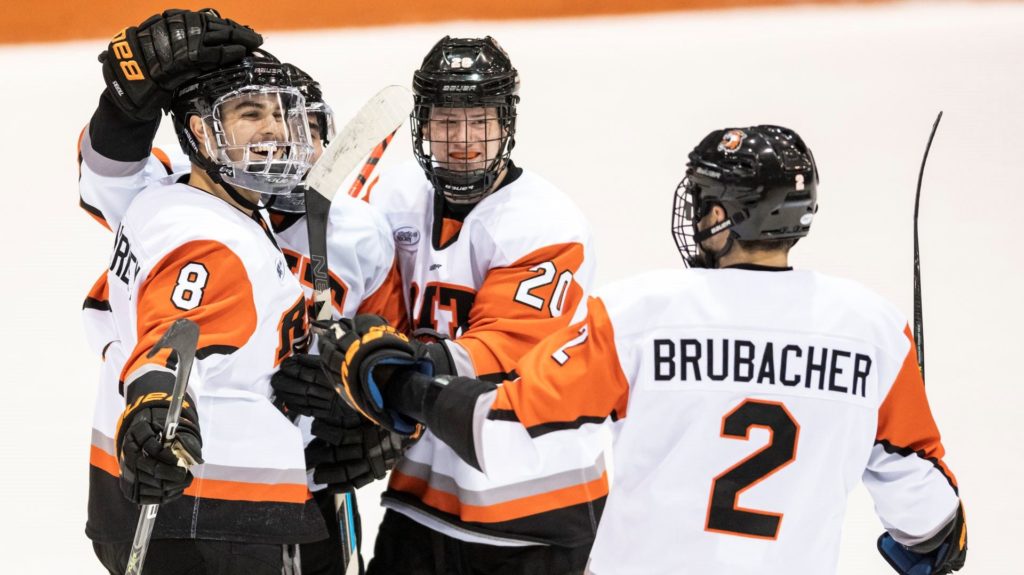 By CARSON WERNER
Using a seven-goal outburst, the Rochester Institute of Technology Tigers downed the Mercyhurst University Lakers for a comeback home victory. Down 1-0 after the first period, three players registered two goals apiece to snap RIT's losing skid at two games.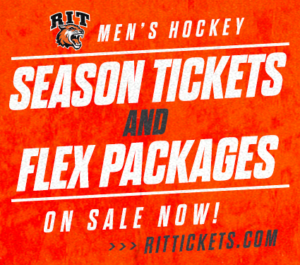 Just over a minute after Mercyhurst's second tally, Andrew Rinaldi got the Tigers started with a sharp wrist shot that dinged the post on its way in. Will Calverley tied the game on the powerplay with a quick shot following an offensive zone faceoff won by Caleb Moretz. RIT's powerplay unit grabbed the lead with 10 seconds remaining in the second when Alden Dupuis finished off a cross from Jake Hamacher.
With 10.7 seconds left in the second, Jake Hamacher dishes the puck to the front of the net and Alden Dupuis finishes it to give RIT the lead on the power play. @RITMHKY 3@HurstMensHockey 2

One period left to play. @PickinSplinters pic.twitter.com/z8QcedV0BP

— Carson Werner (@CarsonWerner1) December 7, 2019
The same trio completed their pairs in the third period to build prevent any chance of a comeback. Leading scorer for Mercyhurst, Steven Ipri, slid one underneath Drackett on a breakaway to cut the score to 5-3. Darren Brady sealed the game with an empty-net goal with just under a minute left in the game.
Will Calverley notches his second power play goal and RIT's third of the night on a redirection.

RIT- 4
Mercyhurst 2

11 minutes left in the game. @PickinSplinters pic.twitter.com/AN6sSsQEgr

— Carson Werner (@CarsonWerner1) December 7, 2019
Mercyhurst obtained the lead on the powerplay with three minutes left in the first period. Perched in front of the net, Dalton Hunter followed up a rebounded wrist-shot from Owen Norton for the first goal of the game. Tiger goaltender Logan Drackett made the initial save but was unable to gain position in the crowded crease.
Jonathan Bendorf carries the puck to the net and Khristian Acosta taps it in.

Mercyhurst up 2-0 with 11:49 remaining in the second. @PickinSplinters pic.twitter.com/tUV8iDhVxV

— Carson Werner (@CarsonWerner1) December 7, 2019
Early in the game, things got worse before they got better for the Tigers. Stemming from an interception in their defensive end, the Lakers converted on a 3-on-1 opportunity to take a 2-0 lead. On the rush, Jonathan Bendorf drove it to the net and Khristian Acosta flicked it past the sprawling Drackett.
Drackett made 16 saves while opposing goaltender, Stefano Cantali, was forced to make 27. RIT had not scored a powerplay goal in their past four games but tallied three in the winning effort.
The two teams will battle again at the Gene Polisseni Center on Friday, Dec. 7th at 7:05 P.M.