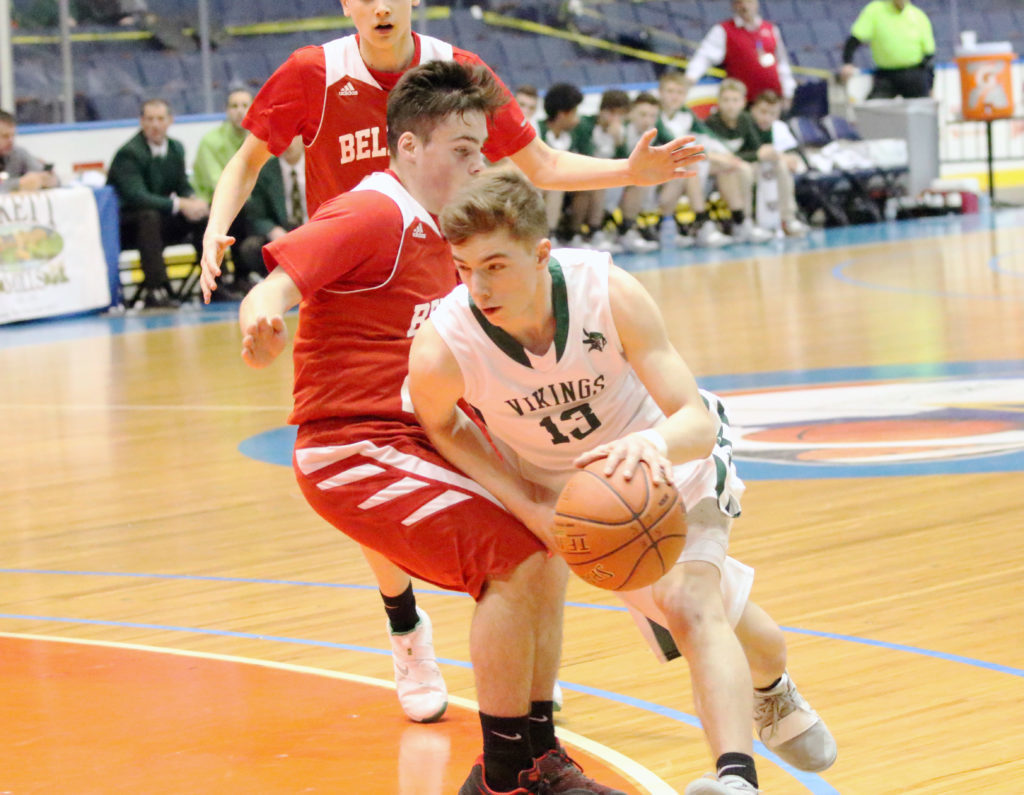 SATURDAY
WAYLAND-COHOCTON HALL OF FAME SHOWCASE
YORK (0-1) 69
PRATTSBURGH (1-0) 71
Mason Putnam scored 31 points to lead Prattsburgh which erased an early 7-0 deficit to take a 42-32 lead halftime. York missed a shot at the buzzer to tie the game. Putnam came into the game with 1,737 career points.
MARCUS WHITMAN (1-0) 73
CALEDONIA-MUMFORD (0-1) 64
Noah Hildreth led Marcus Whitman's 3-point attack connecting on two of his three triples on the day in the second quarter when the Wildcats turned a one-possession game into a 13-point advantage going into halftime. Marcus Whitman hit five times from long range in the stanza with Ryan Herod, Jordan Lahue and Connor Tomion adding a trey apiece in the period. Hildreth paced five in double figures with 17 points. Liam Prendergast added 14 while Lahue had 12, Tomion 11 and Aidan Royston 10 points. Herod finished with nine points. Hildreth grabbed 12 rebounds. Royston handed out six assists. Cal-Mum's Vinny Molisani led all scorers with 20 points. The senior guard came into the game third on the all-time Cal-Mum scoring list with 1,040 career points. Adam O'Donoghue had 15 points. Joe Laursen (9), Kyle Wade (8), Noah Carnes (7), Troy Kolb (3) and Adam Estes (2) also chipped in for the Raiders.
AVOCA (0-1) 53
ELBA (1-0) 56
Collin O'Halloran converted on all four of his free throw attempts and scored six of his team-high 20 points in the fourth quarter to cap a rally which saw the Lancers erase a four-point halftime deficit. O'Halloran connected once from long range and hit on five of six tries from the charity stripe for the game. Colton Dillon added 10 points while CJ Gottler and Jayden Hughes had six apiece. Zach Marsceill added five points. Jaykob Belluscio and Caleb Scouten both chipped in four points. Avoca's Jonathan Jensen posted a game-high 21 points. Brady Brandow had 11. Tristian Stark (8), Devin Stowe (3), Jordan Slayton (2) and Pacey Hopkins (2) also scored for Avoca.
HORNELL (1-0) 67
WAYLAND-COHOCTON (0-1) 41
Jackson White hit eight 3-pointers and finished with 28 points to lead Hornell.
Other Games
UPREP (0-1)
PARK SCHOOL (VI) 78
Kayshawn Ross led UPrep with 24. Melvin Council, Jr. had 13.
AVON (1-0) 57
WHEATLAND-CHILI (0-1) 39
Zach Colvin scored 15 of his 19 points in the second half when Avon stretched a one-point game into a doubled-digit win. Colvin grabbed 10 rebounds for the double-double. Teammate Nick Rowland shared game-high honors with 19 points to go with 12 rebounds. Andrew Rowland and Jaden Brown added seven points apiece for the Braves, Brendan Moore paced Wheatland-Chili with 14 points. Aaron Lund had 13.
CHESTERTON ACADEMY (1-0) 56
NORTH ROSE-WOLCOTT (0-1) 42
Kyle Madigan scored 21 points and grabbed six rebounds to lead Chesterton to the program's first win. The junior added five steals and a block. Mike Monczynski corralled 12 rebounds to go with six points. Vincent Salamida added 10 points. Jonathan Salamida collected six points and nine rebounds. Gerard Marchand had six points and five rebounds.
RED JACKET (2-0) 70
WARSAW (1-1) 48
LeROY (0-1) 50
PALMYRA-MACEDON (1-0) 53
Ian Goodness paced eight different Pal-Mac scorers with 10 points. Paul Goodness added nine. Dan Hooper, AJ Johnson-Ross and Ashton Phippen added eight apiece. Ashton Rouland (5), John Blazey (4) and Seth Boesel (1) also scored for Pal-Mac. LeRoy's Andrew Loftus led all scorer with 20 points. Jake Hill chipped in eight. Zach Vanderhoof had six. Giavanni Cacamise (5), Ethan Beswick (4), Cody Lytle (4), Ryan Friend (2) and Grant Gilligan (1) also scored for the Oatkan Knights.
BATH-HAVERLING (1-0) 46
CANISTEO-GREENWOOD (0-1) 29
ROCHESTER ACADEMY CHARTER SCHOOL (1-0) 68
DUNDEE (1-1) 58
BRADFORD (2-0) 83
MOUNT MORRIS (1-1) 68
Jansel Martinez scored 18 points in a losing effort. Stephen Somers and Alexis Crespo-Lazu added 17 apiece. Luis Saez had eight and Josh Perez scored six for Mount Morris.
NAPLES (1-1) 70
LIMA CHRISTIAN (0-2) 39  
Ryan Lester finished with 16 points and 15 rebounds to pace Naples. Teammate Ben Green also posted a double-double with 10 points and 10 rebounds. Tyler Northrop scored 14 points. Cameron Mann added 10 for the Big Green. Myles Howard scored 10 points for Lima Christian.
FRIDAY
CLYDE-SAVANNAH (1-0) 67
ROMULUS (1-1) 45
Camden Chance scored 34 points while collecting 13 rebounds, six assists and three steals to lead Clyde-Savannah. Jaden McKinney added 22 points, eight rebounds, seven steals and four blocks. Steve Dunn and Kollin Maddox added four points apiece. Devon Morrell led Romulus with 15 points. Daryl Morrell had nine points.
BYRON-BERGEN (0-1) 50
WARSAW (1-0) 51
MOUNT MORRIS (1-0) 73
NAPLES (0-1) 67
Jansel Martinez led Mount Morris with 32 points. Stephen Somers added 17. Luis Saez (7), Josh Perez (6), Alexis Crespo-Lazu (4), Joseph Pagano (4) and Kody Mosher (3) also scored for Mount Morris. Ryan Lester paced Naples with 25 points, six rebounds, two assists and one steal. Tyler Northrop had 16 points four assists and two rebounds.  Ben Green finished with 10 points, three assists, nine rebounds and four steals. Ben Fowler had nine points, three assist, four rebounds and three steals.
PAVILION (0-1) 44
RED JACKET (1-0) 78
LIMA CHRISTIAN (0-1) 32
BRADFORD (1-0) 83