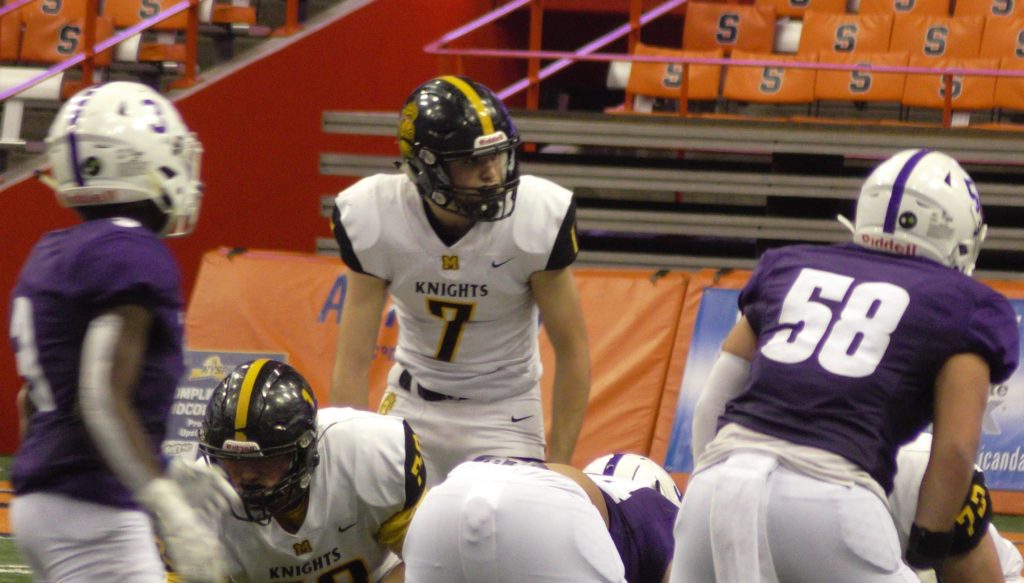 By JOHN LIKANJE
SYRACUSE, N.Y. – McQuaid's ultimate goal this season was to advance to the state championship game. The Knights overcame multiple obstacles to achieve this accomplishment: taking down defending state champion Aquinas twice, rallying past four-time Section VI winner Lancaster and holding off Cicero-North Syracuse on their home turf.
Saturday night at the Carrier Dome, Bobby Bates and his squad had one more hurdle: taking down five-time sectional champion New Rochelle (I), which was in the state final for the second straight year. However, the Knights could not handle the Huguenots' relentless rushing attack and overwhelming defense in a 28-0 loss.
New Rochelle's defense was honed in on McQuaid's Andrew Passero from opening kickoff. The senior tailback, who is the focal point of the offense, was unable to break free for any lengthy runs as his longest gain from scrimmage in the first half was seven yards. For the game, Passero had 30 yards on 20 carries as the Knights were forced to rely on the air for offense.
"We had a tough time getting the ground game going," Bates explained. "That's a really tough defense. They forced us into some long downs and kinda forced our hand to throw the ball a little bit."
"We tried mixing it up," McQuaid quarterback Joe Cairns said. "Running away from some guys. They were just really quick and it's hard to get an offense going when you can't really establish the run."
Cairns completed 10-of-22 passes for 53 yards. The junior quarterback was forced to make quick decisions in the pocket against the Huguenots' defensive pressure.
"That's got to be the most athletic and best team we've played," Cairns said. "The (offensive) line, they gave me plenty of time. They (New Rochelle) were a good (defensive) line and the coverage helped of getting to me for sure."
"They were taking their opposite safety and moving him over to the middle of the field, where we were trying to get the ball to," Bates explained. "We needed to go to the other side with it and we didn't necessarily have the time to do so."
Casey Howlett hauled in six catches for 48 yards. The senior wideout snagged a red zone interception early in the second quarter as well.
.@NYSPHSAA Football AA Final – @FootballMcquaid vs. @NewRoFootball: Casey Howlett interception. @PickinSplinters pic.twitter.com/vKH78czFIj

— John Mitchell Likanje Junior (@jml5798) December 1, 2019
Junior running back Jack Miller had four carries for 25 yards.
The Knights were held to 74 yards of offense and accumulated six first downs in 27 minutes of game play.
"Early on, we did a good job of getting the ball to other people," Passero explained. "We had some success passing the ball to guys like Casey. But in the end, that defense was tough and we fought hard, but we were unable to finish it."
Jacob Kimbrew led the defensive effort with nine tackles. James Doerr recovered a fumble near the end of the first half. Quinn Bergeron and Zander Rita compiled five tackles apiece.
Despite the result, the Knights had a lot of positive takeaways from a memorable season. Bergeron, who was awarded the Most Valuable Defensive Lineman of the game, felt proud to be a mentor for the underclassmen.
"I learned a lot of things that apply outside of football," Bergeron said. "I learned how to be a better person."
Bobby Bates praised his squad for a memorable season.
"What a terrific job they did for McQuaid and for Section V," Bates said. "Just so proud of our kids and the way they played all season long. They're a gritty team. They're a resilient team."
For New Rochelle, senior tailback Jessie Parson III exploded for a pair of second-half touchdowns: a 49-yard run near the end of the third quarter and a 60-yarder early in the fourth. For the game, Parson compiled 181 rushing yards on 12 touches. Gary Phillips III put the Huguenots on the board with a five-yard run in the second period.
.@NYSPHSAA Football AA Final – @FootballMcquaid vs. @NewRoFootball: Gary Phillips III 5-yard TD run. 2:56 2Q: New Rochelle 7 McQuaid 0. @PickinSplinters pic.twitter.com/zYl8ET2gSb

— John Mitchell Likanje Junior (@jml5798) December 1, 2019
Darren Kabba led the shutout with nine tackles and four sacks. Calvin Jackson added seven and Anthony Paul, Jr. snagged an interception.
"That's a phenomenal football team out there," Bates said when giving credit to New Rochelle. "All the credit to them for coming out here and battling."
McQuaid completed the 2019 campaign with a 12-1 record, its second sectional title in program history and a Far West Regional championship.