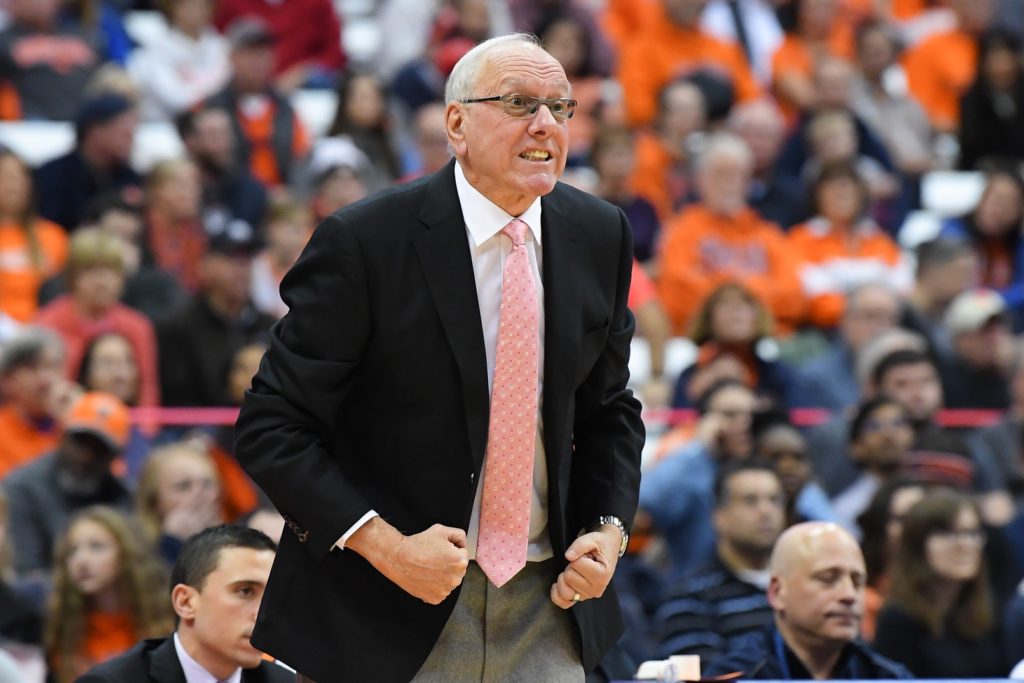 By BILLY HEYEN
For the second-straight season, Syracuse (4-3) lost both games of its Thanksgiving tournament. Penn State (6-1) handled the Orange, 85-64, at Barclays Center in Brooklyn on Wednesday night. SU has lost all three of its games against high-major opponents so far this season, following the opening night loss to Virginia and Wednesday's defeat to Oklahoma State.
Here are three takeaways from Syracuse's loss to the Nittany Lions. 
Getting Big
Syracuse's center question marks in the early season had been answered to some extent by a combination of Bourama Sidibe and Marek Dolezaj. But Penn State's Mike Watkins posed a whole new kind of test. At 6-foot-9, 254 pounds, the muscular Watkins dominated the Orange on the offensive glass and while defending the rim.
In the first half, he caught a lob toward the back of SU's zone and missed the immediate shot. He reached out to tip the board to himself once and then twice, and Watkins eventually powered through contact to finish for an and-1. When the first 20 minutes were through, Watkins had six offensive rebounds and three blocks. 
Watkins snared another offensive rebound early in the second half that led to Sidibe's fourth foul, which sent him to the bench for much of the half. Later in the half, Penn State secured an offensive rebound on a missed free throw.
The Orange's best interior answer proved to be freshman forward Quincy Guerrier. He set a career-high in rebounds with 10. That included a first-half finish inside after grabbing an offensive board, along with a second-half offensive rebound and kick out to Joe Girard III, who was fouled on a 3-point attempt. Guerrier finished with 13 points for his first career double-double.
Watkins, though, remained a problem through the game's final seconds. With 2:45 to play, Watkins tapped in a Lamar Stevens miss to put the Nittany Lions up 12. Watkins finished with 15 points and 15 rebounds.
Driving Difficulties
One of the biggest problems presented to Syracuse in Wednesday's loss to Oklahoma State was pressuring perimeter defense that made dribble penetration difficult for the Orange. Penn State brought the same intensity in its defensive guard play. Joe Girard III, Buddy Boeheim and Elijah Hughes all struggled to create separation off the bounce.
For a team that's designed to set up its 3-point shooters, an inability to dribble drive creates big problems. Defenses can stay honest on the shooters off the ball, limiting the amount of open shots for Syracuse. SU shot 4-of-8 from 3 in the first half, but the eight attempts were lower than its 13 3-point attempts per half on the season.
Girard found his way into the paint more frequently in the second half, and Syracuse found more success with its screen action to free up Buddy. Hughes still couldn't find enough space to take over the game and will the Orange back into it, though. Combined, Hughes, Girard and Buddy finished 9-for-37 from the floor.
JG-Dealing
A big part of Syracuse's improved offense in the second half came from Joe Girard III. He'd struggled with the pressure defense in the first half, but he continued to attack in the second. After just two assists in the first half, Girard had five in the opening nine minutes of the second.
He threw an on-point lob to Quincy Guerrier for a layup in transition. He had another lob to Marek Dolezaj over the top to set up a foul. And the highlight came when the former high school quarterback set up Elijah Hughes for a dunk after an inbounds steal.
Quite the play here (and yes, he played football) from @JG3_____ to set up the Elijah Hughes slam for #Syracuse to tie it at 35 early in the second half. pic.twitter.com/wh0x9HMV11

— Billy Heyen (@BillyHeyen) November 30, 2019
Girard couldn't get his dishing output to extend to his shot, though, as Penn State hounded him every time he got into a shooting motion. Girard finished with seven assists but shot 1-of-9 from the floor.