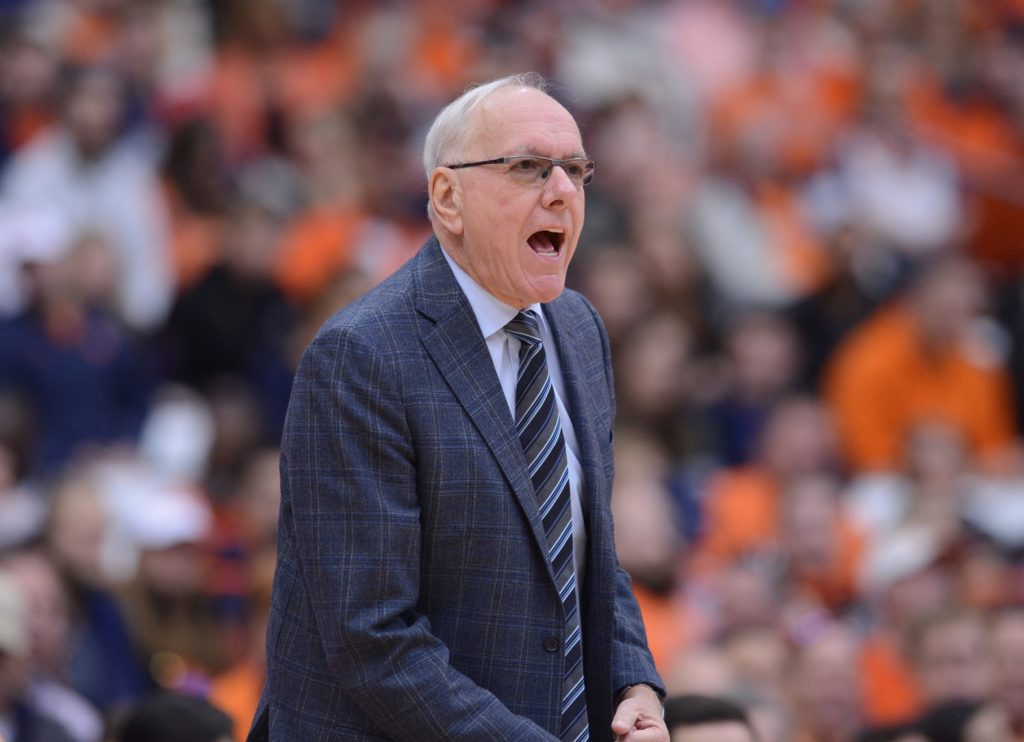 By BILLY HEYEN
Marek Dolezaj checked out with 2:14 to play Wednesday after making a free throw. He shook his head, weakly slapped his teammates' hands and covered his face in his jersey. 
In recent weeks, against mid-major opponents at home, Syracuse's starters checking out early meant a positive result. Wednesday night, against a high-major opponent in Brooklyn, that wasn't the case.
Syracuse (4-2) fell to Oklahoma State (6-0) at Barclays Center on Wednesday night, 86-72. The Orange dug themselves out of a hole once but couldn't do so again as they allowed more points than they had all season. The loss sends SU into a matchup with Penn State on Friday night for third place in the NIT Season Tip-Off.
"They're just bigger and more physical and they knocked us around," SU head coach Jim Boeheim told Matt Park postgame. "They pushed us where we just couldn't make plays."
Basketball is usually a game of runs, but that's still the best way to describe Wednesday's first half. Oklahoma State's ball pressure had the Cowboys out and running early to take an 11-2 lead.
Syracuse had a response, though, in the form of a brief Elijah Hughes takeover. The Orange went on a 21-3 run to take the lead back and appear in control. Boeheim chose to leave Hughes in with two fouls to key that run, but then Hughes picked up his third with some hip contact on a shooter. He went to the bench with SU up two.
By the half, Oklahoma State had stormed back to lead, 43-31. In just 4:46, the Cowboys went on a 19-5 run to head into the locker room in control. That included three deep 3-pointers from guard Chris Harris Jr. from the left wing. The Orange offense struggled to create open looks with Hughes and then Bourama Sidibe out of the game with three fouls.
"We got into foul trouble," Boeheim told Matt Park at halftime. "That hurt us, having Elijah and Bourama out. Our bench has got to get better, be ready to go."
OSU looked like pulling away to start the second half, but the Orange went to the press down 14 about two and a half minutes after the break. It forced a rushed miss, followed by a pull-up transition 3 for Hughes to pull within 11. That was short lived, though, as Oklahoma State answered back to lead by 16 moments later. 
It looked like the second half would just be a singular OSU run. But then the Orange threw one more wrinkle into the proceedings. In the halfcourt 2-3 zone, Syracuse began sending hard traps on the first pass to the wing. It forced a few turnovers and rushed shots to the Cowboys, and a 9-0 run with about 12 minutes to play had Syracuse back within 10. Hughes nailed a top of the key 3 to make it a nine-point game with 10:35 to play.
But there was one more run coming from the Cowboys: Three interior buckets, a 6-0 run and the lead back to 15. This time, SU didn't have another spurt.
Wednesday could've been an early season statement for the Orange. Syracuse wasn't meant to pass its opening night test against Virginia. Jim Boeheim said as much after the opener. The usual slate of nonconference home wins against weaker opponents followed and set Syracuse up for a challenging yet passable test Wednesday night.
Faced with a high-major opponent for the first time since UVA, the Orange found some answers during their 21-3 run in the first half. Shots fell, and the 2-3 zone caused Oklahoma State confusion. But the rest of the game, when the shots didn't go and the zone had holes, the solutions were out of Syracuse's reach.
"They're a very good basketball team, very physical," Boeheim told Park postgame, "and we're not right now."