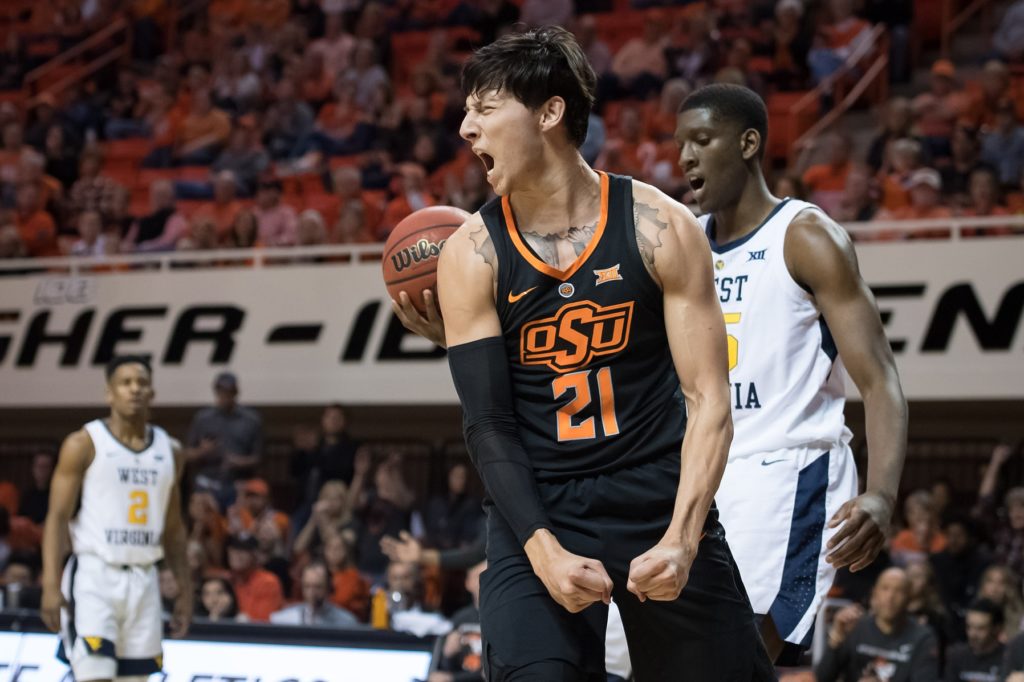 By BILLY HEYEN
Syracuse (4-1) travels to Barclays Center in Brooklyn to play two games in the NIT Season Tip-Off over SU's Thanksgiving Break. That starts with a matchup against undefeated Oklahoma State (5-0) on Wednesday night. The Orange are coming off their most lopsided game of the season, a 97-46 win over Bucknell on Saturday. The Cowboys most recently beat Western Michigan, 70-63. 
The winner of Wednesday's game will play the winner of Ole Miss/Penn State on Friday night, and the two losers will face off Friday, as well. Here's a preview of SU and OSU.
How to watch Syracuse vs. Oklahoma State
Syracuse and Oklahoma State tip off at 7 p.m. on Wednesday, Nov. 27. The game will be televised on ESPN2.
All-time record
Oklahoma State leads the all-time series, 3-2. The teams played four times in a seven-year span from 1999 to 2006. 
Last time they played
On Dec. 5, 2006, Oklahoma State beat Syracuse in Madison Square Garden, 72-68, as part of the Jimmy V Classic. Both teams were ranked at the time, with SU entering the game as the No. 21 team in the country and OSU ranking either No. 22 or No. 24, depending on the poll.
That day, Demetris Nichols led the Orange in scoring with 26 points, while Terrence Roberts and Paul Harris also scored in double figures . Eric Devendorf was sick and played just nine minutes.
Mario Boggan and JamesOn Curry combined for 41 Oklahoma State points. The Orange turned the ball over 17 times in the second half alone. 
How Syracuse beats Oklahoma State
The Cowboys are an experienced team that's returned 70.1 percent of their minutes played from a year ago, according to KenPom. That's showed on the defensive end in their five wins to start the year, all against teams outside of KenPom's top 100. OSU has limited opponents to 25.7 percent shooting from beyond the arc while blocking 20.3 percent of attempted field goals, second in the country.
That experienced defensive group will have to be overcome for Syracuse to win Wednesday. After the Orange lit Bucknell up from beyond the arc, it'd be easy to assume that's their best plan of attack against Oklahoma State. It very well might be, but early paint protection by the Cowboys might have SU settling too often for 3-pointers instead of only shooting the best available ones. OSU's 6-foot-10 sophomore Yor Anei, one of the country's best shot blockers, will need to be drawn away from the basket via pick-and-roll action early and often to try and maintain a balanced Syracuse attack.
The Orange will also need to contain OSU senior Lindy Waters, a program stalwart who'll shoot the 3 but could also cause problems for the Orange in the foul line area as a veteran 6-foot-6 player. Cowboys sophomore Isaac Likekele has scored in double figures in all five games so far and will attack on both ends of the floor as a 6-foot-4 guard who rarely shoots the 3. 
If SU can slow down those perimeter threats and not become one-dimensional offensively, there'll be a shot of handing Oklahoma State its first loss.
Syracuse X-Factor
Marek Dolezaj: Every minute that Dolezaj spends at the 5 in this game will be an opportunity to force OSU shot blocker Yor Anei into the offensive action. If he doesn't want to play too tight to Dolezaj, SU's playmaking big guy can have that much more space to distribute or shoot. And if Dolezaj can force Anei away from the rim, other Orange players will have a better chance at scoring inside.
Oklahoma State X-factor
Isaac Likekele: Guards that don't really shoot 3-pointers are always big question marks against SU's 2-3 zone. OSU won't want Likekele to settle for perimeter shots that aren't his strong suit, so he'll surely try to push in transition and attack in the halfcourt. If he's able to penetrate against Joe Girard III and Buddy Boeheim at the top of the Syracuse zone, he's a gifted passer who will get his teammates open shots.
Prediction: Syracuse vs. Oklahoma State
Syracuse 66, Oklahoma State 63
This is a prediction that takes into account the issues the 2-3 zone could cause for an Oklahoma State point guard who isn't a great shooter, while also factoring in what's sure to be a pro-Syracuse crowd in Brooklyn. And it'd be hard for all the SU players to cool down at once after being scorching hot against Bucknell. If at least one of Elijah Hughes and Buddy Boeheim is still in a groove, the Orange will have just enough.