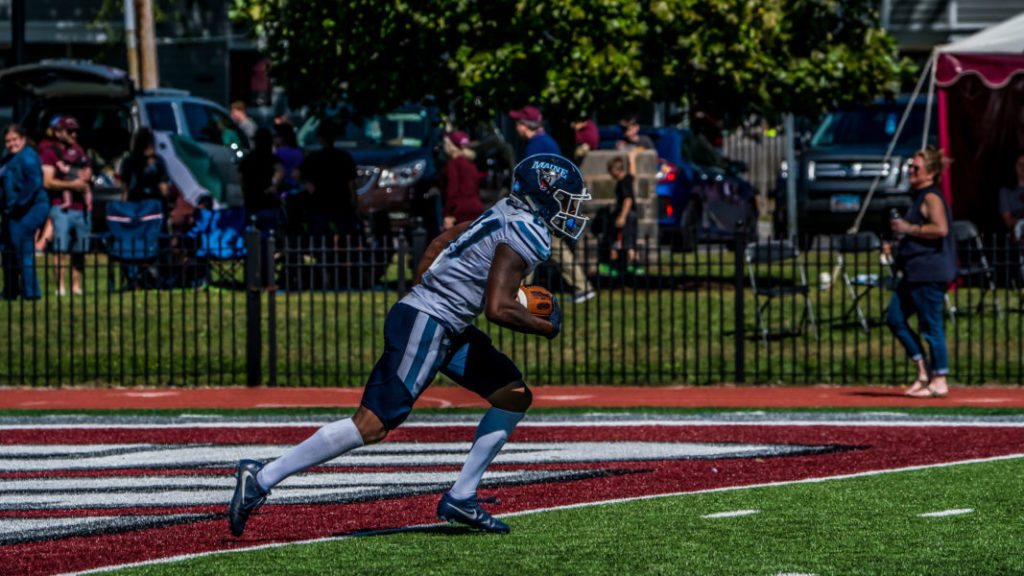 By BILLY HEYEN
A play-action pass to Earnest Edwards up the right sideline wasn't dissimilar from much of what he's done in his Maine football career. The Black Bears are used to Edwards making plays down the field. 
This time, though, the 20 yards meant a bit more. The reception put Edwards atop Maine's all-time receiving yards chart with 2,625 yards. The former Aquinas star passed Sergio Hebra to place himself atop the record book. Earlier this season, Edwards had passed Newark alum Micah Wright on the receiving yard charts.
This 20-yard catch made @EdwardsEarnest the all-time leading receiver in Maine football history, with 2,625 receiving yards. @PickinSplinters #ROC @AQ_football pic.twitter.com/x3Vif6R43K

— Billy Heyen (@BillyHeyen) November 23, 2019
Maine lost to New Hampshire on Saturday afternoon. Edwards finished with 44 rushing yards and four catches for 60 yards and a touchdown.
Edwards had already claimed a number of kick return records at Maine, and his six career kick return touchdowns are tied for most in FCS history and one off the overall Division I record.
Throughout his time with Maine, Edwards has been one of the most gifted all-around players in FCS. He's accumulated 2,370 receiving yards, 436 rushing yards, 2,046 kick return yards and even thrown five touchdowns.
At Aquinas, Edwards was a state champion in 2013 and in 2015, along with twice being named to the All-Greater Rochester first team. Edwards could receive NFL looks in the spring — his former teammate Wright spent time in an NFL minicamp after the 2019 draft.