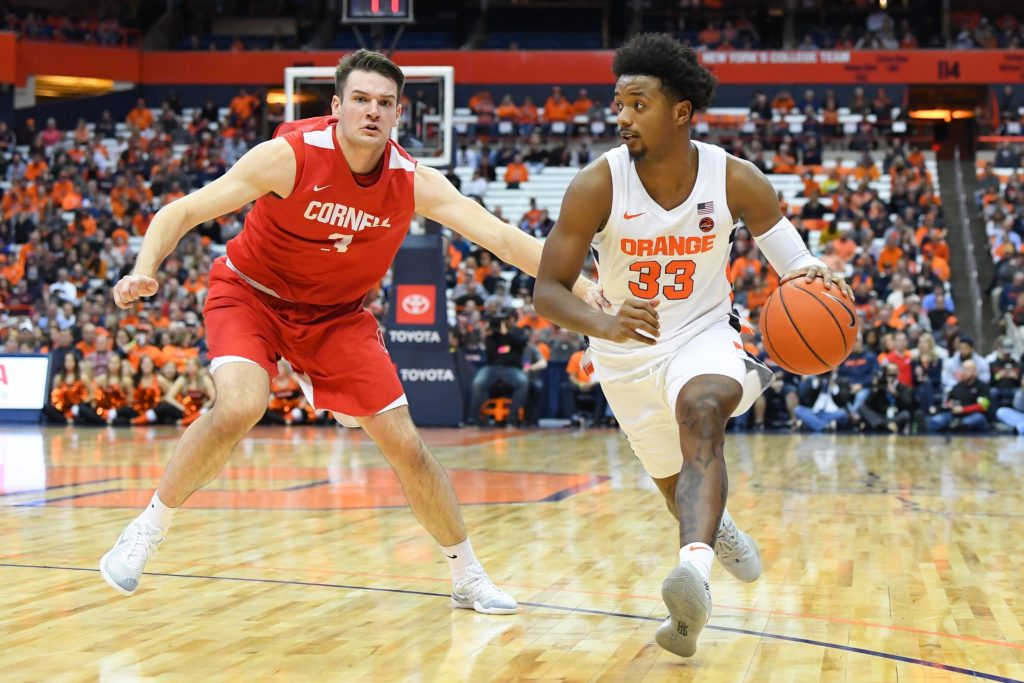 By BILLY HEYEN
A year ago, Elijah Hughes' season-high in single-game assists was three. In four Syracuse (3-1) games this season, Hughes has already put up individual totals of eight (against Colgate), seven (against Cornell) and four (against Seattle). Hughes' 20 assists this season leads the Orange. With SU likely to be without Jalen Carey for the foreseeable future due to right thumb surgery, Hughes will continue to hold a role as the playmaker in the Syracuse offense along with freshmen point guards Joe Girard III and Brycen Goodine.
Looking through the film of Syracuse's 72-53 win over Cornell shows a number of times when Hughes displayed distribution skills that he didn't flash often in the 2018-19 season. This is a look at each of Hughes' seven dimes against the Big Red.
(All embeds via WatchESPN.)
Assist No. 1: Hughes pocket pass to Bourama Sidibe dunk
A common theme of this film will be Hughes' willingness to attack off the dribble. It's something that wasn't necessarily in his job description a year ago, as Tyus Battle, Frank Howard and Oshae Brissett all had more of the penetrating duties. But with that trio gone, Hughes has added that aspect to his game.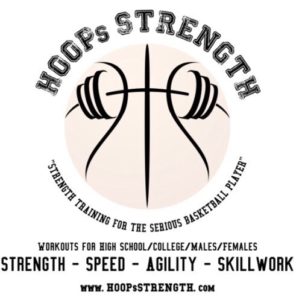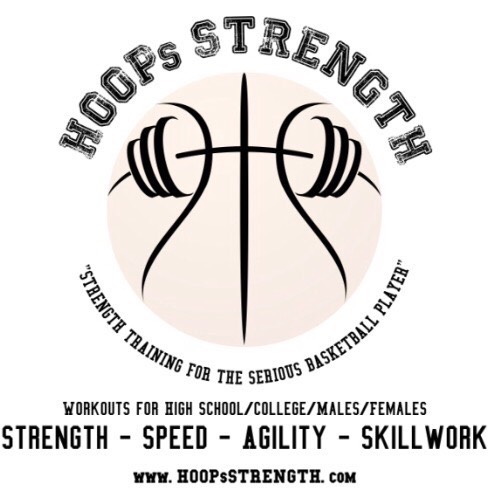 On this play, Marek Dolezaj had just saved the ball from going out of bounds, leaving the defense a little scattered. Hughes appears to recognize the imbalance as soon as the ball gets to him and occupies Cornell's No. 22, Josh Warren, by taking one dribble right. That leaves Sidibe unaccounted for in the lane, and all it takes is a little bounce pass through the opening to set up a Sidibe slam.
Assist No. 2: Hughes dish to Quincy Guerrier slam
More dribbling by Hughes creating issues for the defense here. As soon as Hughes attacks left here, Cornell's Jimmy Boeheim steps up to the foul line with help defense. It's again good recognition by Hughes to see that he's occupied two, and nearly three, defenders. With Sidibe attracting attention near the left block, that means Guerrier is wide open on the right block.
Hughes didn't immediately have his head up on the drive, but as soon as he recognized a help defender on him, he lifted his eyes to to the area that Jimmy had just vacated. There stood Guerrier, wide open for a dunk.
Assist No. 3: Hughes sets up Buddy Boeheim to pump fake Jimmy
A year ago, Hughes almost certainly would've taken the corner 3. Brycen Goodine had already made the good extra pass. But Hughes didn't settle, instead recognizing that a scrambling Cornell defense could lead to an even bigger advantage for the Orange.
A pump fake and one dribble was all it took for Hughes to attack the lane and get all the defense's attention on him. Recognizing his best shooting teammate as Buddy Boeheim, open at the top of the arc, Hughes made a simple pass out to him. Jimmy knew he needed to close out hard on his brother, too hard as it turns out. Buddy adds a pump fake of his own before pulling and hitting from the foul line.
Maybe Hughes would've made the left corner 3, but instead, he set up SU's most pure shooter for a wide open foul-line jumper by making one extra attack and pass.
Assist No. 4: Second pocket pass to Sidibe dunk
Hughes made a concerted effort all Wednesday night to attack, attack and attack some more. In game one against Virginia, Hughes didn't have the same driving lanes and settled for a lot of longer shots while finishing the game with a lone assist. Hughes' handles and footwork allow him to get off a 3-pointer nearly whenever he wants.
But again on this play, Hughes decides to attack, and when he attracts the attention of a help defender, the pocket pass is easily available to Sidibe again for another dunk. The reason Sidibe is shooting 12-of-13 from the field in the early going is passing like this that makes the big fella's job very easy.
Assist No. 5: Hughes sets up Joe Girard III 3-pointer
In similar clips from a year ago, Hughes would've flown up the right wing in transition and either pulled up for 3 on the catch or drove strong to the right side of the rim. This time, he recognizes that if he attacks centrally, Syracuse's trailer should be open.
In this case, the trailer is New York's all-time leading high school scorer, Joe Girard III. He's a good option to set up for a walk-in triple. Hughes knew it, too, as he held both arms up while the ball was in the air.
Assist No. 6: Hughes lefty pass to Guerrier corner 3
Hughes doesn't do anything special here besides moving. The Orange offense last season could often be characterized as stagnant. Hughes recognizes here that SU's best chance to make a play might be with the ball in his hands, so he just goes and gets it.
With Cornell in a matchup zone on this possession, Hughes' flash attracts more attention to the top of the defense than it can handle, and that's all it takes to free up Guerrier for a split second in the corner. Hughes shows a great touch to put his left-handed pass right in the pocket of Guerrier, leading to an easy knock down for the Canadian freshman in a key second-half stretch.
Assist No. 7: Hughes to Buddy answer
Jimmy had just gotten a friendly roll to make a 3 at the other end, with the game out of hand. Hughes chooses attack mode after appearing like he's just going to jog the ball up the court.
All it takes is a few hard dribbles to attract help defense from the right wing, and it's an easy pitch and catch from Hughes to Buddy, who answers his older brother with a swish.