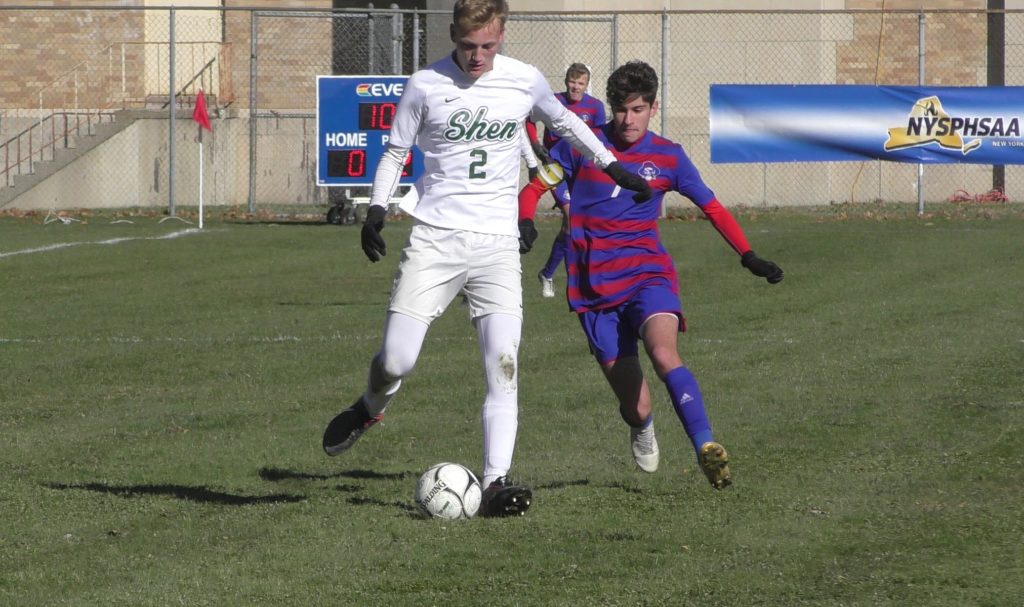 By PAUL GOTHAM
MIDDLETOWN, N.Y. — Jude Rouhana expanded his offensive arsenal on Saturday. The addition was right on time for the Fairport boys' soccer team.
Rouhana headed in a second-chance opportunity, and the Red Raiders advanced to the New York State Public High School Athletic Association (NYSPHSAA) Class AA championship game with a 1-0 victory over Shenendehowa (II).
"That one feels great, oh my gosh," the junior midfielder said after his golden goal clinched the victory with a 11:34 remaining in the second overtime. "Towards the end I started to cramp up a little bit. Something needed to happen. I saw the rebound."
C.J. Brunken started the sequence near the center circle when he led Myles Palmer into the 18-yard box.
"What I'm looking to do was to go and support him," Rouhana said of his role on the play. "Even if he finds me for a one-two or finds me with a through ball so I can go and score."
The goal was Rouhana's team-leading 12th on the season.
"He (Palmer) decided to take it himself. It was a smart move by him. It got a lucky bounce. Went for it with my head. I'm not one to score many headers, but hey it counted."
With the win, Fairport moved on to meet Brentwood (XI) in Sunday's championship game.
The appearance will be the fourth in the finals this decade for the Red Raiders and first since 2016.
"Honestly, it's something we have all dreamed about," Rouhana said. "State finals is a wonderful opportunity. We should all take advantage of it. You can't really put it into words. It's just a great experience that everyone should look forward to."
Fairport improved to 16-3-2 with the win. The Red Raiders are unbeaten in their past eight games and have allowed just one goal in five postseason contests.
Shenendehowa dropped to 13-3-1 on the season.
The meeting was the first in postseason between the two schools. Shenendehowa came into the game winners of three of five all time against Section V schools in the state tournament. The Plainsmen beat McQuaid in 2005 and Penfield in 1988 and 1990. Penfield took meetings in 2001 and 2004.
Brentwood also won in double overtime beating Ossining (I), 1-0. The Indians (19-0) have scored 51 goals and allowed six this season.
Kickoff for Sunday's final is scheduled at 10 AM from Faller Field.