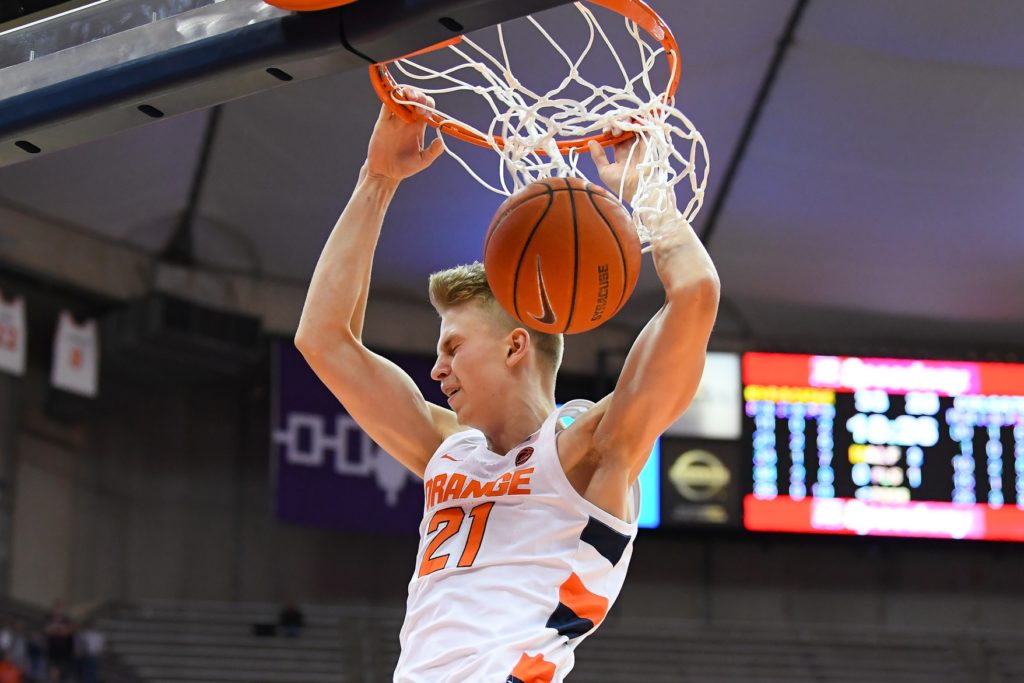 By BILLY HEYEN
Somehow, Marek Dolezaj's spin-o-rama into two-handed slam from Wednesday night was just the appetizer.
No, he didn't quite have a Sportscenter Top 10-level dunk Saturday. But nearly every time Dolezaj touched the ball for Syracuse, good things happened.
"We had a lot of fun today," Dolezaj said via Syracuse's Youtube channel.
Dolezaj finished one point shy of his career-high with 19 points in Syracuse's (2-1) 89-67 win over Seattle (2-3) on Saturday in the Carrier Dome. Dolezaj made 7-of-8 from the floor and added four assists and three steals to his production, coupling with Joe Girard III's breakout to lead SU to a second-straight win.
The pump fake was one of Dolezaj's best friends Saturday. The Orange's first bucket came after Dolezaj faked a shot in the lane to draw the Seattle center's attention before dishing to Bourama Sidibe for a layup. Soon after, Dolezaj added a righty hook from the left block and was on the board himself.
"They were focused completely on stopping our perimeter game," SU head coach Jim Boeheim said via Syracuse's Youtube channel. "So when Marek got it, they weren't helping… That gives Marek room to put it on the floor."
The weakest link of Dolezaj's game has always been perimeter shooting, and Boeheim lamented after the game that Dolezaj's summer finger injury prevented him from working on his shot.
"I think that hurt him, not being able to do that, work on that," Boeheim said. "His shooting is coming a little bit in practice."
Even without the shot, though, Dolezaj continued to influence Saturday's game. His usual backdoor connection with Elijah Hughes led to a bucket for SU's star. Then right after Dolezaj goaltended on the defensive end, he used an up-fake to create contact before scoring through it at the other end.
The whistle blew, and Dolezaj made the 'count it' gesture himself before draining the foul shot.
After an empty possession for each team, Dolezaj jumped a Seattle pass to the left wing and euro-stepped on the break for a lay-in. Before the half was over, Dolezaj screened for a Girard 3 and handed off to Hughes for another triple.
"That's what we need to do," Dolezaj said. "We need to run more."
In the second half, Dolezaj didn't do anything flashy. He found his way to the line consistently, where he finished 5-of-10 on the game. The Slovakian sophomore even saw the favor returned on a backdoor cut, when Buddy Boeheim picked Dolezaj out for a bucket after Dolezaj had slid behind the defense.
The expectation prior to the season, especially based off exhibition game lineups, was that freshman Quincy Guerrier would start at the 4, forcing Dolezaj to come off the bench. But Boeheim put Dolezaj into the starting lineup against Virginia on opening night, and the junior hasn't made it easy to take him out.
Guerrier had a solid game Saturday, too, finishing with a career-best 14 points. Dolezaj spent some time on the court with Guerrier, with Dolezaj playing center. But as long as Dolezaj continues to perform like he did Saturday, whether he starts or comes off the bench, whether he plays power forward or center, Dolezaj will keep getting the chance to make plays.
"I thought this was Marek, the way we need him to play," Boeheim said. "He hasn't played like this this year, and that's the way we need him to play."