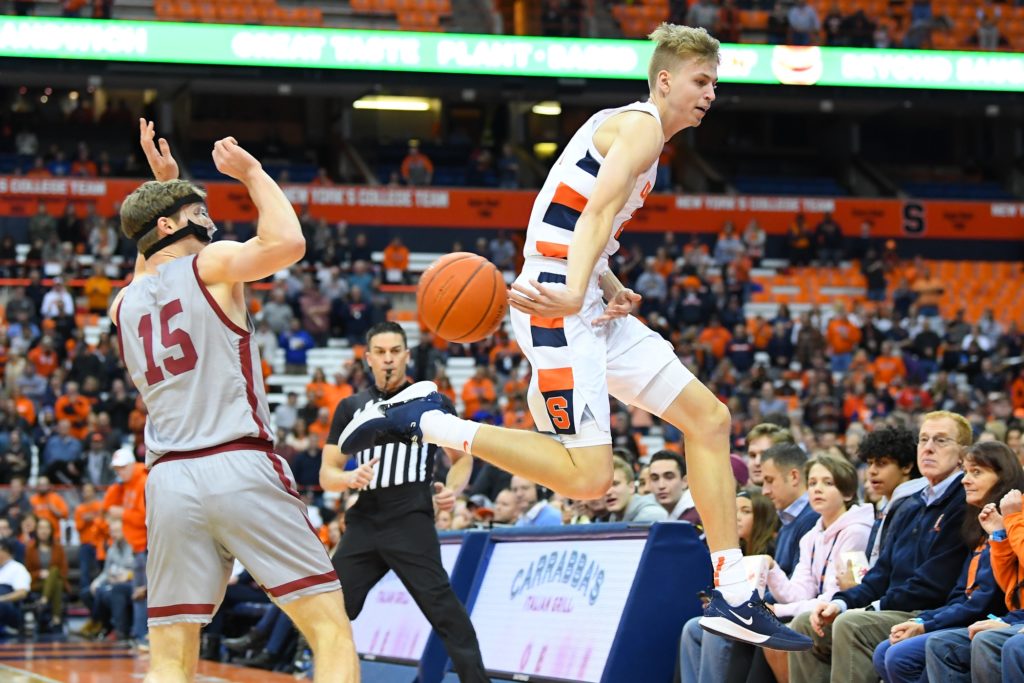 By BILLY HEYEN
Midway through Wednesday's second half, Marek Dolezaj led a fastbreak, spun around a Colgate defender and soared for a two-handed finish. From that point on, Syracuse found the offense it had struggled to uncover so far this season. The Orange (1-1) pulled away to beat the Raiders (1-2), 70-54. It was SU's 54th-straight win over Colgate.
Here are some takeaways from Syracuse's first win of the season.
Colgate is Sidibe-friendly
A year ago against Colgate, Sidibe double-doubled when the Orange needed production after Paschal Chukwu left with injury. Sidibe's now SU's starting center as a junior, and he scored Syracuse's first bucket against Virginia before being relatively quiet.
Again against Colgate, Sidibe made the Orange's first field goal, this time on a righty hook shot, but he didn't quiet down. A lefty hook, a righty tip-in and a strong right-handed finish gave Sidibe eight points in the first half. He added eight first-half boards, as well, showing an ability to use his size against a smaller Colgate team. Sidibe even forced Colgate's star center, Rapolas Ivanauskas, into three first-half fouls.
Sidibe continued to show a solid touch inside in the second half, finishing off his best opportunities, shots that he didn't always have the right touch on a season ago. In his third career double-double, Sidibe finished with 12 points and 14 rebounds.
"Bourama was good tonight," SU head coach Jim Boeheim told Matt Park postgame. "We need him in there and to play like that."
No average Joe
Sophomore Jalen Carey has started both games at point guard for Syracuse thus far, but he's struggled to make outside shots or create for others. Against both Virginia and Colgate, it was freshman Joe Girard III who played the majority of first-half minutes.
Girard was known at Glens Falls (New York) High School as a scorer, but he was often forced to play against double and triple-teams that gave no choice but to enhance his ball handling. In the early stages of his SU career, he's created off the bounce for himself and others. His best play of the first half didn't even result in a basket, as he drove to the foul line, jump stopped and bounced a pass to Quincy Guerrier on the right block. The Canadian freshman couldn't finish, but that play made it obvious Girard can dish it, too.
"(Girard) pushes the tempo," Buddy Boeheim told the ACC Network broadcast postgame. "He plays hard on defense… We have some good chemistry going."
Girard started the second half at the point for Syracuse, with Carey on the bench. Early in the second half, Girard stepped into a 3 from deep beyond the top of the arc and swished it. The next possession, in transition, Girard scooped the ball up toward the rim and Sidibe slammed it home, an alley-oop that forced a Colgate timeout. From there, Syracuse's offense was off and running and Girard may have created some point guard controversy. He finished with five points, four assists and three steals in 19 minutes.
Jim Boeheim told the media postgame that Girard will start at point guard Saturday against Seattle.
In the zone
Syracuse's defense was "respectable" on opening night, Jim Boeheim said, after the Orange held Virginia to 48 points. Early against Colgate, it looked like SU might allow itself to be burned from long distance.
But then the Orange started extending at the top and on the wings to make 3s longer attempts, if anything, for the Raiders. Colgate shot 6-of-21 from 3 in the first half. Girard, Sidibe and Marek Dolezaj all reached in for deflections that led to SU steals and transition opportunities.
"They could all shoot the ball well," Buddy Boeheim told Syracuse Athletics after the game. "So we knew we had to get out on shooters once it went into the high post, and we did a really good job of that all night."
Then in a short second-half sequence, Elijah Hughes pinned a shot to the backboard and drew a charge. As the Orange's offense woke up, their defense locked down. A young team still trying to find its offensive identity won't always have scoring, but the in-game defensive improvement Wednesday shows a potential asset going forward.
Colgate finished 30 percent from the floor (18-of-60) and 13-of-41 from 3 (31.7 percent).
Doing it all
Elijah Hughes had the huge block and a charge drawn as part of the strong defensive effort. On the offensive end, he showed a well-rounded game that's seen a lot of improvements since last season.
There were dribble drives to get to the mid-lane before pulling up for fadeaways. When Carey struggled early, Syracuse put the ball into Hughes' hands and let him create. When the penetration wasn't there, Hughes used the pass.
Midway through the second half, Hughes no-looked a pass to Sidibe on the pick-and-roll for two. Hughes finished with a career-high eight assists.
Of course, the scoring was always going to be there, as Hughes dropped an SU-high 14 points against Virginia and finished with 14 points on Wednesday night, including three of his usual 3-pointers.
Buddy buckets
Buddy Boeheim's first two buckets on Wednesday night were 3-pointers, but then he showed off the improvements that he's wanted to make since before his freshman season began. They were on his mind, too, in the minutes immediately following SU's season-ending loss to Baylor in last year's NCAA Tournament.
He wanted to be able to attack off the dribble. After the early 3s, Buddy consistently used his body to create small edges. It led to a pull-up jumper from the foul line for 2, and another from the right elbow. By using his hip, Buddy could prevent his defender from getting in his way.
In the second half, Buddy ran the floor, posted up and hit a fadeaway from the right block. A few minutes later, he scored inside then followed it up with a stepback 3 from the right wing. His day was done shortly after, and he sat down right next to his father on the bench, where the elder Boeheim proceeded to demonstrate nuances of the pump fake to his son.
Buddy finished with 17 points and six rebounds.