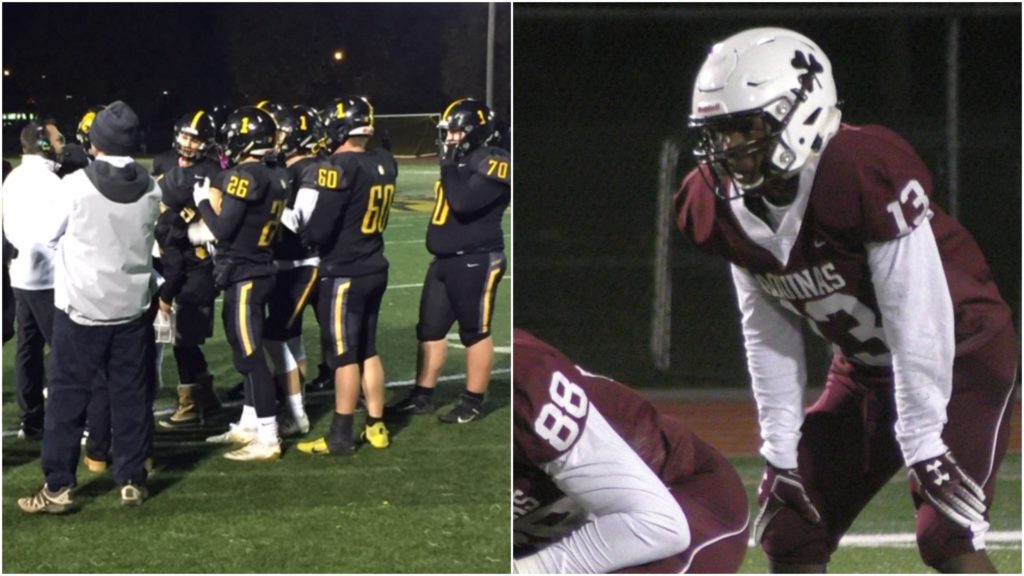 One team is looking to win its first title since 1978. The other wants to win its third straight. McQuaid and Aquinas will meet Saturday to decide the 2019 Section V Class AA Football Championship. Here's the breakdown:
No. 1 seed MCQUAID JESUIT KNIGHTS (9-0) vs. No. 2 seed AQUINAS L'IL IRISH (8-1)
How they arrived here: McQuaid (No. 6 NYSSWA) defeated No. 8 seed Monroe, 57-0, in the quarterfinals before downing fifth-seeded Pittsford, 20-7, in the semis.
Aquinas (No. 8 NYSSWA) beat No. 7 Rush-Henrietta by a 35-14 score in the quarterfinal round. The L'il Irish took down No. 3 Hilton, 35-19, in the semifinals.
Points scored per game: McQuaid (35.3), Aquinas (40)
Points allowed per game: McQuaid (10.6), Aquinas (20.9)
Last time they met: McQuaid defeated Aquinas, 27-21, in the season opener.
Trends: McQuaid has surpassed its win total of eight from last season. The Knights have outscored their opponents, 77-7, in the postseason. Aquinas is on an eight-game winning streak and has eclipsed 34 points in every contest in that span.
Names to know: McQuaid – Joe Cairns Jr. QB 914 passing yards; Andrew Passero Sr. RB, DB 520 rushing yards, 8 touchdowns
Aquinas – Will Benjamin So. RB, S 816 rushing yards, 591 receiving yards, 16 touchdowns, 26 tackles, 1 interception; Joseph Debonis Sr. T, DE 65 tackles, 9.5 sacks; Brian Magee Sr. RB, S 594 rushing yards, 7 touchdowns; Ulysees Russell Jr. WR, S 980 receiving yards, 13 touchdowns, 37 tackles, 3 interceptions; Tyler Szalkowski Jr. QB 2,241 passing yards, 25 touchdowns
Coaches: Bobby Bates (McQuaid), Derek Annechino (Aquinas)
History 101: McQuaid is seeking their second sectional title in program history and first since 1978. Aquinas is the two-time defending champion and coming off a state title. The L'il Irish have won five sectional titles in the last seven years and eight state titles in program history – five in class A (2010, 2007, 2002, 2001, 1998) and three in AA (2018, 2015, 2013). This is the second straight year these squads will match up in the sectional final.
What they're saying: Bates – "This is one of the most together and connected teams that I have ever been around. All year long, our motto has been 'Embrace the climb.' It is our goal to play our best football Saturday night."
Annechino – "I believe that this is going to be a great football game and we are looking forward to competing against the best team in the area."
What's at stake: A spot in the NYS Far West Regional against the winner of the Section VI final between Lancaster (No. 23 NYSSWA) and Orchard Park (No. 17 NYSSWA).
An 8 p.m. kickoff is scheduled Saturday at the College at Brockport.