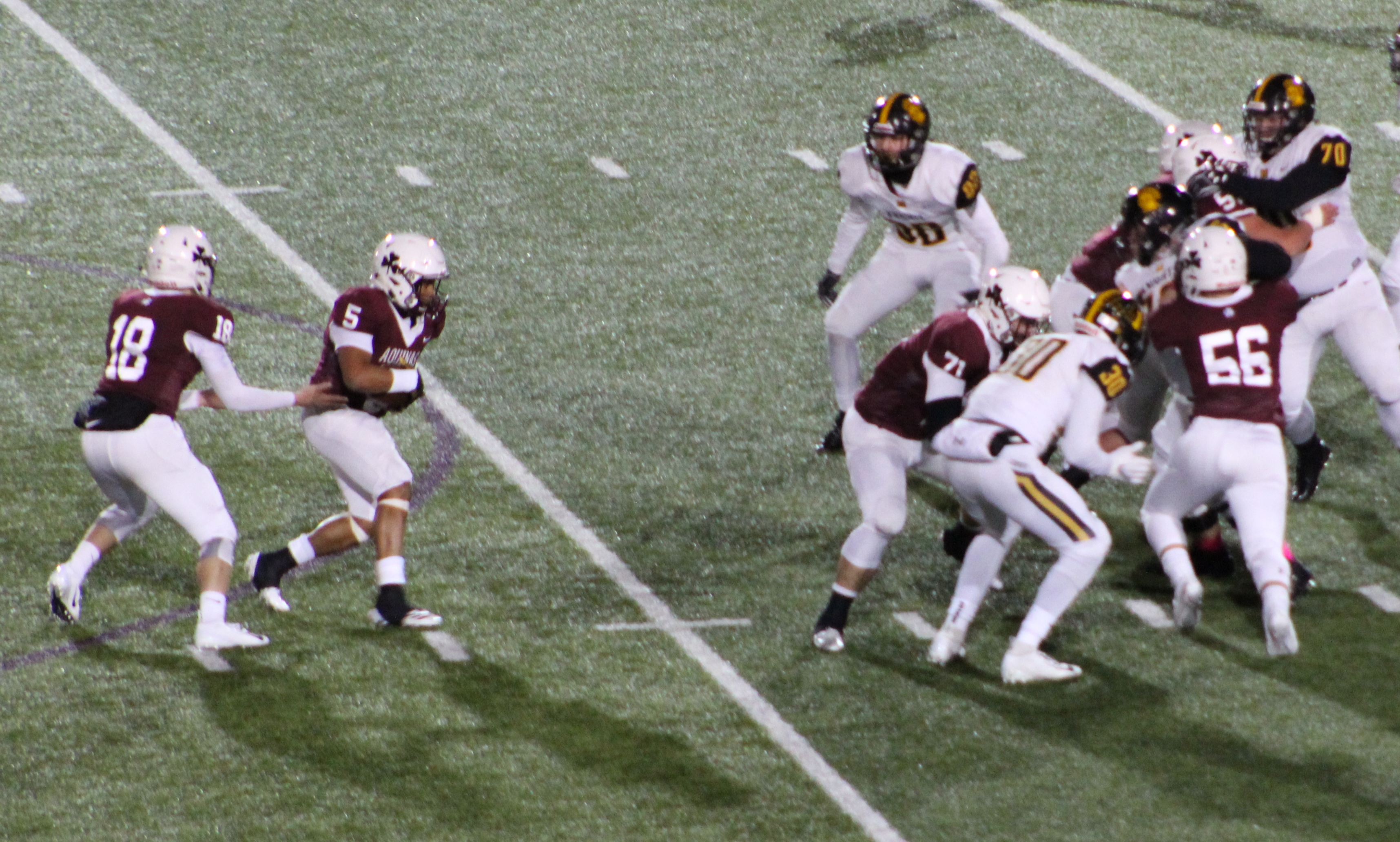 BY PAUL LIOTTI
BROCKPORT — In every championship game, there is always one defining, game-changing moment.
Saturday night, it was James Waters who delivered the goods for Aquinas, as his 18-yard fumble scoop and score shifted momentum and led the Irish to a convincing 49-18 win over rival McQuaid to take home their second Class AA title in a row and 15th title overall on a cold November night.
"We practice the fumble-scoop every day in practice," said Waters, a senior defensive tackle who was named the Lineman of the Game and had a monster sack early in the fourth quarter to kill a McQuaid drive. "I saw a bunch of players tapping the ball around and our nose tackle tapped it to me and I didn't want to just fall on it because McQuaid had all the momentum; I just wanted to make a play."
Aquinas had raced to a 21-6 lead, but McQuaid grabbed back the momentum just before halftime on a 24-yard run by Mark Passero to cut deficit to 21-12. Since McQuaid had the ball to start the second half, the Knights felt good about their chances and started to roll on their first drive of the second half.
McQuaid strung together two first downs and advanced to their 46-yard line. The Irish were on their heels when McQuaid quarterback Hunter Walsh rolled out to his left. But as he turned, the Irish were waiting for him and punched the ball out of his hands.  The ball tumbled back toward the goal line with players unable to secure it. That's when Waters, in full sprint, reached down, scooped it up in mid-stride and rumbled the last 18 yards to pay dirt.
Torres makes Knights pay. Over the top from 2 yards. PAT good. 14-0 with 4;14 left. Knights have their work cut out for them. But they have the experience to do it. @SectionVFB @McQuaidJesuit @PickinSplinters @nysswa @AQ_football pic.twitter.com/KnGBNvvl0L

— boomersoonerptl (@boomersoonerptl) November 3, 2018
McQuaid, the three-time RCAC champ did answer the bell on its next drive for a score, but the air seemed to go out of its sails at that point.
The win marked the 15th time the Irish have lofted "The Brick," better known as the Section V trophy. The collection of 15 Bricks ties Aquinas for most Section V titles all time with LeRoy and Clyde-Savannah. The title is also the 11th time in the last 13 years the Irish hoisted the trophy.
"Every sectional title is amazing, but without a doubt this one is one of the best," AQ coach Derek Annechino said. "We had a lot of adversity this year, a lot of injuries, and these kids persevered, did a great job and beat a really good football team tonight."
Top-seeded Aquinas (9-1/No. 7 NYSSWA) advances to the Far West Regional against Lancaster (9-1/No. 10 NYSSWA). That game will kick off next Saturday at 3:15 pm in Clarence. Aquinas lost to Lancaster 9-0 in last year's Far West Regional.
Second-seeded McQuaid (8-2/No. 12 NYSSWA) was well-positioned to take the sectional title when the game kicked off. Featuring a very experienced set of seniors – with multiple-year starting in all the key positions on both sides of the ball – the Knights' faithful felt this would be the year it snaps the Aquinas mystic. McQuaid has not beaten the Irish since 2006, which includes 12 regular season games and one  Sectional playoff games. That's 13-straight games.
Make it 14.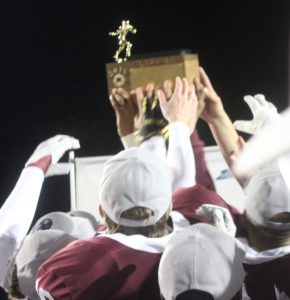 Aquinas did it by keeping McQuaid's precision West Coast offense off balance all night, forcing four turnovers – two of which were returned for scores – and never letting the Knights string positive drives together. Not helping matters was Aquinas led by at least two scores most of the game.
"We got behind the eight-ball early and it was tough to claw our way out of there," McQuaid coach Bobby Bates said. "We just couldn't get any get any flow going and couldn't keep everything going the whole game."
Aquinas held McQuaid to just 255 yards total offense, 89 on the ground and 145 through the air. The Knights offense, which relies on high-percentage passes to move downfield, was held in check as Walsh finished 13-of-31 with two interceptions. The Irish secondary blanketed key receivers Ben Beauchamp and Connor Zamiara all night and delivered jarring hit after hit to separate the ball from the intended target.
A factor heading into the game was the Aquinas offensive line versus the McQuaid defensive line. Both coaches felt this would be the key to a victory.
In the end, it was the Irish line that won the day, opening running lanes for both featured AQ backs — Caron Robinson and work horse Rueben Torres. Combined, Torres and Robinson gained 261 yards on 31 carries for an 8.4 yard per carry average.
"The offensive line has been a stalwart for us this year and whenever we called on them to run the ball they've done a great job of opening holes for a talented group of backs," Annechino said. "And tonight was no different."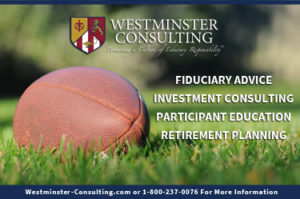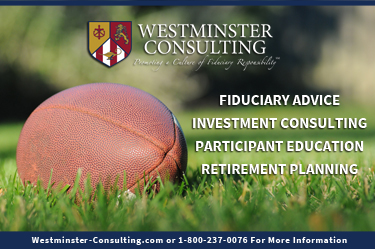 Robinson, the dynamic runner with speed and power, started the game by ripping off a 56-yard run on the second Aquinas possession. The highly touted senior, who missed six games with a broken hand, gave the Irish a lift returning for last week's semifinal game, and showed again on Saturday night. An explosive runner, he finished with 11 carries for 125 yards, but four of those carries went for 130 yards. Last week in the victory over Pittsford, he carried the ball just three times, gaining 83 yards and scoring twice. His effort Saturday night netted him the Offensive Player of the Game nod.
"Without a doubt, Caron is the best player in the area," said Annechino of his star senior running back who played with a heavy cast on his arm. "If he had the opportunity to play a full season he would have shown that to everyone. There's not a player around here like him."
On the ensuing kickoff after Robinson's long run, the Knights fumbled and the Irish recovered. A 20-yard completion from Tyler Szalkowski to Ulysees Russell set up Torres for a leaping two-yard touchdown pass, and when Joe Bronco hit his second point-after-try, it was 14-0 with 4:14 left in the first quarter.
The Knights shook off that stunning turn of events on their next drive as Walsh engineered an eight-play, 72-yard drive, completing all five of his passes for 50 yards before Passero scooted in from three yards out to close the lead to 14-6.
Aquinas regained it's two-touchdown lead at 21-6 two plays after Passero's touchdown when Annechino reached deep into his playbook, dialing up a flea-flicker which saw a handoff to Torres who turned and pitched it back to Szalkowski who lofted a pass downfield to a streaking Russell who caught the ball in stride at the 10 and jogged into the end zone untouched.
Mark Passero gets some back with a 3 yard run on the last play of the quarter. Pass failed. 14-6 AQ. Walsh 5-5-50 yards on the drive. @SectionVFB @McQuaidJesuit @PickinSplinters @nysswa @AQ_football pic.twitter.com/7pCZEjTzz3

— boomersoonerptl (@boomersoonerptl) November 3, 2018
Passero's scamper cut the lead to 21-12 heading into halftime and after Waters' score, McQuaid marched down the field, covering 58 yards in seven plays, the last 15 coming up the middle on the legs of Passero whose offensive line opened a huge hole to cut the lead to 28-18 with 7:30 to go in the third. It was the senior running back's third touchdown, but for the Knight faithful who braved the cold windy night, the last score of the season.
After that it was all Irish on defense and a healthy dose of Torres and Robinson. Over the last 19:30 of the game, McQuaid ran just 11 offensive plays, accounting for 60 yards. Over the same span of time, Aquinas aired it out only one time and controlled the clock with 21 rushes for 107 yards.
Torres, who earned the title game's coveted Most Valuable Player Award, scored his second touchdown of the night on the first play of the fourth quarter on a seven yard run and then added his third touchdown moments later on a six yard run to make it 42-18. Russell then put the final nail in the coffin when he picked off Walsh and raced 60 yards to the house with 7:05 left in the game.
Torres finished the game with 20 carries for 136 yards, and Russell finished with 66 receiving yards on three catches with the two scores, one offensively and one defensively.
"We were told to just execute and play every play like it was our last and try our hardest," Torres said. "The offensive line – that's everything. They tried their hardest for me and they opened a lot of holes. There aren't a lot of opportunities in life and to move on and keep playing it means everything to us."
Passero was the leading rusher for McQuaid with 23 carries and 110 yards and Zamiara caught six balls for 63 yards.
Beauchamp was named the Defensive Player of the Game thanks to his two interceptions.
McQuaid
 6
 6
 6
 0
18
Aquinas
14
 7
 7
21
49
Scoring
Aquinas
Caron Robinson 56 run (Joe Bronco kick)
Aquinas
Rueben Torres 5 run (Joe Bronco kick)
McQuaid
Mark Passero 24 run (pass failed)
Aquinas
Ulysees Russell 41 pass from Tyler Szalkowski (Joe Bronco kick)
McQuaid
Casey Howlett 14 pass from Hunter Walsh (pass failed)
Aquinas
James Waters 18 fumble return (Joe Bronco kick)
McQuaid
Mark Passero 15 run (pass failed)
Aquinas
Rueben Torres 7 run (Joe Bronco kick)
Aquinas
Rueben Torres 6 run (Joe Bronco kick)
Aquinas
Ulysees Russell 60 interception return (Joe Bronco kick)
Rushing
McQuaid
Mark Passero 21-89, Andrew Passero 2-7, Hunter Walsh 4-(-7)
Aquinas
Ruben Torres 20-136, Caron Robinson 11-125, Will Benjamin 1-0, Tyler Szalkowsk 1-(-17)
Passing
McQuaid
Hunter Walsh 13-31-145-1-2
Aquinas
Tyler Szalkowski 5-12-77-1-3
Receiving
McQuaid
Connor Zamiara 6-63, Ben Beauchamp 3-32, Casey Howlett-3-27, Mark Passero 1-23
Aquinas
Ulysees Russell 3-66, Damon Montomgery 1-6, Ruben Torres 1-5