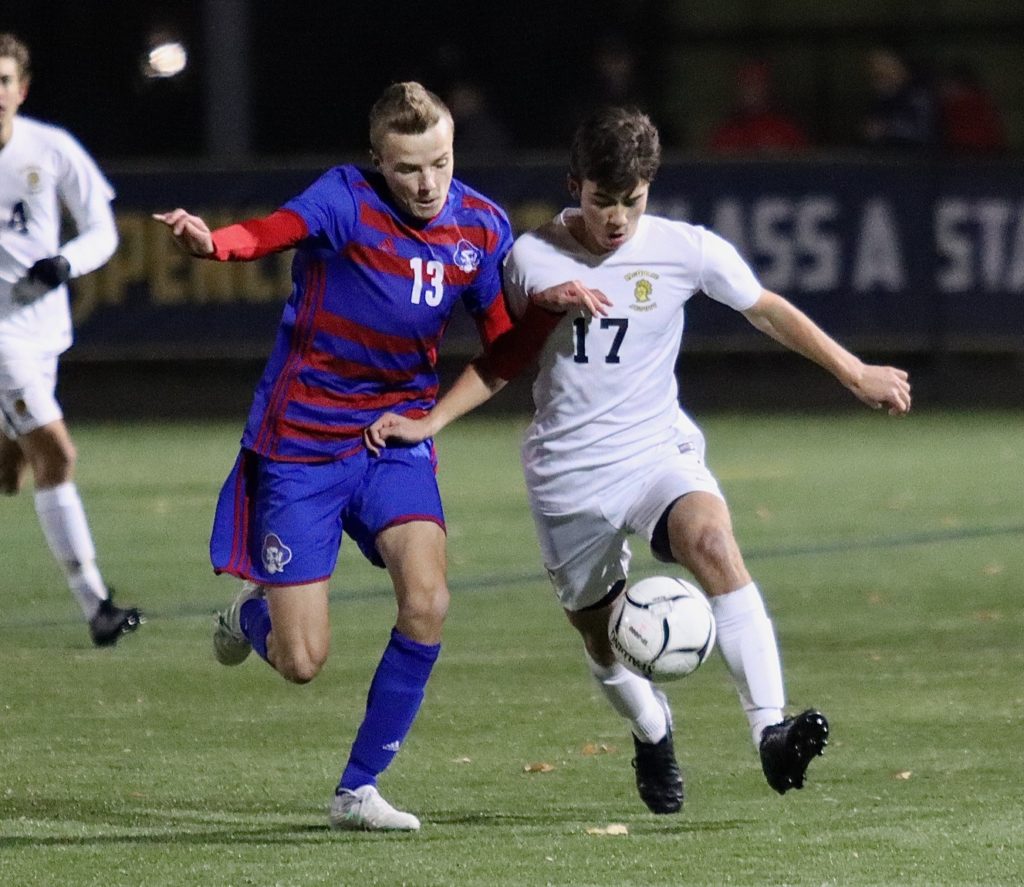 By PAUL GOTHAM
SPENCERPORT, N.Y. — Senior goalkeeper Michael Nesser stopped three penalty kicks, and the Fairport Red Raiders advanced (7-6) to the New York State Class AA Far West Regional.
After allowing three successful attempts, Nesser stopped two in a row before getting the clincher to send the Red Raiders to the regionals for the fourth time this decade.
"You know it's all like mentality basically," he said. "I was giving up a couple, so I felt like I had to switch up my tactics. I would wait until right before he took the shot before I would make the dive. After those adjustments, it became a lot easier."
Nesser made stops to his right and left side before making the final save on a shot along the turf to his right.
"Talk about grit and mental toughness, he showed a lot of that," Fairport head coach Gianni Bussani said. "I'm very proud of him.
"He seemed a little out of sorts. I noticed on the first stop is the first time he started jumping before the kick and I thought oh I think he's got this. Sure enough, he did."
Fairport (No. 7 NYSSWA) and McQuaid (No. 12 NYSSWA) battled to a one-all tie before the squads played another 30 minutes (two 15-minute periods) of overtime.
"McQuaid really came at us and pressed," Bussani stated. "They're a very, very good team very athletic, very well-coached. I'll say it again, grit and mental toughness to stay together. We gave up the goal, but we persevered. We showed resiliency, bouncing back."
Jude Rouhana gave Fairport (13-3-3) the lead less than 16 minutes into the contest with a left-footed strike outside the 18-yard box.
Andrew O'Hern leveled the match for McQuaid (14-2-2) with 14:34 remaining in the match.
"I thought we grabbed some momentum at the end of the first half," McQuaid head coach Nino Pilato said. "We had a couple opportunities and we carried it into the second half. Came out strong in the second half. I thought we kept a lot of pressure on them the rest of the game."
That the game went to penalty kicks was due in large part to McQuaid goalkeeper Patrick Larkin who stopped a pair of shots during the extra periods. The senior twice denied Myles Powell during the extra periods. He tapped a head flick over the bar and then stopped a blast from the freshman.
Patrick Larkin keeps @McQuaidJesuit 's season alive. pic.twitter.com/KwzNCqTVxt

— Paul Gotham (@PickinSplinters) November 6, 2019
"Their kid made two great saves," Bussani noted. "If not for him, we would have won it in overtime."
Patrick. Larkin. Again. pic.twitter.com/jbRcAmQAMP

— Paul Gotham (@PickinSplinters) November 6, 2019
The teams were named co-champions for Class AA. The title is the fourth this decade for Fairport and 10th overall under Bussani.
"They're all special," the 25th-year coach said. "They're all this incredible long journey. You never know how it's going to end. I think we were a little fortunate, but we made it happen."
Fairport will play Section VI champion Lancaster (12-5-2), Saturday at Hilton  High School. A 6 PM start time is scheduled.
"It was something I always dreamed of as a kid and to see it actually happen," Nesser said. "A situation like that where I get to be in the spotlight where I don't usually because I'm usually in net not scoring goals or anything it's absolutely surreal. This feeling is incredible. I can't believe it."
McQuaid won the 2017 Class AA title and completed an undefeated season winning the NYS title.