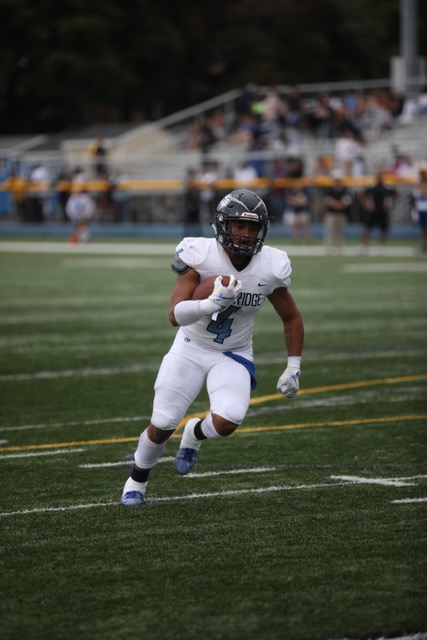 By CHUCKIE MAGGIO
Eastridge football will be back at Lancer Stadium next Friday night for the first round of the Section V Class A playoffs; they assured that home field advantage by entering Friday's game 6-0. The matchup against Greece Arcadia was not the last time the Lancer seniors would play in front of the home crowd.
But this was Senior Night. You only get one, and EI was ready to celebrate.
The Lancers compiled 509 yards from scrimmage, including 204 rushing yards from Ruben Torres and 180 all-purpose yards from Sher'Ron Davis, to defeat Greece Arcadia 70-50 in a record-breaking effort.
Eastridge's 70 points represented the school's home record and was two shy of its overall record. The Lancers are 7-0, completing their first perfect regular season since 2014.
"I think we have a lot of playmakers, and I think we proved that tonight," Eastridge coach Jasson Jobson said. "This was the first game where we were clicking offensively. Because the last three games, we haven't put up many points… But we haven't punted much. We've been driving and stalling out, because we're not executing plays or we're getting penalties. Tonight we executed. We hit them with pace."
Torres's biggest run of the night was a 74-yard burst on Eastridge's second play from scrimmage. Arcadia, especially K'myn Crumity (three touchdowns), stayed in the game with explosive offense, but could not stop the Lancer attack.
Eastridge scored 34 points on just 14 plays from scrimmage the entire first half, a statistic that had its coaching staff dumbfounded postgame. With a one-yard touchdown after a bad punt, an Amir Proctor interception return for a touchdown, a 58-yard Davis keeper and Torres goal-line score after a 66-yard Matthew Brantley rush, the Lancers scored with high efficiency.
Proctor's pick-six continued a storybook start to his varsity football career. Proctor, a sophomore, was called up from the junior varsity squad last Tuesday due to an injury-depleted Lancers secondary. In his debut against Greece Athena, he returned an interception 80 yards for a touchdown. One week later, against another Greece school, he took a pick to the house for the second consecutive game.
"Wild. It's wild," Jobson commented. "I mean we called the kid up last week because we had a couple DBs banged up. He takes an 80-yard interception to the house and he had 2.5 tackles, two passes defensed; they were picking on him last week. This week, I think it was our third touchdown, just picked it. It was wild. That's a good two-game start for your varsity career."
In his third season at the helm, Jobson has guided Eastridge back to being sectional favorites. Senior Night, and the regular season finale, lent a moment for reflection on the year to this point and the team he has.
"They were great, man. That's what's special about this team: they bought in," Jobson said. "I think they've learned from last year's seniors… This is my third team. The first year, that was my first team so that took a little bit of time to get seniors to buy in. Last year the seniors bought in and I think the juniors learned from it. This year it's been even more special.
"And you've gotta shout out our offensive line. Those big guys, every week they come and they just pound the ball, pound the ball, pound the ball. So shout those guys out."