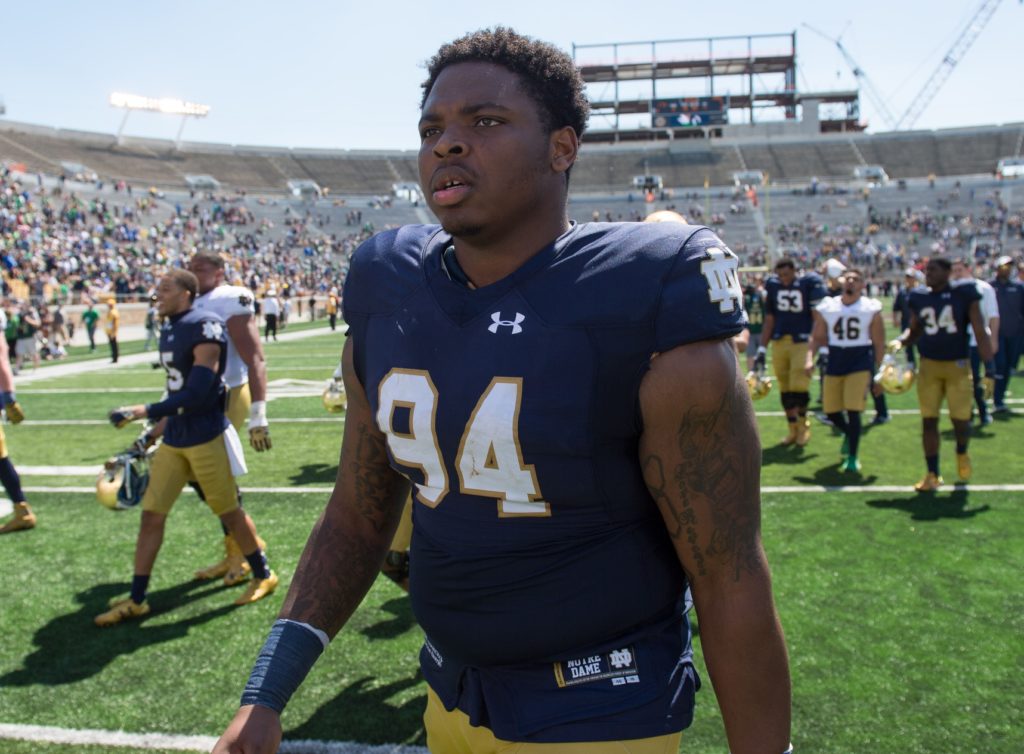 By BILLY HEYEN
Former Aquinas and Notre Dame lineman Jarron Jones was selected by the New York Guardians in the inaugural draft of the new XFL. Jones was the sixth offensive lineman taken in the offensive line phase of the draft.
Jones was a defensive lineman throughout high school and college. At Aquinas, Jones was a two-time all-state first-team selection. He started 12 games in his career at Notre Dame. Jones' younger brother, Jamir, currently plays on Notre Dame's defensive line.
Once Jones was signed as an undrafted free agent by the New York Giants in 2017, he was converted into an offensive lineman, where he's remained in his various forays in professional football. Most recently, Jones spent time in 2019 training camp with the Buffalo Bills before being cut.
With each team in the XFL being assigned a quarterback prior to the draft, Jones is slated to block for former Penn State passer Matt McGloin. The Guardians are slated to play home games at MetLife Stadium, the home of the New York Jets and Giants. Until any contracts are signed, Jones could still latch on with an NFL team this season.
This iteration of the XFL is scheduled to kick off its season on Feb. 8, 2020, the week after the Super Bowl. It's scheduled to have a 10-week regular season and lead up to a championship game on April 26. There are eight teams in place for the inaugural season.
ProFootballTalk reported that XFL players will be paid an average of $55,000 for the 2020 season, with bonuses for being on an active roster and winning games.
Jones is one of five former Section V stars eligible for selection in the XFL Draft, along with running back Marquis Young (Fairport/UMass), cornerback Zuril Hendrick (Pittsford/Edinboro), cornerback Jermaine Ponder (Bishop Kearney/St. Francis) and linebacker Quentin Gause (Bishop Kearney/Rutgers).