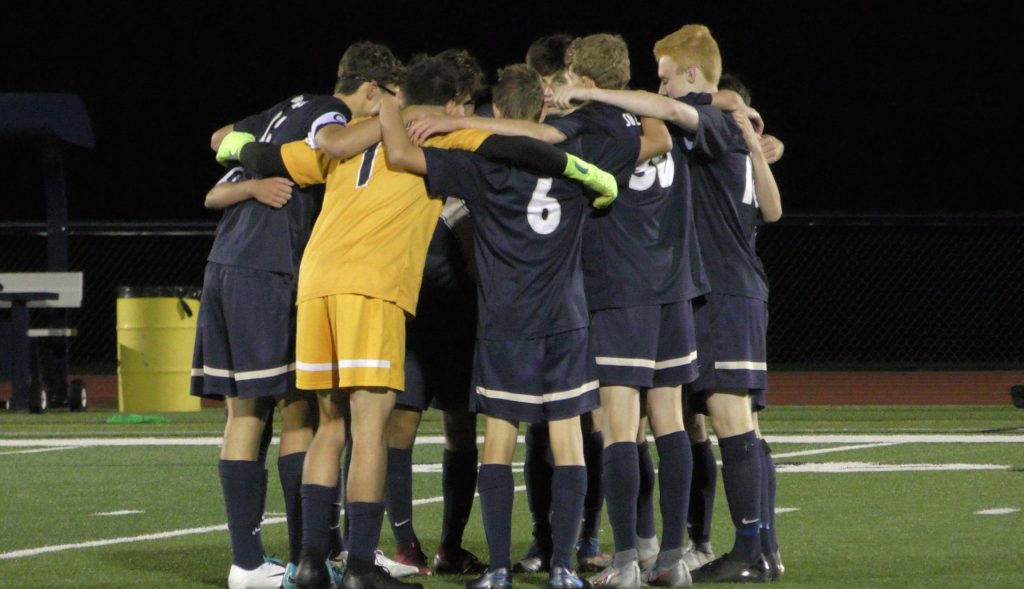 By PAUL GOTHAM
ROCHESTER, N.Y. — When Pittsford Sutherland and Greece Arcadia met earlier in the season, Dylan Kladstrup spent the vast portion of that contest gauging winds that were blowing at a rate of 25 miles per hour. Eventually, the Sutherland junior helped execute the game winner in the 73rd minute .
Wednesday night, Kladstrup needed less than three minutes to give Sutherland (No. 3 NYSSWA Class A) a lead it did not surrender as the Knights beat Arcadia 4-1.
With the win, Sutherland (12-0-1/8-0-1) clinched the Monroe County Division III title.
"We wanted to get a league title," Kladstrup said of the Knights' mindset as they took the field. "None of us have been part of a team like that. That was one of our goals and obviously another one was to stay undefeated."
Teammate Will Bowen set up the play.
"Will came across and gave me a nice header," Kladstrup explained. "Quickly just took a touch, found the keep and put it to the left of him."
Aidan Pellegrino doubled the lead two and half minutes later.
"To have two goals in the first five minutes, we haven't scored like that all year," Sutherland head coach Sean Hopkins said. "We're starting to put a few more in the back of the net. We struggled with that at the beginning of the year, a lot of close games. Now we're taking advantage of the opportunities we're getting. We move the ball around really well, and the kids are finishing. It's great."
Kladstrup added two assists. He had the helper on Bowen's marker in the 30th minute and then on Tyler Merrick's goal with 1:25 remaining in the first half.
"It feels great," Bowen said of the divisional title. "This is the first step on a long journey for us. We have a lot of goals this year, and we're trying to keep our composure, keep working, stay focused and give it all we have every single game."
Arcadia (8-5-0/4-5-0) came into the game winners of four straight and unbeaten in six of its last seven matches. The Titans had allowed just one goal in the four contests leading up to Wednesday's tilt . This included a 1-nil victory over Spencerport (No. 18 NYSSWA Class A) on Saturday which snapped the Rangers 10-game winning streak.
"I told the guys in the locker room that they're rolling now," Bowen remarked. "This is a good night for them to come out and get a big win; Cinderella story come and take us down. I told them it's not happening tonight. We're not losing at home. We came out here confident and scored early."
Arcadia didn't go away easily, though.
Taber Monks converted on a second-chance opportunity to make it a 2-1 game with 32:04 remaining in the first half.
"I was definitely nervous when it got to 2-1," Hopkins said. "The intensity of the game was crazy."
Bowen responded for Sutherland in the 30th minute.
"We took our foot off the gas a bit after we scored two," Bowen stated. "Dylan picked it up on the wing, sent a beautiful ball in. Just kinda settled it with my thigh and buried it."
"To rebound and go into the half 4-1 definitely felt good," Hopkins added. "We knew the second half was still going to be a battle. It wasn't a typical 4-to-1 game at halftime. We did a nice job in the second half to close it out."
The duo of Bowen (7 goals/6 assists) and Kladstrup (13 goals/10 assists) have combined to score 20 of Sutherland's 40 goals on the season. They also have 16 assists between the two of them.
"That's what you need in high school," Hopkins noted. "You need that one guy or two guys that can put it away. Dylan and Will do a lot for us up top."
Sutherland hosts East Syracuse Minoa (III) for a 7 PM start on Friday. Arcadia host Pittsford Mendon next Tuesday. Both squads close the regular season later next week.