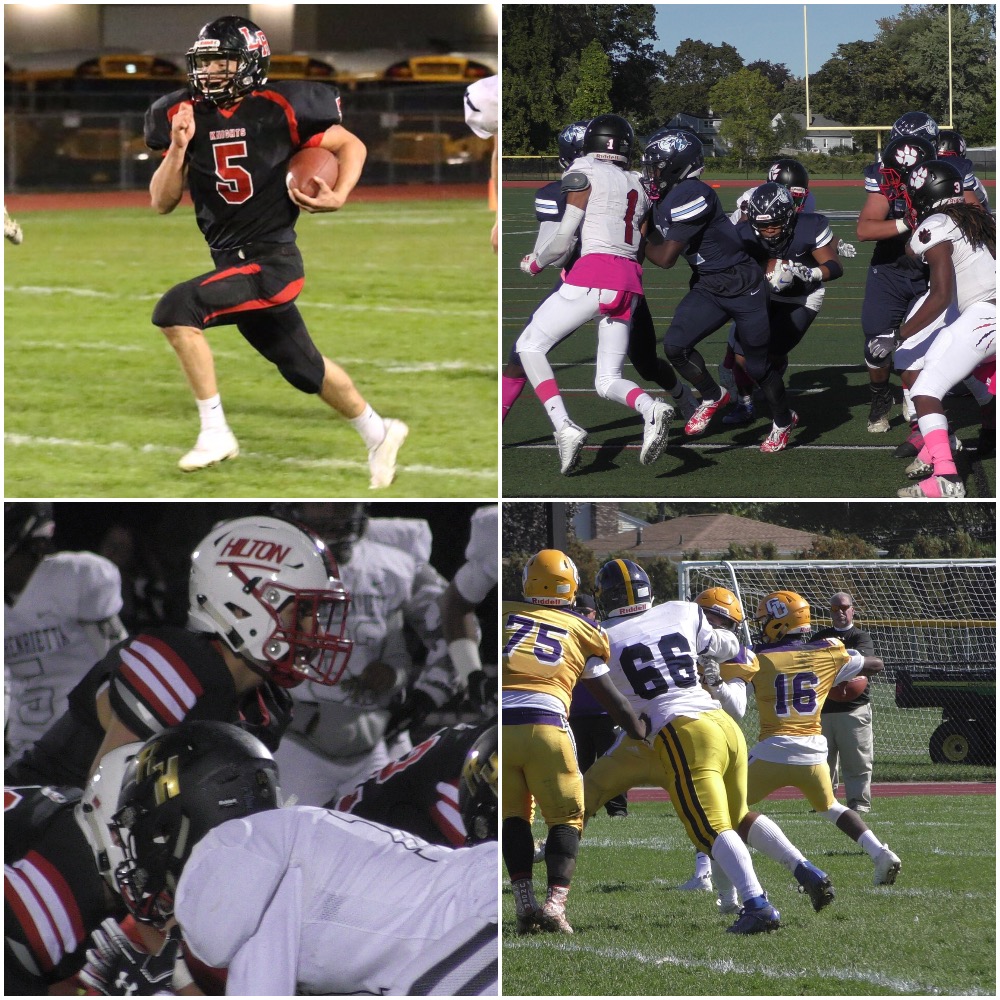 SATURDAY
EAST (4-1) 26 UPREP (4-1) 22
Freddie Brock's fall sport was soccer during his childhood days. Now, the East senior plays football along with basketball and baseball. That transition rewarded him a Division I scholarship to UMass Amherst and he proved why on Saturday afternoon.
READ MORE.
SPENCERPORT (4-1) 28 GREECE OLYMPIA/ODYSSEY (2-3) 12
Khalize Beamon went 22 yards on a first down play to give Spencerport a 14-12 lead late in the third quarter, and the game looked destined to swing back and forth. Olympia/Odyssey took possession on their own 39-yard line and Corey Bright rushed for 20 yards. The Spartans had the ball on Spencerport's 41 when quarterback Xavier Hurell rolled to his left. 
READ MORE
.
WILSON (4-1-0) 32 EASTRIDGE (5-0-0) 33
If you've followed Eastridge High School football for the better part of this decade, you know how significant the goal line has been.There was the 2011 game at Victor, when the Lancer defense recorded a stop at the one-yard line on the last play of the game to improve to 6-0 and hand the Blue Devils their first Monroe County loss since joining the league. There was the 2012 sectional semifinal against McQuaid, when running back Jeremiah Ortiz recovered a fumbled snap in the Rhinos Stadium end zone for the game-winning touchdown in double overtime. Now the Jasson Jobson era has its own big-game goal line moment. The Lancers (
No. 10. NYSSWA Class A
), clinging to a 33-32 lead with 16 seconds left, stopped Wilson Magnet (
No. 22 NYSSWA Class A
) running back Jahkier Moore on a fourth and goal pitch from the three-yard line to improve to 5-0 this season.
READ MORE.
ALEXANDER (5-0) 11 RED JACKET (3-2) 8
After trailing 8-3, the Trojans (
No. 4 NYSSWA Class D
) used a late score to remain undefeated. Red Jacket's points came on a 68-yard touchdown pass from Matt Record to Chase Rizzo. Logan Keifer had 71 rushing yards for the Indians. Hunter Fitzpatrick had 10 tackles and Jake Anderson added nine tackles to lead the Red Jacket defense.
READ MORE
.
JAMESVILLE-DEWITT (0-4) 0 EDISON (1-3) 24
Jahmear Stallings dominated on both sides of the ball to lead Edison over Jamesville-DeWitt. He had 11 carries for 84 yards and a rushing touchdown, and added two sacks, a forced fumble and a fumble recovery on defense. Edgar Bass had a 53-yard interception return touchdown for Edison.
BROCKPORT (1-4) 14 GREECE ARCADIA (3-2) 21
After trailing 14-13 in the fourth quarter, Arcadia scored on a fake punt and converted the two-point conversion to seal a victory in its homecoming game.
MIDLAKES (0-5) 0 HONEOYE FALLS-LIMA (3-2) 39
The Honeoye Falls-Lima offense exploded in the first half, scoring 33 points before the break. Cougars quarterback Turner Wilson got the scoring started on a 77-yard touchdown pass to Mitch Slymon. Then, back-to-back rushing touchdowns by Mason Ferrara put the game out of reach early. Turner finished with two touchdown passes, both to Slymon. Ferrara racked up 188 rushing yards on 11 carries, three of which went for touchdowns.
IRONDEQUOIT 17 GREECE ATHENA 7
Nick Calarco and Jaden White scored on touchdown runs to lead Irondequoit.
MCQUAID (5-0) 37 MONROE (0-5) 18
Joe Cairns threw for 197 yards and three touchdowns for McQuaid (
No. 11 NYSSWA Class AA
) including a 72-yard connection to Josh Gaddy. Andrew Passero had 100 rushing yards for the Jesuit Knights.
MARCUS WHITMAN/BLOOMFIELD (0-5) 23 EAST ROCHESTER/GANANDA (3-2) 50
The Bomber rushing attack gave Marcus Whitman/Bloomfield fits on Saturday night, as the ER/G offense carried the team to its third win of the season. The Bombers rushed for 363 total yards and averaged 9.6 yards per carry. ER/G led 36-0 at halftime and 50-0 at the end of the third quarter. Dion Mather threw for 45 yards and a touchdown, and rushed for 44 yards. TJ Swagler ran for 101 yards and a touchdown for the Bombers. Omarri Cooper and Alex Hartman ran for two touchdowns each, and Christian Clarcq ran for 82 yards and caught a 25-yard pass for a touchdown. For MW/B, Justin Smith ran for 107 yards and a touchdown, and Austin Smith ran for 64 yards and two touchdowns.
FRIDAY
VICTOR (4-1) 21
WEBSTER THOMAS (2-3) 8
The Victor varsity football team was excited for Rushawn Baker to get back on the field after missing the last two games. However, the junior running back went down twice with an ankle injury and limped out of the contest midway through the second quarter.
READ MORE.
RUSH-HENRIETTA (1-4) 20
HILTON (3-2) 28
Peter Reyes threw for a touchdown and rushed for another as Hilton won its second straight game. With the Cadets leading 14-12 late in the third quarter, Reyes hit Tah-jae Hill on a 35-yard strike for what proved to be the winning score. On the next Hilton drive, the senior quarterback punched it in on a fourth down play from the five-yard line. Reyes finished with 12 carries for 50 yards and completed 3-of-7 passes for 103 yards. Hill made three receptions for 103 yards. The senior also connected with Najier Daniels for a 12-yard touchdown to give the Cadets a 14-6 lead going into the half. Sean Meyers rushed for 176 on 36 carries. His 22-yard run in the first quarter gave Hilton a lead it did not surrender at 7-6. Hunter Knorr led the Hilton defense with seven tackles and two interceptions. Jack Loomis made six tackles. Michael Gizzi and Jason Iorio had five tackles apiece. Gabriel Wright scored on a 23-yard from from Patrick Sherronto give Rush-Henrietta an early 6-0 lead. Sherron and Eddie Beverly connected on an 81-yard catch-and run play midway through the third quarter. Wright scored on an 11-yard run to make it 21-20 game with 1:07 to go in the third quarter.  Sherron connected on 9-of-20 passes for 134 yards. He also rushed for 65 yards on seven carries. Willie Walker, Jr. rushed for 93 yards on 12 carries. Beverly made two catches for 85 yards.
PENFIELD (2-2) 15
NOTTINGHAM (III) 12
PITTSFORD (1-4) 21
AQUINAS (NYSSWA No. 13 Class AA) (4-1) 42
Tyler Szalkowski threw for 238 yards and four touchdowns on 9-for-12 passing as Aquinas (No. 13 NYSSWA Class AA) won its fourth straight game. Will Benjamin had 11 carries for 133 yards as well as four catches for 122 yards and two touchdowns. Pat Fenton led the defense with 11 tackles.
BATH-HAVERLING (2-3) 21
WAYLAND-COHOCTON (2-3) 12
BRIGHTON (3-2) 42
CHURCHVILLE-CHILI (0-5) 7
Brighton's Tahj Jackson led the offense with 15 carries for 101 yards and three touchdowns. Jayden Pope had five carries for 41 yards and a score. Sam Tourangeau had an 18-yard carry and a reception and Thomas Paasewe had an eight-yard carry and a reception. Quarterback Brennan Clasgens went 4-for-7 for 60 yards and a touchdown pass. He added eight carries for eight yards and a score. Jake Miller caught 2 passes for 33 yards and caught a touchdown pass. On defense, Jack Carl had two picks, Tourangeau had a pick, a fumble recovery and six tackles and Sam O'Hara had a team-high 11.5 tackles.
CANANDAIGUA (4-1) 34
GATES CHILI (1-4) 7
Any and every team should come into a game expecting to win.
READ MORE.
BATAVIA-NOTRE DAME (NYSSWA No. 6 Class D) (5-0) 51
LYONS/SODUS (1-3) 6
Notre Dame scored all 51 points in the first half and continue its dominant offensive showings week after week and remain undefeated. Gabe MacDonald ran six times for 52 yards with two touchdowns and two two-point conversions. He also went 3-for-5 passing for 41 yards and a touchdown pass. Jed Reese surpassed 1,000 yards rushing after rushing for 210 yards on 16 carries and four touchdowns. He only needed 205. Jayson Reinhart had two catches for 25 yards and a touchdown. Mason Randall and Reinhart each had three sacks with five tackles for Randall and three for Reinhart. Max Hutchins had eight tackles and Connor McWilliams had seven tackles with a sack.
BISHOP KEARNEY/ROCHESTER PREP (2-3) 18
BATAVIA (NYSSWA No. 16 Class B) (4-1) 33
Batavia's Alex Rood led the rushing attack with with two rushing touchdowns on 14 carries for 95 yards. Cody Burns had nine carries for 118 yards and a score. Terez Smith added 99 yards on 21 carries. Quarterback Jesse Reinhart went 7-for-16 for 113 yards and a touchdown pass to Bannon Moore which was his only catch for 30 yards. Daemon Konieczny led the receiving with two catches for 58 yards. Isaiah Hill led the defense with nine tackles and Rood was second with eight tackles. Reinhart added five tackles with a pick and Max Rapone had three tackles with two picks.
HORNELL (0-5) 16
WAYNE (3-2) 49
Wayne put up 35 points in the first half and recorded its third win of the season. The offense had 485 yards of total offense led by quarterback Mason Blankenberg and running back John Reagan. Blankenberg went 9-for-10 for 240 yards and three touchdown passes to Brian Sills who recorded three receptions for 112 yards. Reagan pounded the rock for 137 yards on 16 carries with three scores. Andy Hamel added the other touchdown in the third. He finished with 9 carries for 46 yards. Jonah Pullen led the defense with 6 tackles and Patrick Embury recorded 3.5 tackles. Hornell's Dorion Bowles recorded both scores for the Red Raiders with a 65-yard kickoff return for a touchdown in the first half and a rushing touchdown in the fourth. He finished with 19 carries for 77 yards. Tyler Acton added 11 carries for 45 yards.
FAIRPORT (3-2) 35
WEBSTER SCHROEDER (3-2) 6
Fairport held Webster Schroeder to just 71 yards of offense on the night. The Red Raiders had 268 yards of their own led by quarterback Braden Consaul. He completed 9-for-12 for 104 yards and two touchdown passes. Kaevon Rice on the ground had 11 carries for 86 yards and touchdown. Klay Stuver had eight carries for 39 yards and Colin Peers added eight carries for 20 yards. Tim Lacagnina hauled in three catches for 48 yards and a touchdown. John Tarmino caught three passes for 24 yards. Andrew Smith caught the other touchdown pass from 18 yards out. Darius Johnson scored the only touchdown for the Warriors with a three-yard touchdown run in the third. Victor Snow added 38 yards on two carries. Travis Dear went 6-for-16 for 26 yards. Jack VanAhen hauled in three catches for 25 yards.
AVON (3-2) 37
WELLSVILLE (0-5) 0
GENESEO/MOUNT MORRIS (3-2) 34
CANISTEO-GREENWOOD (NYSSWA No. 10 Class D) (4-1) 24
Geneseo/Mount Morris rallies from being down 16-0 and hands Canisteo-Greenwood its first loss of the season. Evan Salvaggaio had a night to remember as he ran for five touchdowns from 46, 44, 40, 22 and 11 yards. Canisteo-Greenwood's Roque Santiago went 13-for-27 for 234 yards with two touchdown passes. Andrew Morling hauled in five catches for 104 yards with 10 tackles and an interception. Jacob Houghtaling had five carries for 37 yards with a rushing touchdown and had four catches for 95 yards and a receiving touchdown. He also had 12 tackles and a pick. Nathan Button had 10 tackles with a sack and Ryder Slayton added six tackles.
ATTICA (5-0) 35
DANSVILLE (2-3) 14
Attica (NYSSWA No. 18 Class C) remains undefeated on the season as they pounded out 305 yards on the ground led by Zach Strzelec who had 16 carries for 156 yards and two touchdowns. Jake Gross had five carries for 110 yards with a score as well as a 60-yard kickoff return for a touchdown. Clayton Compton added four rushes for 34 yards and a score. On defense, Jeremiah Donohue and Lucas Krawczyk led the team with 11 tackles. Strzelec had nine tackles and Compton added seven tackles and an interception. Dansville's Calab Rigdon led the way with 12 carries for 91 yards and a touchdown. Tanner Dettman had nine carries for 79 yards. Ryan Carnevale added 16 carries for 40 yards and Evan Pruonto had seven carries for 17 yards and a score. John Wilkinson led the defense with 10 tackles. Dettman had seven tackles and a pass deflection and Shane Crandall also had seven tackles. Gus Swyers recorded six tackles with a sack, Billy Barrett had five tackles with an interception and Elliot Mapes had four tackles with a pass deflection.
MYNDERSE/SOUTH SENECA (0-5) 13
LEROY (NYSSWA No. 9 Class C) (5-0) 58
LeRoy's Andrew Englerth led the Oatkan Knights offense to their fifth win of the year scoring a team-high four touchdowns. Kyler LaCarte as well as Nate Andrews each added two touchdowns of their own and Kaiel Robinson also scored on the night.
CALEDONIA-MUMFORD/BYRON BERGEN (NYSSWA No. 11 Class C)(3-2) 7
LETCHWORTH/WARSAW (5-0) 21
Letchworth/Warsaw remained undefeated and held the Cal-Mum/Byron Bergen offense scoreless. Brett Vasile scored on a rushing touchdown and went 8-for-12 for 78 yards in the air. Austin Williams added two scores on the ground and finished with three carries for 16 yards. Josh Andrews had 12 carries for 65 yards and Dalton English had 30 yards on 11 carries and four receptions for 42 yards. Bryce Yockel had a 55-yard interception return for a touchdown in the third which would be the only score for Cal-Mum/Byron Bergen. Yockel was held to 23 yards on 10 carries. Quarterback Joseph Laursen went 18-for-25 for 110 yards through the air. Vincent Molisani caught six passes for 48 yards and Kyle Wade caught six passes for 32 yards.
YORK/PAVILION (1-4) 26
CLYDE-SAVANNAH (1-4) 44
York/Pavilion's James Kennedy led the offense with 20 rushes for 46 yards with two scores. He also went 14-for-24 through the air for 255 yards with two touchdown passes. Tim LeGeorge had four catches for 128 yards and a score. Ethan Tillotson added three catches for 58 yards. On defense, Ethan Doran led the way with six tackles. Riley Stella had five tackles with a sack. Tillotson had three tackles with an interception and Dylan Gray added five tackles.
NEWARK (1-4) 0
LIVONIA (3-2) 28
CUBA-RUSHFORD (0-5) 19
PERRY (1-4) 22
PENN YAN (3-2) 33
WATERLOO (2-3) 30
Kyle Berna led the offensive attack for Penn Yan through the air going 22-for-30 for 231 yards and three touchdowns. He also added 18 carries for 99 yards and a rushing touchdown. Alex Foster completed the only pass he threw for a touchdown. On the receiving end, Kyler Lloyd hauled in nine catches for 100 yards. Brennan Prather caught four passes for 62 yards and two touchdowns and Mekhi Mahan had nine catches for 46 yards and two touchdowns and 10 rushes for 53 yards. Damien Snyder caught one pass for 23 yards. On defense, Mahan led the way with 13 tackles. Prather had 11, Julien Miller had 10 with two interceptions, Hunter Van Housen had 10 with a .5 sack, Lloyd added eight tackles with a .5 sack and Berna recorded six tackles with a fumble recovery.
BOLIVAR-RICHBURG (2-3) 0
FRANKLINVILLE/ELLICOTTVILLE (VI) 46
GENEVA (2-2) 21
PALMYRA-MACEDON (2-2) 14
8-Man
OAKFIELD ALABAMA/ELBA 14
PEMBROKE 0