By CHUCKIE MAGGIO
If you've followed Eastridge High School football for the better part of this decade, you know how significant the goal line has been.
There was the 2011 game at Victor, when the Lancer defense recorded a stop at the one-yard line on the last play of the game to improve to 6-0 and hand the Blue Devils their first Monroe County loss since joining the league. There was the 2012 sectional semifinal against McQuaid, when running back Jeremiah Ortiz recovered a fumbled snap in the Rhinos Stadium end zone for the game-winning touchdown in double overtime. 
Now the Jasson Jobson era has its own big-game goal line moment. The Lancers, clinging to a 33-32 lead with 16 seconds left, stopped Wilson Magnet running back Jahkier Moore on a fourth and goal pitch from the three-yard line to improve to 5-0 this season. 
In a matchup of the only unbeaten teams in Class A, who each showed why they're title favorites, the goal-line stand was a fitting conclusion. 
"To be honest, I wasn't really worried about win or loss," Jobson said. "Just to be able to have this type of atmosphere, and that type of game, is going to help us tremendously for the rest of the year. So on that last goal-line stop, that's what I said to myself. Win or lose, it was an unbelievable opportunity to get better and that will help us going into this tournament this year."
Sher'Ron Davis had a typically strong game under center for Eastridge, but his effort to combine with Matthew Brantley for the tackle was his top highlight this time.
From the free safety position, Davis used his speed to beat Moore and Brantley to the corner and keep Moore away from the pylon. The play helped the Eastridge coaching staff forget about the first would-be fourth down stop of the drive, which had the Lancers celebrating around the 40-yard line until a late flag for a facemask gave Wilson a fresh set of downs.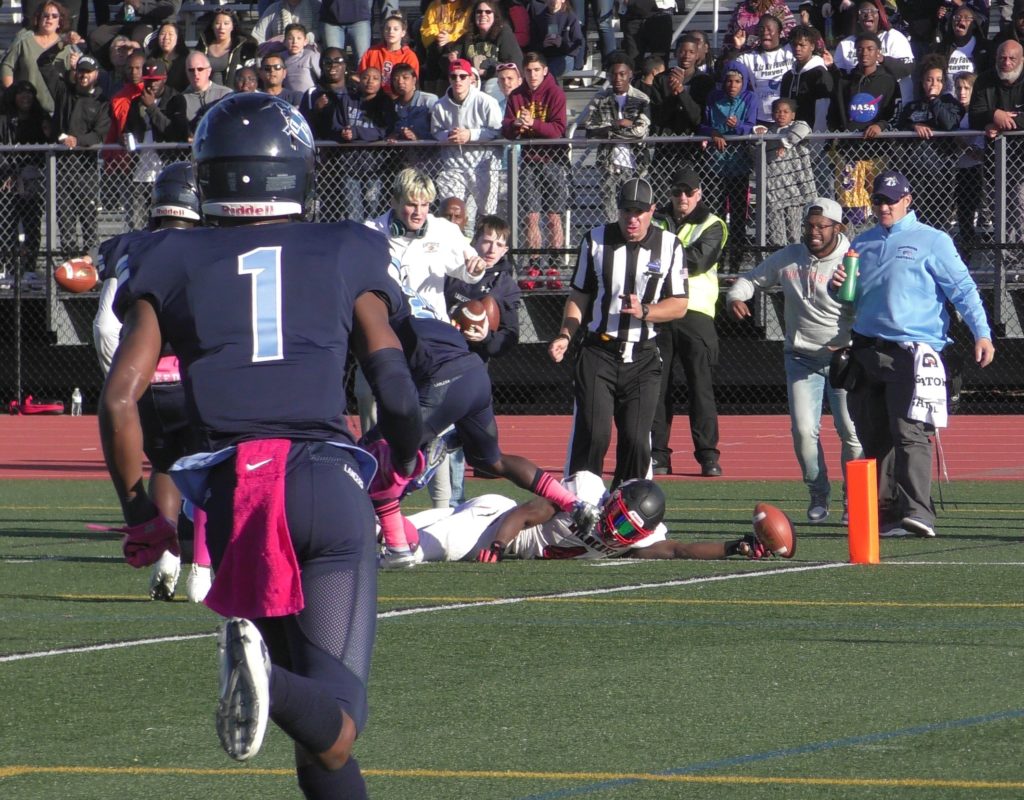 "They could've easily folded. That's why I'm so proud of my guys," Jobson commented. "Early on in the year, I don't know if we were mentally tough enough to withstand that. But we're getting better every week and that's our goal, just to get better."
Offensively, Eastridge faced its own crucial fourth downs on the eventual game-winning drive. On two occasions Wilson was a stop away on fourth and short from securing a 32-27 victory. Each time, the Lancers gave bruising back Ruben Torres the ball and converted for the first down. 
Torres scored a five-yard, go-ahead touchdown, his third of the day, a few plays later. He bookended the scoring, also scoring the first TD after Eastridge recovered its own opening kickoff. Torres and Wilson receiver BJ Clark, who also tallied three all-purpose touchdowns, were the day's scoring standouts.
"I said 'Guys, listen, it's fourth and an inch,'" Jobson recalled. "If we can't get an inch we don't deserve to win this game. And two plays later we were in the end zone."
The Lancer defense won the game in more ways than one. Wilson was only successful on one of its five two-point conversion opportunities. The Wildcats do not feature a placekicker and opted to go for two after each touchdown, a glaring fact following the one-point final.
Jobson said the thought of two-point defense crossed his mind as he was preparing on Saturday morning.
"We were talking to the coaches and we didn't forget, but I woke up this morning and I was like man, two-point conversions for a team that doesn't kick, we can't be upset when they score," Jobson noted. "The very next play, that two-point conversion is very, very important. So we need to get on the ball, get the call and be focused and be ready to stop two-point conversions.
"That was big for us."