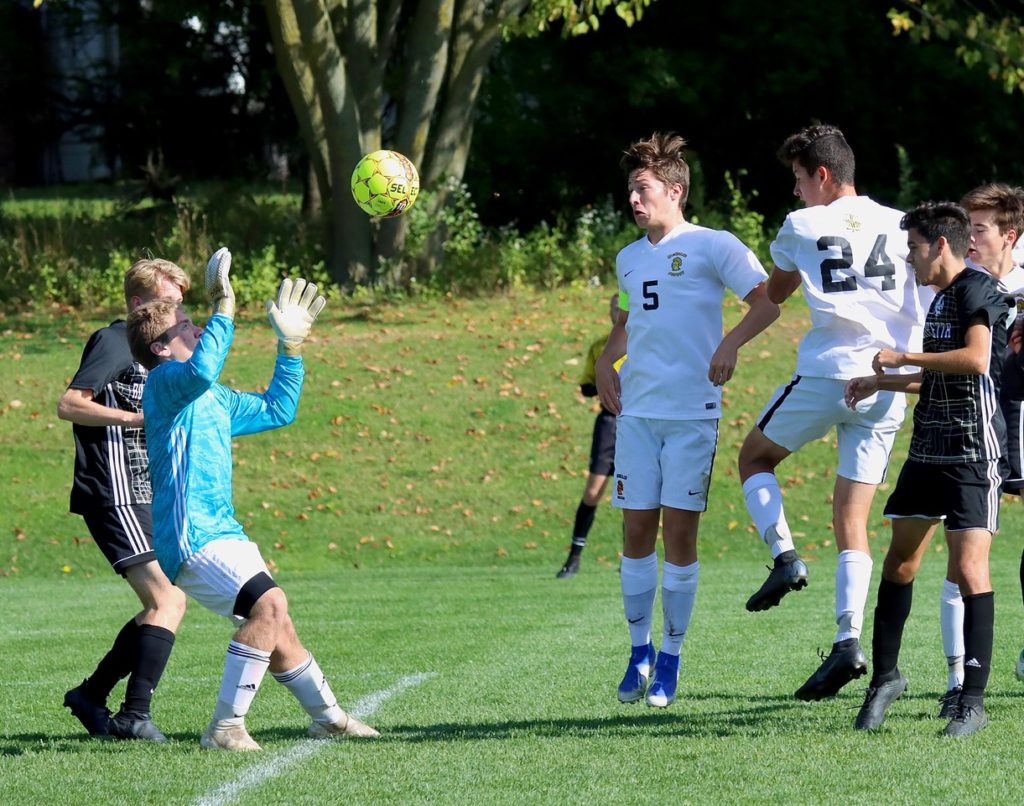 GREECE ARCADIA (7-4-0) 1
SPENCERPORT (10-2-0) 0
Cooper LaValley converted a first-half penalty and Greece Arcadia went on to claim the Broadbent-Selander Tournament played at Spencerport. The win was the third straight straight for Arcadia and fifth in the last six games. All five of the of the wins have come by shutout. Spencerport (No. 19 NYSSWA Class A) had won 10 straight leading  into the match.
BROCKPORT (3-8-1) 2
EASTRIDGE (5-5-0) 1
Sophomore Dylan Phillips leveled the match midway through the second half with his first varsity goal. Cole Beardsley connected on the game winner with 2:55 remaining to lift Brockport in the consolation match of the Broadbent-Selander Tournament. Jackson Ihnatiuk scored in the 40th minute to give Eastridge a 1-nil edge heading into halftime. Dawson Bellows assisted on the play.
CANANDAIGUA (4-9-0) 1
VICTOR (7-4-1) 3 
Justin Graham scored once and added two assists as Victor won its second straight and third in the past four games. Alex Newton found the back of the net in the 39th minute. Graham and Max Fiorica added second-half tallies. Chase Dickens contributed the helper on Graham's team-leading eighth marker of the season.
PITTSFORD SUTHERLAND (10-0-1) 2
HONEOYE FALLS-LIMA (7-4-1) 0
Will Bowen connected on an unassisted goal in the first half, and Tyler Merrick doubled Sutherland (No. 7 NYSSWA Class A) advantage after the break. Dylan Kladstrup assisted on Merrick's goal.
PENFIELD (4-3-3) 0
HILTON (4-5-2) 0
PITTSFORD MENDON (7-4-1) 2
AQUINAS (6-5-1) 1
In the continuation of a game suspended because of lightning, Pierce VanBenthuysen netted a pair of goals including the winner with 24:11 remming in the contest. Dom Tabechian and Rory Macintosh collected an assist apiece in the win. Eighth grader Ali Shabani scored the lone Aquinas goal. Liam Clifford had the helper.
McQUAID (8-2-1) 3
RUSH-HENRIETTA (1-7-3) 0
Elliot Aguirre and Grayson Alkins connected on first-half tallies to lead McQuaid (No. 9 NYSSWA Class AA). Andrew O'Hern added a second-half goal. Brad Talsania had two assists. Matt Gallina chipped in with the helper on Aguirre's team-leading seventh marker of the campaign.
BISHOP KEARNEY (4-7-0) 1
WESTHILL (III) 5
BATH-HAVERLING (12-0-0) 6
WELLSVILLE (3-6-2) 0
Thomas Binkowski scored four goals and added an assist to lead the Rams (No. 1 NYSSWA Class B). Jose Englert and Lorenzo Serafini chipped in a goal apiece. Brady Dickson and Teddie Robbins both had a helper.
AKRON (VI) 1
PEMBROKE (2-8-1) 5
Adam Dulski netted a hat trick while Steven Drozdiel and Patrick Wolford had two assists apiece. Alex Lamb scored late in the first half to give Pembroke five goals in the first 40 minutes. Game Johnston added a second-half tally. Johnston also had an assist.
BOLIVAR-RICHBURG (3-9-1) 1
CANISTEO-GREENWOOD (8-4-0) 3
Dawson Jackson converted a first-half penalty kick, and Jose Alvarez added a tally before halftime for Canister-Greenwod. Ethan Phenes scored an unassisted goal in the second half. Evan Amidon had an assist.
LIMA CHRISTIAN (3-8-0) 0
C.G. FINNEY (6-3-2) 5
BRADFORD (7-4-0) 0
ALFRED-ALMOND (5-7-0) 3
Aquila Cushing, Dylan Coots and Will Torrey scored a goal apiece to lead Alfred-Almond past Bradford (No. 15 NYSSWA Class D). Jack Emo contributed two assists while Colton Cook had a helper.
NAPLES (8-5-0) 1
PENN YAN (4-8-0) 0
Ben Green netted the game winner with an unassisted goal in the 34th minute.
BLOOMFIELD (7-5-1) 2
HAC (5-4-3) 2
Adam Sheehan connected a pair of unassisted goals in the second half as Bloomfield rallied for the draw. Luke Dioguardi and Max Cabezudo-Brown gave HAC a 2-nil advantage heading into halftime. Rafael Ferguson and Roman Novy-Marx had an assist apiece.
GENEVA (7-4-0) 0
PALMYRA-MACEDON (10-2-0) 2
Aidan Quinn and Sam Quick found the back of the net as Pal-Mac (No. 12 NYSSWA Class B) avenged an earlier loss with its ninth straight win. Jace Schafer assisted on Quinn's tally in the ninth minute. Quick leads Pal-Mac with nine markers. Geneva took the earlier matchup on September 10th, 4-2. Pal_mac hasn't lost since that meeting.
LeROY (6-6-0) 2
DANSVILLE (2-8-1) 0
Adam Harrington and Nicholas Vales found the back of the net. Maverick McKenzie had an assist.
KESHEQUA (12-0-0) 2
PERRY (6-5-0) 1
Aidan Wood connected in the first overtime, and Keshequa (No. 6 NYSSWA Class C) swept the regular season series between Livingston County foes. Ryan Thayer assisted on the game winner. Reese Powers gave Keshequa a 1-nil lead with an unassisted marker in the 19th minute. Carson Devinney leveled the match in the second half with an assist from Michael John Grover.
CALEDONIA-MUMFORD (3-7-1) 0
GENESEO (9-3-0) 1
Jakes Thomas connected on the game winner in the first half with an assist from Jack Rubeck.
LETCHWORTH/WARSAW (9-4-0) 3
WAYLAND-COHOCTON (4-7-0) 2
Adam Grover collected two assists and a goal – the game winner 25 minutes into the second half. Kaine Tisdale scored twice for the Indians. Nik Eustace contributed a helper. Brogan Cotter and Titan Rocha scored for Wayland-Cohocton.
FRIENDSHIP (3-8-1) 2
WHITESVILLE (2-7-1) 2